by: -RoG-
...CONTINUED
Toxic Waste Sour Candy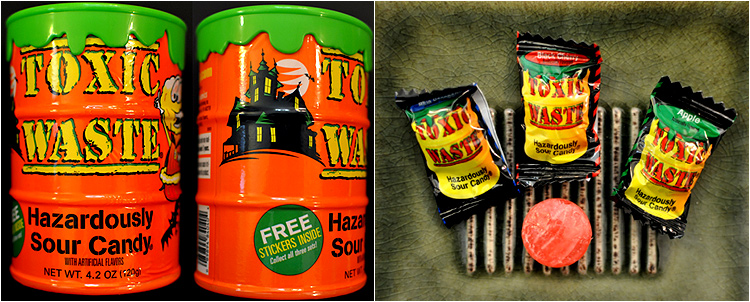 While Toxic Waste candy has been around for a long time, I haven't featured these before since they're available all year round. This year, however, they made a special Halloween container for 'em, so I think we can all agree that they're fair game. The container is absolutely wonderful - a bright orange drum with a green oozing toxic waste lid. It has illustrations of their nuclear blast "Mr. Toxie Head" mascot, some vampire bats, and a haunted house. And when you're all done with the candies, the container also doubles as a coin bank.
Now there are three flavors you can choose from with the Toxic Waste candies - Blue raspberry, Apple, and Black Cherry. Honestly though, I've tried all three flavors and can't distinguish one from another. Why? Because the instant one of these candies touches my tongue, my mouth instantly fills with saliva. Seriously, they live up to their claim of being "hazardously" sour, because if you leave these in long enough, you'll be covered in your own drool soon enough.
I'm not big a fan of the taste, as I prefer Sour Punch Straw candies which have the perfect blend of sourness & flavor, I do love the presentation here, and I'll hold onto that Halloweeny toxic waste bank forever. The Toxic Avenger would approve.
Oh, and did I mention it comes with free stickers inside too? Not too shabby!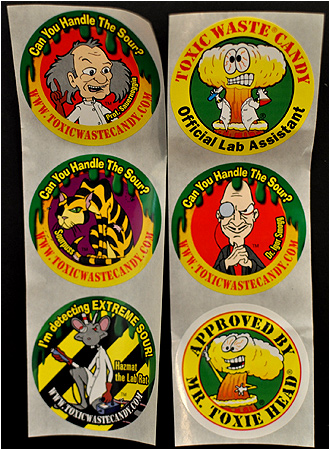 out of 5 Mad Scientists
Taffy Town Candy Corn Taffy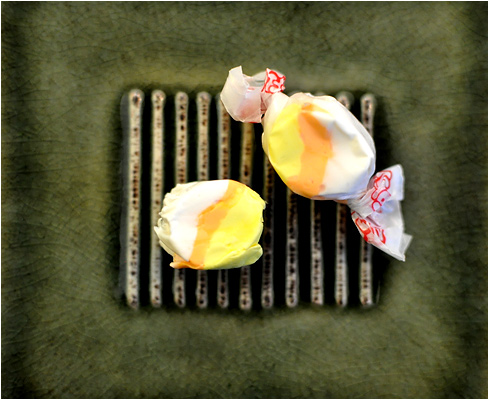 I picked up a handful of these in a candy shop, so they didn't come with any packaging other than the wrappers you see above. I will say they look better than the Melster Candies version I reviewed earlier in the article, since each piece features all three classic candy corn colors. They're softer too. Unfortunately, these miss the mark with the candy corn flavoring as well. They're too salty and taste nothing like candy corn. Oddly enough, they have more of a peanut flavoring. You'd think it wouldn't be too hard to mimic the flavor of candy corn, but these taffy companies sure are having a problem doing so.

out of 5 Audrey II plants
Fun Sweets Boo Berry Cotton Candy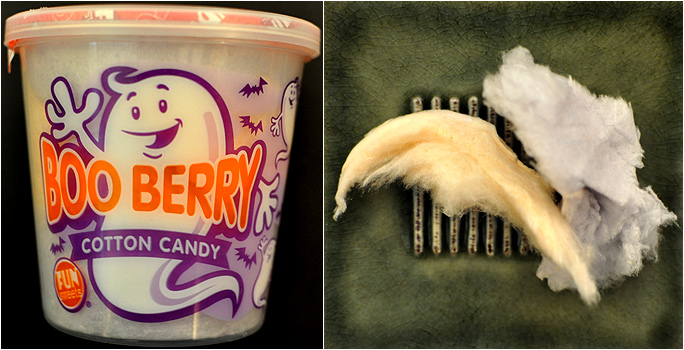 Alright, let's get the obvious out of the way first; this is not Boo Berry. Boo Berry is and always has been a Monster Cereal produced by General Mills. As a result, I'm sure Fun Sweets will have fun with some spooky litigation in the future.
There are happy ghosts and bats all over this little tub of cotton candy, so it's got a nice enough presentation. There's a bad chemical odor when you open it up, though, so that worried me a bit. Fortunately, it doesn't taste like it smells. The cotton candy has a nice mix of orange and berry flavoring that's not too strong. So yeah, while the actual Boo Berry may have a problem with the name of this product, it's a nice alternative to regular cotton candy with some festive Halloween colors.



out of 5 Jaws
Fun Sweets Candy Corn Cotton Candy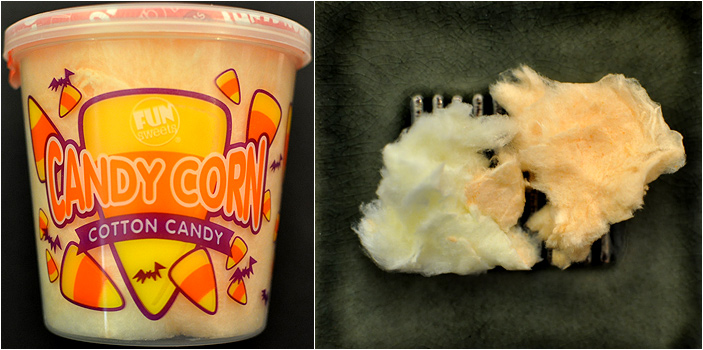 Now here's the cotton candy flavor I've been wanting to try for a while, and I'm happy to report that it doesn't disappoint for fans of candy corn. The tub has pieces of candy corn and vampire bats all over it, so I'm already loving the design. The cotton candy itself has orange and yellow colors to mimic the aesthetics of candy corn. I just wish they included white to complete the look. Track it down and you won't be disappointed.




out of 5 tombstones
Dracula Drool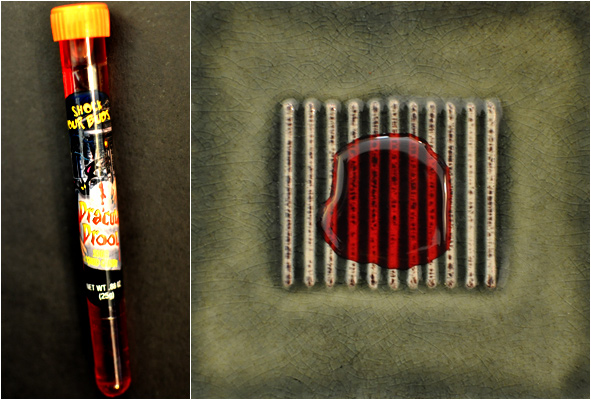 I picked this up at a haunted attraction, so I don't know how widely available they are, but I think we can all agree that I'd have to be an insane person to turn down the opportunity to sample a candy product called "Dracula Drool". It's a thin vial of sour liquid candy, with a nice little label on it showcasing vampire hands, bats, tombstones, spooky trees, and a haunted house. More importantly, I simply love the concept of Dracula drooling blood into vials for human consumption. And it lives up to the name - this stuff is pure liquid. It's not oozey at all; it just pours out like actual drool. It's very good too, with just the right amount of sour with a strong cherry taste.
Dracula, if you're out there, you can come drool into my mouth any time. Now there's something I never thought I'd write.
out of 5 hungry piranhas
SpongeBob Squarepants Candy Corn Krabby Patties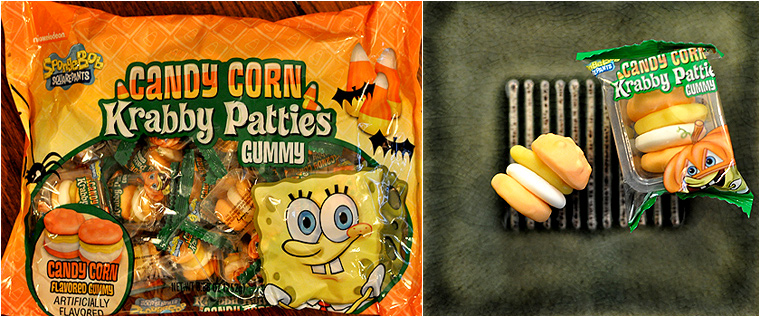 And here we are... the very last item on my giant candy smorgasbord for this Halloween season. Those of you who scored one of I-Mockery's 2014 Halloween Club Packs found these in them, and for good reason. Whether you're a fan of SpongeBob SquarePants or not, there's no denying that a candy corn flavored gummy hamburger is one of the most unique Halloween candies you could possibly shove into your mouth. You can eat it all in one bite, or you can eat each piece separately. The flavor is actually like a blend of fruit and candy corn, but they're very tasty and have a nice scent too. Even the bun mold even has sesame seeds on it, and you know I love little details like that. Between that and individually wrapped packages that feature SpongeBob wearing half of a pumpkin on his face, these are easily among my favorite candies this Halloween season.
out of 5 Grim Reapers
So that does it for my Ultimate Guide to the Halloween Candies of 2014. Crazy how many candy corn flavored products there are out there this year, eh? There was also a noticeable lack of absurdly large novelty candies as well, such as the big pack of Gremlin Meat I found last season. Still, plenty of great tasting candies to choose from this year, and as always, I must remind you that many of the candies I reviewed last year and other previous years are back in stores again this year, so be sure to keep an eye out for them as well. If you happen to spot any candies that I haven't covered yet, drop me a line and let me know so I can try to track 'em down before Halloween rolls around next year.
Now if you'll excuse me, since I've finished tasting and reviewing all these candies, I'm gonna go climb a building and punch it to rubble like a monster from Rampage. Why? Because my body feels like it's burning with the sugary fire of a thousand suns.
By the way, I can't even begin to tell you how much work goes into putting this article together every year, so I'd reallly appreciate it if you would please share my big candy review on your favorite social networks with all your pals. You can find the link to the first page of candies below to share with everyone. And speaking of below, be sure to drop a comment down there to lemme know what you thought of all the candies I reviewed and if there were any ones I missed out on this season. Thanks for reading my big review; now get out there, eat a ton of candies, and have another keen Halloween!!!
Click here to return to page 1 of the Halloween candy reviews!
Have any questions or comments about this piece?
SHARE YOUR THOUGHTS IN THE READER COMMENTS SECTION BELOW!