by: -RoG-
...CONTINUED
Peeps Maple Brown Sugar


Last year they introduced a variety of new Halloween Peeps flavors, and while those are thankfully still being produced, they also introduced this new Maple Brown Sugar flavored Peeps. The packaging has a nice bottle of maple syrup illustration on it, along with some fall leaves and big brown sugar cubes. I'm all about it. And wow... as soon as you open the package, you're hit with a seriously STRONG scent of maple. It smells sooooo good, and tastes even better. The maple brown sugar flavoring is perfect, and the slight crunch of the white chocolate that the bottoms are dipped in makes it all the more delightful to devour these helpless marshmallow creatures. Honestly, these may be my favorite Peeps to date. Well done!




out of 5 crazy Jacks
Brach's Sea Salt Chocolate Candy Corn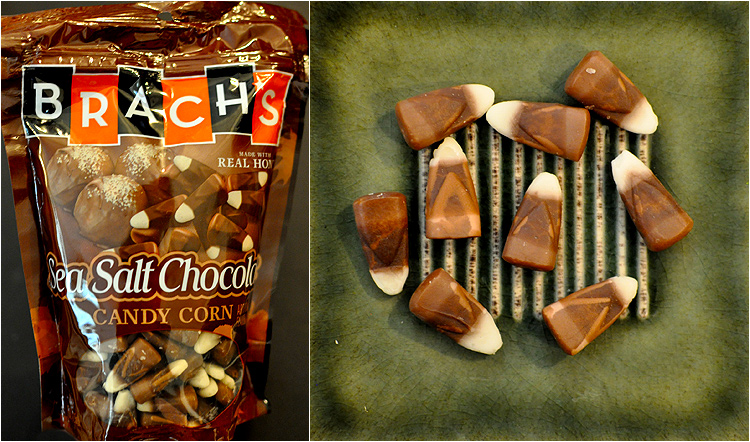 While I've never been a huge fan of salted chocolates in general, I gotta admit, these candy corns smelled pretty great when I opened the bag. It's also nice that they kept the classic 3-color design going with light brown, dark brown, and white. So how do they taste? Much like the regular chocolate candy corns I've tried in the past, they're just okay. The salt is very noticeable at first, but quickly gives way to the chocolate flavor, as it should. In the end, while they're not my cup o' tea, if you're a fan of salted chocolates and candy corn, I'm pretty sure you'll enjoy these.
out of 5 chainsaws
Kraft Jet-Puffed Jumbo Caramel Apple Marshmallows

Well, these were easily the largest single bag of Halloween treats I purchased this season. I'd love to see them release smaller versions of these, because if I wasn't reviewing them, I'm not sure I'd bother to pick up such a huge heaping bag of marshmallows. That said, they did a really nice job on these. First off, they actually took the time to shape the marshmallows like apples, complete with little stems, so I certainly appreciate that. The two-tone color scheme of green for apple and brown for caramel is nice too. The flavoring is fairly mild. I'd say you can taste the apple a bit more overall, but it's still a good enough balance. While I've never really been one to snack on marshmallows, they have a recipe on the back of the package for Caramel Apple Rice Krispies Treats that I certainly wouldn't mind trying out. Then I could almost understand somebody needing this large of a bag of 'em. Almost.



out of 5 Kiefer vampires
Blue Goo Bugs Gummy Candy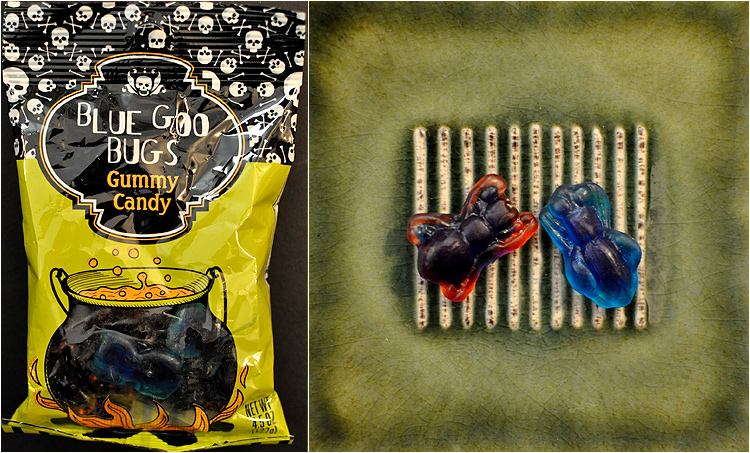 Oh look, a blue-colored candy. It's pretty much written in stone that if there's a blue food product, I'm required to taste it. I think I signed a blood oath for it or something. With these ones, I thought it was a bit odd that you can see the blue candies inside the bubbling cauldron on the package, yet the liquid in the illustration is orange. My guess? They were trying to save on printing costs. I was also surprised to find some red bugs in the mix along with the blue ones, but they're all filled with blue goo, so I guess they still count. They taste okay, but the "goo" inside unfortunately seems to be just another layer of a darker blue gummy, rather than the liquid candy I was expecting - just like what we used to get in classic Skull Crushers candies. And now, here I am, feeling all blue because they weren't filled with goo. Boo hoo.


out of 5 Freddy gloves
Butterfinger Peanut Butter Cups Skulls


Butterfinger did a fantastic job designing these. The packaging is nice, with the spooky dead tree and tombstones, but the skulls themselves are the real stars here. The skull sculpts are great, complete with big grins and a crack going down their foreheads. Absolutely love how they look. They're also surprisingly thick, so you're getting a big piece of candy. The only disappointment is that I feel like the normal Butterfinger candy bars have a better balance of chocolate & peanut butter. With these, the chocolate is definitely a bit more overpowering than I would like. I really wanted to rate these higher, but packaging and candy design can only go but so far. The candy still needs to taste great, and these just don't taste quite as good as regular Butterfinger bars.



out of 5 Frankensteins
Pumpkin Donut & Apple Crisp Laffy Taffy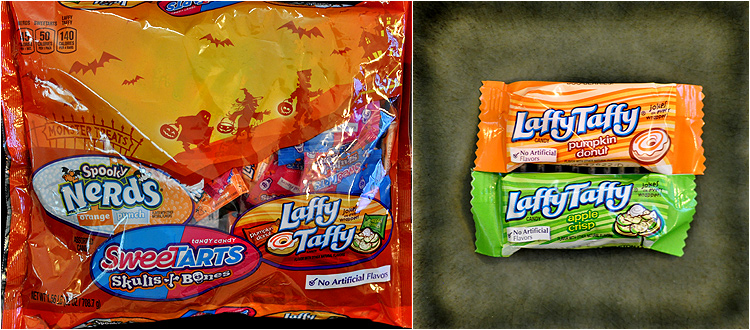 I just happened to notice these in one of those big bags of Halloween candies. I already reviewed Spooky Nerds and Skulls & Bones Sweetarts way back in 2006, but since I couldn't find these new Laffy Taffy seasonal candies being sold separately anywhere, I bought the bag to try 'em out. As you would expect, the Apple Crisp ones have an apple flavoring. They're far from crisp, but still taste good enough. I expected them to be green instead of purple, but I suppose that's a more Halloweeny color. The Pumpkin Donut were the ones I was really curious about. The orange color represents them nicely enough, but the flavor isn't anything to write home about. It's like a blander version of anything you've ever had that was pumpkin spice flavored. All in all, they're just okay, but look on the bright side - they still have those classic Halloween jokes on every wrapper.
Q: What instrument does a skeleton play?

A: The Trombone!
HAHAHAHAHAHAHAHAHAHAHAAAAAAAA!!!!


out of 5 jack-o-lanterns
Brach's Mellowcreme Pumpkins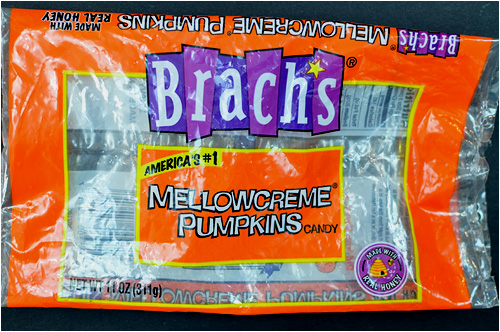 I didn't eat a single Mellowcreme Pumpkin this season. No, for real. I'm totally telling the truth. I'm over them. Yep. I've moved on to other Halloween candies. Honest. That empty bag up there? Oh that's from years ago, I swear. I kicked that habit straight to the curb and haven't looked back since and I... I just don't need them... who needs candies that badly? It's... it would be crazy to need a stupid Halloween treat that much... I... I sure don't... I... I can't... I... I... I...................
SON OF A BITCH!!! I CAN'T KEEP UP THIS CHARADE UP ANY LONGER!! I ATE 50 BAGS OF MELLOWCREME PUMPKINS JUST LAST WEEK! WAIT, DID I SAY LAST WEEK? I MEANT LAST NIGHT!! THERE! ARE YOU HAPPY NOW!? MY SKIN HAS TURNED BRIGHT ORANGE AND I'M BLEEDING FROM MY EYES AS MY BODY SHAKES UNCONTROLABLY IT'S A MIRACLE I CAN EVEN TYPE THIS! OH WAIT, I'M NOT TYPING! I'VE MOVED BEYOND EXISTENCE TO A NEW STATE OF CONSCIOUSNESS WHERE ANY WORDS I THINK WILL AUTOMATICALLY APPEAR ON THE SCREEN! BUT YOU KNOW WHAT!? WHO GIVES A GOOD GOD DAMN! WHAT USE ARE THESE NEWFOUND POWERS IF THEY DON'T ALLOW ME TO CONJUR UP A FRESH NEW BAG OF MELLOWCREME PUMPKINS TO EAT!?!?!? ALL I CAN SEE IS THESE PERFECT LITTLE PUMPKINS IN MY MIND, BUT I'M COMPLETELY OUT OF THEM! YOU DID THIS, DIDN'T YOU!?!? YOU BOUGHT ALL THE REST OF THE MELLOWCREME PUMPKINS FROM ALL THE LOCAL GROCERY STORES! THEN YOU TOLD THOSE STORES TO BAN ME AND MAKE UP SOME BULLSHIT REASON LIKE, "EXCUSE ME, SIR, YOU'RE GOING TO HAVE TO LEAVE THE STORE, BECAUSE YOU'RE NAKED, TREMBLING, FOAMING AT THE MOUTH, AND FRANKLY SCARING ALL THE OTHER CUSTOMERS." OH SUUUUUUUUUURE!!! NICE TRY, BUT I'M ONTO YOU! I KNOW EXACTLY WHAT YOU'RE TRYING TO DO!! YOU GOT ME BANNED FROM THE GROCERY STORE SO YOU COULD HORDE ALL THE MELLOWCREME PUMPKINS FOR YOURSELF, YOU BASTARD!!! BUT GUESS WHAT? THE JOKE'S ON YOU! I'M TRACKING YOUR IP ADDRESS RIGHT NOW, AND YOU WON'T HEAR A KNOCK ON YOUR DOOR WHEN I SHOW UP. WHEN I ARRIVE, I'M KICKING IT DOWN, AND I'M GOING TO EAT ALLLLLLLLLLLL OF THE MELLOWCREME PUMPKINS YOU'VE BEEN STOCKPILING AND HIDING FROM ME THIS HALLOWEEN!!! DO YOU HEAR ME!?!?! I'M COMING FOR YOU AND YOUR PUMPKINS!!!!!!!!!!!!!!!





out of 5 witch hats
Bloody Fangs Sour Candy


These looked a lot like the ZomBee Bloody Bites candies I reviewed back in 2013, but I had to try them just in case. Nope. They taste exactly the same, and sadly, that's not a good thing. Oh well, at least I have some extra novelty glow-in-the-dark fangs now. Honestly, I recommend keeping some in your survival kits. Never know when you'll need 'em.

out of 5 tombstones
Spooky Hershey's Kisses


We've all had Hershey's Kisses before, so I don't need to review how they taste, but I had to include them in my review this year since they have this new "spooky" edition of their classic treat. The kisses come in three different wrapper designs: ghosts, vampire bats, or spiders & cobwebs. The designs are great as it is, but the little papers sticking out of them now say "Boo!", "Scary!", and "Creepy!". While they're nowhere nearly as tasty as those addictive Pumpkin Spice Hershey's Kisses, I still love how they changed the regular designs to be far more festive for Halloween this year.



out of 5 Edgar Allen Poes.
Oh but there's more!
CLICK HERE TO CONTINUE TO
PAGE 3 OF THE CANDIES!