15 Things That Are Not The Reason I Have Been Away For So Long.
by: Max Burbank
Hello.
Well. This is awkward. I feel almost like I should introduce myself.
For several years, I wrote a fair amount of content for this web site. It would be fair to say that RoG championed my work more consistently than any other editor/publisher I ever worked with. Then, about two years ago, I just stopped writing for I-Mock. I'd love to tell you it was because I started selling my stuff for big bucks, or any bucks at all, but actually, I wasn't writing for anyone else. I wasn't writing at all.
If you are a reader who has climbed aboard the I-Mockery train in the last two years, and you haven't dipped into the archives (and shame on you if you haven't, what the hell kind of obsessive fan boy are you anyway?) you have no idea who I am, or why I'm writing this. You may not even still be reading at this point to which I can only say 'Bravo for having some sense of priority'. Of course, you'd never know I said that.
If you are a long time fan of I-Mockery, you must be wondering 'where the hell has Max been?' Work with me and pretend that's what you're thinking. I can't go back to writing affirmations on post-its and pasting tem on the medicine chest mirror. It's not like I don't know who wrote them.
I've been trying to come back, but I keep getting tripped up by the notion that if I still have an audience here, I owe them an explanation. After careful consideration, I have decided to 'phuck' that 'noise'. I cannot however, keep my mid off all the things you must be imagining kept me away. Keep working with me here. Imagining you care is an important part of my parole agreement.
So, here is a list of things that are not the reason I have been away for so long:
1. Sexual reassignment surgery. Though as a card carrying Unitarian I am compelled to say that sexual reassignment surgery is a perfectly legitimate life choice and nothing to make fun of. So if you laughed, you are neither open, affirming or welcoming. Can you say neither when you have more than two options?

2. Kidnapped by rebels/counter insurgents/ 'The Man'. Kidnapping me would be pointless. No one I know has any money. If you are reading this and you do have money, 'friend' me ASAP. You don't have to give me any money, just the idea of being friends with someone who has some makes me almost giddy, kind of the way starving third world kids enjoy looking at photos of roast turkey.

3. Some sort of romantic disease where people tell you how brave you are if you leave your bed to pee. No disease I have ever had or will ever have has anything romantic or courageous about it. I'm more in the line of coming down with something that causes sudden, unpredictable flatulence of a volume more usually associated with close proximity to a working jet engine or a rare variant of turrets symptom triggered only by the presence of enormous black men.

4. Left nut caught in mangle.

5. Trapped in a space-time anomaly wherein googling the word 'mangle' to make sure that it meant 'A large machine for ironing sheets or other fabrics, usually when they are damp, using rollers.' as well as 'to severely mutilate, disfigure or damage by cutting, tearing or crushing.' took two years in real time, although it only felt lie a few minutes.

6. Busy working on a really great run-on sentence.

7. Sexual reassignment surgery due to left nut getting caught in mangle. Though as a card carrying Unitarian I am compelled to say that the mangling of one or both nuts does not fall into any category of reasons given for sexual reassignment surgery, and that using the mangling of nuts and/or the topic of sexual reassignment surgery for a cheap laugh honor the inherent worth and dignity of every person.

8. Busy trying to get Unitarian 'card' which turns out to be something like a Snipe. Although ironically there is such a thing as a Snipe, (a small wet lands bird wader family Scolopacidae) and Unitarians do not need cards which in any case do not exist.

9. Busy trying to create a schism between the Unitarians and Universalist, who consolidated in 1961

10. Really, really busy trying to carve out niche as Unitarian comedian.

11. Methamphetamines.

12. Demon Alcohol.

13. Putting just about anything found under the sink into paper bags and inhaling the fumes.

14. Bieber Fever.

15. Really, really, really busy making easy, lackluster topical jokes that within six months will mar what was otherwise a decent piece of writing.
So there you are. What would be fun now is if you came up with your own reasons why I have been gone and post them in the comments section below. As many times as you like, even if your reasons aren't as funny as mine. In fact, especially if your reasons aren't as funny as mine. It will make my writing look better. You can also create false profiles for yourself, so it will look like more people read this. Fark. Digg. Facebook. Twitter. And if that seems like too much work to prop up someone you don't even know, just send money. Or canned or dry foodstuffs. Or women's clothes for the plus size gal.
I'd say it was good to be back, but I wouldn't want to jinx myself. I've already lost one perfectly good nut.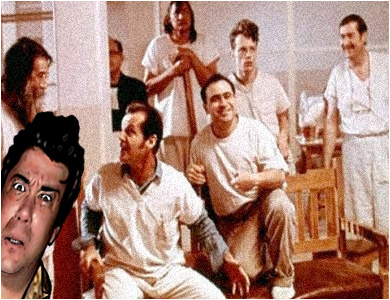 Have any questions or comments about this piece?
SHARE YOUR THOUGHTS IN THE READER COMMENTS SECTION BELOW!