by: -RoG-
Yes, Halloween is over, and while I'm looking forward to the winter holidays, I'm never quite ready to say goodbye to the spookiest of seasons. With that in mind, I thought I'd share some of my favorite random pick-ups I was lucky enough to score over the course of Halloween 2017. Who knows, maybe you'll see something here that you can ask Jack Skellington to bring you come December! Alright, let's dive in: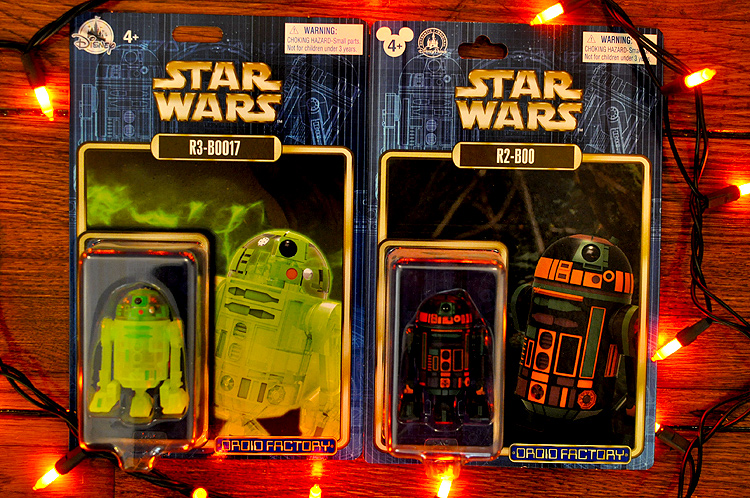 Star Wars - R3-Boo17!
I can't believe this is slowly turning into an annual tradition. The fact that we now have TWO Halloween-themed R2-D2 droids makes Disney's acquisition of all things Star Wars totally worth it. Last year, we were introduced to R2-Boo, who is covered in orange, black, green, & purple Halloween colors. This year, attendees of Disneyland and Disney World could score the all new R3-Boo17 droid! A bright, glowing green R3 unit that answers the question we've always wanted to know:
"What if R2-D2 was powered solely by Ecto Cooler?" They really went all-out with just how bright that green coloring is, and I think I might like this latest one even more than the original. Probably because it glows in the dark!
As you can see, the pair look fantastic together and I can only hope Disney continues to produce a new one of these every year, because I absolutely love 'em. This is the kind of completely random Halloween tradition we can all get on board with. And no worries if you don't have access to Disney's parks; you can always pick 'em up on eBay. Speaking of which, big thanks to Chris & Katia for picking up R3-Boo17 for me during one of their many Disney adventures!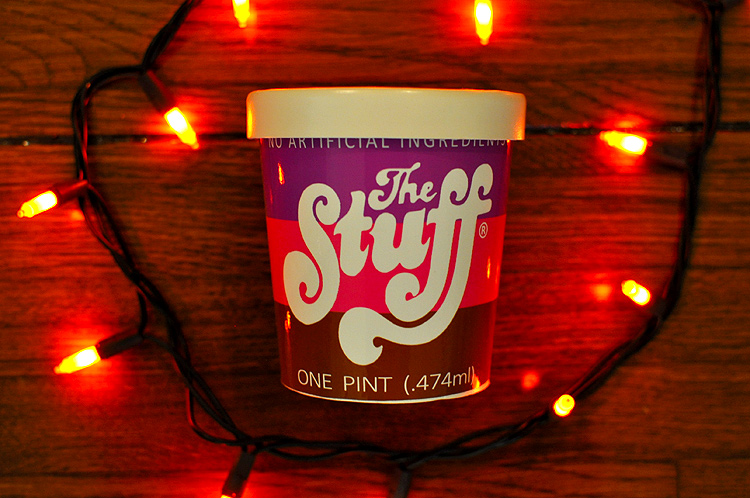 The Stuff!
"Can't get enough of The Stuff!" For years, I've wanted a replica container of The Stuff, and here it is. A perfect little pint of everyone's favorite horror film treat! Are you eating it, or is it eating you? You can find these replica prop containers on Etsy. For under $20, they make for a great display piece for all you horror collectors. Big thanks to Landen Koepkey for hooking me up with this one!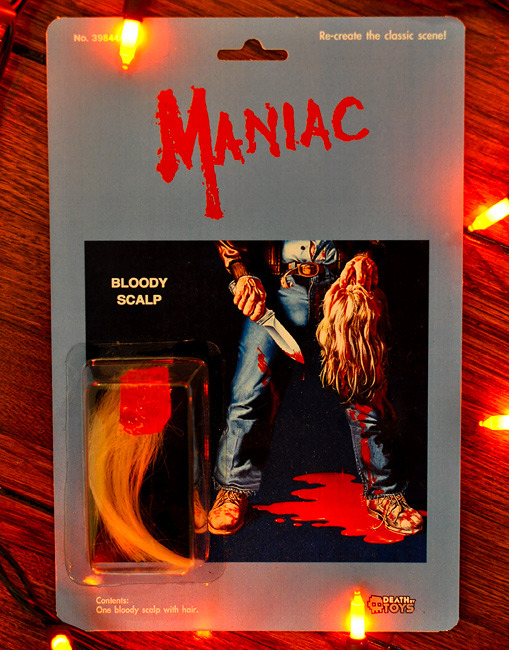 Maniac Bloody Scalp Action Figure!
Dan Polydoris from Death By Toys is easily one of my favorite custom toy designers out there. He has a fantastic sense of humor and makes toys that simply would not exist otherwise. Quite often, those toys are based on horror movies. One of my prized possessions is his hilarious The Fog action figure. Sure, it's just a stretched out cotton ball, but it never ceases to make me laugh whenever I look at it. One of his most recent horror figures is this Bloody Scalp from the 1980 slasher flick, Maniac. Again, just another funny anti-toy that's little more than some doll hair and fake blood, but how can you not love it? Even the promotional text that says, "Re-create the classic scene!" cracks me up.
Dan does make a wide variety of custom toys, so I recommend checking out some of his past works including his killer set of horror-themed Teenage Mutant Ninja Turtles, Nature Trail To Hell (which I'm still dying to get), Pool Party Massacre, and many more. I love seeing toy designers having fun with their projects, and I have no doubt that Dan is doing exactly that.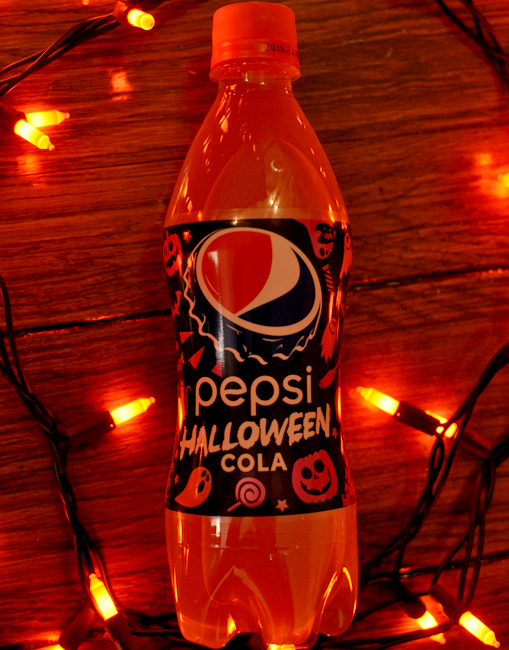 Pepsi Halloween Cola!
As you know from recent years, I love trying new Halloween treats from Japan, such as the Black Halloween Doritos. This year, one of the biggest surprises out of Japan was this limited edition Pepsi Halloween Cola. First off, don't let the spooky lighting fool you, this stuff is bright pink. It looks like a bottle of positively-charged slime from Ghostbusters II. Neon pink isn't usually a color I'd associate with Halloween, but it totally works here. And just look at that glorious label art; it's full of festive pumpkins and frolicking spirits.
In regards to the flavor, it's kind of a citrus-strawberry-cola blend. I can't say I'm a big fan of the flavor, but I absolutely love the bottle. Sure, it'll never top my all-time favorite official Halloween Soda with a glow-in-the-dark can, but it's still pretty great. The soda is available to purchase from various outlets online, but understand that due to its weight and the fact that it has to ship from Japan, you'll have to pay more on the shipping costs than you will for the actual bottle. That said, it's a small price to pay to get a bottle of pink Halloween cola that you can pretend is Ghostbusters II slime. After all, Halloween is all about new experiences, and this is certainly one of 'em.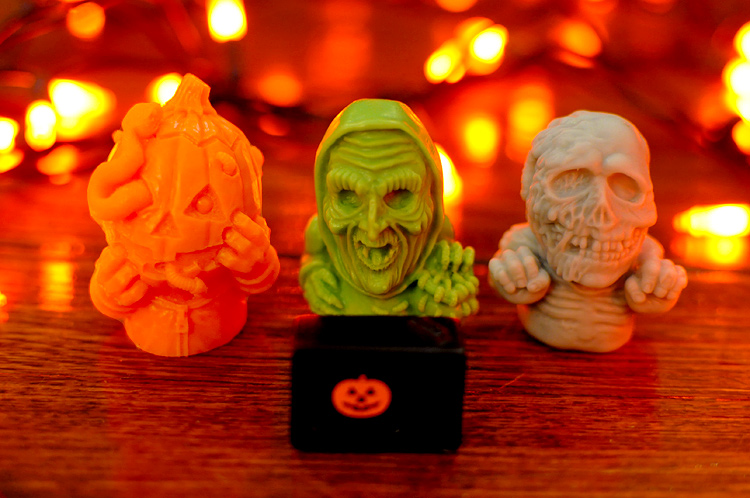 Deadly Delivery - Halloween III!
Deadly Delivery is back once again this year, and they've taken on Halloween III: Season of the Witch with this set of three melty kids wearing Silver Shamrock masks. These are keshi-style figures, and my buddy Aaron from Retroband (who designed the witch) said they were inspired by some of my all-time favorite horror figures: Ma-Ba Zombies! The sculpts from Retroband, Zectron, and Vilesore are fantastic, and the fact that you could add on an extra little television set with the flashing magic pumpkin on it was just the icing on the cake.
For those of you who missed out on the set this season, don't fret, for Aaron assured me they'll be returning once again come Halloween 2018! In other words, keep your eyes glued to your TV and watch for the magic pumpkin. Waaaaaatch...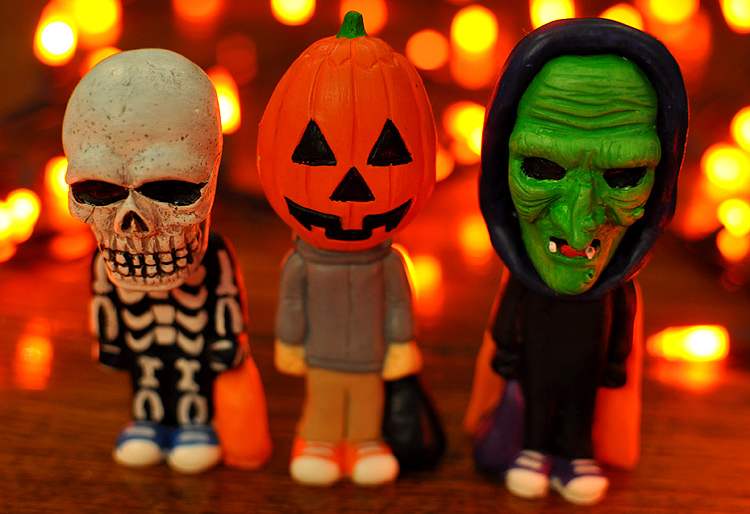 House Of Wolfman - Halloween III!
This was my first time getting anything from House of Wolfman, and I gotta say, he really killed it with these. You already know what a huge fan I am of Halloween III: Season of the Witch, and he perfectly captured the spirit of these three little trick-or-treating kids in their Silver Shamrock masks. The amount of detail on their masks is just wonderful, and I really love the colorful paint jobs on 'em. Honestly, the only thing missing is the Silver Shamrock badges on the back of each mask; other than that, they're perfect. He's produced some other figures including Sam from Trick 'r Treat, some vintage style Halloween black cats, Pennywise the clown, and more. Definitely looking forward to seeing future horror-themed figures from him! He's already done two runs of these Halloween III figures, so hopefully he'll do another run sometime as well.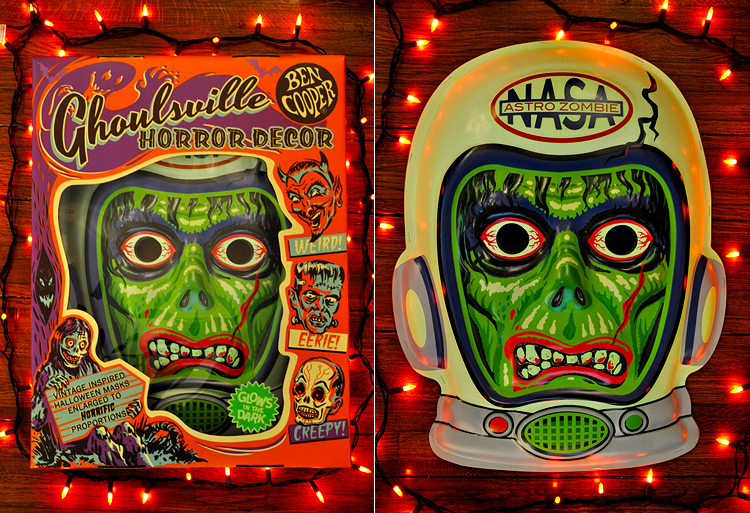 Ghoulsville Ben Cooper Astro Zombie!
Oh man, I've been eyeing these for years, and after meeting the wonderful folks at Retro-A-Go-Go at Comic-Con this past summer, they were kind enough to send me a Ghoulsville Ben Cooper mask of my choice. They really do have a killer selection of vac-tastic plastic in their catalog, but I simply couldn't pass up the opportunity to own the Astro Zombie! It's such a fun, random throwback design, and the box that it comes in is as much of a keepsake as the mask itself.
Speaking of the masks, these really are HUGE - a whopping 23" high x 17" wide! They come with cardboard backs with an area cut out so you can mount them, but given that they come in a window box, you could just as easily display them as-is.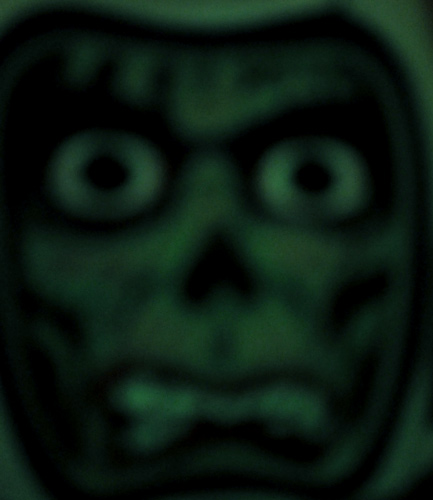 And yes, another reason I went with the Astro Zombie was because it glows in the dark! I tested it out after holding it up to the light, and sure enough, it lets off a nice glow. Now, as I sleep, I can look at that glowing, tortured Astro Zombie face knowing that in space, no one can hear your brains getting devoured.
I simply can't recommend these masks enough, as they make for incredibly striking yet lightweight Halloween / horror decorations. Only problem is, now I want five more. Guess I'm gonna have to free up some wall space.
So there you have some of my favorite pick-ups from the 2017 Halloween season. How about you? What were some of your favorite purchases this year? Share yours in the comments below so I can see whatcha got!
Have any questions or comments about this piece?
SHARE YOUR THOUGHTS IN THE READER COMMENTS SECTION BELOW!