by: -RoG-
Some of you probably recall that I've always been a huge fan of bubble lights in general, and I even featured a truly killer eyeball bubble light here on I-Mockery back in 2007. As awesome as that eyeball light is, it simply cannot compare to what I'm going to share with you today. But first, a little backstory...
Shiny-Brite was a company known for producing some of the most popular hand-crafted Christmas holiday glass ornaments and lights back in the 1940s & 1950s. If you were celebrating the holiday and you had a tree, it wasn't complete without at least one set of Shiny-Brite ornaments. To this day, I still find vintage boxes of their ornaments at yard sales from time to time. You simply cannot mistake their iconic packaging and classic designs. Well, starting in 2001, Christopher Radko began to reissue those classic ornaments, in addition to producing some original ones done in that same vintage style, right down to the packaging.
While the focus of the Christopher Radko company has been primarily on Christmas items, they have released some Halloween ornaments and lights as well, which brings me to the subject at hand. I've collected a wide variety of wonderful Halloween decorations over the years, both old and new, but if you were to ask me which is my favorite one, it is without a doubt the Radko Shiny-Brite Halloween Pumpkin Candolier.
I lucked upon this Halloween candolier when it was still being sold in stores, and due to it going out of production after 2009, it's apparently become quite the collector's item in recent years. As you can see, there's so much to talk about before we even crack open the package. The retro design is perfect, appearing as though it's a genuine product to come straight out of the '50s. If you look closely, you'll notice all kinds of wonderful spooky illustrations including a witch flying through the moonlight, flying vampire bats, eerie trees, a pair of jack-o-lanterns, and a neighborhood full of haunted houses.
In short, my kinda town!
Another thing I love about the packaging is how it's practically covered in promotional exclamations. "A Halloween sensation in radiant orange & black!", "Watch them bubble!", "Thoroughly modern design!" Between the text, the Halloween color palette, and the festive Shiny-Brite logo sandwiching a happy jack-o-lantern, it's impossible not to feel incredibly excited about setting this thing up. Plus, they even give you a sneak preview of the candolier, as a portion of it appears behind a wrought iron gate section of the window box.
I should also note that there was a Radko Halloween Tree produced around the same time that you might recall me posting about. It featured the same pumpkin bubble lights as the candolier.
I dunno about you, but I'm ready to pry open that creaky old iron gate and take a closer look at the candolier.
There it is. A Halloween candolier topped with nine smiling jack-o-lanterns, all just excitedly waiting to be heated up so mesmerizing bubbles can percolate right up through the tops of their collective witch hats. If you look closely, you'll notice that the center pumpkin is filled with red liquid, while the others are filled with orange. For a while, Radko was selling replacement bulbs, as these are fairly fragile (seriously, I honestly handle these bulbs just as carefully as Nicolas Cage's character, Dr. Stanley Goodspeed, handles the pearls of VX Gas in The Rock), and while you could get the standard orange liquid replacements, they also had this limited edition red liquid one. When one of my bulbs died out, I couldn't help but order the red one, and I have since dubbed it King of the Jack-O-Lantern Lights. Should any of the other jack-o-lanterns ever burn out, they shall forever suffer the wrath of the king's blood-red vengeance!
And now, my friends, it's finally time to turn on the candolier and witness the modern electrical spectacle of nine glorious pumpkins illuminating a room with the bubbling, heartwarming glow of Halloween.
Incredible isn't it? I spent over an hour just getting this shot lined up exactly the way I wanted, and you wanna know something? The time just flew by, because I spent it staring at such an awesome Halloweeny sight. It's the kind of visual that immediately puts you in the Halloween spirit; nine glowing jack-o-lanterns wearing witch hats as orange and red bubbles gleefully dance out of their heads. You know, of all the animated GIFs I've created during our annual "Two Months of Halloween" seasons here on I-Mockery over the years, this just might be my favorite one. If nothing else, I hope it's an image you'll return to whenever you feel like you're not quite feeling the Halloween spirit and in need of a boost.
I've also created a video of the pumpkin candolier that you can leave playing on a loop on your screen during the Halloween season. At the very least, I assure you the production values are far greater than those seen on the Ghoul Log DVD.
Alright, I've shared my favorite Halloween decoration, and now it's your turn. Do you have a specific Halloween decoration that you simply can't live without when the fall season rolls around every year? Share it in the comments section below and feel free to include a picture of it if you have one handy, cuz I'd love to see it!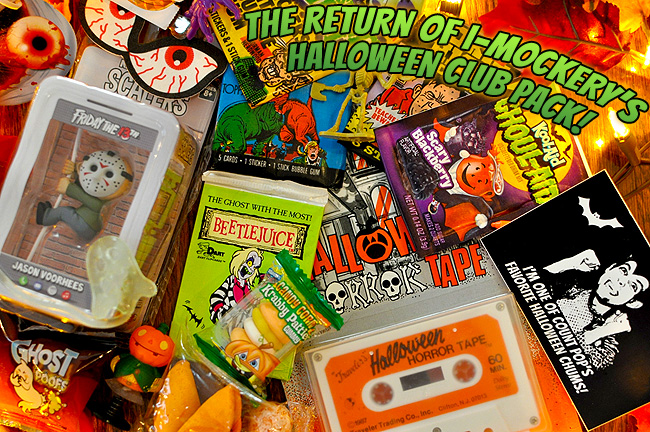 HALLOWEEN CLUB PACKS HAVE ARRIVED! In case you didn't see the notice on the I-Mockery homepage or on our Facebook & Twitter accounts, our 2014 Halloween Club Packs have arrived and they've been selling incredibly fast. If you enjoy what you see here on the site, make sure you pick one up before they're gone forever! Click here for details.
Have any questions or comments about this piece?
SHARE YOUR THOUGHTS IN THE READER COMMENTS SECTION BELOW!