Got an Axe to grind? Well you've come to the right place. In this section we will cover some of the most important guitars (aka: "axes". pronounced as "aaaaaahhhhhhhxes") that a TRUE Metal Maniac should possess. Without owning each and every one of these guitars, you might as well pack up your bags, move to the mountains, play folk songs and eat granola for the rest of your life. With that being said, here's the axes!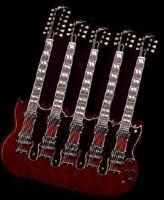 [ click to enlarge ]

Ah yes, here we have the infamous "5-Neck Flaming Whore" axe.
No TRUE Metal Maniac would have this baby missing from his/her axe collection.
Each guitar is tuned down 5 octaves from the previous one above it.
The bottom one sounds quite reminiscent of the intestinal track of Jabba the Hut.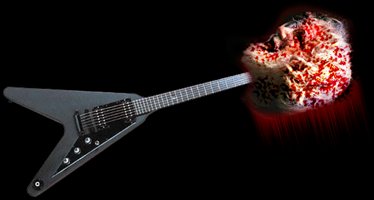 [ click to enlarge ]

This item is a one of a kind: "The Severed Head Of Jerry Garcia" Axe.
We actually had to dig up Garcia's grave to create this baby.
Now before you ask "Is it for sale!?!?", we have to tell you now that it's NOT.
We're quite proud of this axe... it might be our finest one ever.
Still you can make an axe like this one. Simply find any drugged out hippie and chop his head off. Hollow out the inner skull, and cram it onto the neck of your axe!

[ click to enlarge ]

"Satan's Inverted Bastard Pentagram" Axe is for only the toughest metal maniacs out there: Pansies need not apply. This axe was given to us by Satan himself. Weighing about 200lbs and burning at about 1000 degrees, you have to not only be big, but you've got to be able to take the scorching pain your fingers will endure while playing this. Try playing a solo on this axe and your fingers will be worn down to the bone!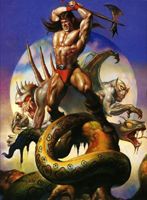 [ click to enlarge ]

Yes indeed, we all know that you can't be a TRUE Metal Maniac without having a REAL AXE. How else are you going to dwell in the pits of hell? You need to have your mighty axe to swing like a god as you chop down the demons of hell... as well as any record label that won't sign your shitty band that doesn't practice nearly enough.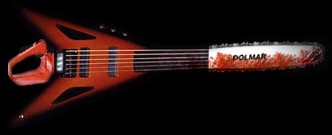 [ click to enlarge ]
And finally we have the "Sawtar", not to be confused with the Sitar.
It's perfect for those shows where the fans give you shit for not practicing enough.
If some drunk idiot mouths off to you, just shove this baby right into his jaw and
you won't hear another peep from him because he'll be too busy choking on what's left of his mouth. (note: you'll have to change strings after each use of the Sawtar).