Now we all know that every true Metalhead would want their homes (or caves) to reflect their lifestyle. But where is a Metalhead to go when he/she is looking for some typical household products? With that being said, here's the axes! Well if you go to the usual stores you'll just find a bunch of flowery crap that looks NOTHING like what a true metal maniac would have. Luckily, we've worked up some great products for all of you metal maniacs that have been waiting for all your lives. Enjoy!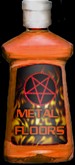 [ click to enlarge ]

No true Metalhead would want to have floors that smell like a pine tree or like lemons. Hell no! A Metal maniac wants a floor to look and smell just like the floors at a metal concert! So we bring you our floor cleaning product "Metal Floors"! This stuff contains all the crap that you would find on the floors of any auditorium/venue after a metal concert! Crushed Roaches, Urine, Beer, Spit, Vomit, Phlegm, Blood, Dirt, Grime, and some other things that we couldn't even identify. Just pour this stuff all over your floors and they will instantly look like the floors of a genuine metal concert!


[ click to enlarge ]

When you've spent an entire evening dining on the corpse of a dead virgin chances are you need to brush your teeth. But most toothbrushes just can't get rid of those meaty chunks of human flesh that get stuck in between your teeth. We're proud to offer you the ultimate metal dental solution: "The Reaper" from Soulgate!
This unique toothbrush features solid steel bristles and an scythe for picking out those meaty chunks of human flesh that no other toothbrush could possibly remove! So enjoy all the human flesh you want, cuz "The Reaper" will handle the cleanup!


[ click to enlarge ]

"The Power Viking Spatula From Hell" is every Metalhead's spatula of choice.
Weighing over 20lbs, it can lift up pretty much any body parts you present to it. It also features a killer Viking grip so you don't ever have to worry about dropping that tasty human flesh! It also doubles as a great weapon capable of impaling any non-metal pansy!


[ click to enlarge ]

So you're done feasting on human flesh, but you've got a lot of body parts left over. You try to flush them down your toilet but you threw in one arm too many and now the toilet is clogged. No regular plunger could handle a tough job like this. That is why we have created "The Sacrificial Goat Head Plunger Of The Gods". Most plungers fit inside the toilet bowl, not this baby. This one fits OVER the entire toilet and has been known to retrieve more than you originally tried to flush down it! We're talking about the power to plunge up your entire septic system! That's the power of sacrificial goat suction! Now since it covers your entire toilet it would be hard to tell when it has retrieved something right? WRONG! The Sacrificial Goat Head's eyes light up as soon as it has retrieved a limb or a disgusting metal log or whatever you happened to flush down it. No job is too large or the "The Sacrificial Goat Head Plunger Of The Gods"!
Ok, so you've been dining on that human flesh so much that it's starting to stink.
And some nosey cops are poking around your place because someone said it smells like someone died in your apartment? No problem. New "Gore Neutralizer" will take care of the smell instantly. Actually, it doesn't remove the smell at all. Instead it singes the nostrils of anyone who enters your place, thus instantly eliminating any sense of smell that they had. And what's even better, IT'S PERMANENT! That'll show those nosey bastards to try to mess with the lifestyle of a True Metal Maniac!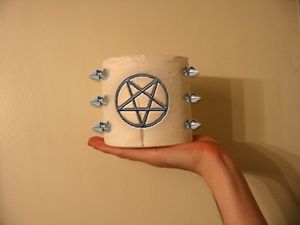 [ click to enlarge ]

Do you really think a TRUE Metalhead would want some pansy-assed toilet paper that's "soft and gentle"? Hell no! We want our toilet paper to be just as harsh as the music we listen to damnit! That's why there's "Thrash Your Ass Brand Toilet Paper"! This stuff won't just remove the shit, it will remove skin and bone as well! METAL!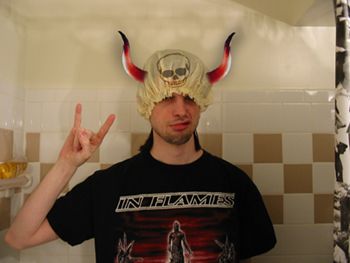 [ click to enlarge ]

Ah yes, what would is a Metal Maniac to do when he wants to protect his precious hair? Look no further than "King Sven's Royal Devil Horns Shower Cap"! Not only will it protect your hair so it can look perfect for your next show, but you'll look incredibly metal as you sport this intimidating shower cap. And as you can see in the above photo, only a TRUE metalhead takes showers while wearing his metal t-shirts!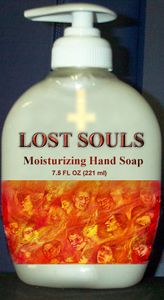 [ click to enlarge ]

After you've ripped the intestines from a metal naysayer, why wash your hands with ordinary soap? Savor the ritual killing experience by washing your hands with "Lost Souls Moisturizing Hand Soap"! Trapped within this soap are thousands of tortured souls just waiting to be freed. Now you can free them as you feel yourself gaining all of their powers by mercilessly rubbing them into your skin! FEEL THE METAL!
MORE PRODUCTS STILL TO COME!