by: -RoG-
...CONTINUED
Boogyman Lollipops

As much as I like how these Boogyman Lollipops look, I had a feeling they wouldn't taste bad. Why? Because it's simply listed as "artificially flavored" instead of "grape" or whatever you would expect something like this to taste like. When they don't even list the flavor it usually means they have no idea what it tastes like either. I equate it to licking the sole of an old shoe... which, when you think about it, is probably how the Boogman really would taste. So I guess they were going more for accuracy here rather than making a treat that tastes good.

out of 5 Counts (ah-ah-ah!)
Vampire Fangs With Bloody Blackberry and
Gruesome Green Apple Gummy Tongues


These are really no different than the Gummy Ghouls Candy Tongues that I reviewed a few years ago. Same set of plastic fangs and a gummy tongue, but with Target's new Halloween themed packaging. The one big difference here is that this is probably the only blackberry flavored Halloween candies you'll ever come across. Seriously, you just don't find blackberry flavored candies all too often. The packages say the tongues are tart, but they're no more tart than any other typical gummy candies you've ever had before. As rare as it is to find a blackberry flavored candy, thing tongue is perhaps proof as to why that is... it's simply not that good. The green apple one is pretty decent though. So, unless you just want the blackberry one because you long for a black tongue, I'd go with the green set.


out of 5 maggots
Creepy Crawlers Gummy Coral Snake


No! I won't do it! I will NOT eat this thing. It's a coral snake for chrissakes... A CORAL SNAKE! That's one hell of a specific gummy candy. They could've just gone with your garden variety snake, but no, Creepy Crawlers went all out with their new gummy coral snake. Just look at the coloring job on it. I don't care how good it may potentially taste, I'm not ruining something that looks this great. Considering coral snakes are non-venemous, it's not exactly a "creepy" snake. It's the kind of snake you just want to pick up and hug. Hell, I'm tempted to set up a terrarium just so I can put this lil' fella inside it for safe keeping.




out of 5 Mummies
Domo-Kun Frankenstein Marshmallow


I'm sure you were just as surprised as I was to see that Domo-Kun was the official Halloween mascot for Target this year. Sure he's a popular Japanese monster and the subject of an infamous Internet masturbation joke (two fairly scary things), but who would've thought a big company like Target would decide to embrace him for Halloween of all things? Well, in addition to being their mascot, they put out a variety of Domo monster marshmallows such as this Frankstein one. As much as I love Domo, I'm not a big fan of marshmallow candies to begin with, and these ones are definitely subpar as far as flavor goes. So unless you're into eating something that tastes like a chemically treated sponge, I'd steer clear of these.
out of 5 Mothras
Domo-Kun Gummy Chompers


While I like the idea behind these Domo-Kun chompers, I think they could've been excuted much better. The problem with them is, you can't really wear these gummy chompers unless you lean your head back and just place them on your lips. Again, it's a good idea, but it would've worked much better had they been like the classic candy wax lips that we've all come to love over the years. Here's hoping they get it right next Halloween, because I'd love nothing more than to be able to walk around with a set of Domo chompers in my mouth.


out of 5 puzzle boxes
Chef Ghoulicious Box Of Boogers


Just as good as they were last year. Plump and delicious... just like real boogers! Right?




out of 5 Creatures from the Black Lagoon
Chef Choulicious Zit Poppers


Along with their seasonal Box of Boogers, Flix has made a new addition to their fun Chef Ghoulicious line of Halloween candies - Zit Poppers! All I can say is WOW... look at those things. They're actually wet when you take them out of the package and appear to be filled with puss and blood. That's some seriously nasty looking stuff right there. Well, as disgusting as they look, they don't taste half bad. They're gummy candies with a sweet gooey center that really does resemble the kind of fluid you'd expect to see oozing out of a blister. They may not be my favorite candies as far as taste goes, but these definitely win my pick for grossest looking Halloween candies of 2008. Way to go, Chef!



out of 5 black widow spiders
Trick-Or-Treat Candy Fan Pop


Sure, it's a tasty blue raspberry lollipop 'n all, but anybody who buys a novelty candy product like this will tell you they didn't buy it because they wanted a treat... they wanted a toy. In this case, you get a fan: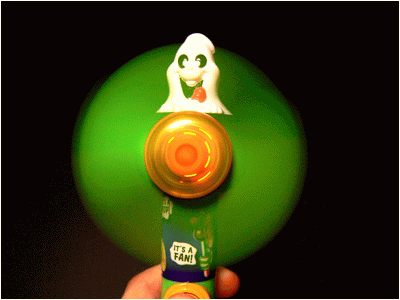 Pretty nifty lil' fan too, what with the goofy ghost face and all the lights, but it's not exactly a high-powered one that's gonna cool you off much. Then again, most people don't need fans in October because the weather has already taken a cold turn. But even if you don't technically need one, are you really going to pass up the chance to get one that looks like this and comes with candy? I didn't think so.



out of 5 leaf piles
Fluffy Stuff Sour Apple Spider Web Cotton Candy


I love cotton candy... loooooooooove it. And if it wasn't for Fluffy Stuff brand cotton candy, I would only get to have it when attending a carnival of some sort, which isn't exactly something I do on a regular basis. So the idea that they'd put out a Halloween spider web themed version of their cotton candy is something I'm all for. What I'm not for is changing the flavor of cotton candy. Cotton candy is fine as it is. It doesn't need to be fixed, it doesn't need to be changed, it doesn't need extra flavor. When I saw that this stuff was sour apple flavor, I figured it would be just a mellow apple flavor... boy was I ever wrong. This stuff is a sour ASSAULT on your mouth. I actually winced when I first tried it, it was that surprising. If you're into extremely sour candy, look no further than the Fluffy Stuff Spider Web Cotton Candy. Personally, I prefer my cotton candy in the classic style and not spun from the buttocks of an arachnid.


out of 5 Audrey II plants
Candy Potion Powders Party Pack


At first glance, these Candy Potion Powders reminded me of the Mad Lab Crazy Candy Chemistry set from last year, only the candy comes in little jars instead of test tubes and there's less candy this time. I prefer the test tubes over the more cutesy looking jars, but the good news is that the stuff tastes good. For those of you who like Lik-M-Aid Fun Dip, these candy potion powders are pretty much just like that stuff. Crushed Toads is apple, Potion #13 is Orange, and Eye of Newt is Grape. Only thing these are missing are the candy chalk pieces, which were always my favorite parts of the Fun Dip packs.



out of 5 jack-o-lanterns
Oh but there's more!
CLICK HERE TO CONTINUE TO
PAGE 4 OF THE CANDIES!