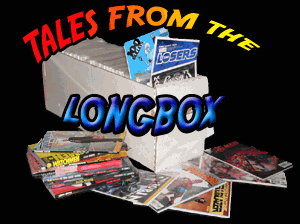 "Ultimates 3: Ultimately Crappy"
02/27/09
by: Protoclown
After a much needed hiatus, I have returned to warn you about comics that you should not under any circumstances read, even if a disheveled future version of you frantically approaches you, puts it in your hands and says "You MUST read this! The answers are in here!" before fading into oblivion. I knew that after my time away, and given that my last column was about the much maligned "All Star Batman and Robin", I had to come back with something amazingly, colossally bad to make up for my long absence. After considering my options for a while, there was one choice that seemed obvious. Despite the fact that Max Burbank did a fine job of trashing the hell out of Ultimates 3 in his Weekly reviews here, here, here, and here, I felt that this series was so insanely, dangerously bad that it deserved a more in-depth lambasting that only a full-length column can provide. I deliberately avoided rereading Max's reviews, because I didn't want them to influence my writing, so if any of my jokes or clever talking points are similar to his, the only explanation I can provide is that great minds think alikehe's a time traveling thief with no moral center.
Those of you who enjoyed Mark Millar and Bryan Hitch's first two Ultimates series will find the treatment of the franchise here to be most offensive, as Jeph Loeb takes the quality book they worked on out behind the barn, shoots it in the face, and then dresses the corpse all purdy-like, hoists it up with puppet strings and makes it dance a twitchy, awkward dance for money, all while its entrails slowly leak out of its slowly tearing orifices, landing with a sickening plop onto the dancefloor. Joe Madureira's cartoony art is certainly pretty to look at, but an ill-suited follow-up to the realistic, detailed style of Bryan Hitch. But since the dialog in this once-respected series now sounds like it was conceived by a twelve-year-old on a sugar high, having the art match the ludicrous cartoon this book has become seems rather appropriate.
I understand that Jeph Loeb's writing has gone straight into the shitter since his teenage son died of cancer, and I really feel for the guy's tragedy. So he's got a pretty solid excuse for sucking hard right now. So I don't blame him, and I hope he eventually recovers his old ability to spin a fun yarn. What is inexcusable is that the editors at Marvel thought that this pile of shit was acceptable to publish. If Loeb isn't up to the task of doing a high profile book right now, then they shouldn't have him working on one. Give him a Rocket Raccoon mini-series instead. It's as simple as that. I haven't kept up with the Ultimate line of books in a while, but I've heard talk that Marvel is killing the line. If books like this are indicative of its quality lately, I can see why.


If nothing else, I suppose we can be thankful that Captain America doesn't have immense Rob Liefeld tits on the covers.
The story begins with the Ultimates having a team meeting, where they see a news broadcast featuring a leaked sex tape of Tony Stark (Iron Man) having sex with the Black Widow (Natasha Romanov), who betrayed the team at the end of Ultimates 2. Naturally, Tony isn't happy to relive the painful memories (and boners) this dredges up, so he does what he does best--gets completely shitfaced and just tries to ignore the problem.

"Why Tony, I never knew you had a Prince Albert piercing! 'Iron Man' indeed!"
Tony doesn't want to talk about it, but new team-leader Wasp (Janet Pym) recognizes that the fact that somebody hacked into their system and recorded that footage represents a serious security concern. While she's bringing up these fine points, the wall suddenly explodes as Venom punches a previously absent Thor into the room. He's asking where "she" is and threatening to kill them all if they don't answer his unhelpfully vague questions.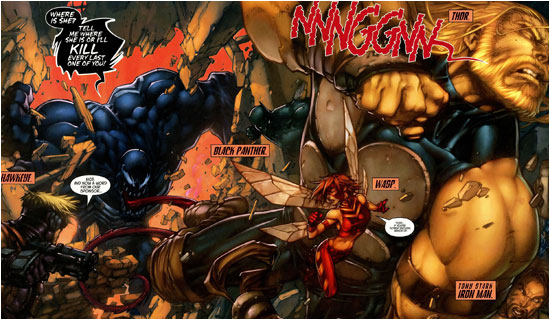 "Hey, you're a Spider-Man villain! There hasn't been any kind of crossover authorized here!"
Hawkeye (Clint Barton) immediately rushes Venom, guns blazing, while Wasp yells for him to wait for backup (Why? The whole team is right there). He fires a crossbow bolt at Venom, which only further enrages him. Hawkeye has a death wish since his family was brutally killed back in Ultimates 2, which is something that the writer reminds us of at every available opportunity. Venom is about to put a serious beatdown on Hawkeye when mysterious and silent new team member Black Panther shows up to save the day, being so badass that he can simply punch the air in the vicinity of Venom and it's just as effective as if he actually made contact with his face!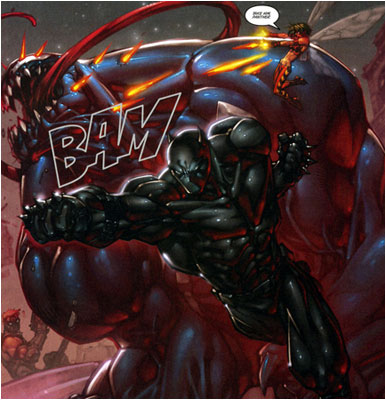 "Dammit, Panther, he's behind you! Quit shadowboxing and help us out!"
Venom gets tired of being pummeled by the Panther, so he picks him up and throws him off into the distance, over the line of buildings so no one can see where he landed. Just when he's turning his attention back to Hawkeye, another new and unexplained team member, Valkyrie, leaps off her Pegasus and cleaves him nearly in half with her sword.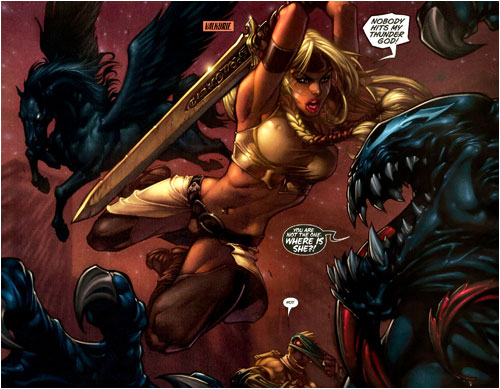 This is one woman Venom will not be hearing the lamentations of.

Being a symbiote who regularly changes his size and shape and regenerates, this hardly slows him down and he quickly turns the tables on her. Just as he's about to impale her with her own sword, Thor shows back up, offended that Venom would attack his hot nineteen-year-old piece of ass, and brings the lightning down upon him. Which melts him into a puddle of goo, causing Valkyrie to exclaim "awesome" as she looks on.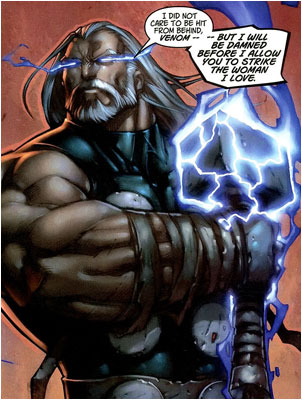 You just don't mess with Thor's steady supply of hot poontang. Verily.
As Venom melts around them, Thor and Valkyrie start making out on the rain-soaked battlefield. No seriously, they do. There's even a picture if you don't believe me. She even says "Yummm".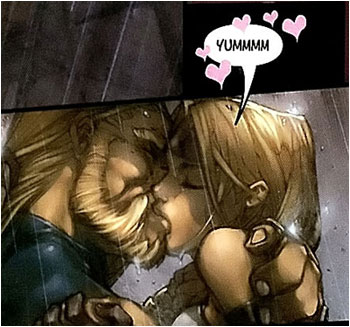 "Oh, pound me with your hammer, Thor!"
Hawkeye meanwhile walks up and starts shooting the pile of goo, just in case it starts to reform, but Wasp tells him to stand down, calling him by his real name Clint while doing so. This causes him to flip out and point a gun directly at his leader's face, which amazingly does not immediately result in a) a beatdown and b) his dismissal from the team. But hey, the Ultimates leadership is pretty accepting of gross acts of insubordination that involve directly threatening the life of a commanding officer. They're "hip", you know?

Wasp debates telling Hawkeye that he's fired, but decides that choice of words is probably not best at this time.
The next day, creepy incestuous couple Quicksilver and the Scarlet Witch are walking through Avengers Mansion when Captain America stops them and asks Wanda if she could wear a less revealing costume. Apparently Cap's 1940s sensibilities find her scanty costume to be a bit too scandalous. Pietro rudely tells Cap to mind his own business, and just as they're leaving Cap grabs Wanda's arm and asks her to be reasonable. Pietro doesn't like someone else touching his sister and threatens Cap's life should he ever touch her again.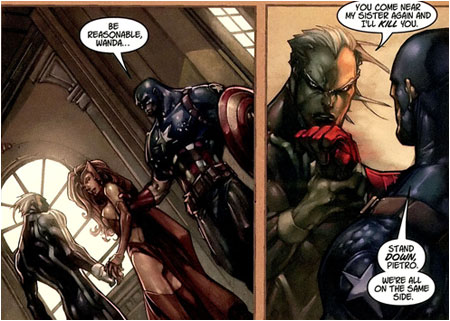 "You don't be talkin' to my girls 'less you be willing to pay up front. You dig, fool?"
Pietro and Wanda leave the mansion in a huff, and Wasp approaches Cap and tells him that she realizes that he has trouble understanding some of the things that go on in the "modern world". He remarks that the jealousy in Pietro seems a bit strange, and Wasp tells him that they love each other. "Of course they do, they're brother and sister!" he replies. "No no, Steve--they lurrrrve each other," she explains, which is met with a quizzical look. "Oh for gods--Steve, they're fucking!" she snaps, causing Captain America's head to explode.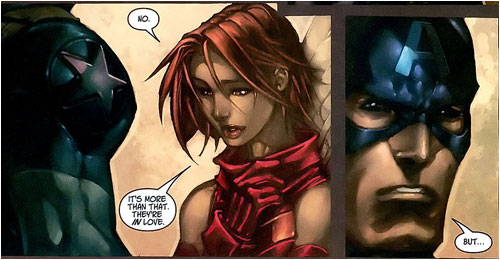 After his teammates explained the birds and the bees, Captain America was never quite the same.
Janet Pym then heads to see her estranged, under-house-arrest-after-the-events-of-Ultimates 2 husband Hank down in his laboratory. She calls out to him as he looks into a microscope, but he doesn't respond. Thinking he must really be into his work, she reaches out to tap him on the shoulder, and that's when she discovers that Hank had himself a date with a big ol' bottle of pills.


"Hank, you selfish ass! You didn't leave enough for me!"
Quicksilver and Scarlet Witch are enjoying themselves a nice walk in the snow, which she basically suffers through wearing little more than a bikini, when all of a sudden they hear a gunshot. Quicksilver spots the bullet heading towards his sister and uses his superspeed to intercept it.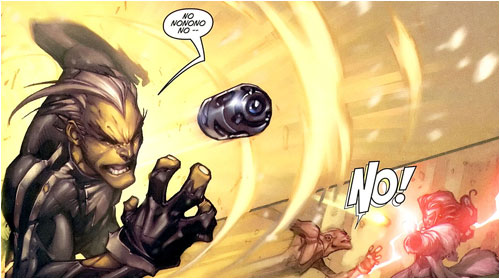 None may touch Pietro's sister except for him. That goes for bullets too!
Pietro leaps to catch the bullet and believes he has succeeded, until he looks down and notices the giant, gaping hole in his hand. Looking over at his sister he notices that she is bleeding, and that's when she collapses in his arms.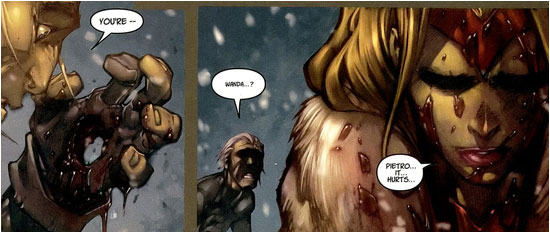 "Well, this will certainly make masturbation interesting..."
A doctor happened to witness the shooting and rushes over to offer his help, but Pietro can barely get past his freaky hang up about anyone else laying their hands on his sister. He finally relents and allows the doctor to perform CPR, but it's all too late--Wanda dies in her brother's arms.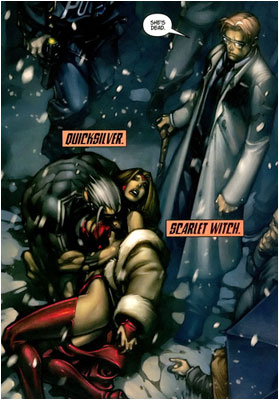 "But...but...you had a body armor bikini...how could the bullet have gotten through??"
The second issue starts with Spider-Man swinging his way through Central Park, when suddenly he gets shot by a crazy, gun-toting Hawkeye, who despite his name, apparently fires at least six times (read the "blams") and only manages to hit Spidey once. He's decided that he needs to learn more about why Venom attacked the mansion, and given that he's part of Spider-Man's rogue's gallery, young Mr. Parker seems the perfect person to ask. Sure, Hawkeye could have been reasonable and just walked up and asked Spider-Man what he knows about Venom, but these heroes actually have a contractual obligation to "misunderstand" one another every so often so they can pad the content of an issue with a fight scene that otherwise would not be there.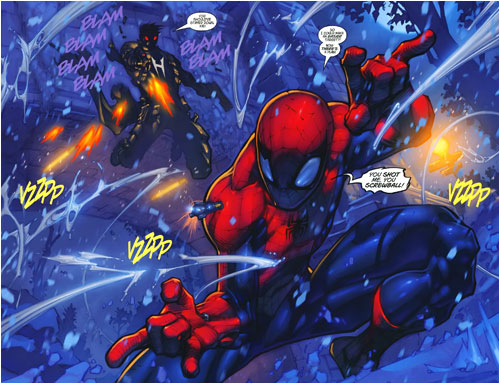 Amazingly, that dart has hit Spider-Man from a totally different angle than the one
Hawkeye was firing from. Has he been learning tricks from Black Panther?

The two of them tussle for a while, but finally Spider-Man wraps Hawkeye to a tree with his webbing and explains that he just wants to be left alone.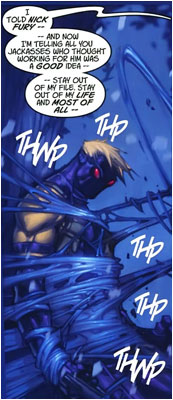 "Okay, so Hawkeye, I know this is going to sound a little weird,
but I am compelled to lay my eggs in your belly."
As Spider-Man dangles in front of Hawkeye explaining all this, Hawkeye cockily starts counting backward from three, and when he gets to one, the drugs in the dart take effect and Spidey collapses to the ground. This means that during the entire battle Hawkeye was keeping count in the back of his mind, all while trading witty banter back and forth. You know, I'm gonna go ahead and call bullshit on this one.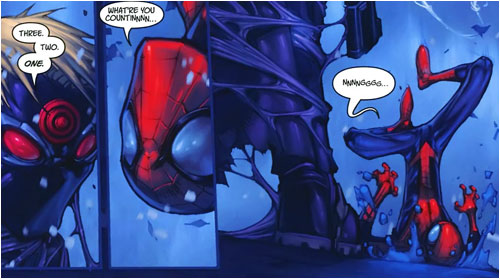 "Alright, bug, you've got three seconds to tell me where I can find an awesome pair of
footie pajamas like that, or I start blowing off kneecaps."
Hawkeye tells the paralyzed Spider-Man that if he had anything to do with the Venom attack, he's going to make sure he never gets up again. Just then, Captain America shows up and knocks Hawkeye's gun out of his hand with his shield, preventing him from visiting whatever perversions he had planned upon Spider-Man. He tells Hawkeye that he's needed back at the base ASAP, and then the two of them run off leaving the paralyzed Spider-Man laying in the snow. How heroic!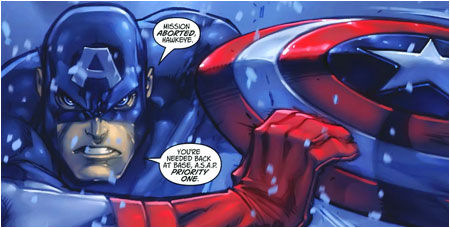 "Alright gang, I brought my shield. LET'S. GO. SLEDDING."
We then cut back to Avengers Mansion, where Pietro is grieving over his sister, and explaining that the bullet that killed her was specifically keyed to her DNA, meaning that it was designed especially to kill only the Scarlet Witch. Somehow he just knows this (he turns out to be right)--maybe just because of the special way that the bullet tore through his hand. It's never explained how he just knows, and we the reader know better than to bother asking. Meanwhile we see Iron Man getting drunk (natch), and Thor and Valkyrie lie in bed together. I've made sure the image I captured below is big enough to read the atrocious dialog. Valkyrie asks Thor why he's talking with "thous" and "thees" (he still uses them more rarely than Jeph Loeb seems to think he does) when he never spoke that way before. Thor of course gives some ridiculous explanation, and then Valkyrie says "I thinketh it cuteth". That line actually spilled out of Jeph Loeb's brain, onto a computer screen, onto a printed copy, through a letterer, multiple editors and proofreaders and it somehow ended up on the final printed page, and now, like a plague, I am sharing it with all of you. Fucking amazing.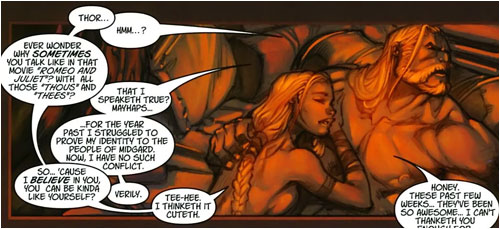 Fun Fact: Whenever writers and artists aren't looking in, Thor actually likes to be the little spoon.
Just then there's a security breach in the mansion as members of Magneto's Brotherhood of Mutants (Mystique, Sabretooth, Blob, Lorelei, and Madrox) crash the party.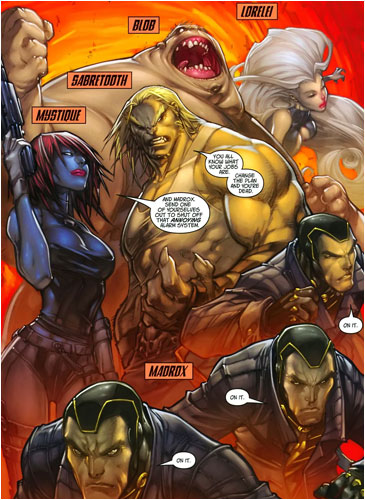 These guys look more like the entertainment for a child's birthday party than a terrorist group.
The Brotherhood each use their specific abilities to hit the Ultimates where it hurts. Mystique shows up at Tony Stark's (he is apparently too drunk to have heard the security alarm) window in the form of the deceased Natasha Romanov, and of course Tony is totally freaked out by this ghostly visitation (who he hopes can become tangible enough to have sex with). Wasp shows up and zaps Mystique into unconsciousness, explaining that the Mansion has been invaded.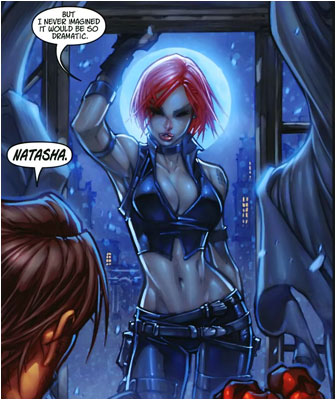 "Say Tony baby, how do you like my moon bonnet?"
Meanwhile Lorelei uses her seductive powers to mind control Thor into attacking Valkyrie. As a result of this, the painfully stupid Valkyrie apparently believes that Thor has been having an affair with her. They fight for a while, which Valkyrie says is "totally uncool", before she finally catches on that she needs to take down Lorelei to stop Thor.

"Go ahead, kill her, Thor, and there's a new life as a paper towel mascot just waiting for you."
Blob's plan of attack involves the refrigerator. Yes, that's right. He seems to feel that by removing their leftovers from the equation, they won't have the strength left to keep on fighting once their bodies run out of energy. Wasp shows up and starts zapping him, to which he responds by threatening to eat her. And that's when Iron Man arrives on scene, launching out of the floor and hurling him through the ceiling and out of the building.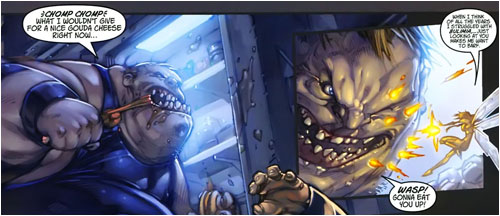 "Gah! Why do you shoot Blob with mustard?! The one food he does not like!"
Elsewhere Sabretooth and Captain America go at it, with Sabretooth yelling out badass battle cries like "Suck it!", and Cap getting offended by his use of improper language and noting that if there were a lady present, he would was his mouth out with soap and make it so he'd never utter a word again.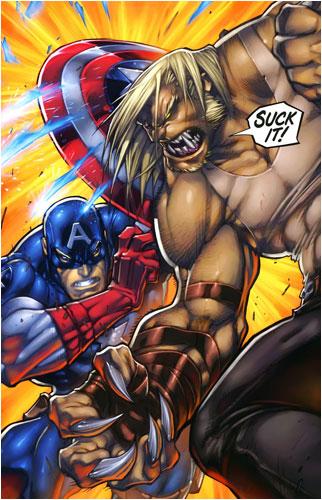 "I don't quite understand what you mean by 'suck it', young man,
but I'm pretty sure I don't like it!"
While the battle rages on, Pietro is in the science lab with his dead sister's body, presumably because he believed someone was going to come for it (let's just go with that one rather than some of the more disturbing ideas we could come up with). And sure enough, his father Magneto appears to collect the body, trying to convince Quicksilver to come as well, because "now is the time to be with family".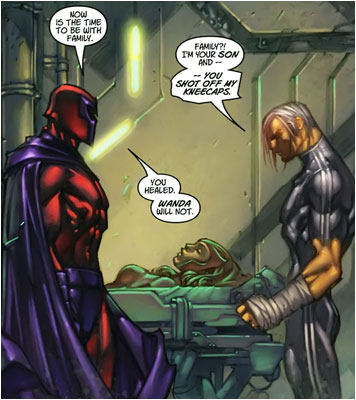 "Here she is, father. In mint condition! Except for, you know, the bullet hole."
After their conversation concludes, all the Brotherhood mutants teleport away in the middle of the fight, leaving the Ultimates confused as they take stock of their surroundings. And that's when who else but Wolver-fucker-ine (of course) shows up at the doorstep to announce that they have a much bigger problem than they initially realized. Throwing Wolverine into the story at this point (or at any point) is a huge mistake, because it violates a major Marvel rule: anytime characters travel to the Savage Land for any reason, they will encounter Wolverine there. He is preferred to be in a feral, naked state, and will initially attack the heroes due to some uncontrollable battle rage or misunderstanding. By having him show up before the Savage Land sequence, Loeb has majorly goofed.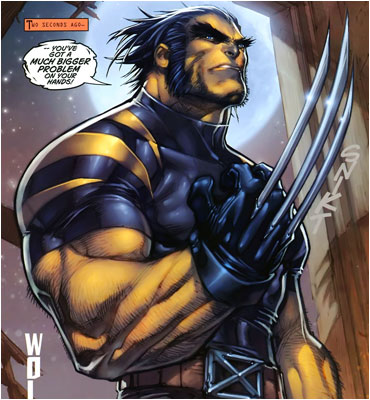 "Hey guys, can I join your team? I'm not on nearly enough teams.
I'm a lone wolf, and yet I like teams. Weird, huh?"
Wolverine tells the Ultimates that it was Pietro who called his father, but they have a hard time believing it. Hawkeye tries to damage Wolvie's credibility by asking "Didn't you used to be in the Brotherhood?" to which Wolvie snaps back "Didn't you used to have a wife and kids?" Which doesn't really make any kind of sense as a response at all. Hawkeye snaps at this, calls him a "mutie" and starts shooting. Note that in the image below Hawkeye's left eye lens is shattering for no reason whatsoever. Perhaps he is simply glaring daggers at Wolverine that hard.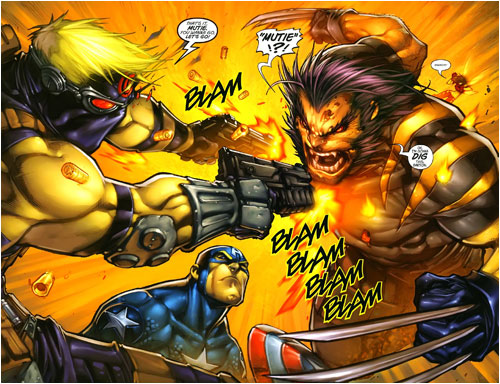 I love how Cap looks in this picture. Like some angry, disapproving, fatherly turtle.
Wolverine puts the claws right to Hawkeye's face and Mr. Deathwish practically begs him to end his sorry life, but Wasp and Captain America break things up. Wasp asks him what's the matter with him lately and he tells her to "fuck off". So Cap tells him to watch his language, causing him to retort with a witty "fuck you". So Cap sends him to bed without his supper.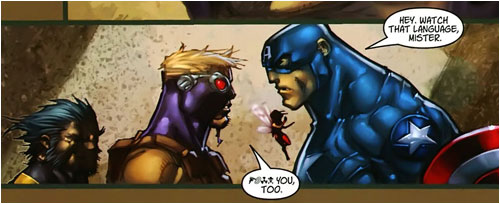 "I don't even want to look, but please tell me that's not an erect penis pressing into my leg."
Wolverine then tells his tale of how he met Wanda and Pietro's mother, back when he was searching for the mythical land of Wundagore, where he was planning to catch some smurfs or something. He collapsed in the cold and this totally hot woman took him back to her cabin, warmed him up, and nursed him back to health. With "the sex". Yeah, who hasn't that happened to anyway? I went snowboarding this one time and the same thing happened to me, except it was two hot women who nursed me back to health.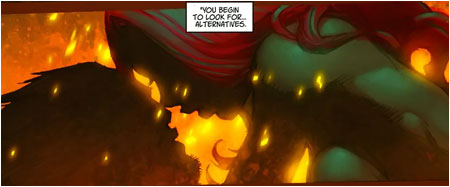 "You know, if you'd rather make love outside of the fire, I'm okay with that."

Of course, what Wolverine doesn't know is that this woman, Magda, just happens to be Magneto's main squeeze. He comes home from work killing humans one day and finds a hairy, clawed stranger boning his woman. So he does what anyone would do in that situation: use his powers of magnetism to hurl a cauldron at Logan, evicting him from the cabin and tossing him into the snow far below. And then letting him simply walk away (albeit naked).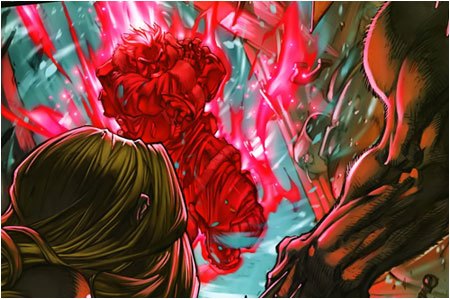 "Alright!! Kool Aid! Aw man, you're not the guy!"

THERE'S STILL MORE ULTIMADNESS TO SEE!
CLICK HERE TO CONTINUE TO PAGE TWO!