by: -RoG-
Lo there do I see my father; Lo there do I see my mother and my sisters and my brothers; Lo there do I see the line of my people, back to the beginning. Lo, they do call me, they bid me take my place among them, in the halls of Valhalla, where the brave may live forever.
Sorry. I just thought I should say a little prayer, because I'm about to embark on a Halloween task that just might end up causing me to lose my life. You see, it's late in October, and I thought that carving some pumpkins, decorating my place, and having candy for trick-or-treaters would keep me safe this year. But I awoke this morning to discover I was wrong, because somebody was waiting in my living room. Don't even pretend like you don't know who I'm talking about...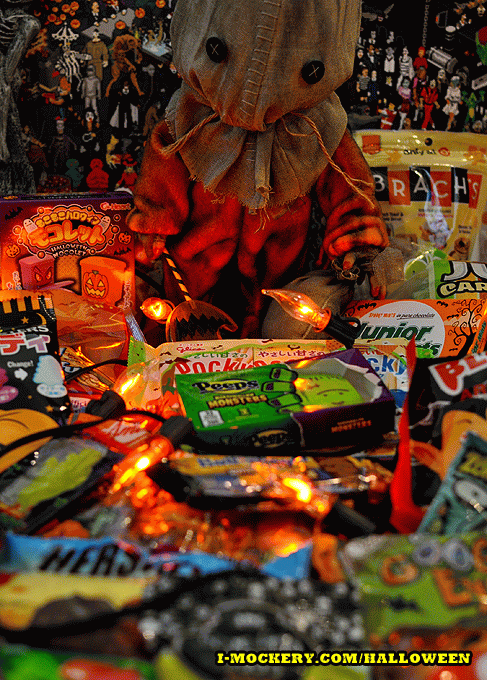 There he is. Sam from Trick 'r Treat has returned once again and selected me as "the chosen one" to taste test alllllll of his Halloween candy. You know what? I think he owes me something. I've been testing these candies for ages now, and he hasn't even paid for my hospital bills, which always come shortly after. After all, you saw what he made me eat last year, right? I might as well start being force fed sugar through a funnel in the months leading up to October every year and have it filmed like a Rocky training montage. And while he does owe me, I'm not going to dare ask him to give me anything, because he'll likely twist it into some kind of mortal offense against Halloween, and then kill me. I'd rather take my chances with ingesting this truckload of candy.
Besides, there's no arguing with Sam, he doesn't speak... he just upholds Halloween traditions as if they were the law of the land. And it's your fault. Many of you have told me that I-Mockery's "Two Months of Halloween" celebration has become part of your annual Halloween traditions. Well, Sam must have caught word of it, so I too have now become a part of Halloween. A tradition that must continue on for all eternity. Well, there's no sense in trying to fight it, I know what must done; for better or worse, I have to put every one of those candies in my gullet. For me. For you. For Sam.
Over the past two months, Sam has collected candies from the 2016 Halloween season and now it's time for me to put them to the test. On the following pages, you will learn all about the best and worst candies of the season as I conduct a thorough taste test of each and every one of 'em. In return, I only ask that you *PLEASE SHARE THIS ARTICLE* on your social networks of choice... and send me any recommendations you happen to have for quality stomach pumps.
As always, if you haven't read my past Halloween candy coverage from 2005, 2006, 2007, 2008, 2009, 2010, 2011, 2012, 2013, 2014, and 2015 make sure you do, because many of the candies from those years are still in production. Alright, let's get started with this giant pile of sugary madness before Sam gets angry!
Sweetarts Soft Bites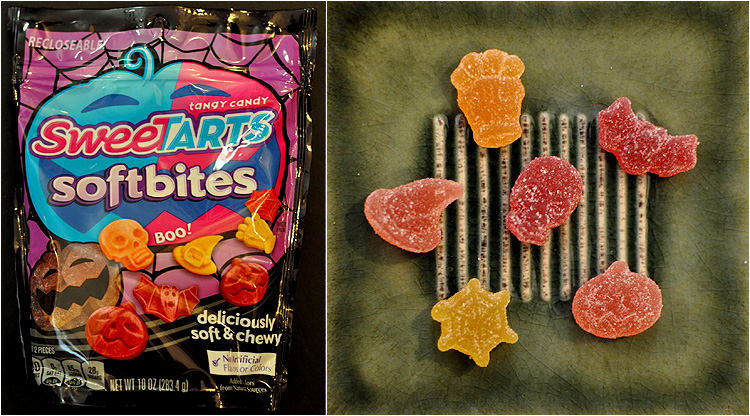 Coated in crystallized sugar, these Soft Bites live up to the name, as they're extremely easy to bite into, and a nice way to kick off my annual Halloween candy taste test. It's almost like they found a magical middle ground between hard candy and gummy candy. The spooky shapes are a nice touch too - witch hats, spider webs, jack-o-lanterns, vampire bats, skulls, and for some reason, a foot. Or perhaps it's a monster footprint? Who knows. Hey, they can't all be winners. Fortunately, the flavor is a winner. Usually I go for the cherry flavor, but I gotta give the win to orange here. It's really the perfect amount of sweetness. The strawberry ones are damn good as well, and they'll all stay fresh since they come in a resealable bag.



out of 5 floating eyeballs
Halloween Dots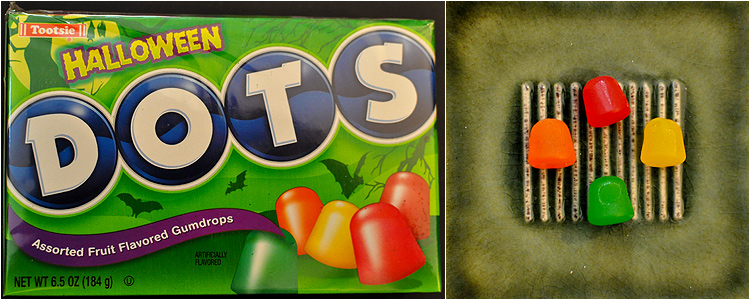 While I appreciate the horror-themed motif on the box - vampire bats, full moon, and dead trees - these Halloween Dots seem like a total afterthought by the Tootsie company. Don't forget, we actually had Ghost Dots in the past, and while they didn't glow-in-the-dark, at least they were something new and fun. These, however, are just regular fruit flavored dots. Come on, Tootsie! Give us some black licorice and orange dots mixed together or something more Halloweeny. As Immortan Joe would say, "Mediocre!" Honestly, the scariest thing about them is the note on the bottom of the box that says "produced with genetic engineering". Now that's truly spooky!
out of 5 Uncle Festers
Brach's Pumpkin Peanut Caramel Clusters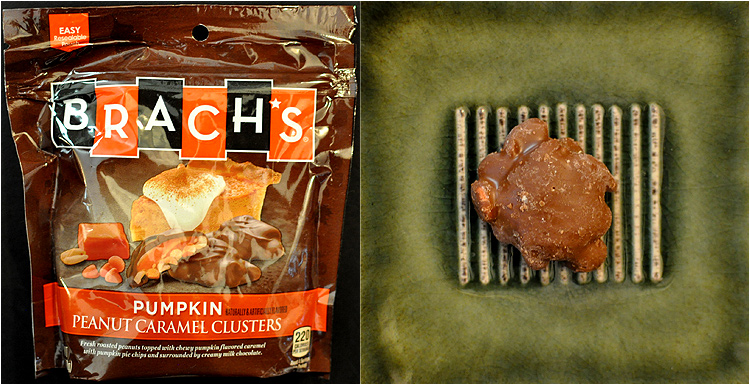 When I first bit into one of these, I was struck by just how much it tasted like a Snickers bar. Makes sense though... what with them being made from clusters of peanuts, chocolate, and caramel. It wasn't until shortly after that the pumpkin flavor hit me, and thankfully, it wasn't too strong at all. It was actually a perfect amount of pumpkin aftertaste to make these stand out from a standard Snickers bar. Really nice! Glad these come in a resealable bag too, as I'll be digging into the rest of these over the course of the month. Highly recommended!
out of 5 Phantasm Sentinel Spheres (R.I.P. Angus Scrimm)
Zomboogers Gummy Candy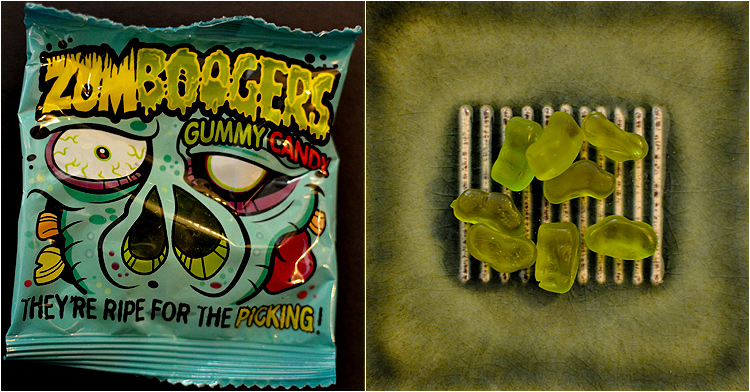 Those of you who ordered a Halloween Club Pack this year already know about these, but for those of you who didn't, these Zomboogers are fun little zombie gummy candies. First off, the packaging is wonderful, particularly in that you can actually see the booger candies through the translucent nasal cavity of the blue zombie on the front. Packaging design that works the actual product into it is always something I appreciate. And then the candies themselves are all bright green, which is perfect for zombie snot. The flavor is pretty decent for a gummy too. It's not quite Box of Boogers level quality, but they still have a nice generic fruit flavoring to them, and they're very chewy. A good lil' Halloween treat, and with a tagline like, "They're ripe for the picking!", you really can't go wrong with 'em.



out of 5 Pennywise clowns
Palmer Double-Crisp Goog-ly Eyes


I've reviewed Palmer chocolates over the years and they've always been okay. These are no different. I love the packaging, with the eyeballs in the logo, and the little window that shows all the eyeball chocolates beneath. The problem with candies of this nature is that while the individual wrapping looks really nice, they're always a chore to unwrap. If you're gonna spend a lots of time unwrapping candies, you want the pay-off to be a bit more than what we're getting with Palmer's chocolates. Still, a nice addition to the Halloween season this year, and who doesn't love seeing a random eyeball in their trick-or-treat sack? That said, I'll forever be curious as to why they hyphenated the "ly" on the end of "Goog-ly".


out of 5 pumpkin candles
Witches Stockings Candy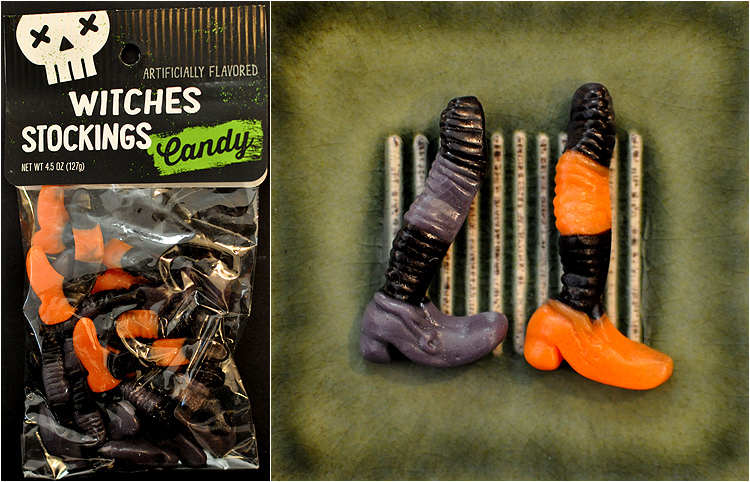 It feels like I've seen a bajillion different gummy candy shapes at this point in my life, but I can say with absolute certainty, that this is the first time I ever found ones shaped like witch stockings. They come in a purple, orange, and black color scheme, and they're shaped quite well. I could see these rolling up nicely underneath a house. They have a nice citrus flavor to them and they're not too hard to bite into, so I'm all about these. I just hope the Wicked Witch of the West isn't pissed that I'm eating her sister's stockings. Hey... I found them under a house. Finders keepers.



out of 5 full moons
Amos Gummy Screaming Skulls


When it comes to Halloween candies, you can never have too many of 'em shaped like skulls. I really love how these Screaming Skulls are shaped, because their jaws are stretched out cartoonishly long to the point that it almost looks like they'd work better as novelty horror door knockers. The packaging is fun too. As for the lime, orange, and grape flavoring, it's decent enough, but the gummies themselves are really quite hard to bite through. But hey, it's not every day you can say you just bit off the lower jaw bone of a skulll.


out of 5 pumpkin carving tools
Treat Street Zombie Hand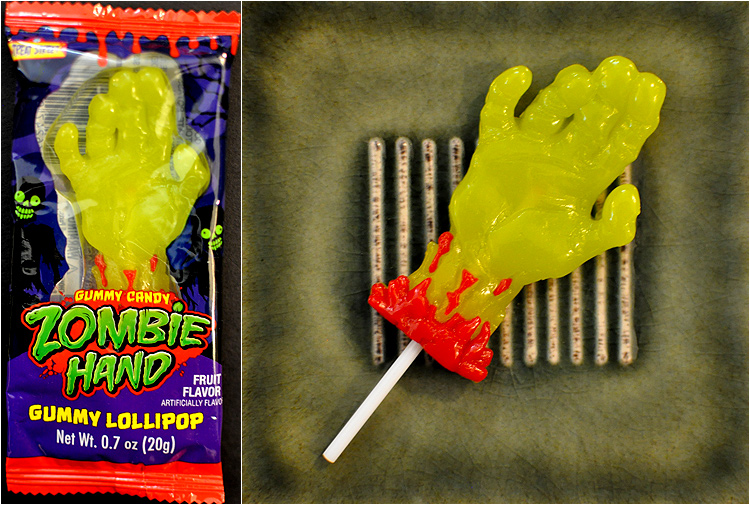 I was glad to find one of these again this season. Some of you probably recall I reviewed one of these last year, but it was completely melted during the Los Angeles heat wave. Now you can see what it was actually supposed to look like, and this zombie hand looks pretty great. Sure, I would've liked to see some rotting fingernails, but the green hue along with the severed bloody bits still make it look perfect for Halloween. So there ya go; fair is fair, and I just bumped up its score a bit.
out of 5 Gremlins
Peeps Marshmallow Monsters


Once again, Peeps can seemingly do no wrong, as their seasonal packaging continues to put a big smile on my face, year after year. With these ones, we have a great window package in which Frankenstein's Monster is bursting through it to show his happy lil' face, complete with surgical stitches. I love how the design is continued onto the actual package itself, with his green fingers and purple fingernails reaching through. Here's hoping they'll make some Dracula, Mummy, Wolfman, and Creature themed ones next year so we can have a bona fide Monster Squad of marshmallows.




out of 5 maggots
Oh but there's more!
CLICK HERE TO CONTINUE TO
PAGE 2 OF THE CANDIES!