by: -RoG-
...CONTINUED
[Auckland] [Hobbiton Tour] [OGO Rotorua/ Zorbing] [Wai-O-Tapu Geothermal Wonderland]
[Glow Worm Caves] [The Tongariro Alpine Crossing] [Wellington, Weta Cave, & Airport]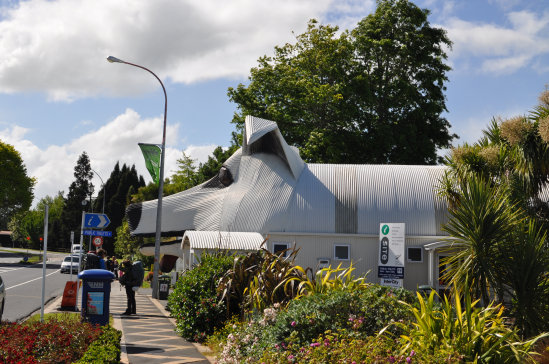 Since we didn't grab lunch at Hobbiton Farms, we headed towards our next destination and simply had to stop in this
little town along the way. I mean, how can you not stop in a town that has giant sheet metal sculpture buildings?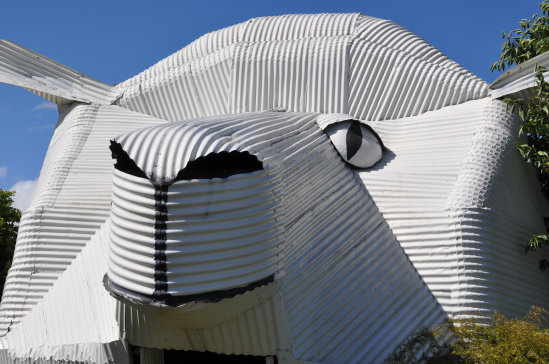 Baaaaaahhhhhh.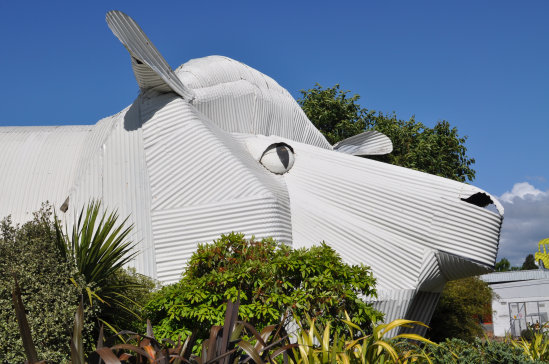 Another shot of Mr. Sheep.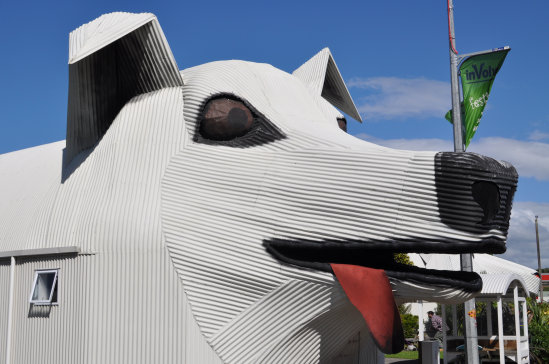 I later saw some guy climb into its mouth for a photo and totally regret not doing the same.

Word up.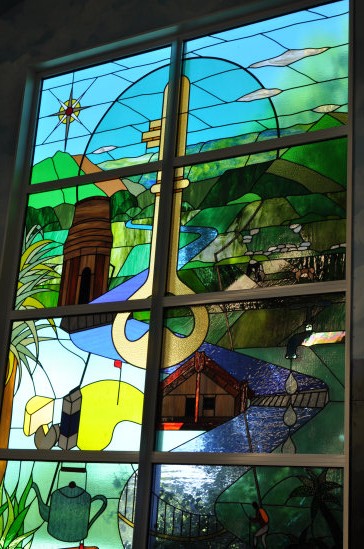 A nice stained glass window.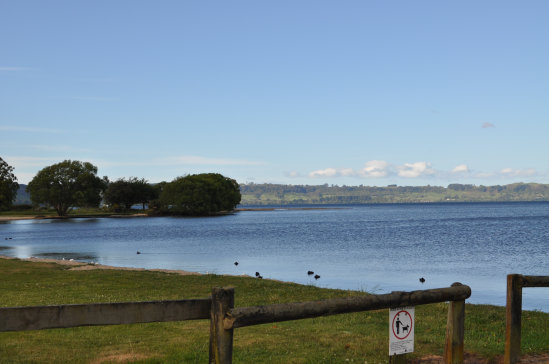 Took a wrong turn on our way to Rotorua and ended up at this dead end, but man was it a nice lake.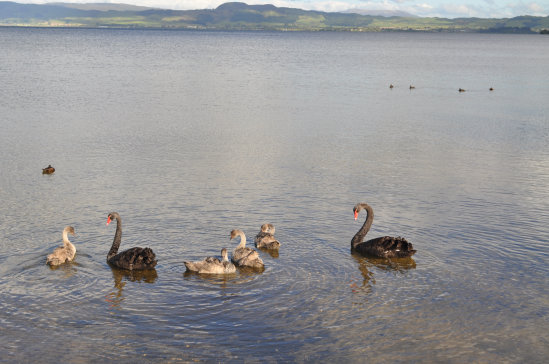 Swans.

I walked down to the end of this dock where a bunch of seagulls were hanging out and none of them even moved.
They couldn't care less that I was right there.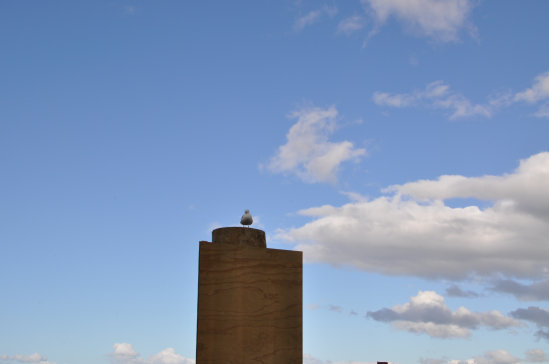 Except for this one. He wouldn't take his eyes off me and was obviously extremely suspicious of my motives.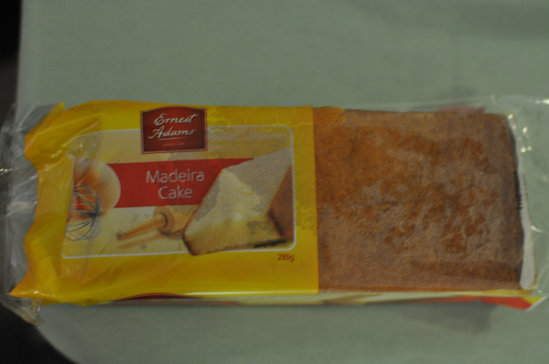 I don't know why I took a photo of this pound cake. I think we were just excited at the time to eat cake in our hotel room.
Who wouldn't be, right?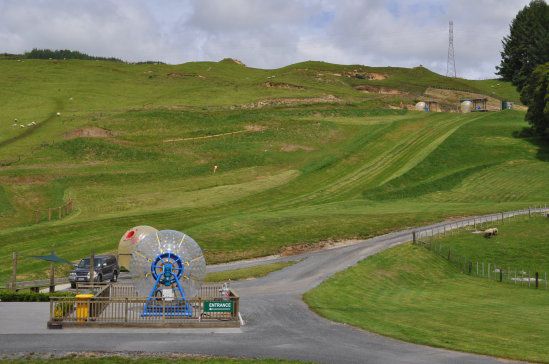 The next day, we headed out to OGO Rotorua. We were trying to decide between OGO and the original Zorb location,
but all the reviews we read showed that OGO was definitely the better and longer of the two experiences. In case you don't know what zorbing is, it's a recreational activity where they place you inside a large plastic orb and roll you down a hill. You can either go in a harnessed one and be strapped in, or you can go without a harness and they fill it with warm water for you to splash around in as you go flying down the hill. We were set on going with the water experience.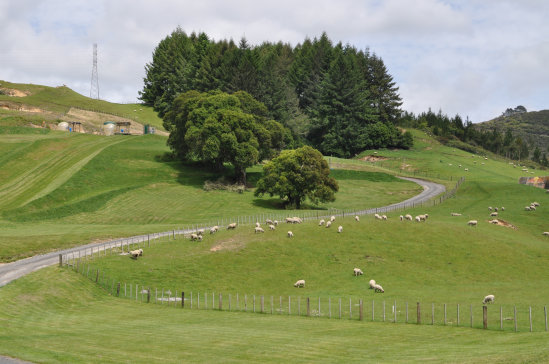 Naturally, there are plenty of sheep around OGO Rotorua.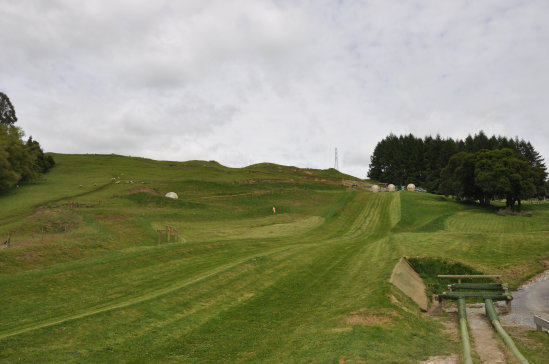 There are two paths you can take. You can either go straight down the hill, or you can do the Fishpipe track, which is a
significantly longer ride, and very twisty track, so your sphere will turn in all kinds of directions along the way.
We went with the Fishpipe and you can see a shot of us up on the left there.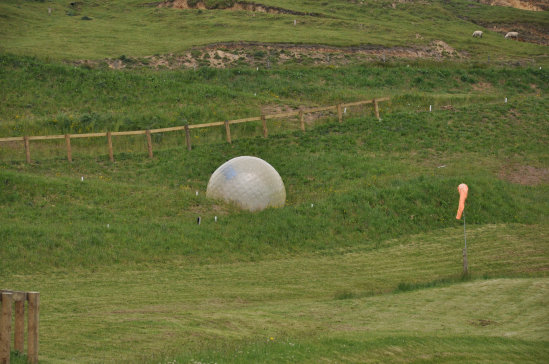 Here's another shot of us in the ball that they were nice enough to take.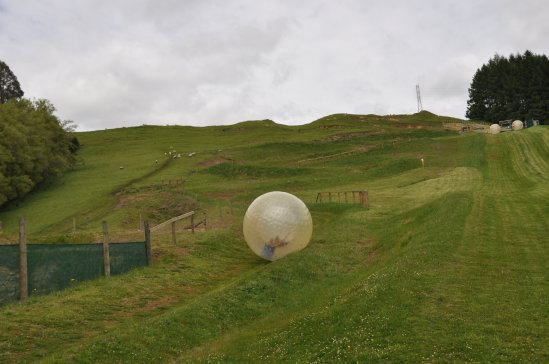 And another.

We're in there somewhere, I swear.

I now know what it feels like to be inside a washing machine, and holy crap, was it ever one hell of a fun ride. I cannot recommend it enough if you ever have the opportunity to try it. Felt like it lasted forever and we simply couldn't stop laughing and yelling the entire time. They even give you a GoPro camera so you can record your entire globe-riding experience.

And here I am exiting the ball. Kinda looks like an OGO ball is giving birth to me.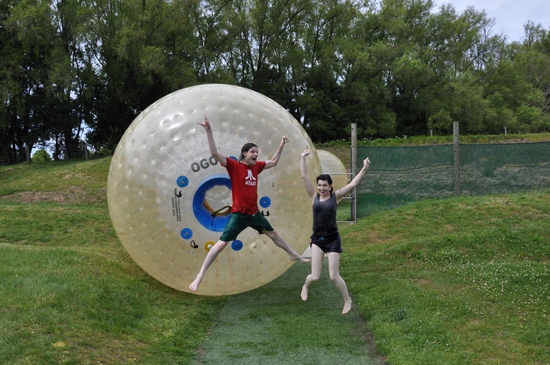 Obligatory satisfied customer action shot!
And now for some video from inside the rolling OGO Sphere:
Big thanks again to the staff at OGO Rotorua.
They were extremely friendly and fun to talk with, and they really made our experience one that we'll never forget.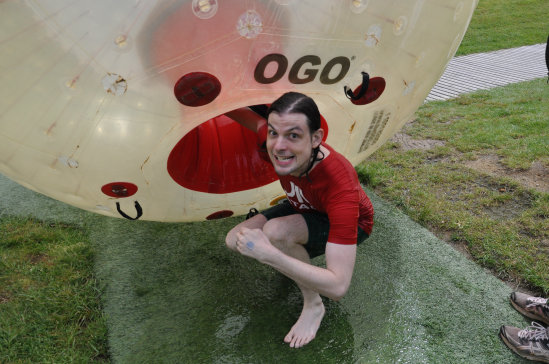 Ah screw it... you know what? I'm going back again!
Next up, we head to the Wai-O-Tapu Geothermal Wonderland!
There's still plenty more from the
New Zealand Road Trip to see!
Click here to continue onward to page 5!