by: -RoG-
...CONTINUED
[Auckland] [Hobbiton Tour] [OGO Rotorua/ Zorbing] [Wai-O-Tapu Geothermal Wonderland]
[Glow Worm Caves] [The Tongariro Alpine Crossing] [Wellington, Weta Cave, & Airport]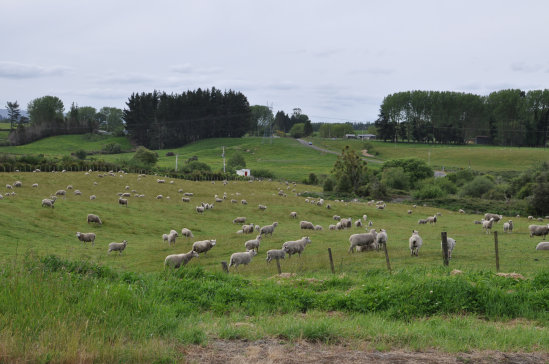 Plenty o' sheep.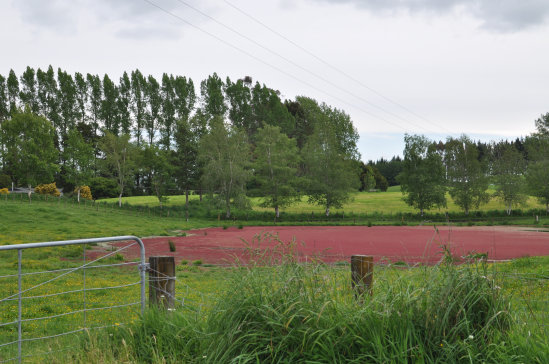 The ground is still stained with the blood of orcs. Okay, not really.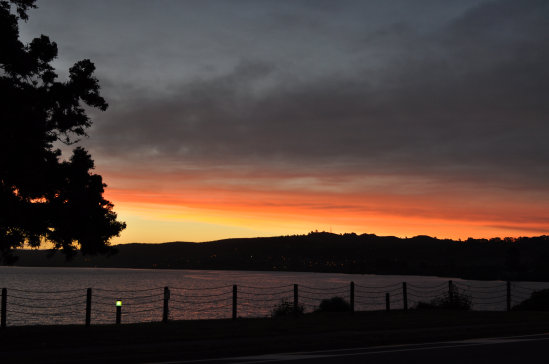 Sunsets don't get much better than that.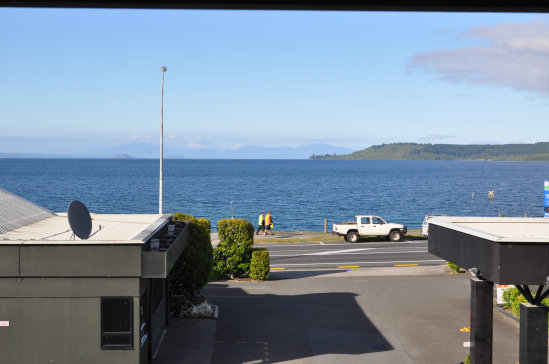 So we picked a random place on the edge of Lake Taupo to stay at the previous night...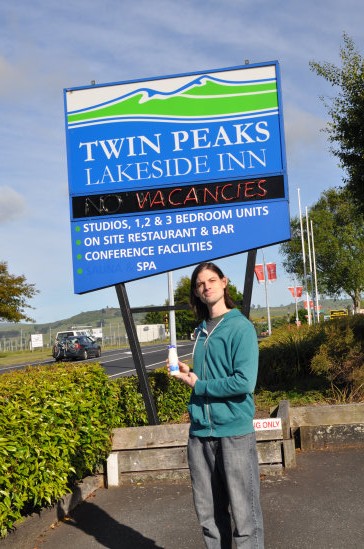 What can I say... we're huge fans of the show Twin Peaks, so we had to stay at the Twin Peaks Lakeside Inn.
Notice I'm holding a little bottle of milk in my hands? That's because I was absolutely bewildered and amused
when the front desk clerk checked us in and said, "Here's your room key......... and here's your milk."
No explanation or anything, just free milk with your room. Seemed like this Twin Peaks place was just as weird as the show.
This milky mystery had us perplexed for a good 48 hours until another place gave us a bottle without any explanation.
I asked them, "So what's up with the milk?" and they finally explained it was for our room if we wanted to make tea.
Apparently it's customary to give lodgers a free bottle of milk, though many places aren't doing it any longer.
Mystery solved!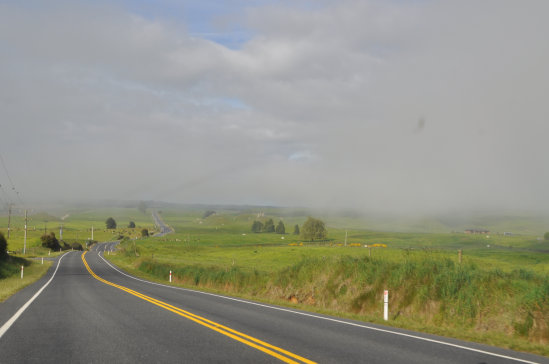 Fog.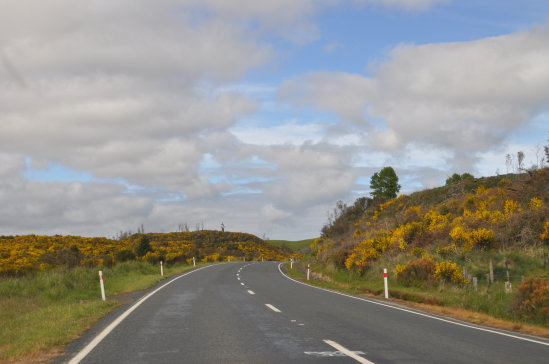 This photo doesn't do it justice, but there were boatloads of these yellow flowers on one stretch of the highway.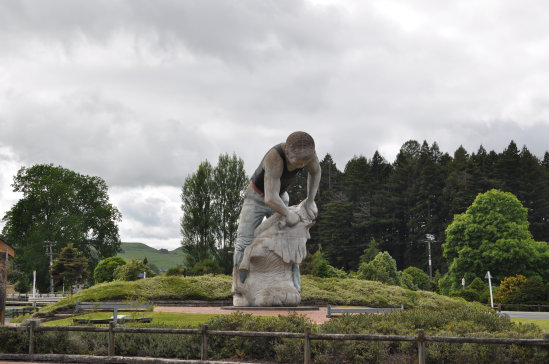 Art!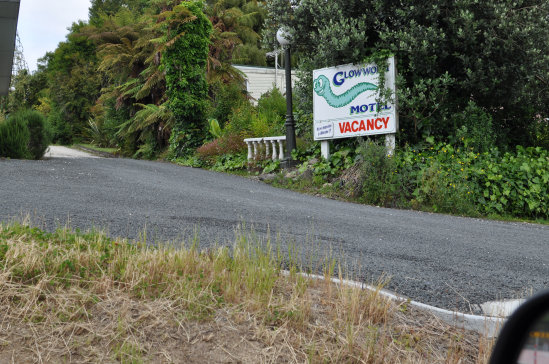 Good to know you can always get a room at the Glow Worm Motel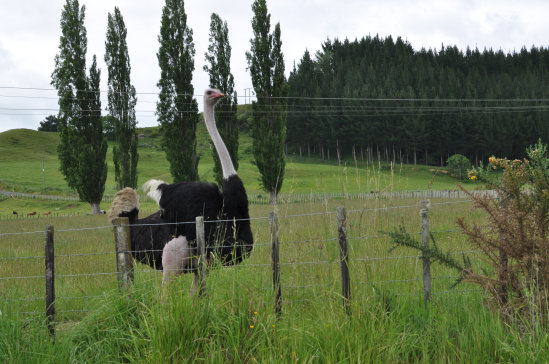 Suspicious ostrich is suspicious.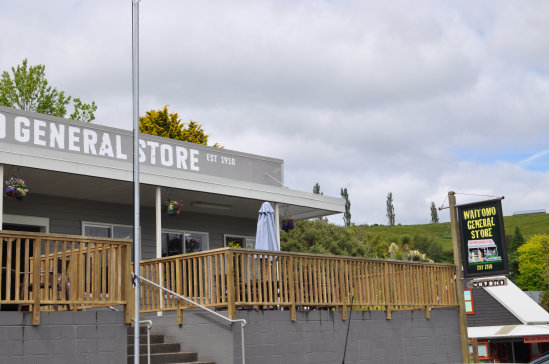 We arrive at the Waitomo General Store and await our guide to the Spellbound Glowworm caves.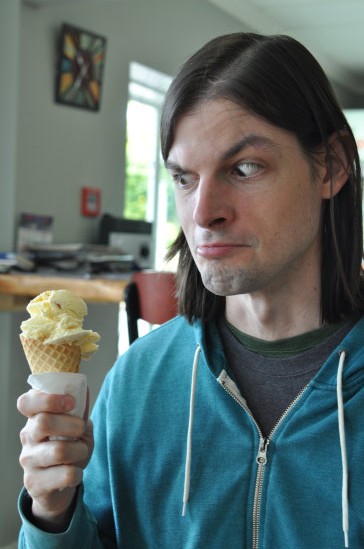 While we waited we finally got to try New Zealand's famous "Hokey Pokey" flavored ice dream.
And yeah, it was pretty great. I'm pretty sure honeycomb can make just about anything better.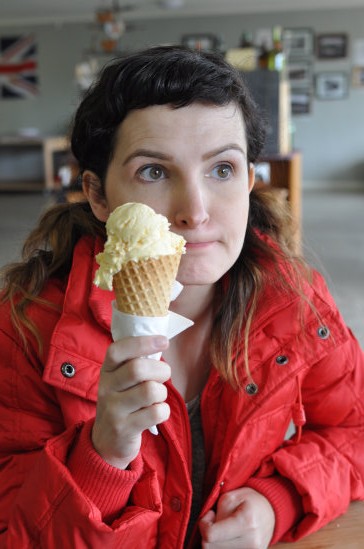 Re's mind wanders as she daydreams of swimming in a lake of hokey pokey ice cream.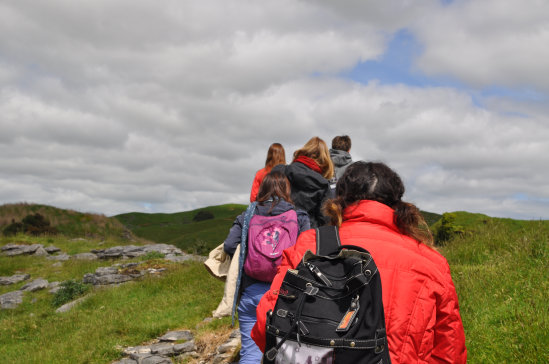 After a crazy, winding drive up to the top of the nearby mountains, our group heads out on foot for a hike to the caves.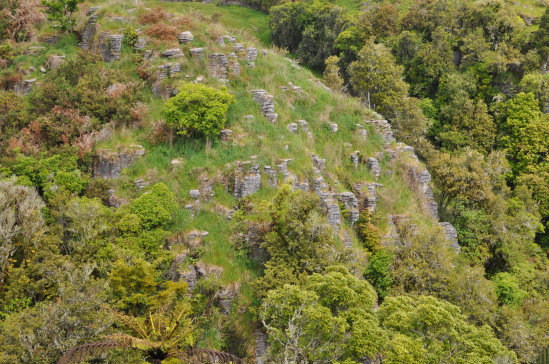 There be caves under there.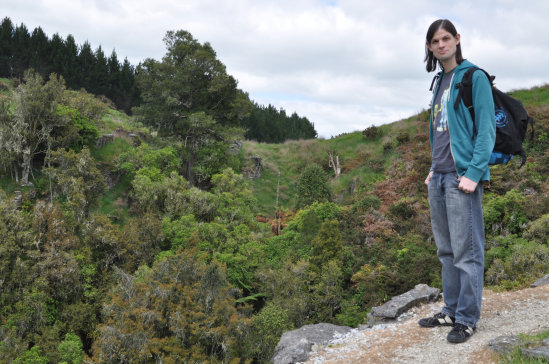 Requisite "Yeah, I was here" vacation photo.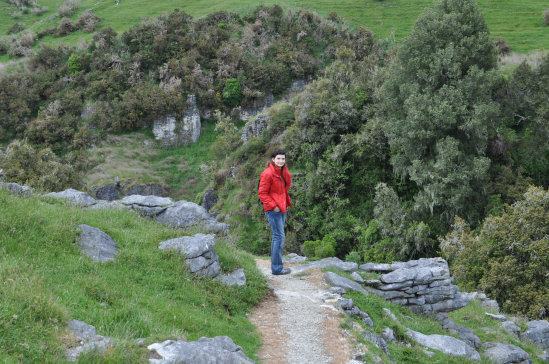 And one for Re as well.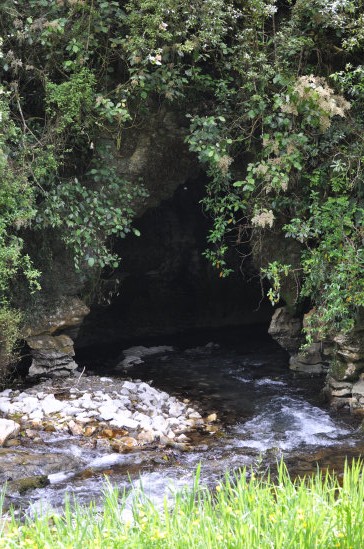 Well whaddaya know, there's a cave after all!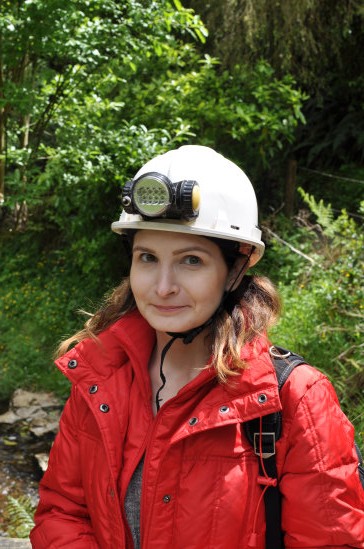 Hats! Yes!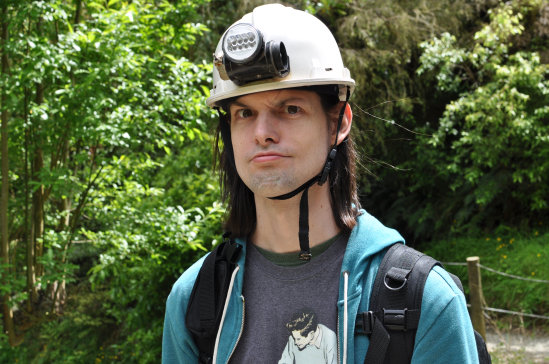 We get hats!? Holy crap, this tour just got a thousand times better.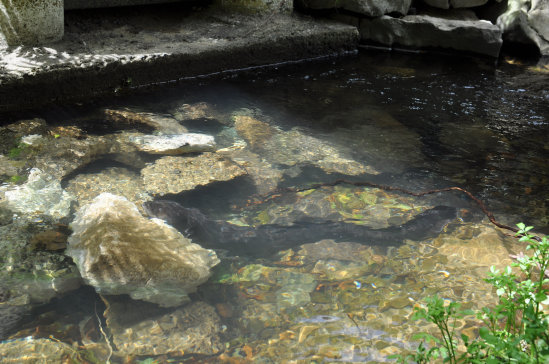 Before we went into the cave, our guide (who was awesome by the way) introduced us to
two fresh water eels that took up residence in a nearby stream. Another awesome bonus.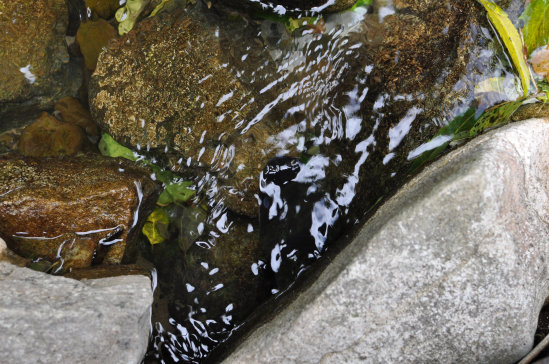 You can see its snout peeking up from under that lower right rock there.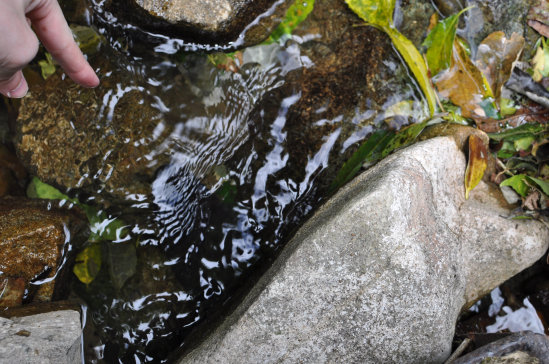 We stuck our fingers in the water to coax it out. Thankfully, no fingers were lost.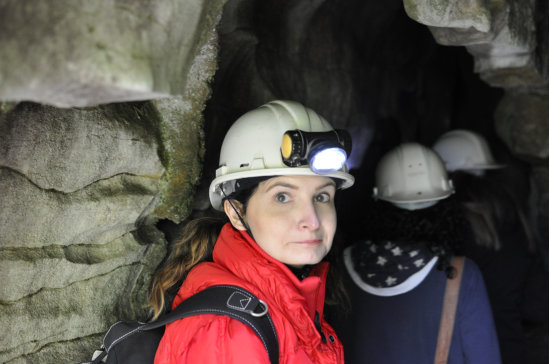 Into the caves we go!

There they are! Glow worms!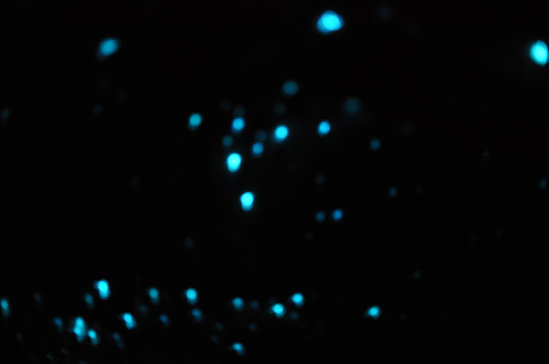 And with the lights out.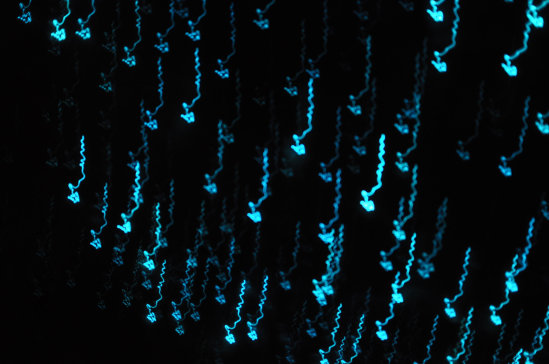 This photo didn't work out, but I still like how it looks.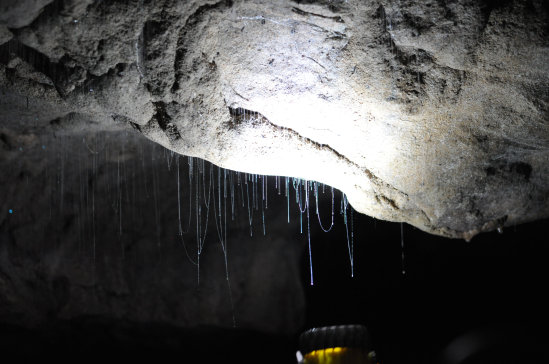 What we didn't know about glow worms, is that they're actually larvae with snare lines for catching other tiny insects.
You just don't notice the snare lines until you're up close and have a light shining on them.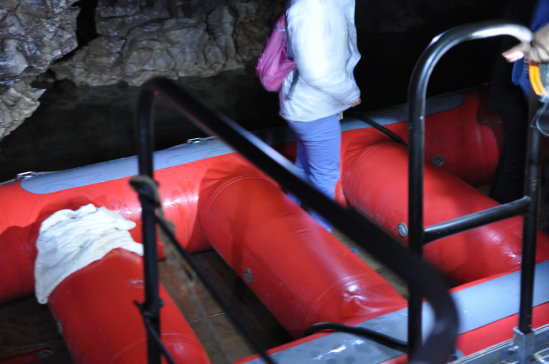 What's awesome about the Spellbound tour is that they eventually put you in a raft and turn out ALL the lights, and just pull the raft along a rope back and forth through one corridor in the cave, where you see thousands of glow worms right above you. Total silence and darkness, and the only thing you see are all these glowing blue lights above your head. Amazing.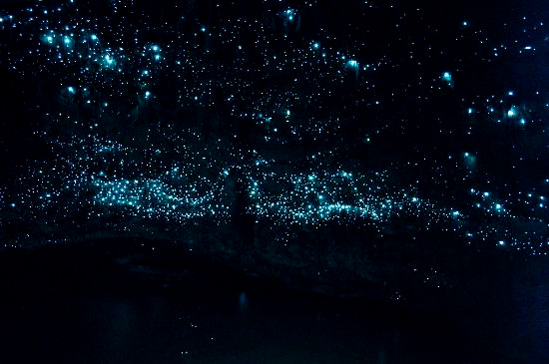 The bioluminescence is absolutely incredible. It's seriously like a naturally occuring planetarium.
Like any natural wonders, no photos can do it justice... it's just something you have to see in person.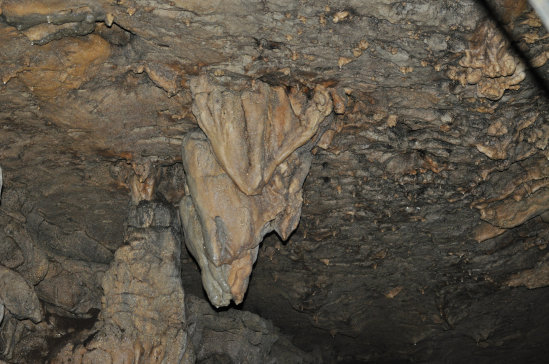 Stalactites.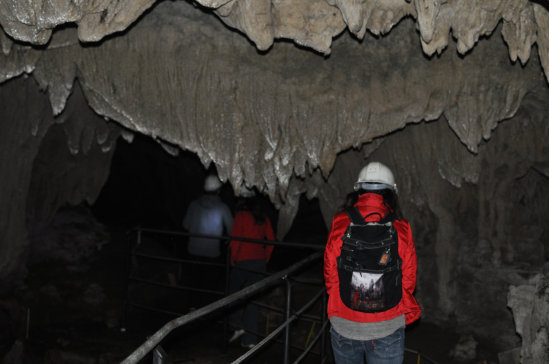 As you can see, it's a good thing they gave us hard hats, cuz the ceilings were pretty slow in some spots,
so it would be very easy for somebody as tall as me to hit my head on 'em.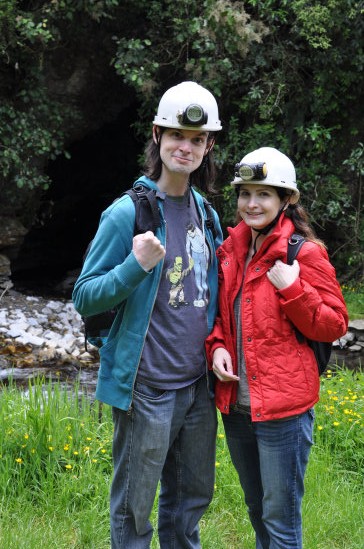 Glow worm spelunking completed! On to the next cave!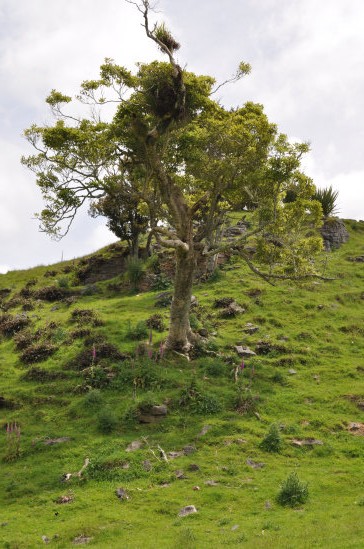 Wait, did we accidentally go back to the Hobbiton set again?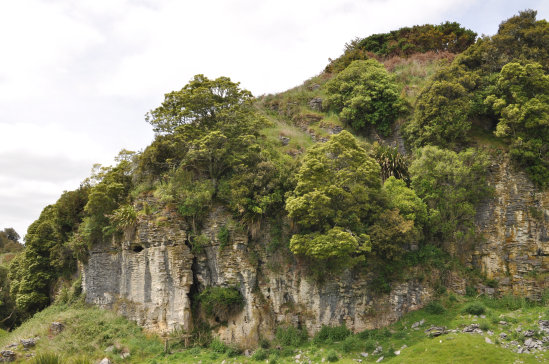 More great scenery as we hike towards the next cave.
There's still plenty more from the
New Zealand Road Trip to see!
Click here to continue onward to page 8!