The Daily Blabber Blog

I attended another Anime Expo last week, and while Dr. Boogie (my trusty cameraman at these events) was out with a foot injury, I still brought along a tripod to get the job done. I always have an awesome time seeing the amazing costumes that people put together (99% of which are referencing something too obscure for me to recognize). Due to Comic-Con preparations, I only had enough time to hang out for one day this year, but it was more than enough time to get enough funtastic footage for TWO new videos showcasing some of my favorite costumes & sights for those of you who couldn't attend. Take a look:
PART 1:

[click here for high quality video]
PART 2:

[click here for high quality video]
Hope you enjoyed this latest batch o' videos along with all the amazing costumes, and I'm really looking forward to attending Anime Expo once again next year. As always, please drop a comment on the Youtube videos to lemme know whatcha think of 'em, and please subscribe to my channel if you haven't already to be notified whenever I release a new video. Also, in case you missed it, you can watch my Anime Expo coverage from last year HERE.
And now I gotta resume prepping for Comic-Con 2015! I'll have info about our booth at Comic-Con posted in the next day or so. Hope to see a bunch of you there again!

We attended E3 2015 (the Electronic Entertainment Expo) this week, and I just couldn't contain my enthusiasm about about all the video games, costumes, booths, and promotions on display as I walked around the convention center. I'm sure this will come as a shock to you, but I actually ended up yelling at nearly everything I looked at. Thankfully, John was on-hand to film the entire thing (while likely experiencing hearing loss) for you to enjoy. Take a look, cuz you might see some more familiar faces!

[click here for high quality video]
As always, we'll also have a our in-depth E3 article coming up next week, including reviews of the latest games and photos of all the sights and surprises. In the meantime, hope you enjoy the video and be sure to drop a comment and/or subscribe to my YouTube channel if you haven't already. I put a lot of work into these, so it's always nice to hear whatcha think! Thanks for watching!
UPDATE 6/24: Our in-depth E3 coverage is now up. Read it here!

I was just reunited with my old pal, Keith Apicary, who many of you probably remember from the big Apicarnage arcade tour we went on some years ago. He just put out a brand new music video proving that he's more than tough enough for the WWE, and with people like Andrew W.K., Mick Foley, and more backing him up, it's clear that they need to add him to their roster. You'll see myself along with some other pals in the video, so check it out:

[click here for high quality video]
Hope you enjoy it, because it was an incredibly fun shoot for all of us. More to come!

I recently appeared as a guest on two more episodes of Screen Junkies' "Movie Fights", and we got in some hilariously heated debates as always about a wide range of movie topics. In this one, we discuss everything from the best movie villains of the 90s and the lamest movie monsters of all time, to dream sequels, favorite movie cameos, Star Wars spin-offs, and much more. You can watch the first episode here:

[click here for high quality video]
And once you're finished with that one, here's the second episode that I was in:

[click here for high quality video]
Thanks for watching the show, and in case you missed the announcement, our all new pixel posters are finally available for purchase. If you enjoy what we do on I-Mockery and wanna help support the site while simultaneously getting something awesome to display on your wall, please order one today!

Having released our "8-bit Worlds Collide" pixel poster, Pox and I decided it was time to take our pixels where no pixels have gone before. Yes indeedy, we've decided to do an all Sci-Fi themed pixel poster set in outer space! As always, we wanna give all of you a chance to help create it. We always love seeing what awesome ideas you come up with, as many of them have ended up on our previous prints, so it's time for you to use your noggins once more to help us produce another pixelated universe that'll keep your eyes occupied for eons!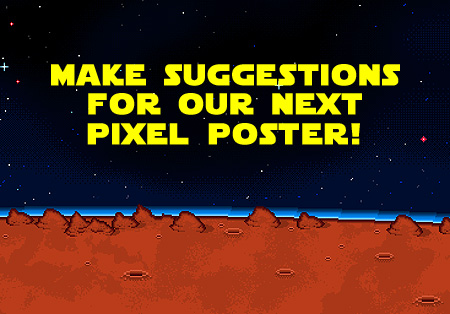 With that in mind, please post your suggestions below for characters, ships, vehicles, and anything else you'd love to see in our next pixel print in the comments section below - you don't even need a registered account to post 'em! Be sure to make as many suggestions as you can come up with; the more we receive, the more likely it is that we'll include some of 'em on this poster. Also, if you can, please make sure your suggestions have something to do with Science Fiction. It doesn't matter if it comes from movies, television, comics, cartoons, toys, or something else entirely... all we ask is that it has something to do with science fiction and/or outer space. To help get your creative juices flowing, here's a small sampling of the happy chaos that can be found on our previous pixel prints: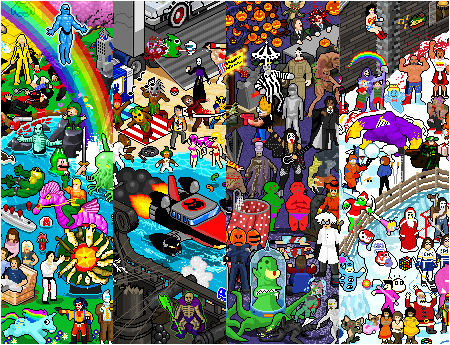 I'm really excited about this next print, as Pox and I already have a really good start on it and it's looking great. Also, for those of you who haven't had a chance to pick up our "8-bit Worlds Collide" prints, they're still available here. So many pixel battles being fought simultaneously all on one poster!
Alright, start posting your suggestions here in this thread and maybe your ideas will end up on our next big pixel print!

This past week I was on another episode of Screen Junkies' "Movie Fights", and once again, it came right down to the final question to decide the outcome. In this one, we discuss everything from The Fantastic Four to the Indiana Jones franchise being rebooted, and much more. You can watch the full episode here:

[click here for high quality video]
As always, I hope you enjoy it and thanks for watching the show!