I-Mockery's 20th Anniversary.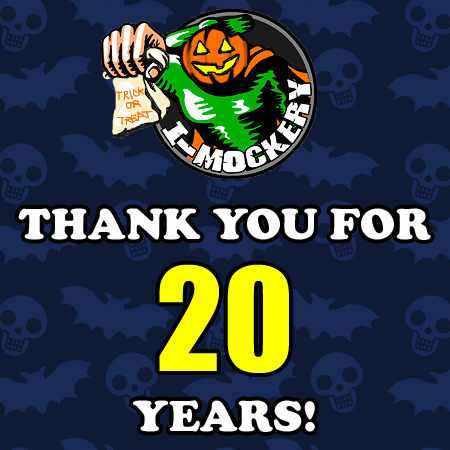 Hard to believe, but it's I-Mockery's 20th anniversary, and I wanted to share some thoughts with all of you about the occasion. Please click to continue reading:
I've always believed in celebrating big milestones, and while this was certainly never the way I intended to be spending the 20th anniversary of I-Mockery.com, I still want to recognize it. TWENTY YEARS. Sure, it's technically been around even longer since the site started out on Geocities back in the day, but I can't believe what was just intended to be a fun hobby has lasted for two decades. I know I haven't updated the site since Re passed, but I love looking back on all the wonderful times we had because of it. As a guy who used to write his own photocopied print 'zines to distribute them in school and local music shops, I never imagined my writing would reach an audience beyond the town I grew up in. I-Mockery opened so many doors for me, and I'm forever grateful for all the amazing experiences that presented themselves as a result of it.
My intention with I-Mockery was always simple: to create a place of my own where I could house all my stream-of-consciousness creative efforts, and share them with likeminded people who wanted to enjoy some escapism for a while. In-depth features, comics, videos, blog entries, tributes, original video games, pictorials, reviews, stories, becoming a b-movie & horror host, celebrating my favorite holidays, and more - I-Mockery was home for it all. I always worked on this site simply out of love and an innate need to create. I looked forward to it, even when I knew the workload for some of the larger pieces would be a huge endeavor, because I knew the end result would be its own reward.
It may sound corny, but I always considered it an honor to be such a big part of everyone's annual Halloween festivities. When I started the first annual "Two Months of Halloween" celebration, I never expected to meet so many wonderful weirdos who simply couldn't get enough of the spookiest of seasons. Now it seems like everybody is celebrating Halloween for a full two months (or longer) each year, and it's a great thing that always puts a smile on my face. It's a tradition we built together, and I love seeing so many people having fun with it in their own ways.
I-Mockery also introduced me to so many brilliant people over the years whom I'm lucky to call friends; being able to collaborate with many of them on countless endeavors was just an added bonus. Honestly, I can't thank all those talented people who've lent their time, energy, and creativity to my wide array of projects over the years enough. I truly believe we created a site that was unlike anything else out there, and I couldn't have done it without them.
Additionally, I want to thank ALL OF YOU who've stuck with me over the years on this absurdist ride. Having an audience who has been so enthusiastic and supportive for so long means more than you can possibly know. Writing can be an incredibly lonely vocation (especially since I did the majority of mine in the wee hours of the night), but knowing that I'd be hearing from so many of you whenever I posted some new content online always kept me going. Never underestimate how even a little bit of feedback can truly help fuel creative types.
Most importantly, I married Re, the love of my life, shortly after starting I-Mockery, and it's nice to be able to look back on our many laughs and adventures together featured on the site from over the years. Whether it was writing about our big road trip move from the east to west coast over a decade ago, sharing our amazing overseas adventures, or simply sitting down on the couch to record ourselves playing a song together, I'm so glad to have all those wonderful memories carved into digital stone to revisit whenever the mood strikes. I just wish Re was still here to make new memories with me.
I still have to figure out my place in a world without her — and there's no way to convey just how heartbreakingly difficult the process has been, and will continue to be. But I'm trying to keep moving forward in honor of her.
I know this post has the air of a goodbye, but I assure you, it isn't. Whether I resume writing for I-Mockery in the future, or simply leave it online as an archive for all to enjoy, is something I have yet to decide on. I still have a long road ahead of me, and more special places to bring Re's remains to, so please continue to bear with me. It hasn't even been two full years since she passed. I'd love to be spending I-Mockery's 20th Anniversary as I had always intended - by kicking off another huge "Two Months of Halloween" celebration on September 1st, but that's just not in the cards for me right now, as I'm sure all of you can understand. Right now, I can only live vicariously through you. That said, I've left the decorations up on I-Mockery so you can still enjoy all the years of Halloween content in the archives.
So, I hope you all have a terrific time celebrating the Halloween season, even though I won't be a part of it. It's the best time of the year, so run through a pile of crunchy fall leaves, stuff your face with seasonal candies, bathe in all things pumpkin spice, wear day-glo monster masks, watch cheesy horror flicks, and just soak it all in.
Lastly, if it's not too much to ask, I'd love to hear from all of you. Maybe share some of your favorite I-Mockery memories from over the years... or simply drop a comment down below to say hi.
Again, thanks for welcoming me into your lives for the past two decades. Thank you for so many fantastic years. It's truly been a privilege, and I hope I can one day resume entertaining you again.
With love, gratitude, and flickering jack-o-lanterns,
-Roger
p.s.: While I won't be creating any new content this season, you can still pick up our Halloween video game, Grave Chase. It was released just before I was hit with that awful tragedy, but I'm still very proud of it. The game is a love letter to all things Halloween, and takes place over the 31 days of October. It's available for PC, Mac, and Linux, so it'll work on whatever you have. Please give it a try!
177 comments
Leave a Reply
Previous post: February 2019 Update.