Doc Mock's Mini Mausoleum has returned for another YouTube episode, and this time he reviews a set of what just might be the greatest Halloween lawn ornaments you'll ever see: Baby Ghost Ducks!

[click here for high quality video]
Hope you enjoy it and thanks for watching! By the way, if you missed the previous Doc Mock episode, you can check it out right here!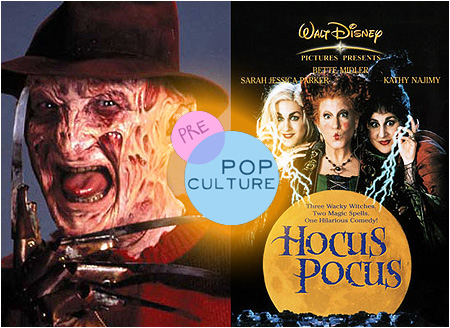 So I was recently invited to be one of the guests on the PrePopCulture podcast, hosted by Jen Krueger (no relation to Freddy), to talk about good horror movies to watch during the Halloween season. Jen is basically terrified of real horror movies, so while she made suggestions for some family friendly Halloween options, it was up to Jake Jabbour and I to recommend the scarier stuff. We had a really fun discussion, so check it out if you're looking for a nice way to keep your ears occupied for an hour. If you happen to be on iTunes, please rate her podcast to help it out too. Hope you enjoy it and thanks for listening in!

They're baaaaaaaaaaaack. I'm happy to announce that just as we recently saw the glorious return of the Fruit Brute and Fruity Yummy Mummy monster cereals, October 1st marks the return of I-Mockery's Halloween Club Pack! Those of you who've been with I-Mockery for years probably recall some of the extremely limited club packs that were up for sale on the site. Well, this new pack is better than ever, because I'm loading it up with so many goodies that the mere sight of it is sure to kick your Halloween season directly in the nards. Behold!
As you can see, I've filled this special Halloween pack with a little something for everyone. For starters, you all know I'm a big fan of bootleg and oddball novelty items, and I recently struck gold... er... black. Yes indeed, I found some jet-black Freddy Krueger gloves!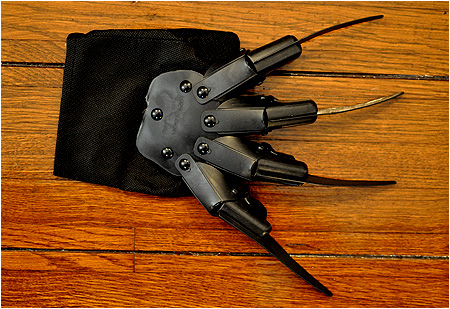 Freddy's glove is normally a variety of brown colors combined with the silver blades on his fingers. That's not the case with this rip-off "Nightmare Glove". These are completely black; the glove, the hinges, the razors... everything is black. It's the kind of blackest black that would even impress the likes of Spinal Tap. Needless to say, I bought up every single one I could find so I could get them to you this Halloween season. But that's only the beginning.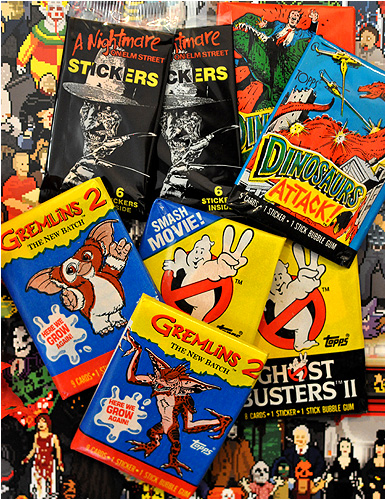 Each order also contains not one but FOUR vintage trading card / sticker wax packs! You'll get one pack of Nightmare on Elm Street stickers, one pack of Gremlins II cards and stickers, one pack of Ghostbusters II cards and stickers, and one pack of my all-time favorite Dinosaurs Attack cards. That's a hefty handful of horror-themed cards and stickers for you to collect... just do yourself a favor and don't eat the gum since it's over 20 years old! As an added bonus, I'll even be throwing in the original Elm Street sticker book into five random club packs for some lucky people to snag!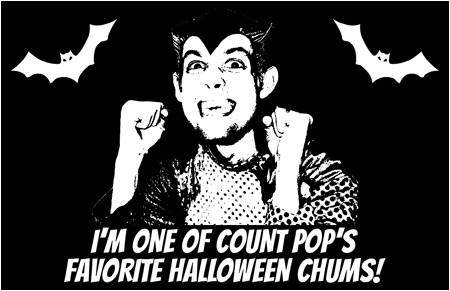 I'm also including a brand new Count Pop vinyl sticker made exclusively for this Halloween Club Pack. Now you'll be able to show the world that you are one of the Popster's pals! You'll find one of the classic I-Mockery shiny stickers in each pack as well. It'll make you happy and it also works as a makeshift portable funhouse mirror.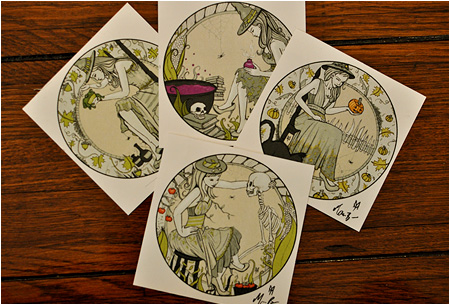 Marie Barr (Re) also printed a set of four custom witch illustrations that you're gonna love. One witch has a skeleton friend, one has a frog and fall leaves, one has a black cat and a pumpkin, and one has a cauldron filled with bubbling purple potions. You'll get one of her signed full-color witch print cards with every club pack order.
I'm also including a variety of random Halloween trinkets, toys, and treats in every pack. You'll find everything from vampire Fruit Roll-Ups, Juicy Oozers werewolves, and bleeding eyeball marshmallow treats to sticky jack-o-lanterns, wacky wall-walker skeletons, and little Cousin It toys. One of our readers, Devin Connors, even pitched in by making some truly awesome Tales from the Crypt magnets from the old 1993 trading card set (pictured in the first photo of this post), so you can expect to find one in each pack too. There will be other little surprises included with every order too, so as you can see, you're really getting a whole bunch o' Halloween fun mailed to your doorstep this season.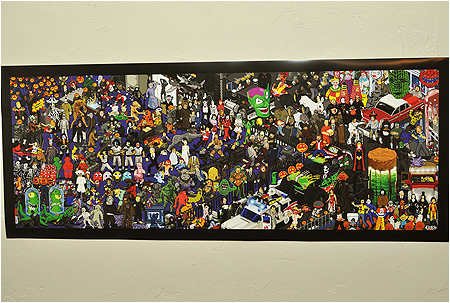 [click here to see the full-sized photo!]
To top it all off, I'm including our 8-bit Halloween pixel poster with every pack. This is a full-color 34" x 13.5" poster with over 150 hand-drawn horror characters on it! Trust me when I say you'll find yourself staring at this print for ages, always discovering new characters hidden on it. If you don't have the poster already, this is a great way to pick it up along with a bunch of other seasonal goodies in time for Halloween. If you do have it, well you can always spread the Halloween fun around by giving it to a chum. And as always, I'm happy to sign the poster (or anything) for you, so just include a note with your payment if you'd like me to do so.
I spent a lot of time running around putting together all the supplies for these Halloween packs, and I'm really excited for you to get 'em in your hands. Note that the packs are limited in quantity. Once they sell out, I won't be reproducing them again, so get 'em while you can!
Please keep in mind, you're not only getting a club pack filled with loads of Halloween fun, you're also helping support all the time and work put into I-Mockery. Halloween season is easily the most important time of the year for me. It's also the most expensive time of the year for me, what with all the traveling and purchases I make for reviews on this site, so your support really helps offset those costs.
The Halloween club packs are $20 a pop for anybody in the continental United States, and yes, that price does include shipping. If you're ready to order, click the button below: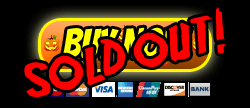 If you live outside of the U.S., I still want to make these packs available to you since everybody should get to enjoy Halloween. That said, it costs a lot more to ship packages like this out of the country and shipping times can be a bit unpredictable, so if you want one, drop me an email with your request and address and I'll try to find out how much the extra shipping charges would cost.
Alrighty, that about does it. I hope you have as much fun with these club packs as I had putting them together, because I really wanted to give you Halloween in a box. Thanks in advance to all of you who help support I-Mockery and all the work I do every Halloween season by ordering one!
UPDATE: Egads! ALL of the Halloween Club Packs sold out in less than a day! Thanks so much for the support everyone, it really means a lot to me and I hope the packs make this awesome Halloween season even better for those of you who snagged one in time!

Your old pal Doc Mock has returned from his mausoleum once again, bringing you footage from the 2013 Eyegore Awards for the opening night of Universal Studios Halloween Horror Nights! The Doc landed all kinds of fun interviews on the red carpet with nice folks from the horror industry, including the cast of "Curse of Chucky", Calico Cooper, Josh Sussman, Lin Shaye, Bill "Chop Top" Moseley, and a man who I'm sure many of you consider to be quite "Groovy". Check it out!

[click here for high quality video]
Hope you enjoyed the video, and be sure to drop a comment to lemme know what you think of it. Also, check back here soon, because I'll be launching one of my HUGE galleries of roughly 200 photos showcasing all the new mazes from Halloween Horror Nights this year - including Evil Dead and Black Sabbath: 13 3-D! Other big Halloween updates are coming as October quickly approaches, so stick around!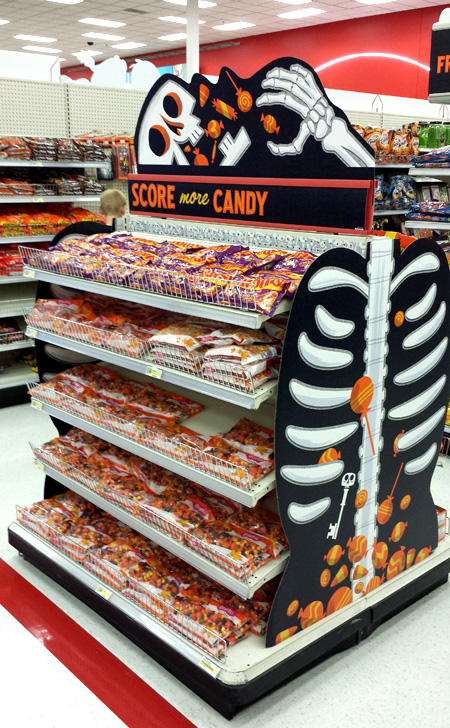 Target has finally started rolling out all of their seasonal Halloween merchandise, after an unusually long September delay, and I'm happy to report that it's looking pretty great so far even though they still don't have everything on shelves just yet. Their playful new "Fright Done Right" theme by artist Christopher Lee is definitely something any Halloween fan will appreciate. I particularly love the cardboard store displays depicting a skeleton gorging on candy; especially since you can see all of said treats resting in what used to be his stomach. He even ate a skeleton key for some unknown reason. I guess that's one major problem with being a skeleton; your hunger can never be satiated.
I've already purchased a bunch of goodies, but today I figured it would be nice to give some attention to a Halloween treat that I could easily see people overlooking since it's not nearly as flashy as some of the other products at Target this season: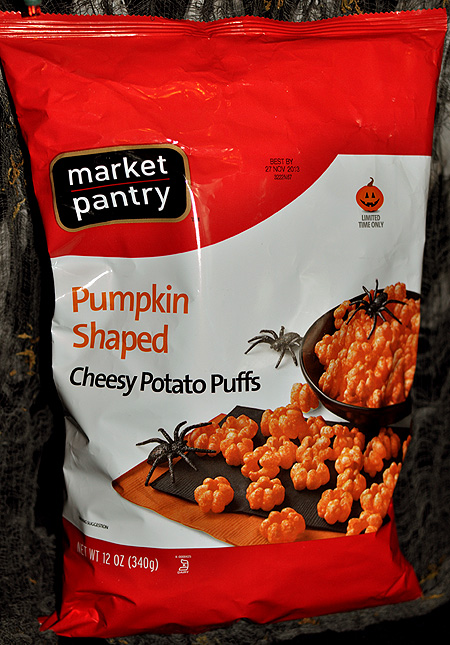 Market Pantry Pumpkin Shaped Cheesy Potato Puffs. Alright, so it's far from the greatest name for a product. It's kinda like when you see a restaurant in a strip mall called "Chinese Food", and you can't help but wonder why the hell they couldn't spend five minutes to come up with a catchier name. Now despite looking like a generic brand product, these pumpkin puffs are still worthy of your full attention this season. First off, one cannot overlook the fact that this company went out of their way to actually make their cheesy puffs shaped like pumpkins. The incredible Cheetos Monster Mummy Bucket I reviewed last week had many merits, but even the Frito-Lay company didn't go so far as to give their snack a festive new shape, so we need to give credit where credit is due.
They also have spiders crawling all over the pumpkin snacks on the front of the package, and while I knew it was too much to ask that they'd actually include a few toy spiders in the bag, a little part of me was still disappointed not to find any in there. Maybe I'll buy a few plastic spiders of my own and toss 'em in. The package even has a nice little "Limited Time Only" jack-o-lantern on the front. Sure, it's not much, but I still appreciate it.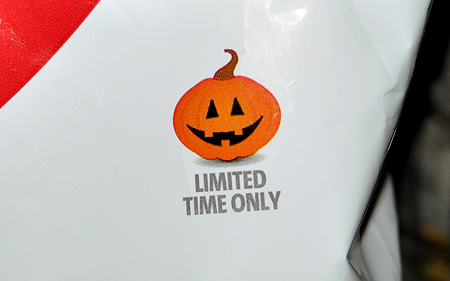 You know you love it.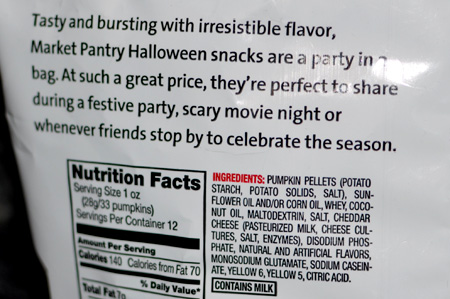 While the packaging is pretty tame, I do like that they're encouraging you to watch some horror movies while snacking on these puffs. But the real eye-catcher here was in the ingredients. Pumpkin Pellets??? I always thought the only edibles featuring "pellets" was the hermit crab food you buy at pet shops 'n what not. All I know is that as soon as I saw that as the first ingredient, these potato puffs went from a "Maybe I'll buy these" to a "If I don't buy these, the Great Pumpkin should come murder me in my sleep for dishonoring one of his great creations!" Seriously, I don't know who could pass up the opportunity to eat something made primarily of pumpkin pellets.
Sure enough, the pumpkin shapes are the real deal. How they achieved this feat is a question best reserved for the witches who are most assuredly employed at Target's Market Pantry division. They're completely hollow in the inside and you can even wear them on your fingers as makeshift cheesy pumpkin rings - something I can easily see just about any kid doing naturally anyway. What surprised me most about these was the flavor. I was expecting them to taste just like Cheetos, and while they do pack a very enjoyable crunch, they actually taste a lot like Pringles! No, this is not a bad thing at all. These cheesy potato puffs are basically pumpkin-shaped, cheddar-flavored Pringles, and I'm officially a fan.
So yeah, if you're looking for a different, non-candy Halloween treat to munch on this season, or you simply want to pretend you're Jesse Pinkman and shout at the moon, "I JUST ATE PUMPKIN PELLETS, BITCH!", I'd suggest you seriously consider giving these a try.
Oh and one last thing before I go: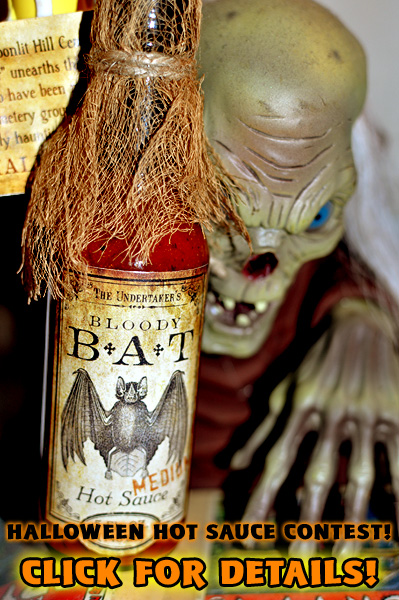 In case you didn't know, the deadline for the Halloween Hot Sauce contest I'm holding ends this Sunday, September 22nd, so be sure to have your entries turned in by then. It's a super easy contest to enter and it should be fun for everybody, because entries are not judged on the quality of art. Plus, I'll be putting up ALL of them in an online gallery just like I did with our Halloween toothpaste art contest last year. So yeah, click here for details on how to enter to win one hell of an awesome hand-made bottle of Bat Blood hot sauce and get crackin' on your masterpieces if you haven't already. Looking forward to seeing all of your tongue-terrorizing entries!

So I stopped by a Target store last night, and while they're still dragging their feet about getting all their Halloween merchandise out this year, they've at least started to put a variety of the new treats and candies on their shelves. I wasn't expecting much, but then I came face to face with this absolutely beautiful Halloween junk food specimen:
Do my eyes deceive me? Did Cheetos just put out their own version of McDonald's classic Halloween pails? It may not be a set of three, but close enough! The artwork on these buckets is absolutely fantastic; a mummy with slightly askew eyeballs and awful dental work, chomping down on a black bag of glowing Cheetos while proudly holding up two additional bags in each hand. There's even a little silver Universal Studios Monsters emblem on the side, showing their support for the original movie Mummy. This Mummy looks so incredibly good, I won't hold it against anybody who decides to dress up as one on Halloween, carrying bags of Cheetos with them wherever they go.
Pedestrian: "What kind of mummy are you supposed to be?"
Awesome Person: "I'm the goddamn Cheetos Mummy, that's what kind!"
Come on... you know one of you wants to make it happen.
There more to Cheetos than this Halloween pail too, take a look:
Yes indeed, the bucket comes packed with 15 treat-size bags of Cheetos, complete with Chester Cheetah dressed as a mummy. What's great is that while he's running away with a giant Cheetos piece in hand, reminiscent of a caveman's club, one of the spooky trees in the background is eating his mummy gauze wrappings. I guess the tree thought it was Bubble Tape or Fruit by the Foot. Whatever the case may be, I love that they didn't just stick the regular non-seasonal Cheetos bags inside this bucket. But here's the best part:
Each bag glows-in-the-dark! And we're not talking about a weak glow effect either, these bad boys illuminate surprisingly well, and they're perfect for trick-or-treaters. I kinda want to attach these to a string and hang them up around my home. I mean, how often do you get bags of Cheetos that have a glow-in-the-dark Chester Cheetah on them? Not often.
The one thing I don't understand is why there's no mention on the front of the bags that they glow. There's a small blurb on the back of the bags in the bottom right corner that reads, "Charge bag under lights for a Spookier Glow!", but nothing on the front. I mean, your average kid probably won't examine the bag as it is, but if they do, they're just gonna look at the nice graphics on the front. So yeah, it's unfortunate that most kids won't even realize they were just given a Halloween treat that glows-in-the-dark. Then again, if I were handing these out, I'd make damn sure they knew what they had just received.
Kid: "Trick-or-treat!"
Me: "Oh, hey there! Look at you, all dressed up as Fred Flintstone!"
Kid: "What? No, I'm Goku from Dragon Ball Z!"
Me: "Whatever. Here, have a treat!"
Kid: "Oh neat, Cheetos! Thanks mister! Happy Halloween!"
Me: "Hey wait a second, get back here!"
Kid: "Uh... what did I do?"
Me: "Nothing, I just wanted to let you know that your Cheetos treat bag glows in the dark!"
Kid: "HOLY SHIT!"
Kid's Mom: "Junior! Watch your language!"
Kid: "But mom! This bag of Cheetos glows in the dark!"
Kid's Mom: "HOLY SHIT!"
I do wish the pail glowed as well, but come on... this is one hell of a nice surprise from the Frito-Lay company, and one can only hope that this is the beginning of a long tradition of glow-in-the-dark snack bags that come in badass monster buckets. This Halloween season just keeps getting better and better, and it's not even mid-September yet.
« Older Entries Newer Entries »