by: -RoG-
...CONTINUED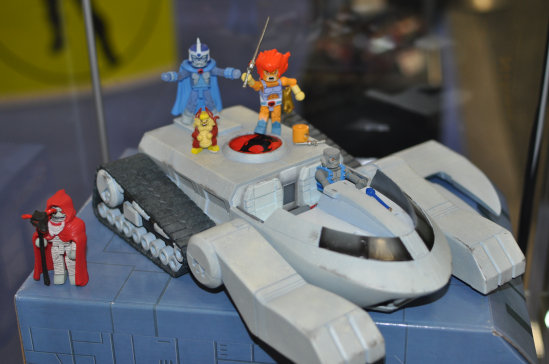 Thundercats ho!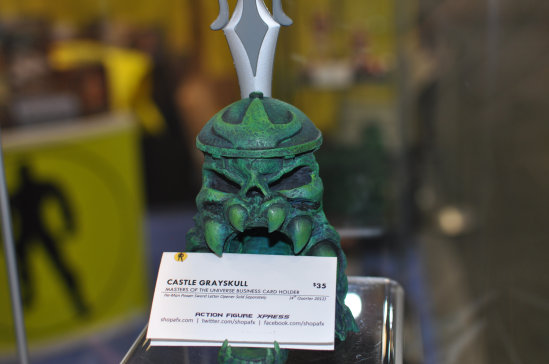 A Castle Greyskull business card holder? Awesome.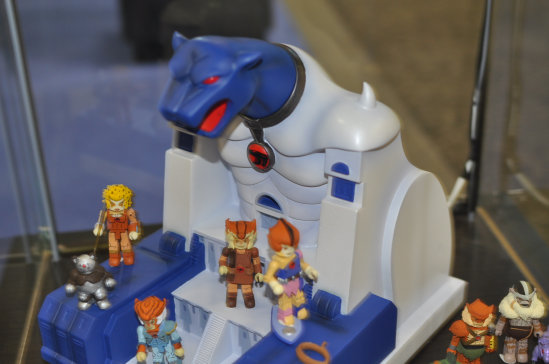 The Thundercats lair.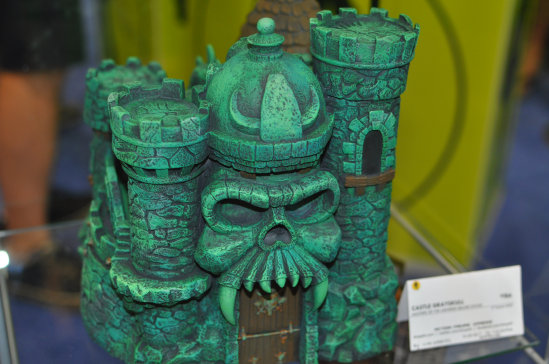 Another nicely done Castle Greyskull.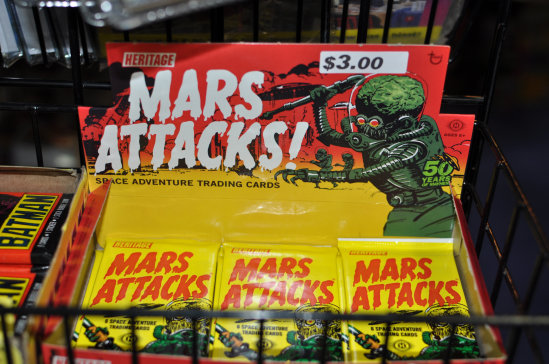 A re-release of the classic Mars Attacks! space adventure trading cards.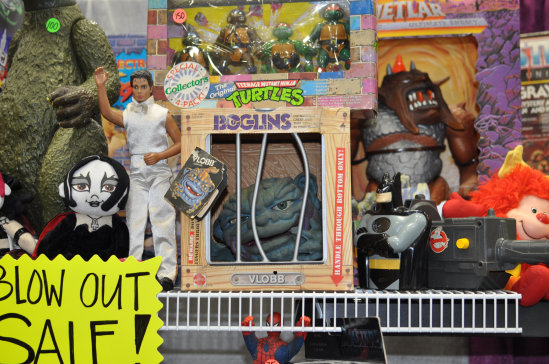 A vintage Boglin on sale? Yes! Vlobb will be mine. Oh yes... he will be mine.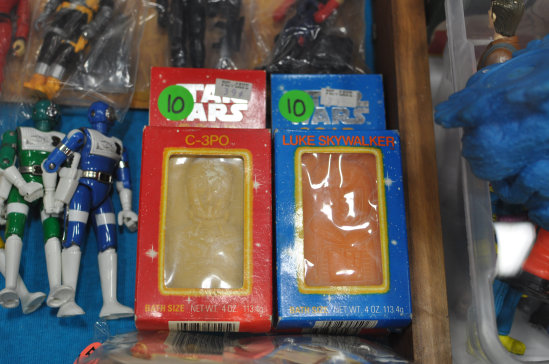 Star Wars C-3PO and Luke Skywalker soap. They need a Han Solo frozen in carbonite.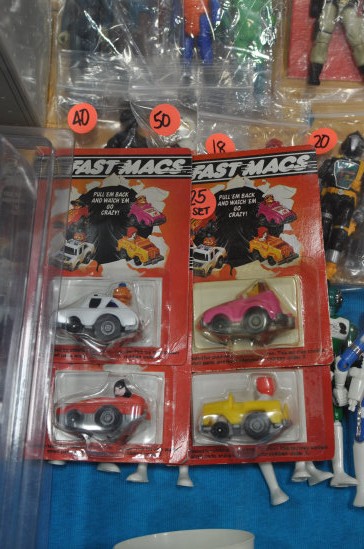 Wow... haven't seen these in ages: McDonald's "Fast Macs" still in the packaging.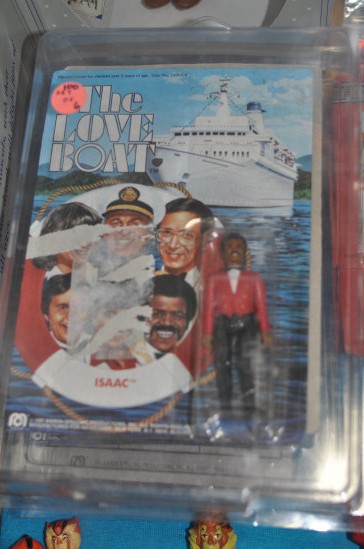 An Isaac action figure from The Love Boat. What kid wouldn't want to play with such an exciting toy?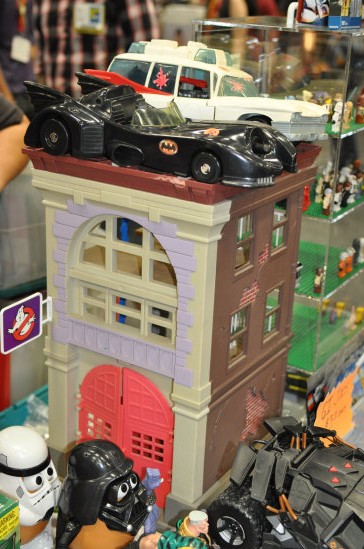 The Batmobile and Ecto-1 couldn't find decent street parking, so they parked on top of the Ghostbusters firehouse.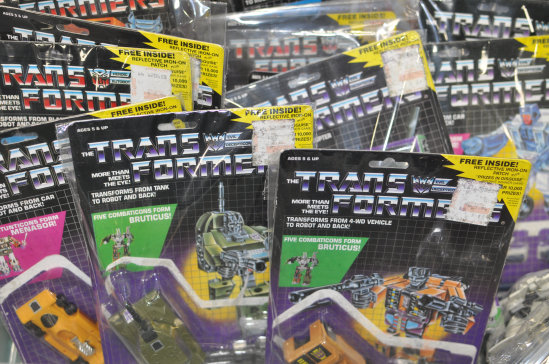 More than meets the eye.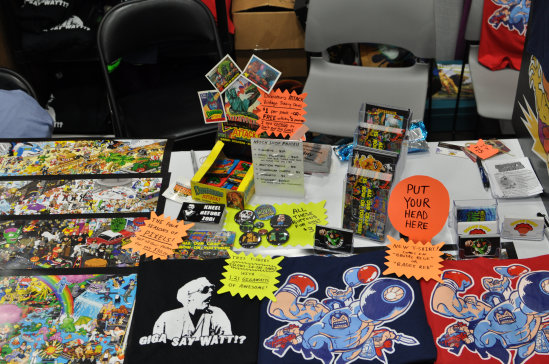 Oh so many goodies being sold at our booth this year. Thanks to all of you who showed up and bought our stuff!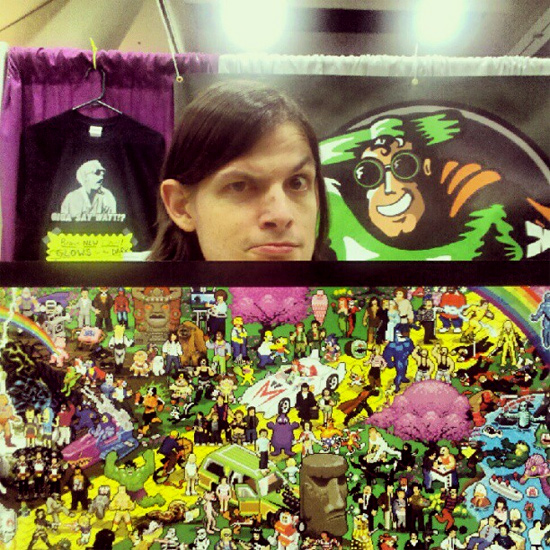 A look at our new merch including the 8-bit spring theme pixel poster and our "Giga Say Watt!?" glow-in-the-dark t-shirt.
Both the posters and the shirts are now available in the I-Mockery Store.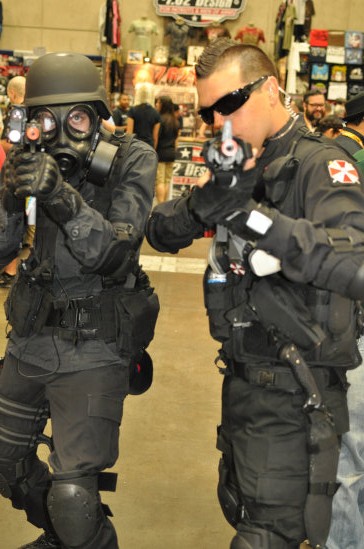 Go point those guns at some zombies.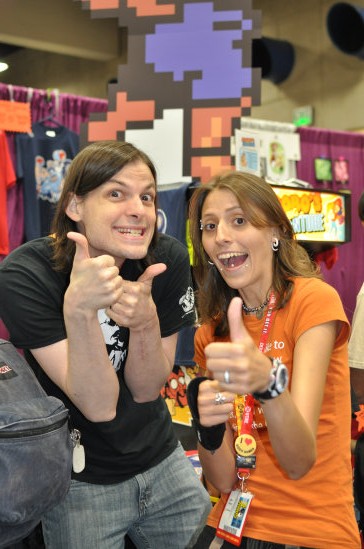 Hey! It's Laura!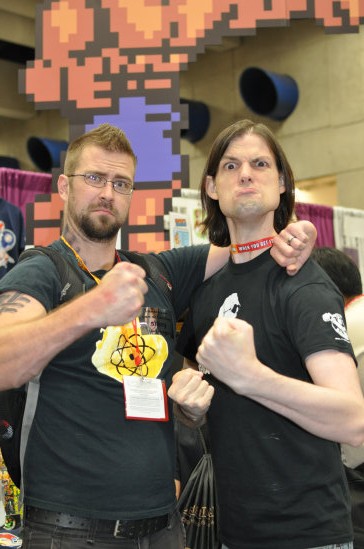 Sorry Matt... I didn't mean to take a photo with you and make you look so scrawny.
That's what you get for posing with a muscular man like me.

Sorry Andre... your hat told me to do it.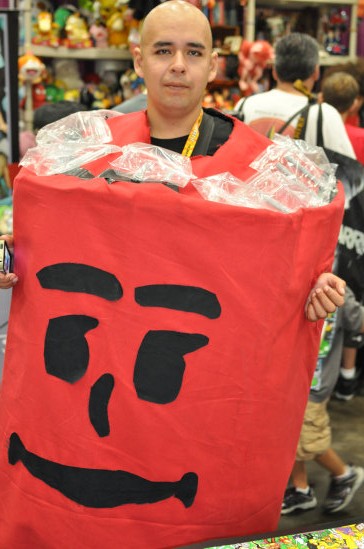 The Kool-Aid Man. Oh yeah!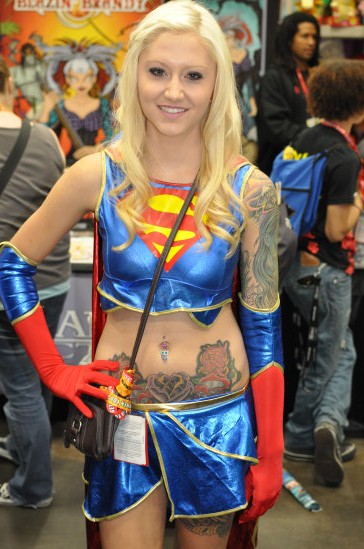 Supergirl has some nice ink! I'm surprised they could find a needle to pierce her skin.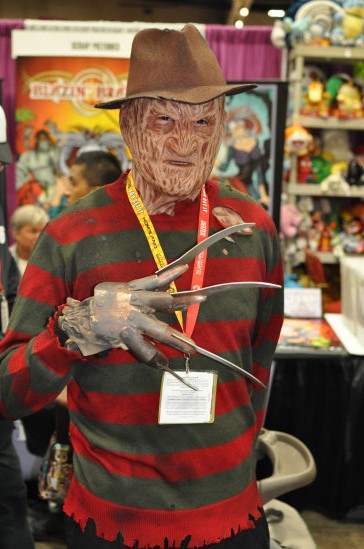 Probably the best custom Freddy Krueger cosplay I've seen to date. Well done!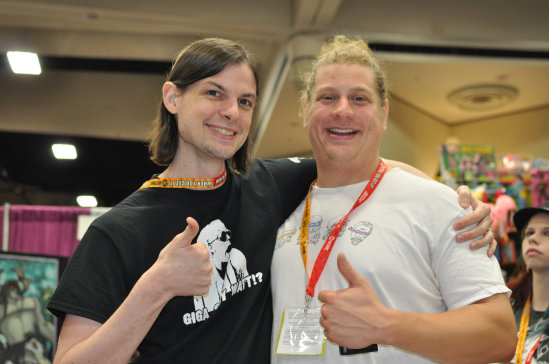 Austin decides to stop horrying people and wear a t-shirt instead of his Slave Leia costume. Bummer.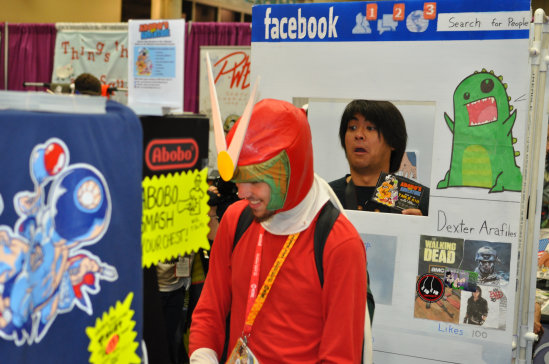 Facebook watching Loki play Abobo's Big Adventure? Only at Comic-Con.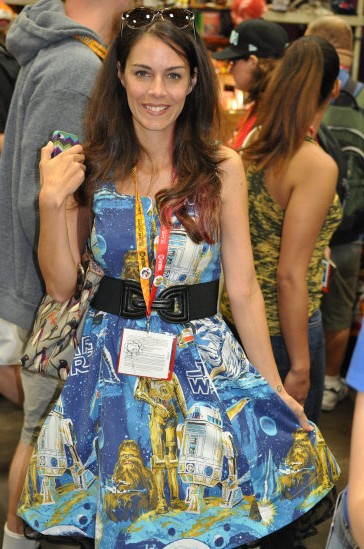 She made a kickass dress out of my childhood bed sheets? Awesome.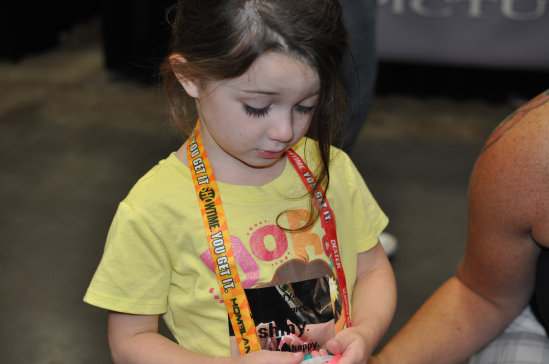 She covered up Dora the Explorer's face with one of our shiny stickers. Her parents are raising her well.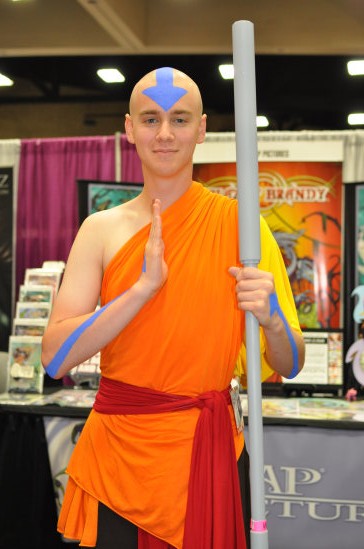 The Last Airbender.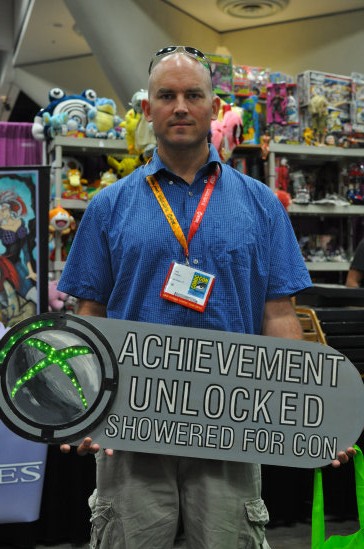 Unfortunately, nobody else did, and they're all going to rub up against you in those tight aisles.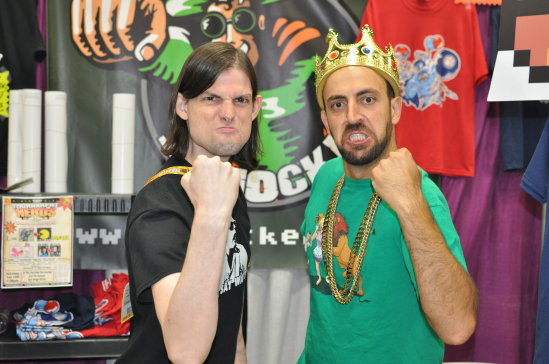 Maddox stops by once again for our traditional snapshot. Now get back to work at your booth!

Queen of the pickles (and a photobomb from Maddox who still needs to go back to his booth).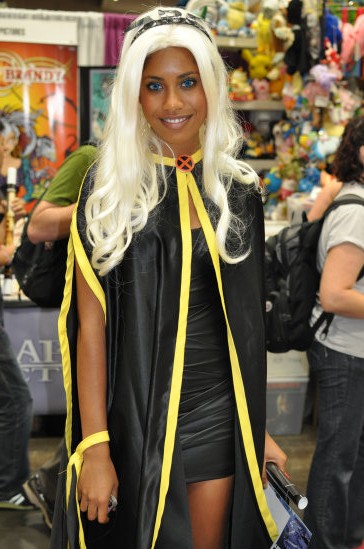 Storm bringing some good weather our way.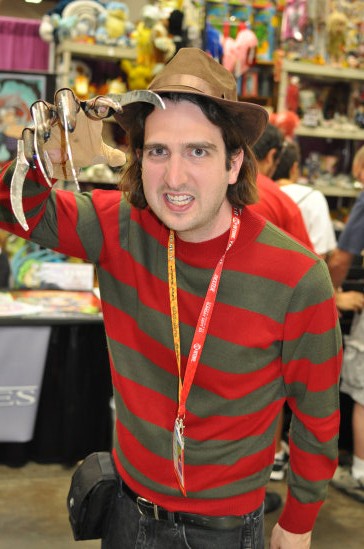 Sorry pal, the other Freddy Krueger was better.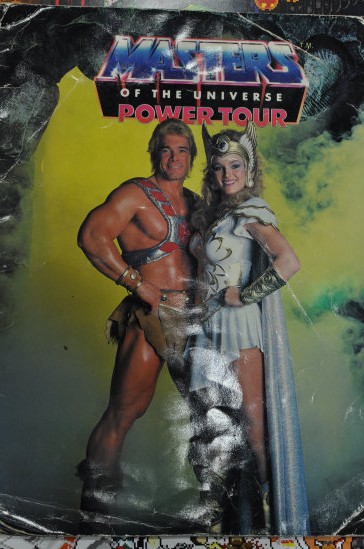 Somebody brought by a rare Masters of the Universe "Power Tour" live show booklet for me to see.
I took photos of every single page so you could all enjoy these amazing character costume shots: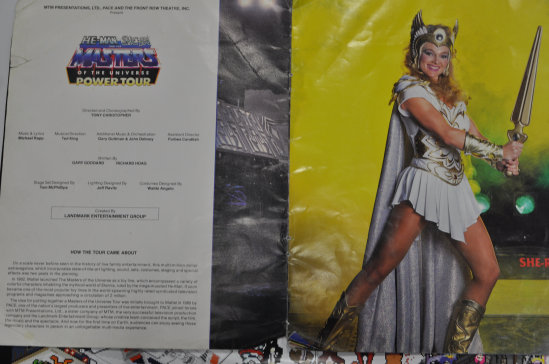 She-Ra!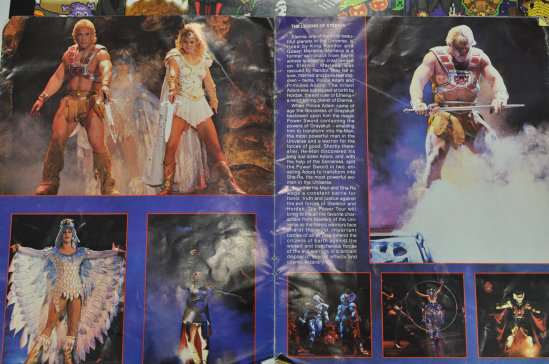 Random shots from the amazing live show that I wish I could have attended.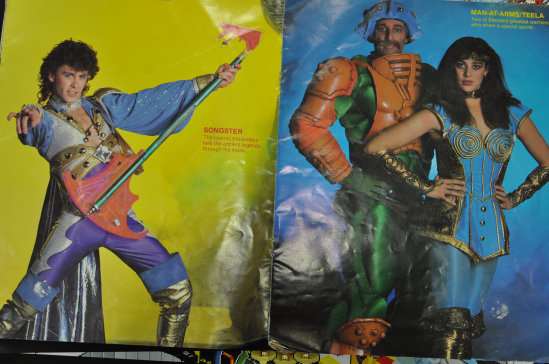 Man-at-Arms and Teela look great 'n all... but HOLY CRAP! LOOK AT SONGSTER!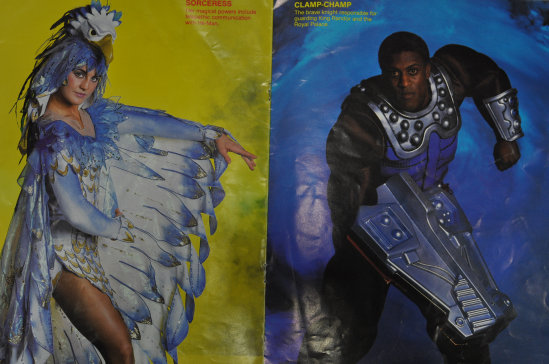 The Sorceress and Clamp-Champ!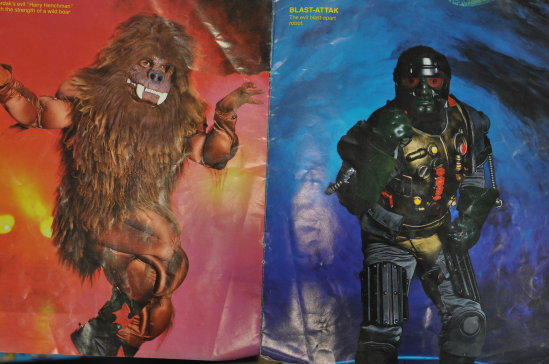 Grizzlor and Blast-Attak!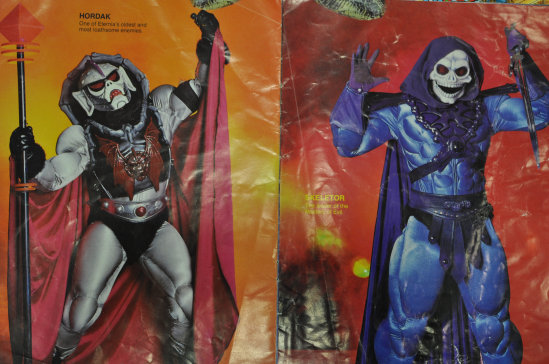 Hordak and Skeletor!

Another shot of Man-At-Arms.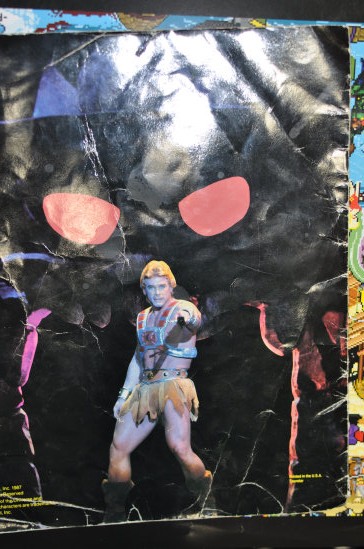 And the back of the booklet, featuring He-Man once again.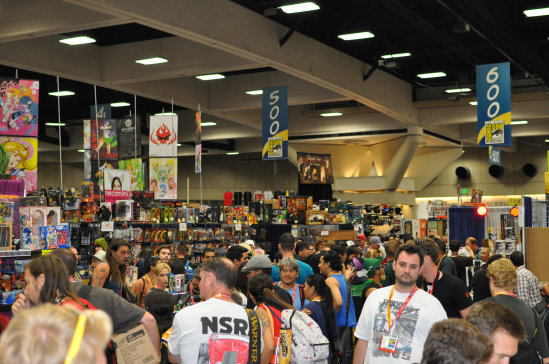 Another shot of the Comic-Con crowds near our area.

Knock, knock.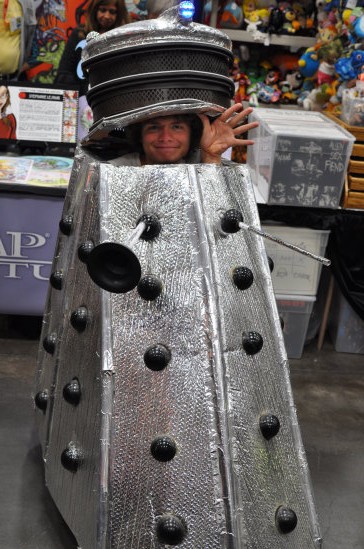 Who's there.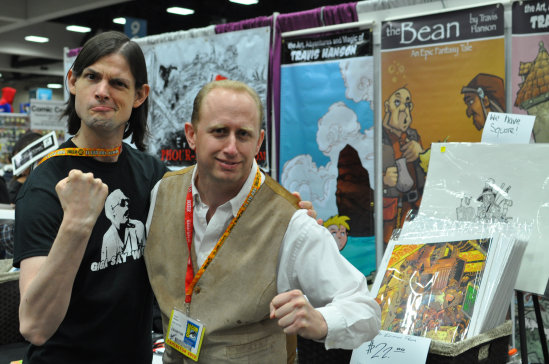 Travis Hanson is our booth neighbor and he's always nice as can be. Support his fantastic work!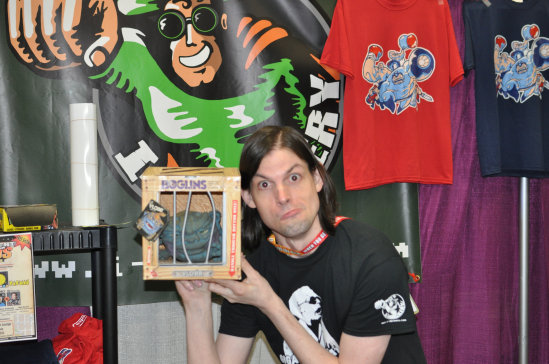 I traded a glow-in-the-dark t-shirt to the merchant for this Boglin. Vlobb is finally mine once again! Score!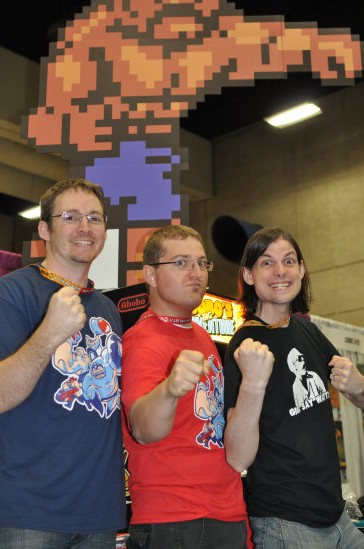 Matt, Nick, and yours truly... celebrating our most successful Comic-Con to date.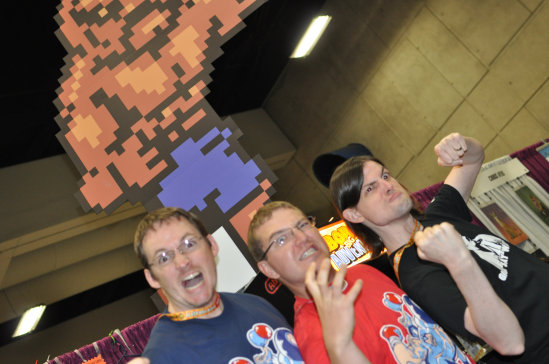 Thank you mister photographer for getting all artsy with your camera angles.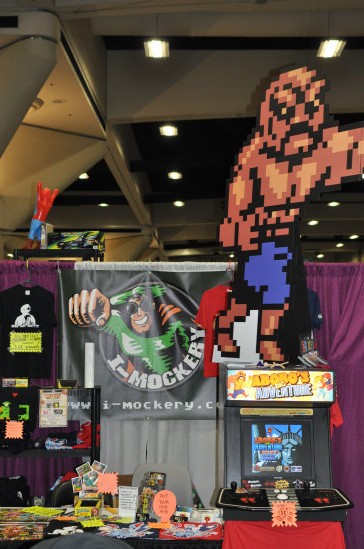 Alright booth, time to pack it in.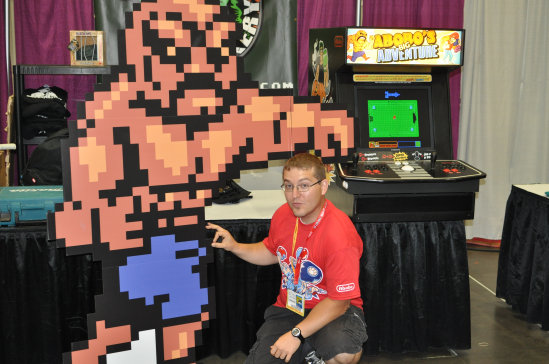 Nick has an 8-bit fetish.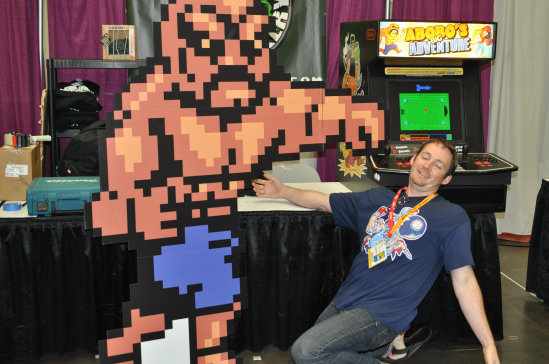 I warned Matt, but he thought he could talk smack to Abobo. He thought wrong.

Not that I was any smarter.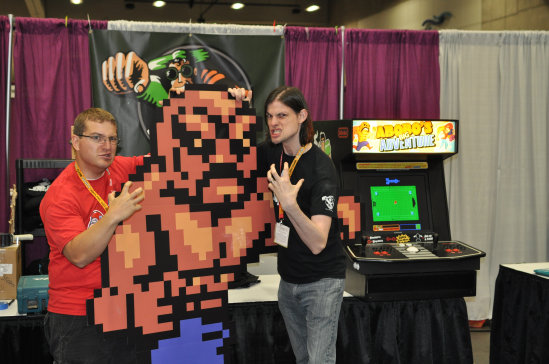 Alright Abobo, time to pack up your punchy pixels until the world is ready to see them once again.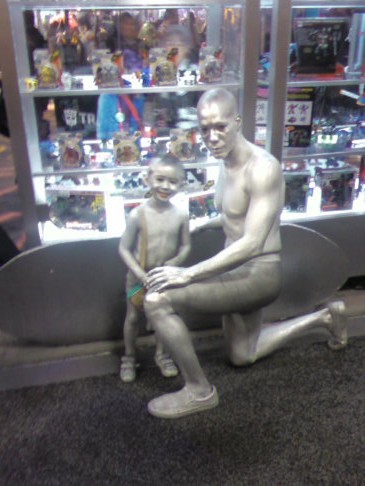 What better way to end Comic-Con than with a somewhat disturbing shot of Silver Surfer and his son?
And that about wraps it up for our gargantuan gallery of geeky goodness from the 2012 San Diego Comic-Con! As physically exhausting as a full week of exhibiting can be, I always find myself craving another week of it. Meeting all of you is and talking about all the geeky things we share in common is something I never tire of. And seeing your reactions to special moments in Abobo's Big Adventure, or watching you excitedly identify a pop culture character you hadn't thought of in ages on one of our pixels posters... these are the things that really make Comic-Con totally worth it..
Big thanks to Re for helping out at the booth and making sure we had great signs and sold more I-Mockery goodies than ever before. Big thanks to Nick and Matt for driving down again with the Abobo cabinet so we could celebrate the release of Abobo's Big Adventure in style. Extra thanks to Matt for surprising us with those kick ass limited edition Abobo coins too! Big thanks to our super friendly booth neighbors for putting up with all the chaos that ensues each year at our booth. And of course, thanks to our other chums Nort, Maddox, Marie, Tom, John, Brian, Brad, Tracy, Dax, Nathan, Austin, Justin, Hal, Jayme, James, Andrew, Michael, and anybody else I forgot to mention for helping out and/or hanging out at the booth each day to make it extra fun this year. You all rock.
To those of you who couldn't make it out this year, we're sorry we missed ya, but I really hope this huge gallery was the next best thing to coming out and seeing us in person. As always, all of the merchandise we were selling at the Comic-Con (the new shirts, the comics, the pixel posters, etc.) are available for purchase in our online I-Mockery Store, so if you've enjoyed this pictorial, please check it out and consider buying something to help support the site and all the hard work we put into it! Also, be sure to follow us on Facebook, on Twitter, and on my new Youtube channel to keep posted on all the things we're up to.
Huge thanks once again for all the fantastic fan support at the convention! Please drop us a line in the comments section down below to let us know what you thought of all our photos. See ya next year Comic-Con!
Have any questions or comments about this piece?
SHARE YOUR THOUGHTS IN THE READER COMMENTS SECTION BELOW!
Jump to page:
[1] [2] [3] [4] [5] [6] [7] [8] [9] [10] [11] [12] [13] [14] [15] [16] [17] [18] [19] [20]