by: -RoG-
...CONTINUED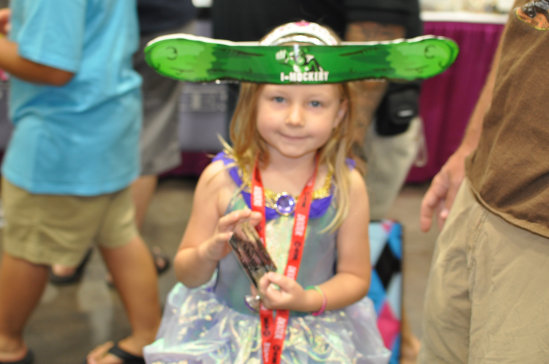 Pickle Princess!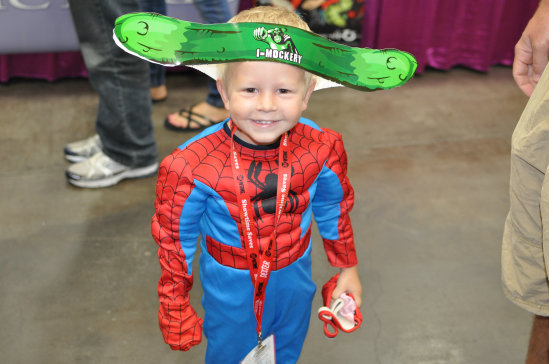 Pickle Peter Parker!
(He was so proud of his pickle hat, he insisted on taking off his Spider-Man mask and wearing the hat all day long instead!)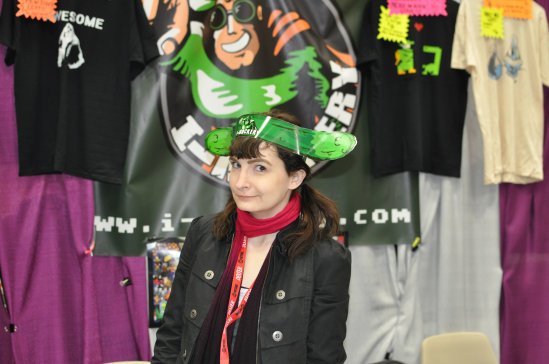 Re sporting a pickle hat too!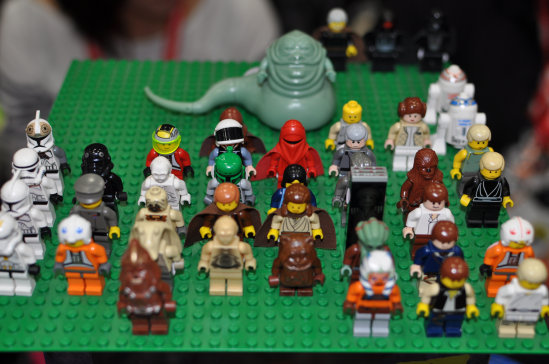 Star Wars Lego figures.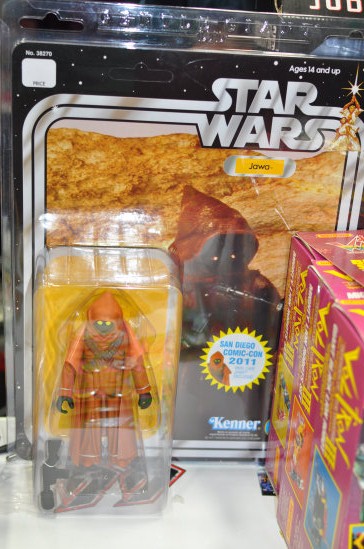 An oversized Star Wars Jawa action figure made for the 2011 San Diego Comic-Con.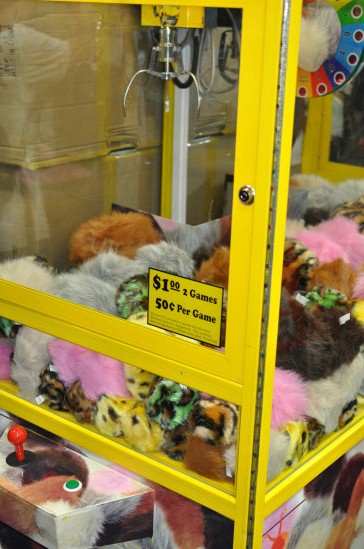 I think all crane machines should be stuffed with Tribbles.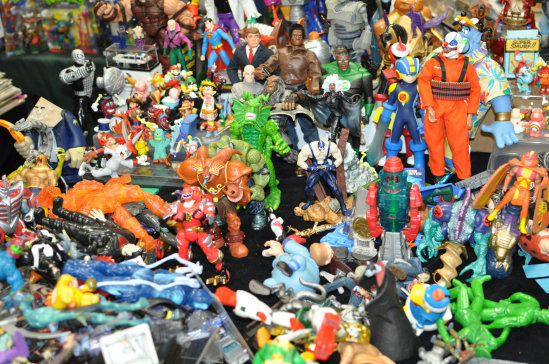 More toys.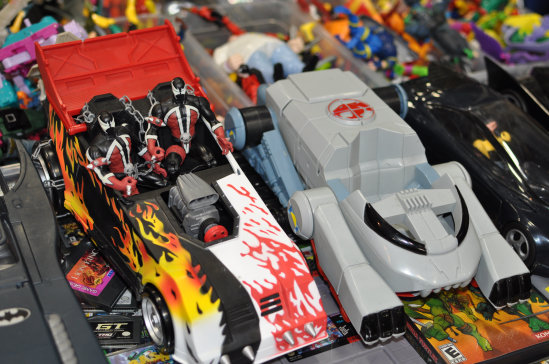 Spawn vs. Thundercats in a drag race? My money's on the Thundercats.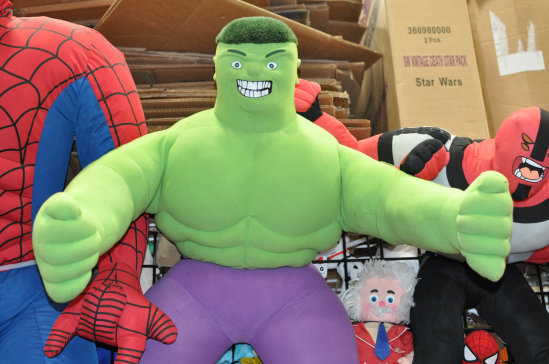 GIMME A HUG!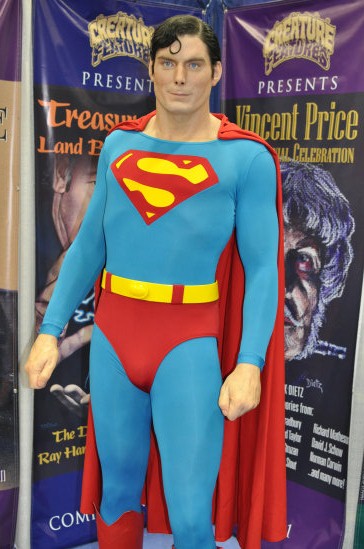 The detail on this life size Christopher Reeve Superman model was... well... super.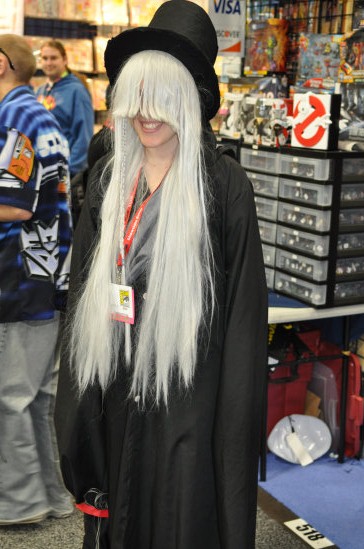 Good to see Cousin It making the rounds.

More original He-Man and the Masters of the Universe animation cells.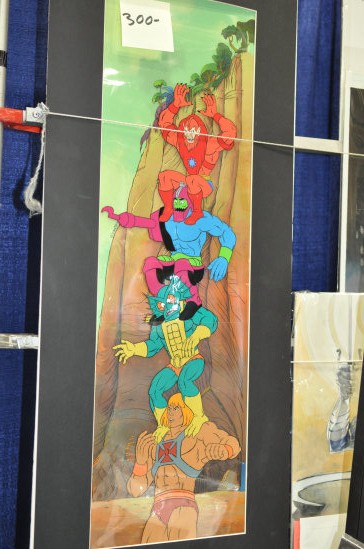 I really loved this one too.

Back off pal. Didn't you see what Freddy Krueger did to the Wizard Master in Elm Street 3?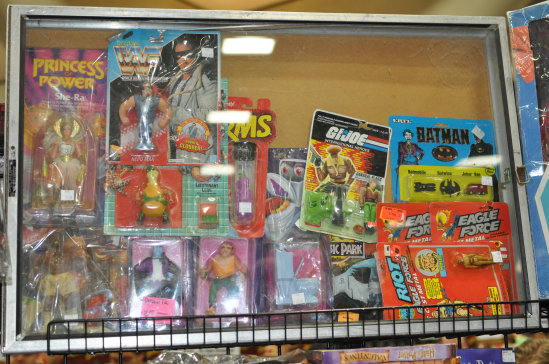 More vintage toys still in their packaging including She-Ra, Food Fighters, G.I. Joe and Eagle Force.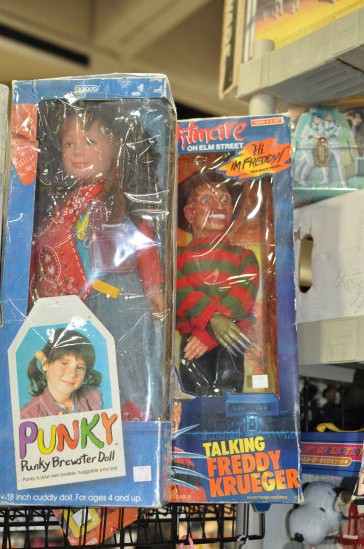 Punky Brewster and Freddy Krueger dolls... what every growing child needs.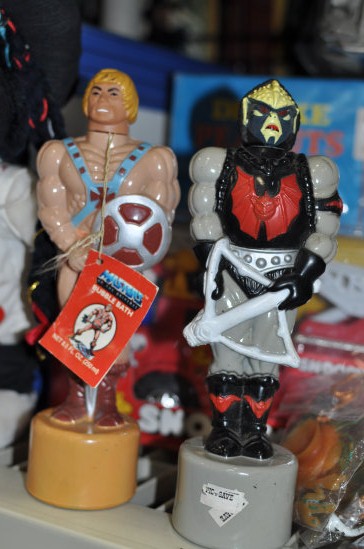 He-Man and Hordak bubble bath!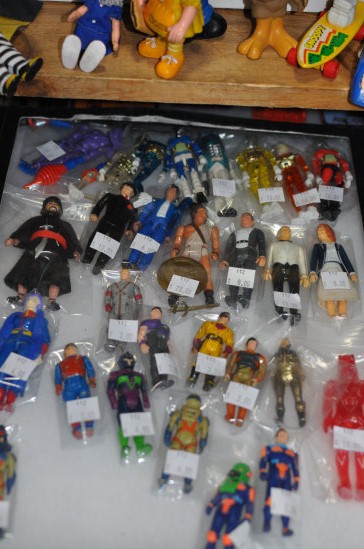 M.A.S.K. toys!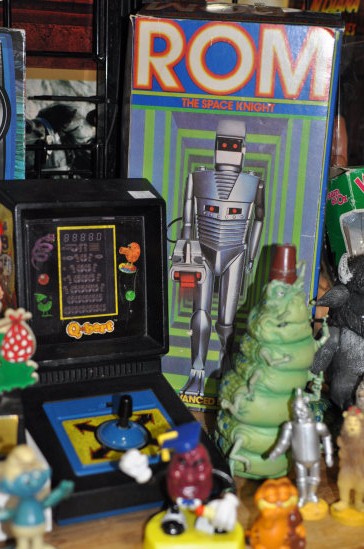 ROM: The Space Knight may be my new hero. Also, gotta love the old tabletop Q*Bert arcade game.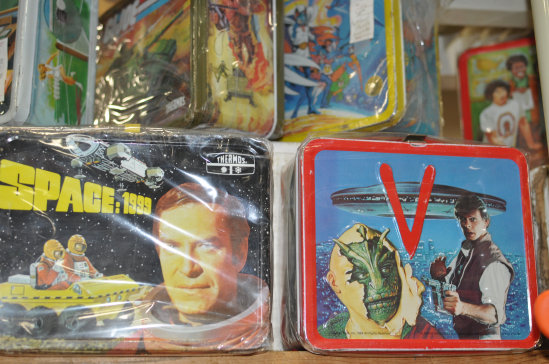 V and Space: 1999 lunchboxes.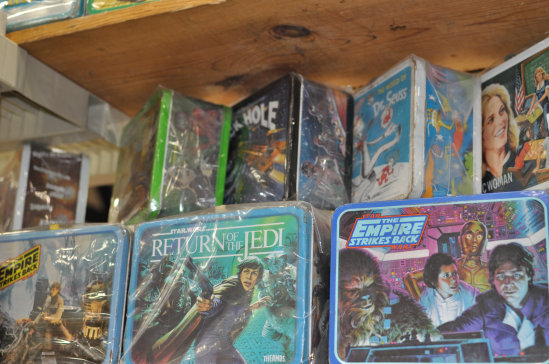 Vintage Star Wars metal lunchboxes.

Classic G.I. Joe vehicles still in their boxes.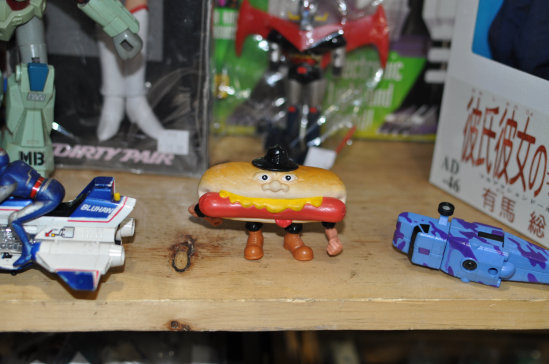 Food Fighters! I wrote about these obscure toys years ago and it's always nice to see them pop up once 'n a while.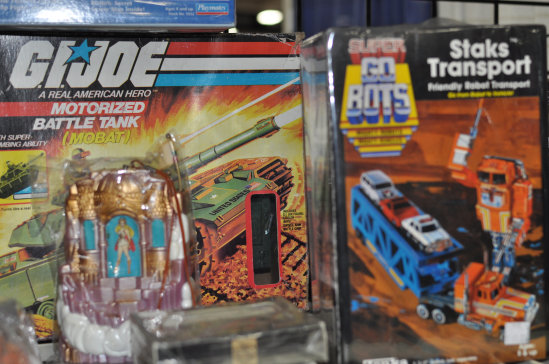 She-Ra, G.I. Joe and Super Go-Bots "Staks". Good times.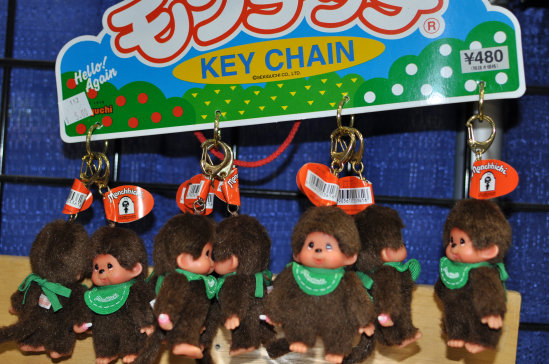 Monchichi key chains.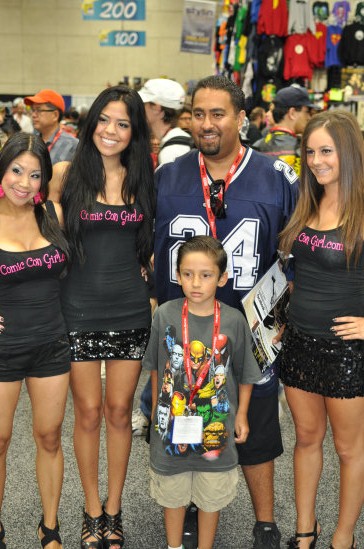 This father wanted his son to pose with him next to these Comic-Con girls. You can tell the kid was thrilled about it.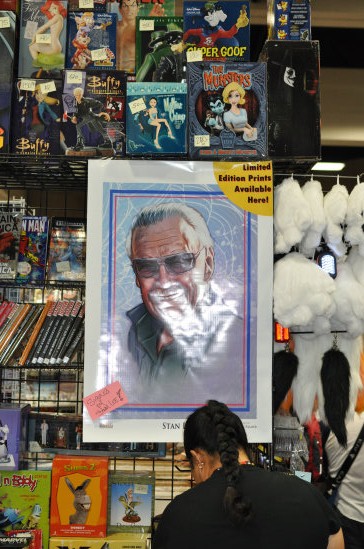 Stan Lee. Some would say Comic-Con is all his fault.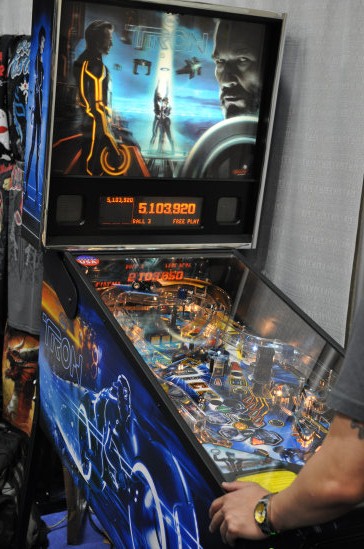 The new TRON pinball machine. Fun game with great sound effects.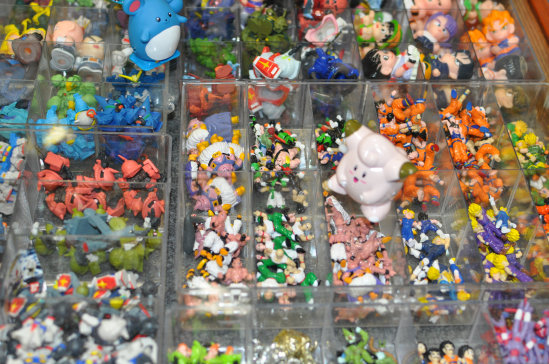 Mini figures.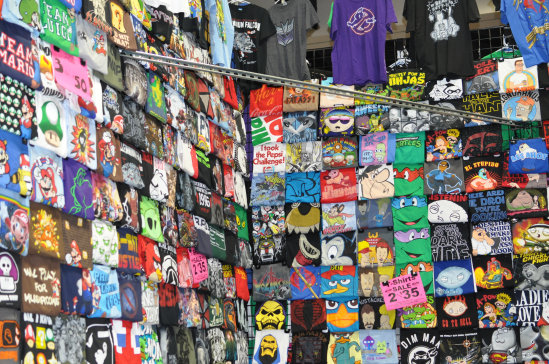 T-shirts galore!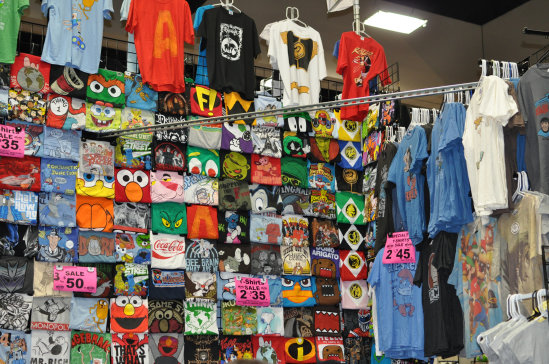 More t-shirts!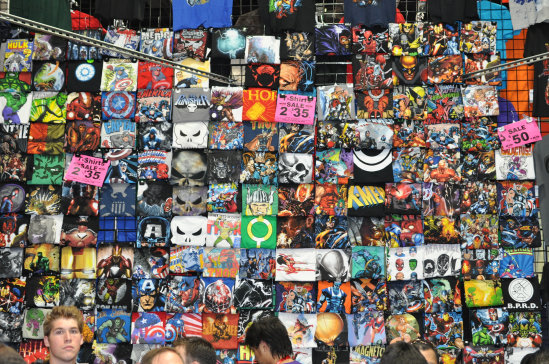 If you want to wear a different t-shirt for every day of the year, Comic-Con has you covered.
There are still many more
2011 San Diego Comic-Con photos to see!
Click here to continue onward to page 23!
Jump to page:
[1] [2] [3] [4] [5] [6] [7] [8] [9] [10] [11] [12] [13] [14] [15] [16] [17] [18] [19] [20] [21] [22] [23] [24] [25]