by: -RoG-
...CONTINUED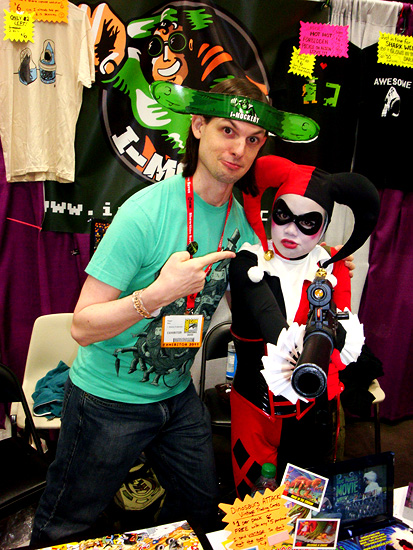 Another Harley Quinn stopped by the booth to say hi... with a gun. Keen!
(thanks to Sirose for sending this one in!)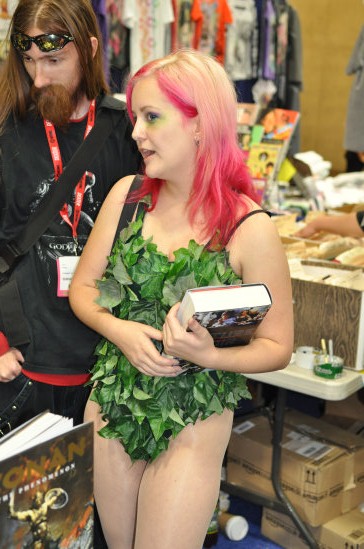 Poison Ivy, no doubt purchasing a book on horticulture.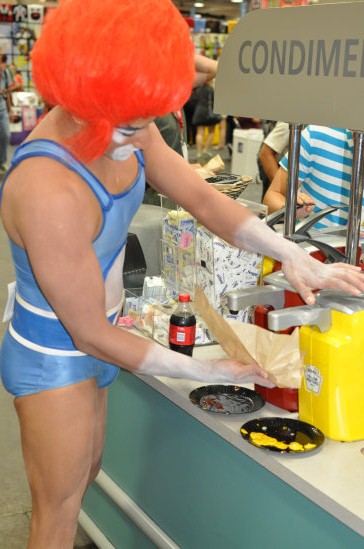 Lion-O putting mustard on a hot dog may be one of the best sights I've ever captured at Comic-Con.
Seriously.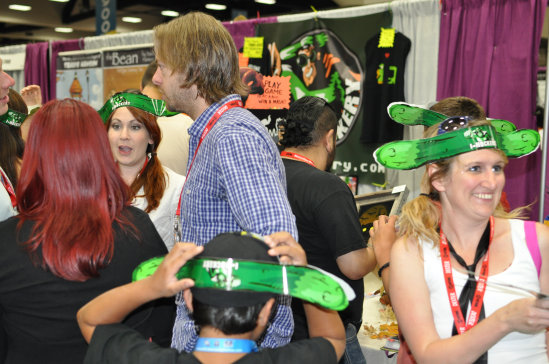 Pickles, pickles, pickles...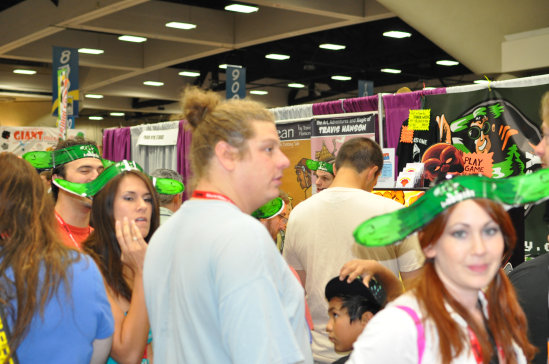 Pickles?

PICKLES!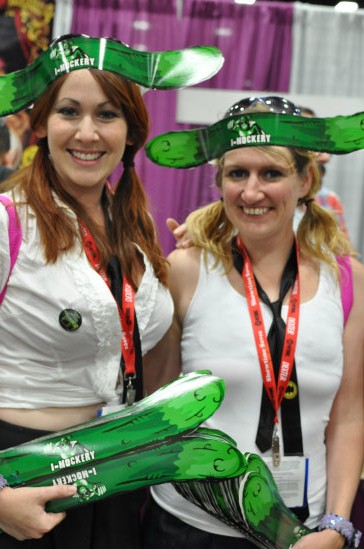 PICKLE LADIES!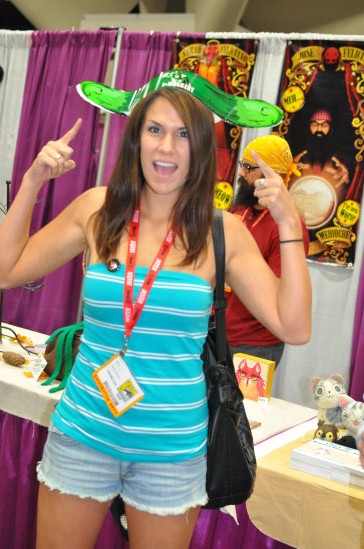 MORE PICKLES!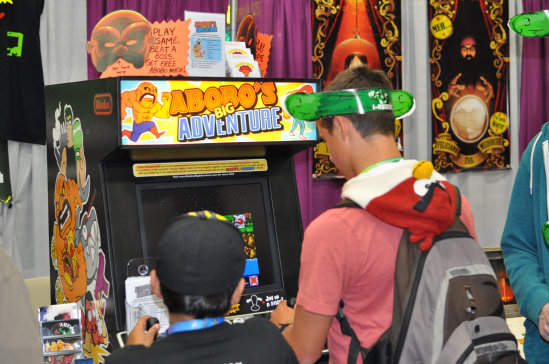 PIIIIIIIIICKLESSSSSSS!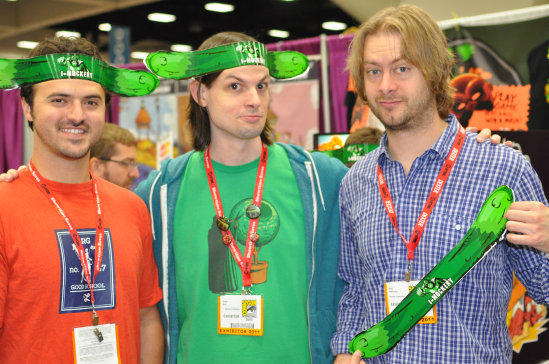 PICKLE PALS!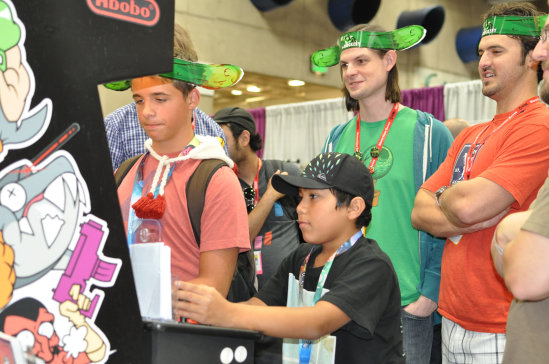 These two kids rocked the Contrabobo level together and won free Abobo masks. Well done!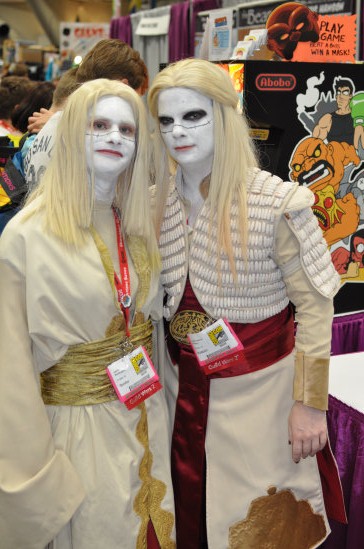 Prince Nuada and Princess Nuala back at Comic-Con once again.

I seriously love these two Optimus Prime and Bumblebee Transformers costumes.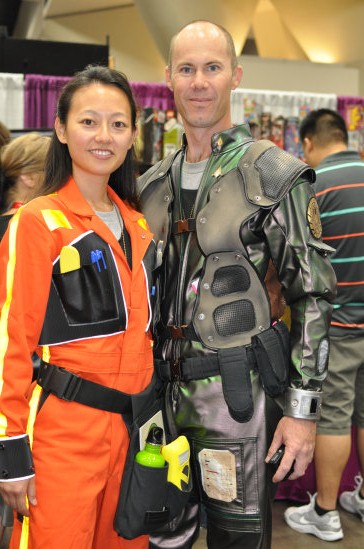 Battlestar Galactica goodness.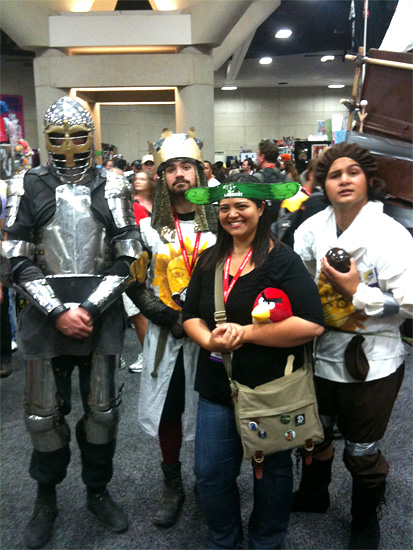 I'm not sure what kind of quest they're on, but the pickle hat will surely help them forge ahead through harsh times.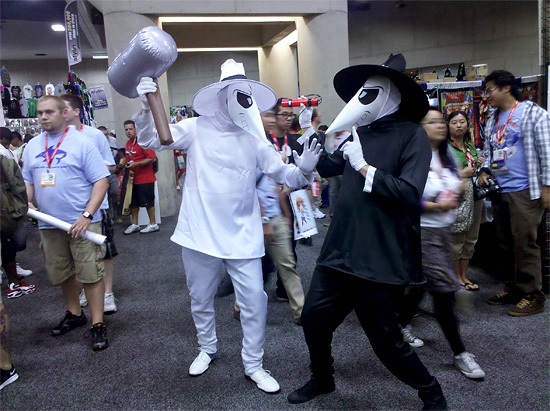 Spy vs. Spy costumes. As always, this isn't going to end well.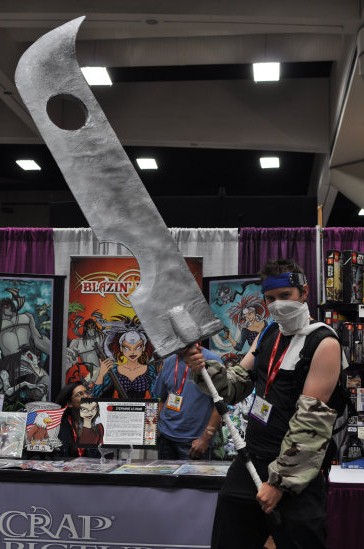 Impressive weapon you have there!
(Hope you've had fun lugging it around the convention center all day long.)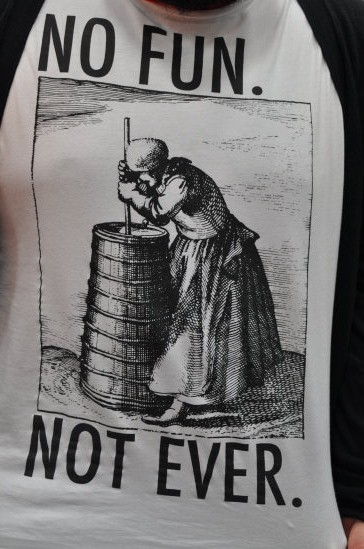 No fun. Not ever. Yep, that's Comic-Con for ya.

Looks like Mario and Luigi had a run in with the cops. They must've found their stash of hallucinogenic mushrooms.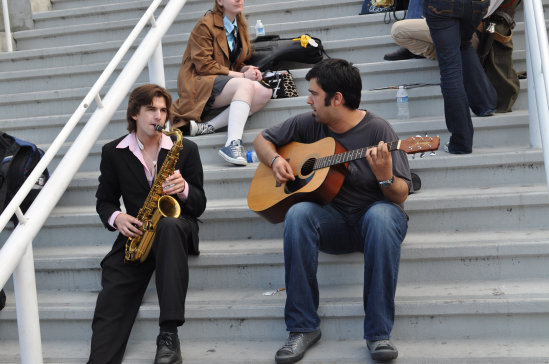 As Comic-Con winds down, some attendees play the blues on the steps outside.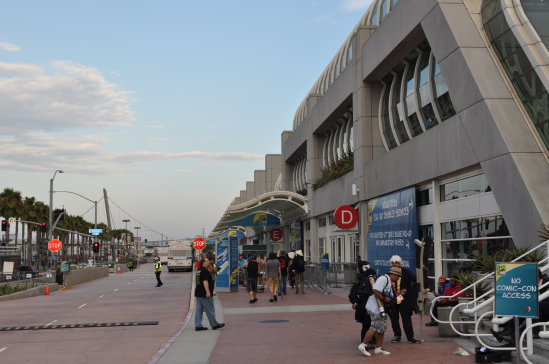 And with the last of the crowds fading away, it's time for us to pack up our booth and head home.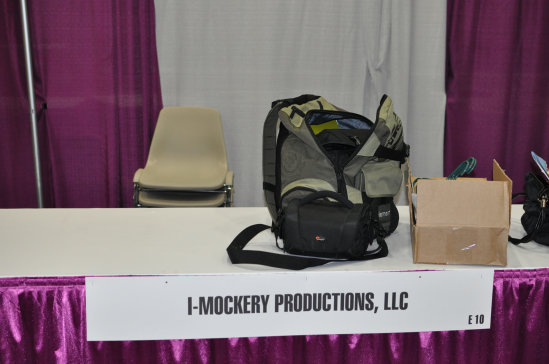 All packed up and ready to go. It's been an amazing week and big thanks again to all of you who stopped by the booth!
Before I go, I always like to end these gargantuan Comic-Con pictorials with one of my favorite photos from the entire event: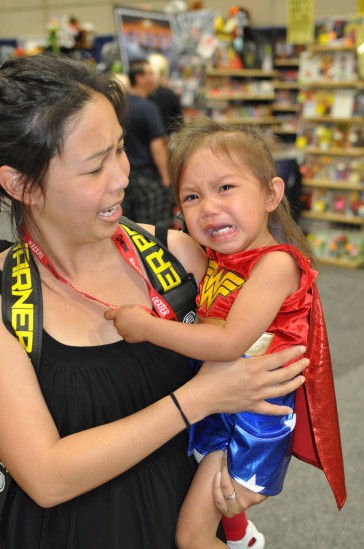 Just as Tom hanks once said there's no crying in baseball, there's also no crying at Comic-Con. (unless you're Max Burbank)
But it's ok... dry those eyes, for you clearly still have plenty of time to finish growing up, Wonder Woman.
And that about wraps it up for our gargantuan gallery of geeky goodness from the 2011 San Diego Comic-Con! As always, I had an amazing time meeting so many fans of the site. It's really nice to know that after more than a decade, there are so many of you who still like what we're doing around here. Thanks again to any of you who stopped by and said hi, played Abobo's Big Adventure and purchased some of our merchandise. It means a lot to us.
Big thanks to Re for helping out at the booth constantly and making sure we sold more I-Mockery goodies than ever before. Big thanks to Nick for driving down again with the Abobo cabinet and making sure we had a demo that worked extremely well with very few glitches this year. Big thanks to Cheryl and Jamye for handing out free pickle hats to people on Saturday and Sunday. Big thanks to our fantastic new booth neighbors for welcoming us to the new location. And of course, thanks to our other chums Nort, Maddox, Marie, Brian, Dax, Austin, Shannon, Justin, Matty, Jack, John, Bob and anybody else I forgot to mention for helping out and/or hanging out at the booth each day to make it extra fun this year. You guys all rock.
To those of you who couldn't make it out this year, we're sorry we missed ya, but I really hope this huge gallery was the next best thing to coming out and seeing us in person. As always, all of the merchandise we were selling at the Comic-Con (the shirts, the comics, the pixel posters, etc.) are available for purchase in our online I-Mockery Store, so if you've enjoyed this pictorial, please check it out and consider buying something to help support the site and all the hard work we put into it!
Huge thanks once again for all the fantastic fan support at the convention! Please drop us a line in the comments section down below to let us know what you thought of all our photos. See ya next year Comic-Con!
Have any questions or comments about this piece?
SHARE YOUR THOUGHTS IN THE READER COMMENTS SECTION BELOW!
Jump to page:
[1] [2] [3] [4] [5] [6] [7] [8] [9] [10] [11] [12] [13] [14] [15] [16] [17] [18] [19] [20] [21] [22] [23] [24] [25]