by: -RoG-
...CONTINUED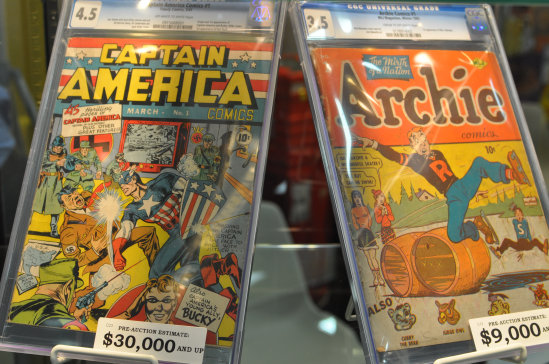 Ok, how about lend me cash for one of these instead?

Not even these? Man... you guys are cheap.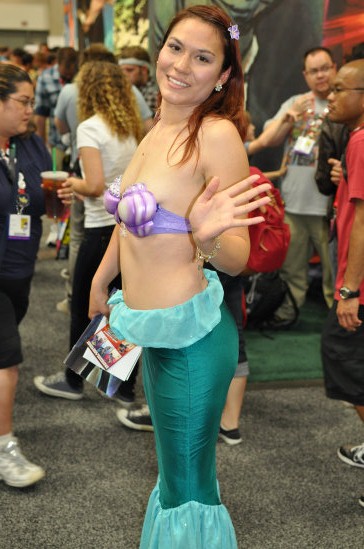 Another Ariel. This time, without a fork in hand.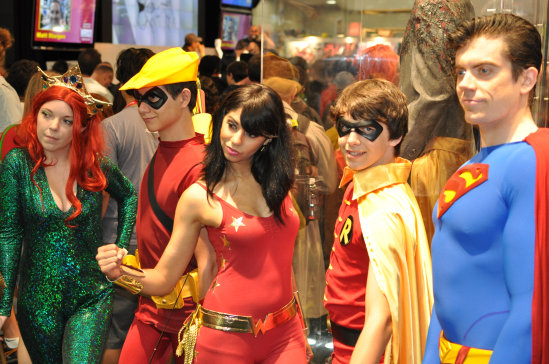 More superhero cosplayers.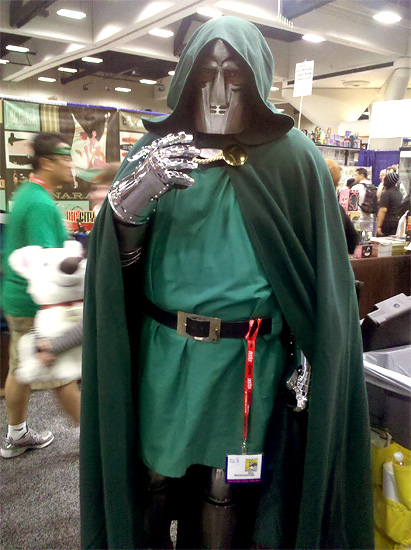 What's up, Doc?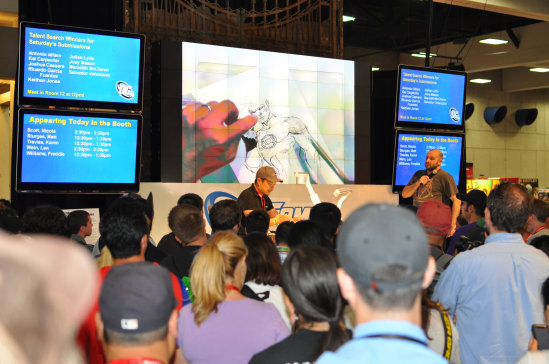 A live panel demonstrating how to draw the Green Lantern.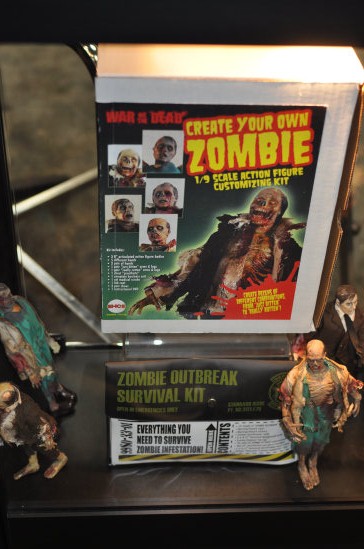 Create Your Own Zombie! Chemical plants don't even need this kit. Lucky!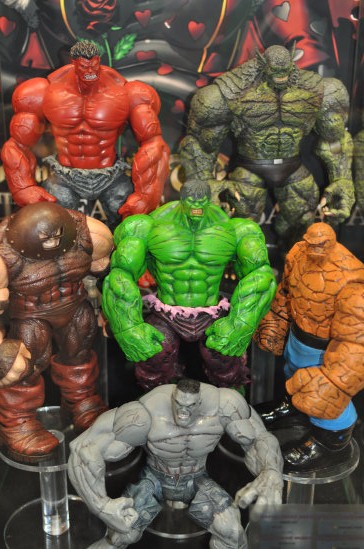 Sure, they look tough... but at night they all like to cuddle up next to a fire and read romance novels.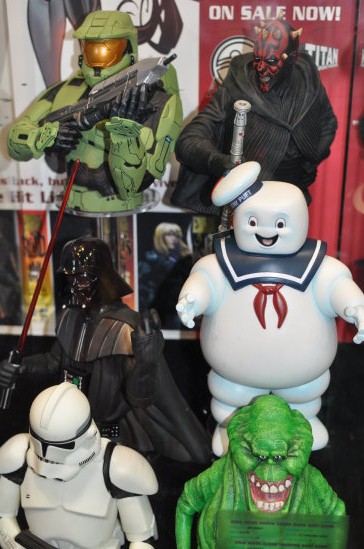 Halo, Star Wars and Ghostbusters all represented nicely.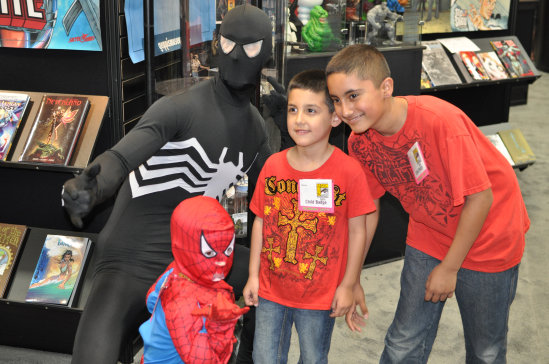 I like how lil' spidey want posing in a totally different direction.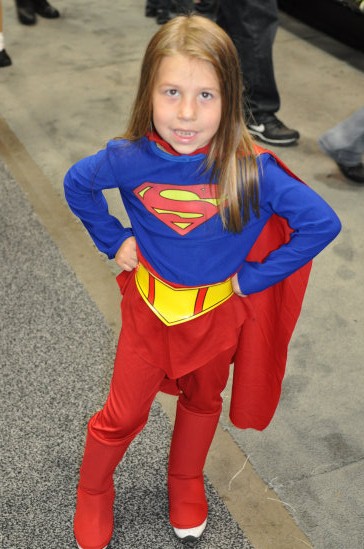 Supergirl was ready to fight the good fight. Too bad the same couldn't be said about the movie.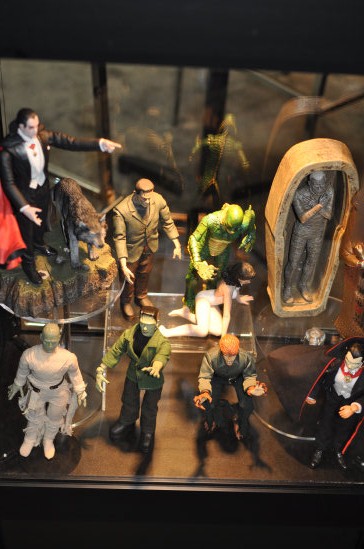 Universal Monsters.

Lego Spider-Man. What, no Lego web?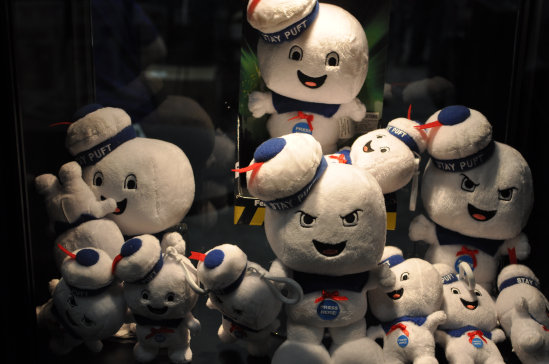 Some day, they'll grow up and cover an entire city block in marshmallow.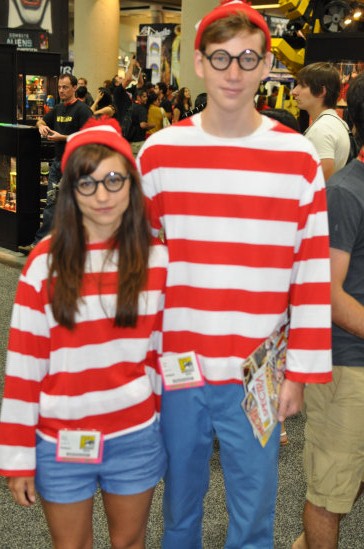 It's getting too easy now guys...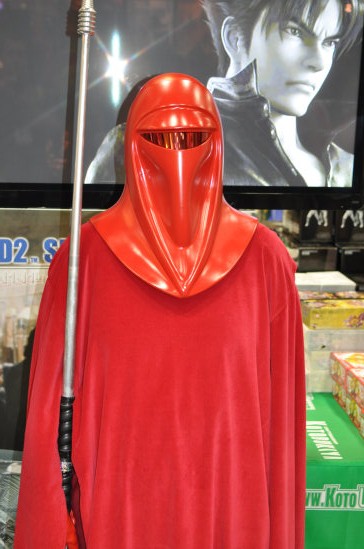 He doesn't appear to be guarding anybody.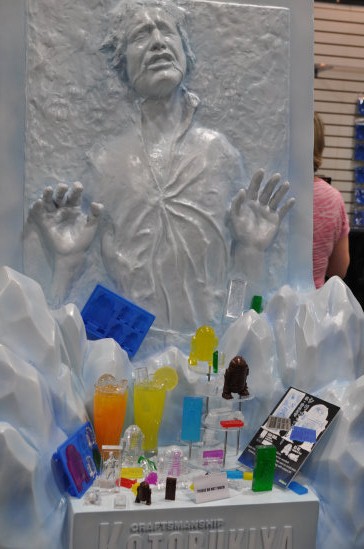 You too can make your own ice pops shaped like Han Solo frozen in carbonite.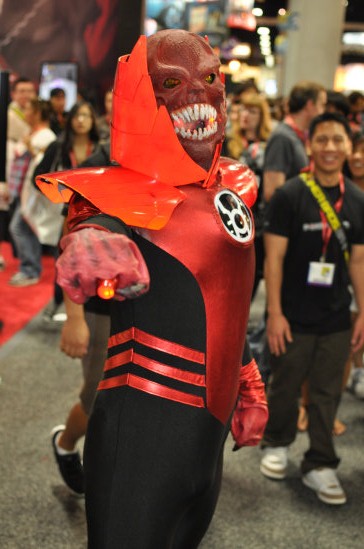 Powered by a Red Lantern.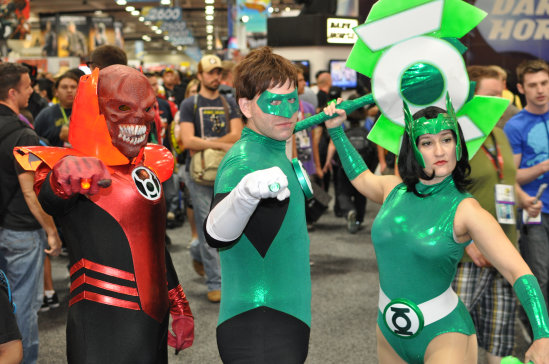 More Lantern folk.

Marty McFly and his hover board.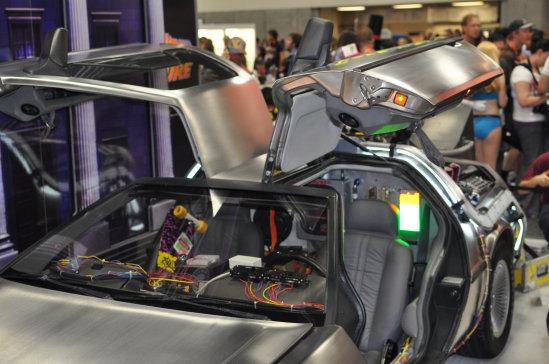 The Back to the Future DeLorean is open for business!

An even more accurate Marty McFly...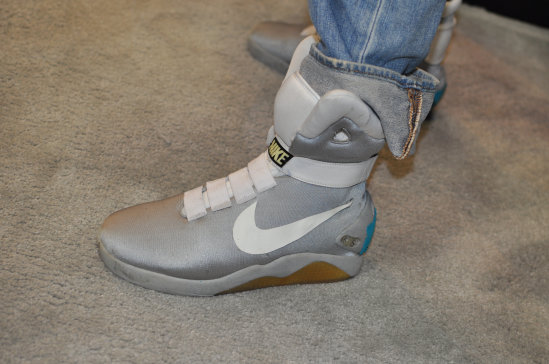 ...right down to the BTTF Nike shoes!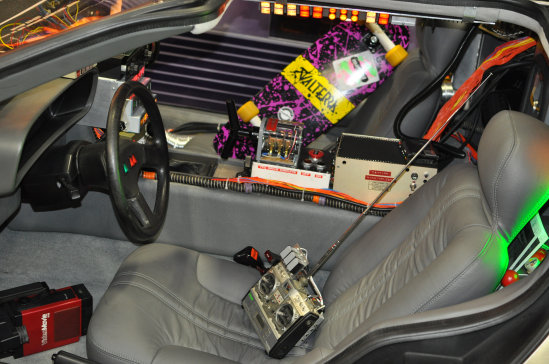 Notice the original remote control and video camcorder in the DeLorean?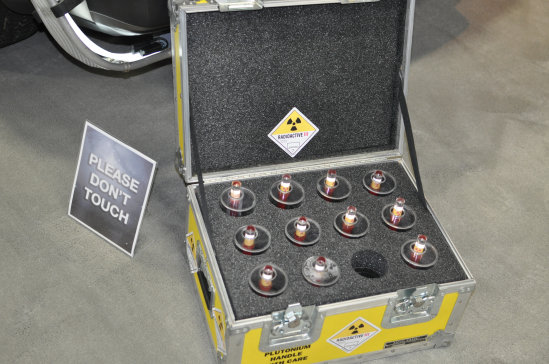 And yes, they even had the original case of plutonium to power the car!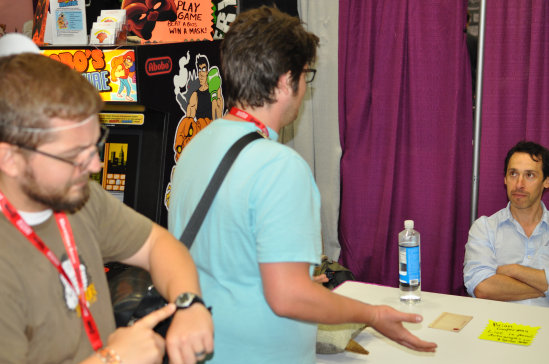 There was a loooong line to get autographs from Brian Cooperman.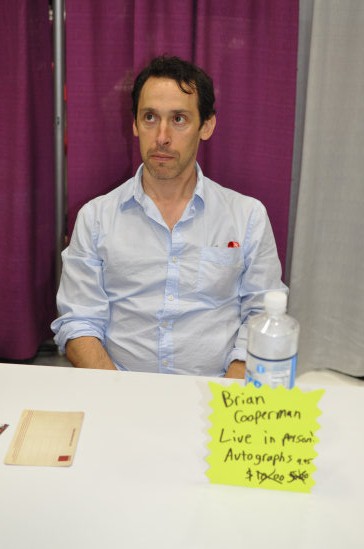 $4.95 for an autograph? That's a steal!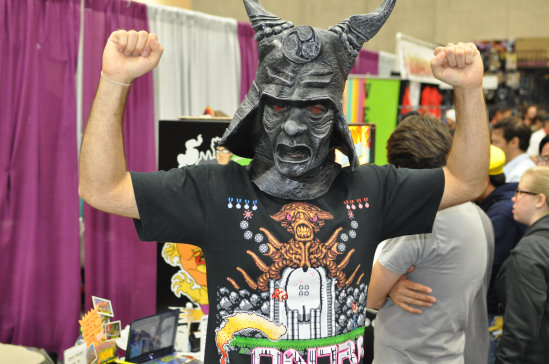 Maddox was really proud of this mask that he overpaid for. He should be more proud of the badass Contra t-shirt.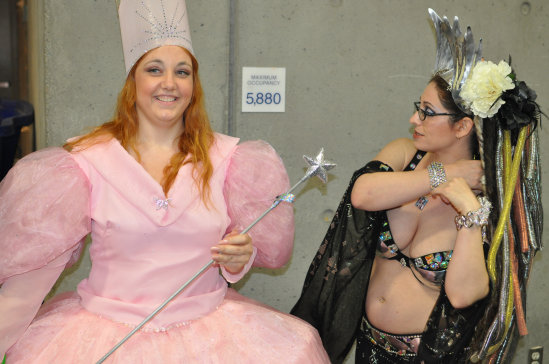 I think she's worried the princess will give her normal looking hair.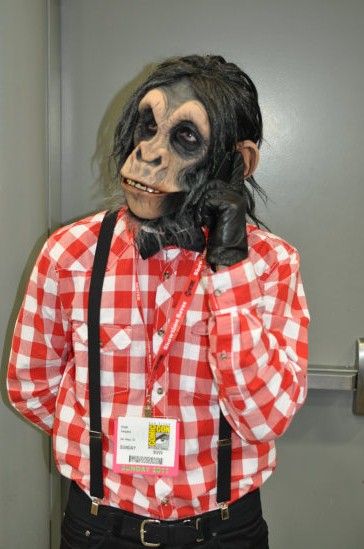 Monkey business.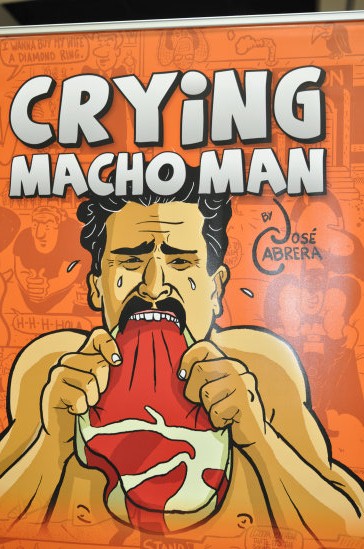 We've all been there before.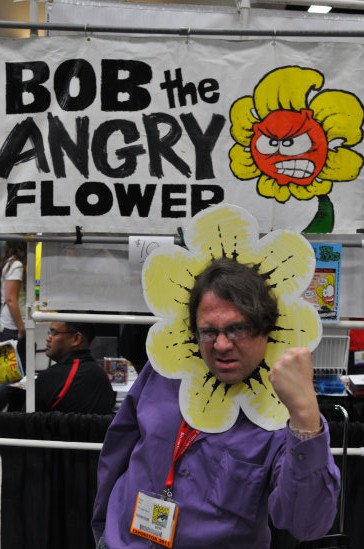 Maybe one day Bob the Angry Flower will find peace. Maybe not.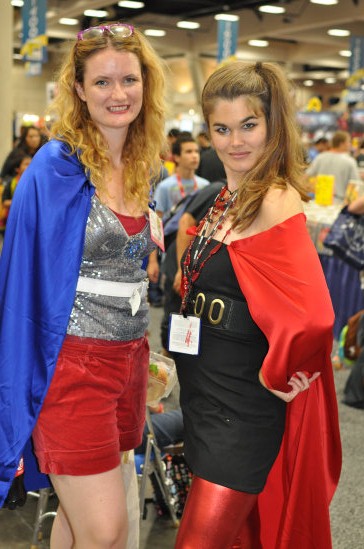 More caped cosplayers.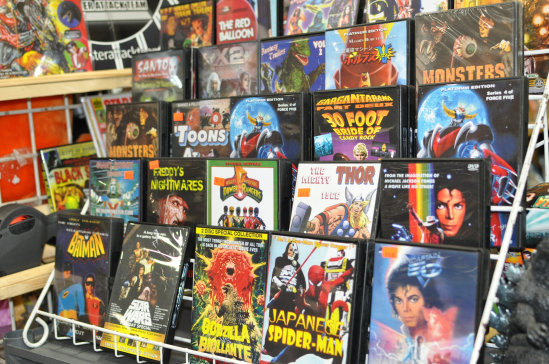 Bootleg DVDs can always be found at Comic-Con.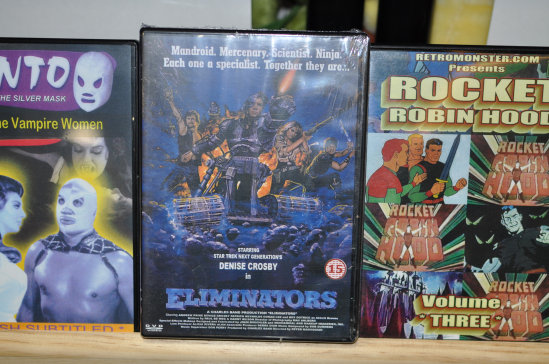 Fans of Doc Mock's Movie Mausoleum can surely appreciate this one: a copy of Eliminators on DVD!
Mandroid lives!
There are still many more
2011 San Diego Comic-Con photos to see!
Click here to continue onward to page 25!
Jump to page:
[1] [2] [3] [4] [5] [6] [7] [8] [9] [10] [11] [12] [13] [14] [15] [16] [17] [18] [19] [20] [21] [22] [23] [24] [25]