by: -RoG-
...CONTINUED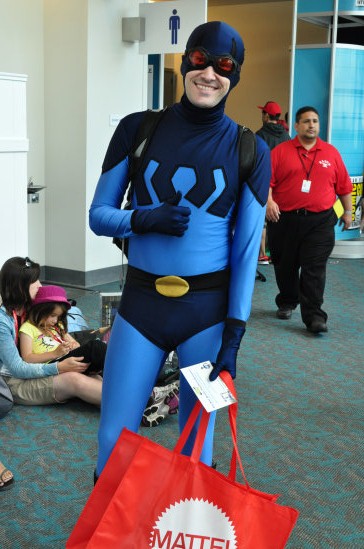 Ayyy!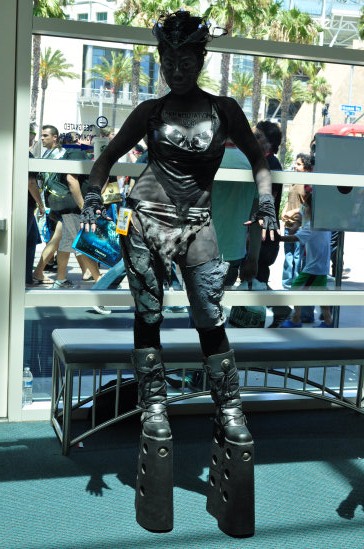 Who needs ladders when you have shoes that make you 10 feet tall?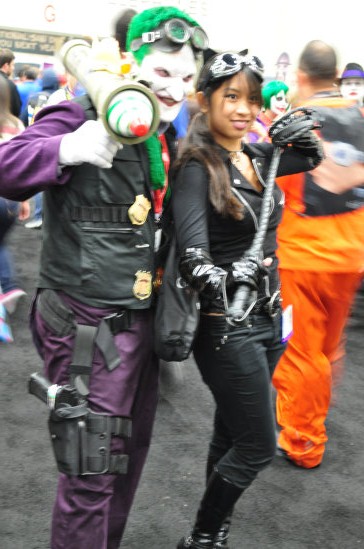 Catwoman, the Joker and his bazooka. Jokezooka?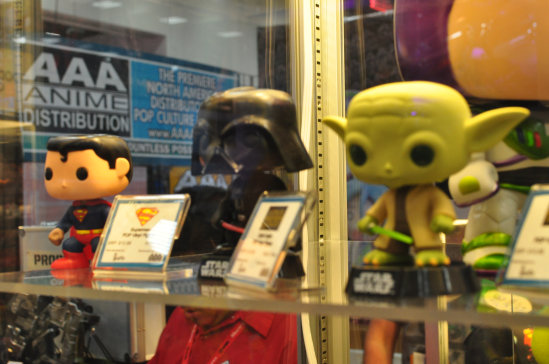 Superman, Darth Vader and Yoda. People with power always have big heads.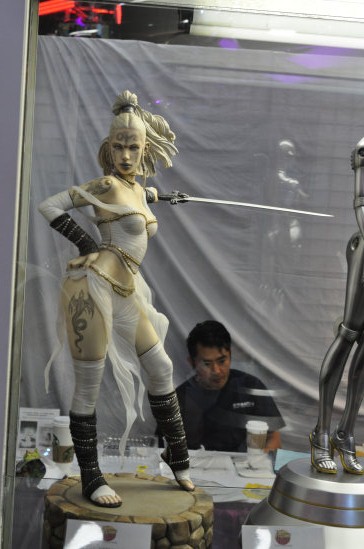 Whatchoo lookin' at?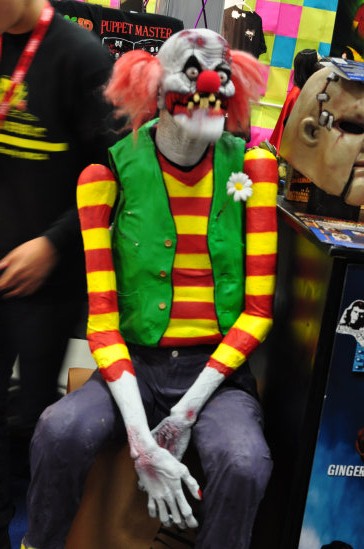 Ronald McDonald: The Post-Apocalypse Years.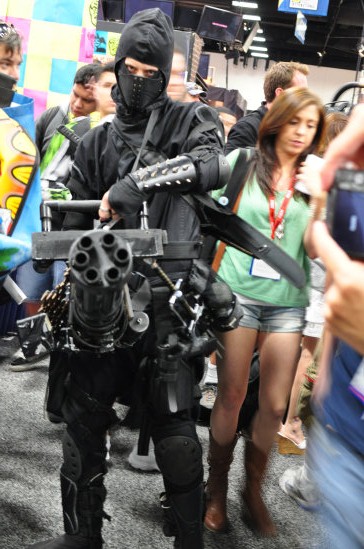 I'm sure it takes countless years of dedicated ninja training to use a gun like this.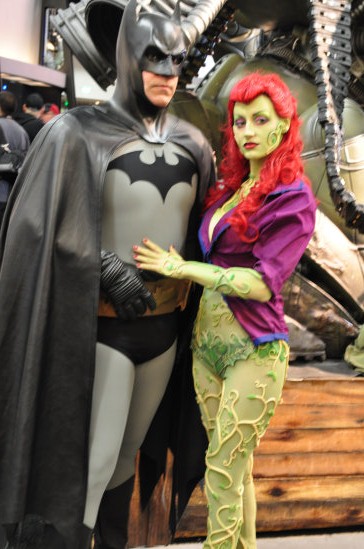 Some truly awesome homemade Batman and Poison Ivy costumes. Check out the vines glued onto her!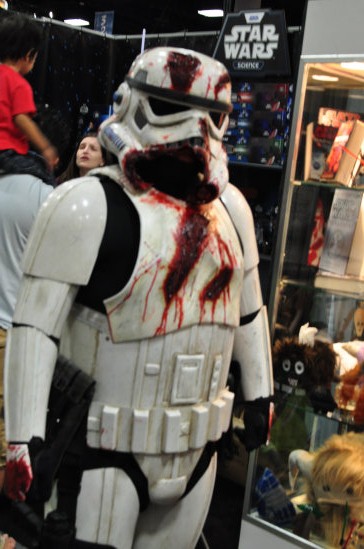 A Zombie Stormtrooper? I like it!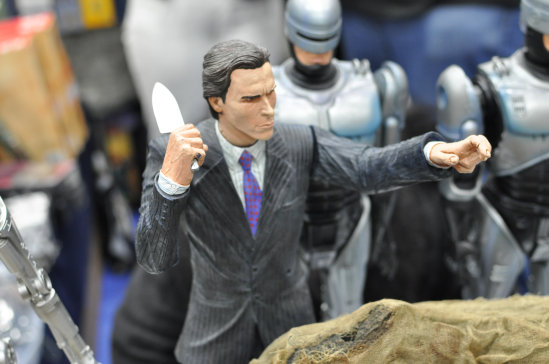 He's looking for an ATM so he can feed it a cat.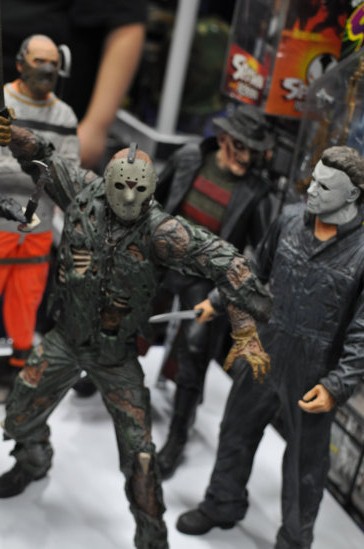 Haha, look at Jason. He's all, "Step aside Mikey... I got this."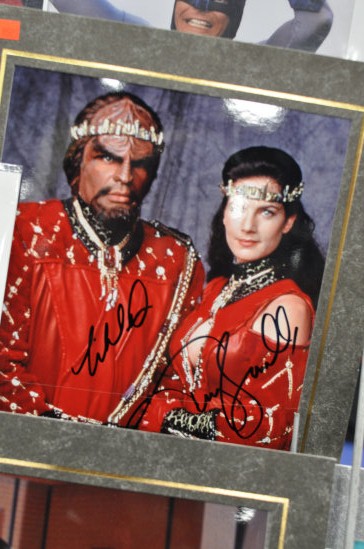 WORF. WORFFFF. WORRRRRRRRRRRRF!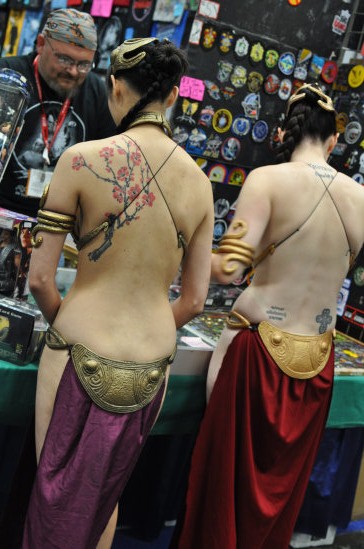 Until this Comic-Con, I was unaware that Slave Leias were inked.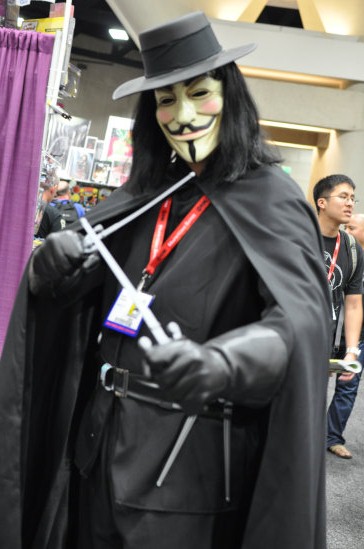 Voila! In view, a humble vaudevillian veteran, cast vicariously as both victim and villain by the vicissitudes of Fate.
This visage, no mere veneer of vanity, is a vestige of the vox populi, now vacant, vanished. However, this valorous
visitation of a by-gone vexation, stands vivified and has vowed to vanquish these venal and virulent vermin
vanguarding vice and vouchsafing the violently vicious and voracious violation of volition.
The only verdict is vengeance; a vendetta, held as a votive, not in vain, for the value and veracity of such
shall one day vindicate the vigilant and the virtuous. Verily, this vichyssoise of verbiage veers most verbose,
so let me simply add that it's my very good honor to meet you and you may call me V.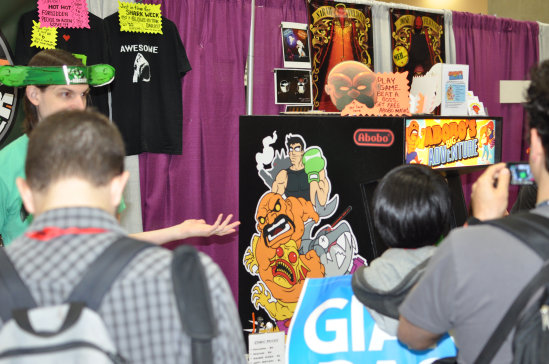 Here I am explaining how every single level in Abobo's Big Adventure is a completely different game. I'm sure they get it.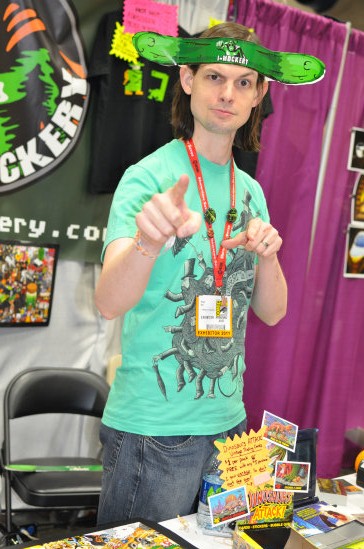 Days later and somehow I'm still alive and full of energy.
Either that, or you just can't tell that I'm propped up and being controlled by a puppeteer at the moment.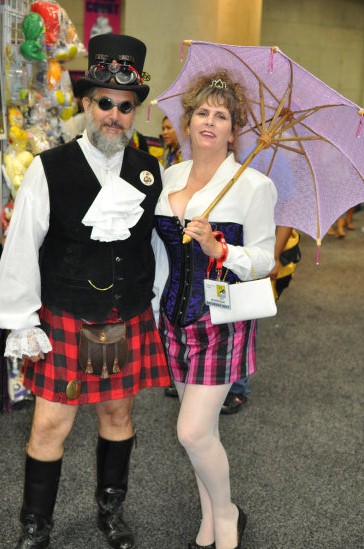 Up yer kilt!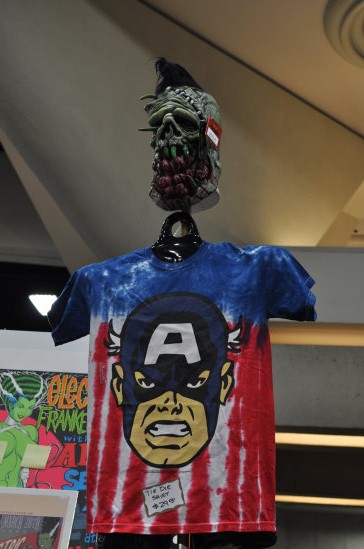 9 out of 10 zombies agree; tye-dyed Captain America shirts are awesome.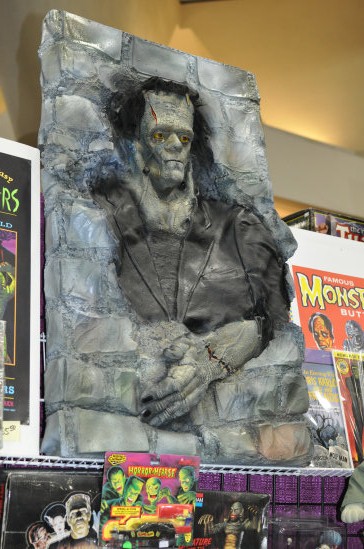 Han Solo was frozen in carbonite. Frankenstein, however, was just stuffed into a brick wall.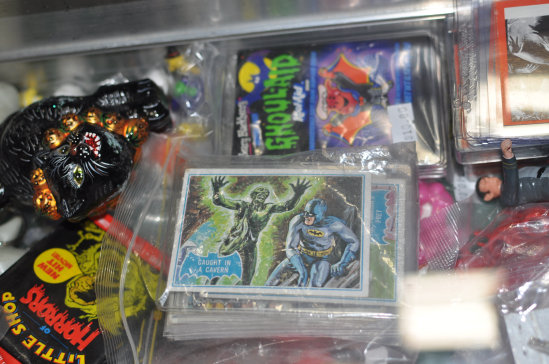 Awesome. Some guy traded me that vintage packet of "Ghoul-Aid" Scary Blackberry flavored Halloween Kool-Aid. Oh yeah!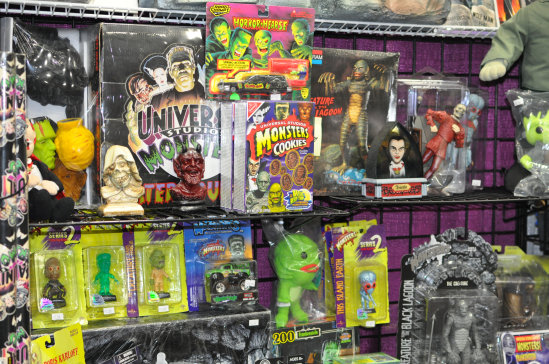 Monster toys and souvenirs including old Universal Studios Monsters Cookies!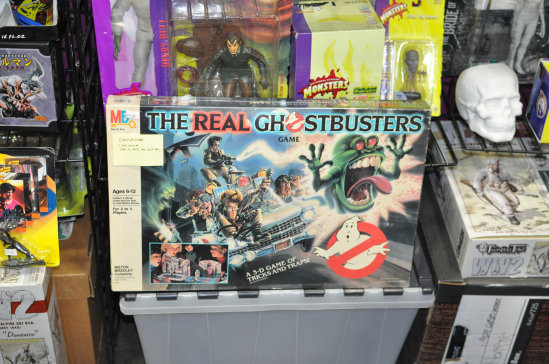 The Real Ghostbusters 3D board game from Milton Bradley.

General Zod + iPod = iZod.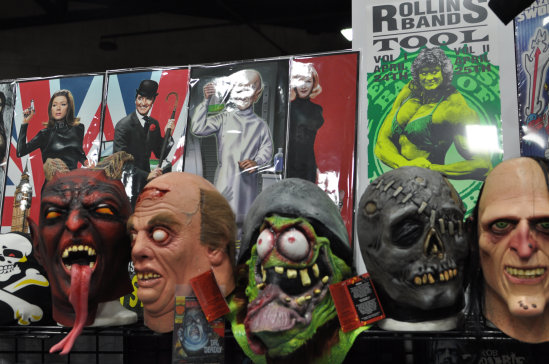 a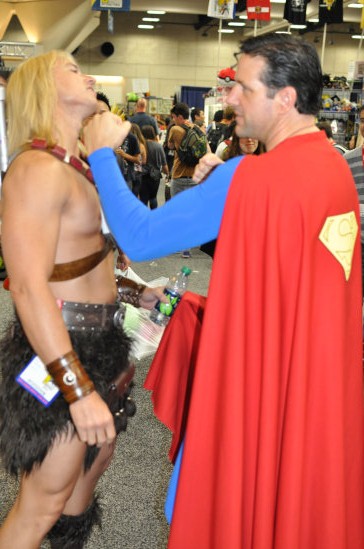 You guys gotta work on those action shots to make 'em look a lil' more believable.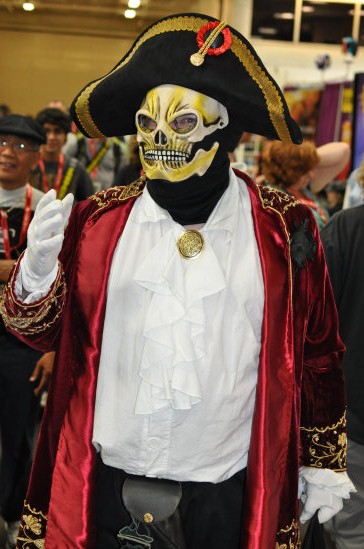 He totally should've claimed to be the Ghost Pirate LeChuck from the Secret of Monkey Island.
He did say he loved the game though, so that's good enough for me.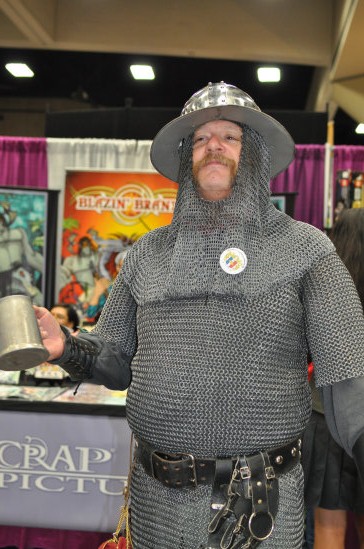 His primary weakness is swimming pools.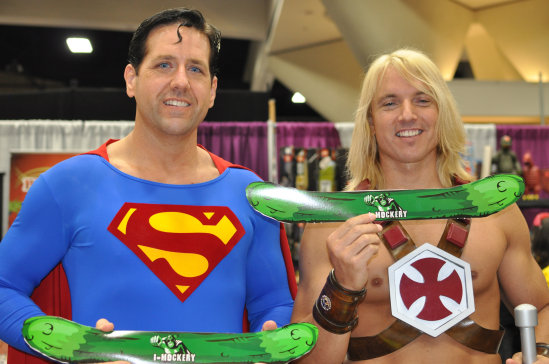 Superman and He-Man. Yeah, I think it's safe to say He-Man was baked after taking one "Skeletoke" too many.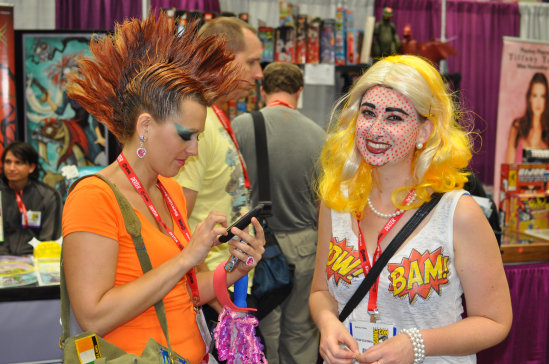 Whoah! This lady was a Count Pop fan! I dig it!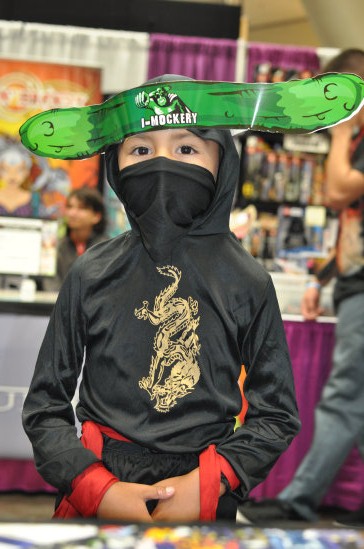 The I-Mockery Pickle Ninja.
Everything about this picture is absolute perfection.
There are still many more
2011 San Diego Comic-Con photos to see!
Click here to continue onward to page 20!
Jump to page:
[1] [2] [3] [4] [5] [6] [7] [8] [9] [10] [11] [12] [13] [14] [15] [16] [17] [18] [19] [20] [21] [22] [23] [24] [25]