AGTYASASDGAGEEHAK! (that's the sound of my mind being blown away)
So we just got our refrigerator. For those of you who don't know, for some bizarre (stupid) reason, refrigerators are considered "luxury" items in California. As a result, at least 50% of the places out here don't come with one, so we had to buy one online. Well, I don't mind that much since the delivery was free and we got to buy a black one. It really should come with a t-shirt that says "my fridge could beat up your fridge" or something. Black refrigerators just look tough. You won't find a soccer mom with a black fridge, no siree! Black refrigerators are owned by Vikings who dive cannonball-style into volcanoes and then rinse the lava off with the blood of their fallen enemies! Yep, that pretty much sounds like me in a nutshell.
Well, one of the things that goes with buying a new fridge is of course buying all new groceries. After the fridge was dropped off, we headed to the grocery store to buy all the goodies we've been missing out on for so long. Re stocked up on her favorite Mrs. T's Pierogies and I bought some ice cream and a block of cheese; two great tastes that probably don't go great together. But nothing could prepare me for what I was about to stumble onto while I was there: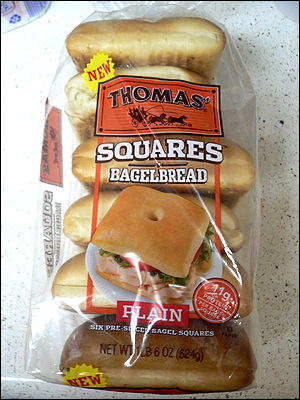 That's right, square bagels. SQUARE BAGELS! It goes without saying that I bought a pack instantly, knowing full well that they wouldn't taste any different. I just wanted to be able to say that I've had a square bagel and that it was tasty as can be. In all honesty, I really think they should call 'em something more catchy. Something like "Thomas' Squagels!" (a 'la David Cross, thank you Jill). Doesn't that sound a bajillion times better than Squares Bagelbread? You're damned right it does! But wait, it's Halloween season on I-Mockery. How can I be talking about square bagels or Squagels or anything like that when I should be talking about Halloween stuff?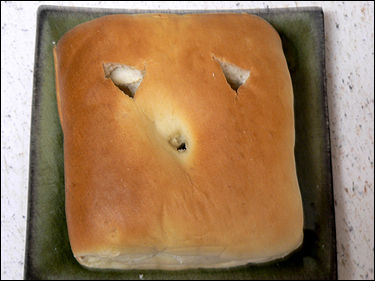 BEHOLD THE JACK-O-BAGEL!
Are you satisfied now?
By the way, sorry about the lack of updates to the blog this week... just been too busy busting my ass on all these Halloween articles as I feel they're more important than trying to update this blog every single day. I'm literally working on about 5 different pieces at the same time while also trying to put up the articles from the other guys and finish unpacking the boxes at our new place. Oh yeah, and also going to DMV... that's always a treat. DMV is where nightmares and stillborn infants come from. Share your worst horror stories from a trip to the DMV. This is as close to telling a story around a campfire can get on the internet, so make it a good one!
18 comments
Leave a Reply
Previous post: Forget about Miss Cleo…
Next post: Boo Berry is back!