I know I haven't been around much lately, what with the past three months being a nonstop whirlwind of Abobo madness, but I have another treat coming up for you. After many requests to finish the set, I'm happy to announce that we're officially working on a Spring pixel poster! This print will complete our "Four Seasons of Pixels" poster collection and I can't wait to see how they all look together. But first, there's much work to be done, and I wanna give you all a chance to make suggestions for what you'd like to see on the poster.
With that in mind, please post your suggestions for characters and anything else you'd love to see in our Spring pixel print! Be sure to make as many suggestions as you can come up with... the more we receive, the more likely it is that we'll include some of 'em on this poster. As always, we've already started off with a lot of our own ideas, so to help get your creative juices flowing, here's a little preview of a few things you can expect to see on the finished print: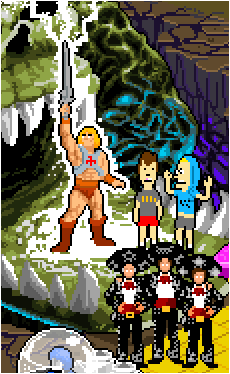 Keen! It's gonna be really nice to have this one finished, both because it's the last remaining season, and because I think all the spring scenery will make for a nice bright poster. And yes, for those of you who haven't had a chance to pick up our summer, winter, or fall (Halloween) themed prints, they're still available.
Alright, start posting your suggestions here in this thread and maybe your ideas will end up on our big Spring print!