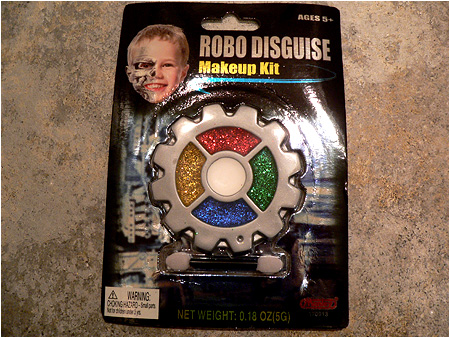 HAPPY HALLOWEEN EVERYBODY! So this is my Halloween costume. Hahah, no, of course it's not... but I HAD to buy it when I saw it in the local dollar store because it's absolutely ridiculous. Robo Disguise is neither a robot nor a disguise, it's simply four shades of glitter stuck into a little novelty gear. No matter how good you are with the application of make-up, you will NOT look like the robot kid in any way whatsoever. Actually, the kid doesn't look like much of a robot either, it's more like a weathered skull on one side of his face. Worst costume ever? Quite possibly.

We always like to end Halloween with a bang, so we've given you a quadruple attack of spooky awesomeness in the past 24 hours. First off, our new Doc Mock's MonsterTime game is up and running. It's a parody of and tribute to BurgerTime in which you play as Doc Mock himself, but you're not building burgers this time. No, this time you're building classic horror movie monsters instead while modern horror movie monsters chase you all over the screen! We have high scores working on it 'n everything, so try it out and see if you can make it onto the high scores list!
We also filmed a 3-hour Halloween special for Doc Mock's Movie Mausoleum on Friday night with some amazing guests - Count Dracula and Frankenstein's Monster! We put a LOT of work into that episode and I think you're gonna love what you see. If you missed it on Friday night, the episode is now archived online for your viewing pleasure and also available as a free download on iTunes. Click here to start watching it!
We felt bad about not having a Halloween "Select Your Destiny" story last year because we simply ran out of time, so this year there's a brand spankin' new one up online. It's full of all the crazy twists and bizarre deaths that you've come to expect from us, so I really hope you guys enjoy it. Click here to read Haunted Mansion Madness!
Last but not least, we have another greatest horror movie moment about "The Fury" up online compliments of Dr. Boogie, and it really is one of the best endings to a horror movie you will ever see. Your head asplode!
Well anyway, I do have a real costume all ready to go and will post photos of it as soon as I have a chance. In the meantime, I want to hear what YOU are dressing up as and doing for Halloween! Going trick-or-treating? Going to some haunted houses? Watching horror movies? If so, what?
In other news... (more...)

I don't usually get very gushy on here, but today I have to because it's a very special day for me. Yes I-Mockery celebrated over 10 years (well 13 technically if you include the years we were online without the domain beforehand) earlier this year, but today is an even more important milestone in my life. You see, Re and I are celebrating our tenth anniversary today! Yep, ten years ago today, October 30th, we got hitched on Devil's Night and then went trick-or-treating with all of our friends the very next day before departing for our honeymoon. It was an amazing time and I can't believe how lucky I am to have been married to my best friend all these years. We've seen and done so many things together already and I can't wait to see what else we'll end up doing together. Re's also been tremendously encouraging when it comes to all of my creative endeavors, whether it's here on I-Mockery or elsewhere. Hell, half of the big projects I've worked on probably would've never been done if it wasn't for her. She's truly the most amazing person I've ever known and I couldn't imagine myself being with anybody else. Looking forward to the next 10 years of adventures, mayhem and.... murder. DUN! DUN! DUN!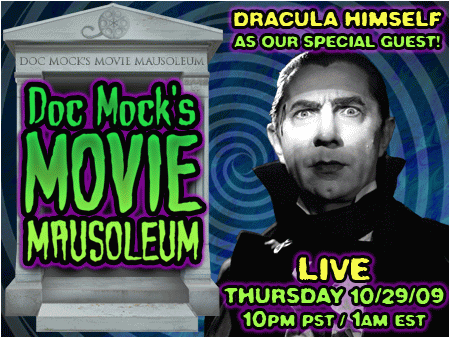 Tonight's the night for our final Halloween season special on Doc Mock's Movie Mausoleum! We normally air on Fridays, but for our final Halloween episode of the season, we're airing on Thursday (tonight) at 10pm PST / 1am EST. Be sure to tune in LIVE, because we have a great guest in store for you... the one and only COUNT DRACULA! Yes indeed, the original prince of darkness himself will be our special guest and we have all sorts of fun things planned for the evening, so don't miss it!
If you haven't entered the Halloween Art Contest, be sure to do so before the episode airs tonight! We'll be showing all the entries during the episode when we announce the winner!
As always, you can watch it LIVE and join in the chat room fun at any of the following URLs at 10pm PST / 1am EST:
http://www.thestream.tv/live.php
http://www.justin.tv/thestreamdottv
http://www.stickam.com/thestreamdottv
It's gonna be a blast tonight, so I hope to see all of you there for this big Halloween celebration!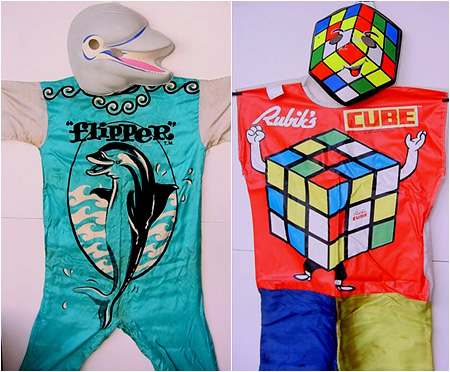 Oh how I long for the simple days when Ben Cooper costumes were king. If only it was as simple as going to the store and saying, "Why yes, I would like to dress up as Flipper the dolphin or a Rubik's Cube this Halloween!" Believe it or not, I still don't have a Halloween costume. Halloween is less than a week away and I still don't have a costume. How is this possible? This never happens. Granted, I've been busy as hell the past two months writing Halloween season articles on I-Mockery and doing the Halloween specials on Doc Mock's Movie Mausoleum, but that's still no excuse. I need to figure something out pronto!
How about you guys? What are you going as for Halloween? Feel free to share photos of your costumes in this thread. Who knows, maybe I'll just steal your idea and claim it was my own brilliant Halloween 2009 costume creation. Ok not really, but I am open to suggestions, because if I don't come up with something good soon, I may have to throw something ridiculous together at the last minute. Something ridiculous like my Halloween costume from 2003... The Hawaiian Ninja of Liberty: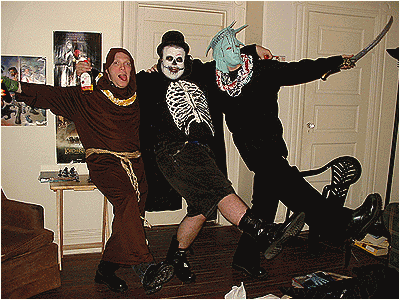 Yep, I actually wore a Statue of Liberty mask covered in blood, a Hawaiian lei flower necklaces, and a ninja costume with sword as my costume that year. They were among the only things left in the store the day before Halloween that year. Much to my amusement, everybody thought I was making some kind of political statement that year, what with Miss Liberty being covered in blood 'n all... but the truth is, I just threw some crap together at the last moment and became The Hawaiian Ninja of Liberty for no reason whatsoever.
Looking back at that costume, dressing up as Flipper or a Rubik's Cube is starting to sound pretty good in comparison.

For the show tonight (10/23), you can watch it and join in the live chat room fun at any of the following URLs at 10pm PST / 1am EST:
http://www.thestream.tv/live.php
http://www.justin.tv/thestreamdottv
http://www.stickam.com/thestreamdottv
Hope to see you guys there because we're going to be watching a ridiculous horror movie with the one and only Keith Apicary!
---
We're holding a special Halloween Art Contest for Doc Mock's Movie Mausoleum and you don't even have to be a real artist to enter! All of the entries we receive will be aired during our final Halloween episode on Thursday, October 29th. Check out the following URL to learn all the details about it and how you can enter:
www.thestream.tv/forum/viewtopic.php?t=3733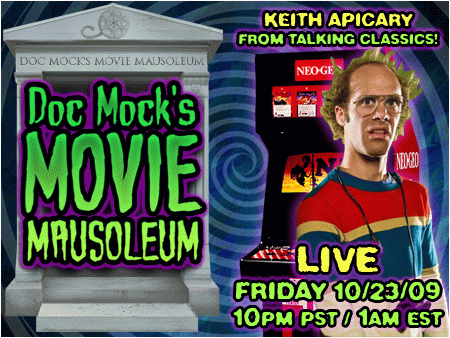 We also have another special Halloween season episode of Doc Mock's Movie Mausoleum this Friday featuring the one and only Keith Apicary from the popular "Talking Classics" series! We have some real fun stuff in store for Keith (how can you possibly go wrong with a combination of horror, humor and video games?), so be sure to check out the episode when it airs LIVE at 10pm PST / 1am EST this Friday night! (more...)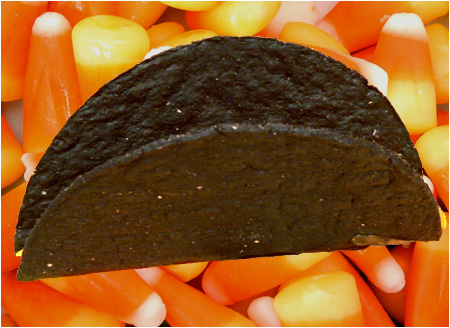 We already have El Día de los Muertos as a fine way to associate Hispanic culture with our annual Halloween celebrations. Sure, it officially starts on November 1st, but Halloween officially starts and ends on October 31st, yet I start my celebrations on September 1st every year... so I'll mix in some Day of the Dead traditions with my Halloween celebrations if I damn well want to. But what about the food? Sure, I could make some sugar skulls, and I probably will sometime since I already have the mold for one, but what if I'm not in the mood to be Mocker Stewart? Fortunately, Taco Bell has come to the rescue.
While I generally don't eat fast food these days, especially something that can make you run for the proverbial border as quickly as Taco Bell, I still can't help but associate the release of their new Black Jack Taco with Halloween. And why? Because it's a black taco. A Black Taco. A BLACK TACO! Make no mistake about it, the entire shell is jet black, and when you factor in the timing of its release, it's easy to see why I now consider it to be the Official Taco of Halloween™.
In celebration of this, I have also created a new holiday called Tacoween™ which I will now demonstrate how to celebrate with my incredible artistic skills: (more...)