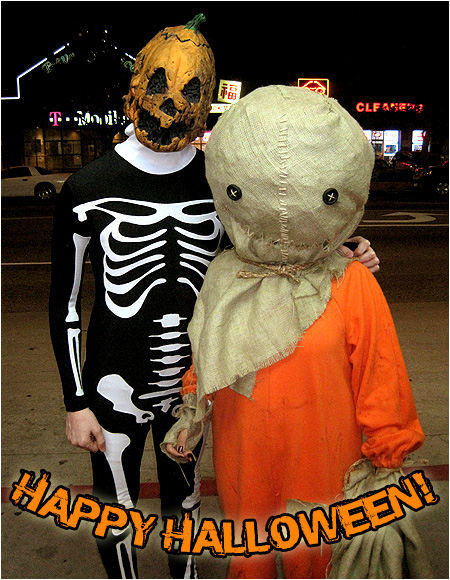 Thanks so much for hanging around with us for our annual "Two Months of Halloween" celebration here on I-Mockery. It always puts a smile on my jack-o-lantern to hear how many of you consider it to be a staple of your Halloween season every year. We really bust our asses to bring you constant Halloween coverage & comedy that you won't find anywhere else on the web, so I hope it was a memorable time for all. I'm really happy with how this season turned out, as we featured a LOT of material I had been wanting to cover for years, visited some new haunts, survived another massive Halloween candy taste test, made a new music video, learned what will bring danger for them probably, met Christopher Lloyd, learned more about the Hoff, saw the return of Count Pop and more. How do I know we covered a lot, because I still have a pile of Halloween things I didn't even have a chance to get to this season! No problem though... I'll just save them for next year.
Anyway, today is Halloween and I hope that wherever you are in the world, you'll find your own special way to celebrate the greatest of all holidays. Whether you're going out trick-or-treating, going to a party, handing out candy or simply having an all-night horror movie marathon, I hope you all have a great time.
Even though this holiday is a celebration of all things dead and spooky, I never feel more alive than during this time of the year and I can't wait to get out tonight and celebrate in style. We're going to the giant annual West Hollywood Costume Carnival once again and that photo at the top of this post is what I'll be wearing - the skeleton pumpkin costume. I have to send a huge thank you to 80sTees for their support and for sending me the killer Skeleton Bodysuit, which is a stunningly perfect replica of the ones from The Karate Kid. I've been looking for a perfect skeleton bodysuit for ages, and this is absolutely it. Bones hand-sewn onto the costume, all the way up and down, and the classic white hoodie built into it.
In case you're interested (and you should be), the person next to me, dressed as Sam from Trick 'r Treat, was the winner of a costume contest at the New Beverly Cinema when they were showing a Trick 'r Treat / Halloween III double feature. Pretty awesome, eh? Couldn't believe what a nice job she did on her costume.
I'll be sure to post some more photos from our Halloween costumes during the week and we have more big updates coming to I-Mockery soon, so don't go anywhere. And speaking of updates, I have to thank everybody who volunteered to write updates for our Weeklies section this Halloween season. We all enjoyed reading your reviews of your favorite spooky games, comics, movies and music. Of course, I also must thank Dr. Boogie and Protoclown for writing some great articles this season as well. Dr. Boogie, in particular, really went above and beyond, sending in multiple articles every week. Last but not least, thanks for Re for putting up with all of my crazy Halloween antics. Two months of celebratory madness is surely no easy thing to endure... she's a tough Halloween cookie, that one.
Please drop a post (whether you're logged in or not) in our blog and let us know what you thought of the Halloween season and what your favorite articles were. Also, let us know what your Halloween plans are and feel free to post photos of your costumes if you're dressing up!
Thanks again all and Happy Halloweeeeeeeeeen!

Have you ever gone trick-or-treating and received a crappy substitute for candy in your treat bucket? It's time to set the record straight and make sure people only hand out the finest treats money can buy, for we trick-or-treaters put a lot of effort into our costumes and expect to be rewarded accordingly! And that's exactly what our new music video is all about! I'm proud to unveil to you all: Halloween Justice Squad!

Watch it in HD here: www.youtube.com/watch?v=sPCn_jnP9cc&hd=1
Hope you guys enjoyed it! We'll be posting a "behind the scenes" video and more soon, so keep an eye out for it. Huge thanks to my buddy Andre "BlackNerd" Meadows for doing this collaboration with me... we definitely had too much fun filming this. Also, big thanks to our actors Maxwell Glick, Elizabeth Mercer, Katie Wilson and Re for appearing in our music video and helping us out so much! We really couldn't have done it without you guys.
To all you trick-or-treaters out there, please let us know what you thought of the video! Also, what are the worst Halloween "treats" you've ever received while out trick-or-treating? (more...)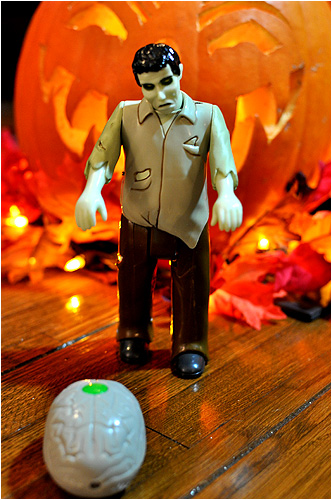 I was recently given this awesome Halloween gift from one of I-Mockery's longtime readers by the name of Ava. She was generous enough to send it in the mail along with some other Halloween goodies, and I simply couldn't wait to try out my new Remote Control Zombie from the Archie McPhee novelty company. Why? Because if I truly was going to be able to control this mindless undead entity, I was going to turn him into my zombie butler. Sure, I couldn't command him to bring me full meals, but I was positive I could get him to bring me some cracked pepper & olive oil flavor Triscuits with sharp cheddar cheese. Nothing says "classy" like having a zombie butler bringing you hors d'oeuvres... one at a time.
I can't even begin to explain to you how thrilling it is to point a miniature brain remote control at a zombie, push a button and then have it walk towards you. Actually, I can. Upon pressing the button, the zombie lets out a droning moan (which sounds like a moped engine going bad) and tries his best to walk towards you, but never really makes any progress. In fact, most of the time he ends up just falling flat on his back or on his face. I've tried repositioning his arms every which way, but the result is always the same, with my zombie toppling over as if he suffers from a severe case of vertigo.
Well, I've decided that my zombie is not fit to buttle my needs. How can he be expected to deliver me delicious treats when he can't even walk a few steps without collapsing? He appears to be either defective or a major pervert (possibly both), for you see, while he isn't much for walking, he'll dry hump the hell out of anything near him. I guess before he was turned into a zombie, he was a really sexually active guy when he was alive, and perhaps some of those old habits stayed with him post-zombification. And no, I'm not crazy... I have video proof:
Bet you never thought you'd see a zombie humping the Iron Sheik this Halloween, did you? We always try to keep you on your toes, here on I-Mockery.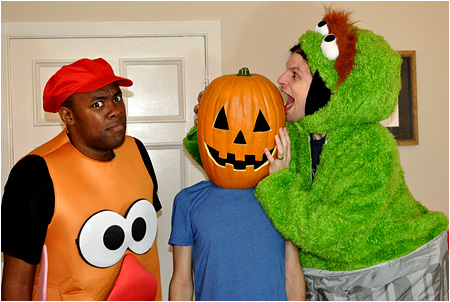 Don't ask me to explain what's going on here... it'll all make sense later in the week when our new Halloween video comes out. Halloween is just around the corner, so whether it's going trick-or-treating or having an all-night horror movie marathon, I hope you're all making your final preparations to celebrate it in style!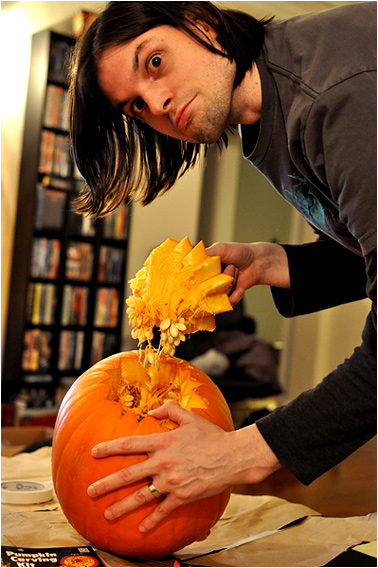 On Sunday night, Re and I picked up some pumpkins, loaded up an episode of Dexter, covered the table with cut-up paper bags and started hacking away at our future jack-o-lanterns. Since we recently moved to a new place, we decided the front steps needed to be adorned with some pumpkins for Halloween, so these ones simply had to be good. If they turned out bad, this new home would forever be cursed and we would have to move out immediately. I don't make the rules of Halloween, I just abide by them.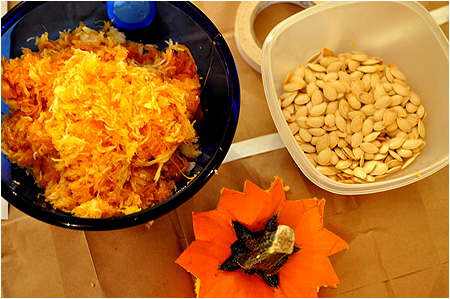 We spent a good while gutting the things and made sure to separate the seeds, because Re wanted to roast them. Up until now, I had never had fresh roasted pumpkin seeds, and I gotta say... they're pretty good and I highly recommend you try it. Here's how Re roasts pumpkin seeds: all you gotta do is get a pumpkin, remove the seeds, wash them off, spread them out on a cooking sheet covered with tin foil, lightly spray them with Pam or any cooking oil, add a lil' salt, roast them at 300 degrees for 20 minutes, then stir them up and roast for another 20 minutes. Lastly, turn the oven off and let them sit in there for another 5-10 minutes and then they should be ready to devour. Try it out, because it's way better than buying prepackaged ones.
Anyway, after a lot of carving and even hammering nails into the pumpkins (another first for me), I'm really happy with the results of our 2010 jack-o-lanterns:
She decided to create an expressive jack-o-lantern with some seriously sharp teeth, and I decided to make one based on my favorite Jason Voorhees mask. Not too shabby, eh? Click here to see a larger view of them. Lemme know what you guys think.
Also, if any of you have carved up your jack-o-lanterns already, please share them here in this blog thread... I'd love to see 'em!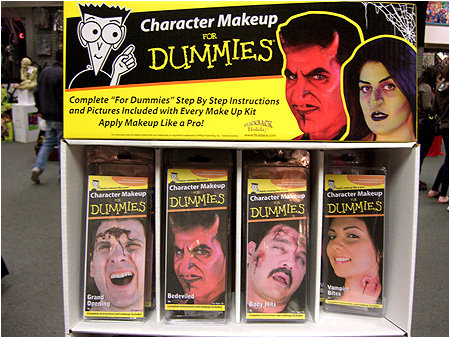 Yep... that pretty much covers it. There's now a "For Dummies" series for everything in existence. Spotted a rack of these makeup kits in a Halloween shop over the weekend, and while they don't look any better or worse than other brands, they're not really offering anything new.
You'd think if the Dummies people wanted to break into the Halloween market, they'd show up with wicked new prosthetics instead of just slapping their logo on generic wounds. You know, makeup kits with names like "Psycho Leech Attack Victim!", "Eyes Gouged by Defective Robots!" and "Vomited on by Lava Monsters!". Those are the kind of products that would truly take seasonal Halloween stores by storm. But hey, if they want to release bland kits like "Body Hits" and "Vampire Bites", I suppose that's their prerogative. I just think that by choosing such a route, it becomes clear to us all who the real dummies are.
There are plenty of new things in Halloween stores this year that are well worth your attention though. After all, have you ever seen an inflatable Grim Reaper riding an evil donkey while looking both ways before crossing the street? Well, you're about to:
Safety first. Murder later.