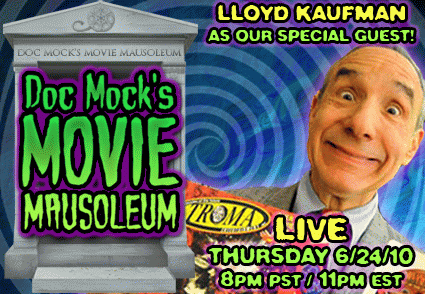 We've been excited about this one for a while and now it's finally happening! President of Troma Entertainment, Lloyd Kaufman, will be joining us as our special guest on Doc Mock's Movie Mausoleum on June 24th! The show starts LIVE on THURSDAY night at 8pm PST / 11pm EST, so be sure to log in to the chat rooms early to talk with Miss Diagnosis and get ready for an amazing time with Lloyd, some lovely Tromettes, and a crazy Troma flick from yesteryear! If you had plans for Thursday night, you had better cancel them... even if it's your wedding or a loved one's funeral. Nothing takes precedence over this episode, alright?
You can watch the show and join in the chat room madness at any of the following URLs:
http://www.justin.tv/thestreamdottv
http://www.stickam.com/thestreamdottv
ENTER OUR TROMA CONTEST! Since Lloyd's gonna be on the show, we'd like you guys to show some love for all those insane independent movies he's produced with Troma over the years. We want each of you to draw a picture of Lloyd hanging out with any of your favorite Troma characters (Toxic Avenger, Sgt. Kabukiman, Poultrygeist chickens, etc.) and getting into some kind of trouble.
As always, you do NOT have to be a real artist to participate in this. It doesn't matter if you want to draw it in Photoshop, MS Paint or even with finger paints... we'll be judging these entries solely on creativity and humor, not artistic talent. We'll be showing ALL of the entries live on the air and letting Lloyd and his lovely Tromettes judge which entry is their favorite! Whoever wins will get some Troma goodies! Post links to your entries in this blog thread or email them to doc@docmock.com with the subject line "Doc Mock Troma Contest!" As always, you can enter as many times as you like, just make sure your entries are turned in by 4pm PST on Thursday, June 24th. If you turn them in later than that, we can't guarantee that they'll make it into the show in time.

UPDATE: Our full coverage of the 2010 E3 Expo is now online! Check it out to see our thoughts on the upcoming games and a ton o' pics from the event! http://www.i-mockery.com/minimocks/e3-2010/
Yo ho ho, fellow mockers. I just wanted to let you guys know that we are at E3 again this year and will be posting an extensive photo gallery of the event later this week. In the meantime, you can follow any updates on our Facebook and/or Twitter pages. From playing the new Twisted Metal and Splatterhouse to meeting Captain Sig Hansen and watching a live Lucha libre wrestling match and more... this year's expo has been awesome. Way better than 2009 already.
So for those of you who've been following E3, what have been some of your favorite announcements of the event so far? Did any companies really wow you? Were any of 'em underwhelming? Spill thy beans!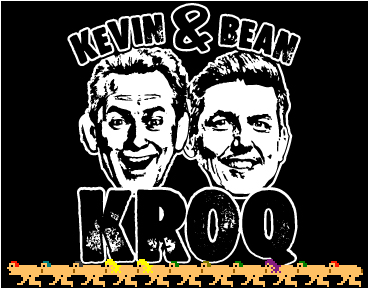 Back on June 2nd, I did an interview on the "world famous KROQ" radio station for the Kevin & Bean show about the Human Centipede game we made. For those of you who were unable to tune in and catch the interview live, they were nice enough to send me a copy of it. Hit the jump to listen to the full interview and then read some new details about Comic-Con and the E3 Expo. (more...)

I just saw Hulk Hogan in a commercial for some debt relief company and had to upload it so you could all watch. If there's anybody in this world you want to take financial advice from, it has to be a former WWF superstar with 24" pythons. Wow. Is the Hulkster really in so much debt himself that he's shilling for companies like this now? I thought his old Pastamania campaign for Chef Boyardee was pretty laughable, but this is like watching his last shred of dignity get pinned to the mat for the 1-2-3 count. Just look at this:
"Whatcha gonna do when we squash debt for you! Don't sweat the debt!" Eugh, I think I'll stick with watching classic Hulkster material like No Holds Barred instead, brother.

One of my favorite diners in Los Angeles is a place called Cafe 50's. It's one of those classic style diners with all kinds kitsch items and memorabilia decorating the walls, and they happen to make a damned tasty variety of milkshakes. Still, there's something about the place that I've always found a bit odd. Alright, two things actually.
The first thing is that the men's bathroom is located in the kitchen. I don't mean near the kitchen, I mean you literally have to walk behind the counter and past the cooks to get there. While I'm sure they're used to it, anytime I've gone to use the restroom, I can't help but feel like they're staring at me and thinking, "What the hell are you doing back here?" One of these days I've gotta build up the nerve to go back there and just grab some food for myself instead. "Oh hey guys, don't mind me... just didn't feel like waiting for our server."
The other thing about the place that confused me for a long time was this: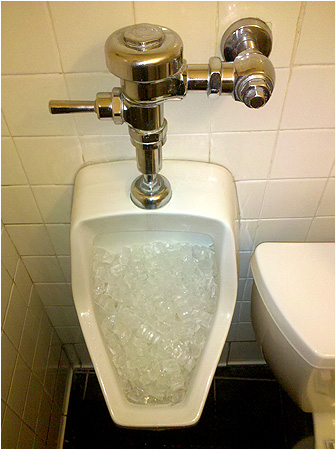 Ice in the urinal??? I had never seen ice in a urinal before going to this place, so it had me absolutely perplexed. At the same time, I enjoyed imagining myself as the personification of global warming while pissing upon the polar ice caps as they melted away. Well it turns out that ice in a urinal, while not something you see every day, isn't completely uncommon either. Some establishments do this in their public restrooms to prevent the spread of bacteria (which can only survive in warm temperatures), reduce the smell, and cut down on water usage. So in reality, it's definitely a good thing. Still, I can't help but think that they really do it because they always got a kick out of pissing in the snow and this is the next best thing.
Personally, if I find a place with ice in the urinal, I have one simple rule: hold the ice with your drink orders. You never know when a waiter or waitress might be having a shitty day and decide to fill your cup with some of the ol' urinal ice. Why take chances, right?
So there ya go... we all learned something new today.
In unrelated news, I'm going to be interviewed on "the world famous" KROQ radio station this Wednesday morning (June 2nd) at 9:10am on the Kevin & Bean show, so be sure to listen in live! You don't have to be in Los Angeles to hear the show, you can listen on their web site here. Should be fun!