Having already received a load of emails about this, I figure I should post about it now before more of them flood in. There's a girl who has a pickle phobia and she recently appeared on the Maury Povich show, where he unashamedly terrorized her some more. You can see a clip of it here. "Pickles are destroying my life! The shape... the texture of it... the color... euuueghhh!" I love watching Maury's false concern for her while he has his staff bring out large trays filled with pickles. Then again, I can't deny that I wouldn't love to meet this girl while dressed in full PickleMan gear. Perhaps placing a pickle hat on her head would finally cure her of her fears. Then again, maybe it'd kill her. Eh... worth the risk.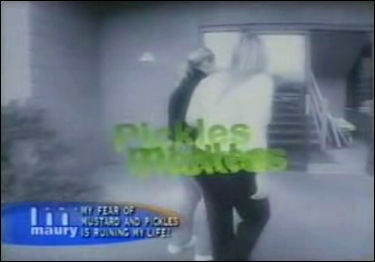 In other news, I just got word from our pals over at StagKnight that they're going to be hosting a video gaming contest on their site next month. According to them, whoever gets the highest score by the end of the contest will win "a big exclusive prize." Now while the game isn't up on their site yet, you can get some practice with it on Newgrounds. It's a fun lil' flash game anyway where you get to play as StagKnight and you kill a bunch of Boy Scouts. So start practicing and keep an eye on the StagKnight site for when the contest launches next month!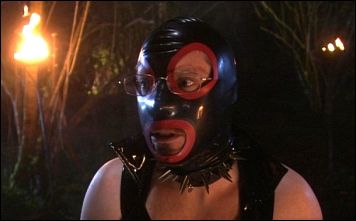 And speaking of contests, we just started up a new one here on I-Mockery. We've already got the Inspector Gadget contest going on and now we've just put up a contest for the Strangers With Candy DVD set! Strangers With Candy is easily one of my all-time favorite comedy shows and it deserves much more recognition than it ever received. Check it out and also be sure to check out the Strangers With Candy movie that's finally hitting theatres next month.

I'm happy to report that it looks as though our voices have been heard, for Gymkata has been in the lead of Amazon's DVD Decision 2006 for the past week. It just got bumped down to #2, but as long as it stays in the top 10, it WILL be released on DVD! The decision isn't over until the end of June though, so if you haven't voted yet, please click here and vote for Gymkata to help ensure our victory!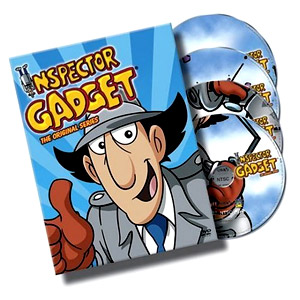 Also, I just wanted to give you a reminder that we're currently holding a big Inspector Gadget giveaway contest for the new 4-disc DVD set that contains the first 22 episodes of the original show! All you have to do for a chance to win it is to come up with a handy new gadget for the Inspector to use. And best of all, you don't need to be an artist to do it. In case you're unable to draw him from scratch, we've included some graphics of Inspector Gadget that you can put your new gadget on top of. The contest ends on July 15th, so get those entries in! (and yes, you can enter as many times as you like)
Before I go, I gotta share some PickleMan pics that Brendan Quantick just sent me: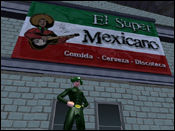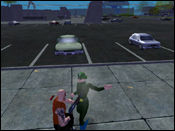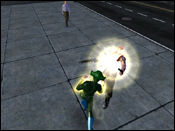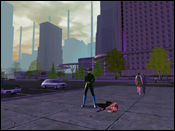 (click any of the pics to enlarge)
Brendan created PickleMan using the City of Heroes engine and character creator. Pretty spiffy eh? Even though he was unable to replicate the cape, I particularly like how he used the pirate hat to make the pickle hat. Too bad it's not some kind of downloadable skin that everybody who owns the game can use it. If you know of a way to do this, however, by all means let me know!
By the way, keep an eye on the site early next week... there's a surprise piece going up online that I'm sure none of you would've expected! Are you scared yet?

So I've been checking out places in WeHo (West Hollywood) a lot lately, but we've still yet to find a good one to move into. It's at the point where I would literally drive up and down all the little side streets in the area in hopes of finding a place for rent that wasn't already listed online. Sure, it's been good exploring so much to the point where I've been to more places than most people who've lived here their entire lives, but I'd really like to be settled in now. Today, however... today took the cake.
I logon to my Westsiderentals account to see what the latest apartments are, and I notice one apartment that doesn't have any photos but it's in a great location. The price is within our budget and the location is right near Sunset where Re just happened to get a job. "Great! She can walk to work and not have to worry about a long commute!" I think to myself. So I call up the place and find out some more information about it; the place has loads of space and it really is in a nice area and they're anxious for us to come out and see it and they give me the code to get in the front gate. I then call Re up on the phone and tell her to stop by the place on her way home from work to see if it's a nice place or not.
A few hours go by and then I get a call from Re. She sounds disturbed and instantly verifies with me that I gave her the correct address, which I did. So I ask what's wrong and she laughs in total bewilderment, "Well, the door to this apartment has 'I KNOW WHERE YOU LIVE MOTHERFUCKER!' written in black marker on it."
Holy shit... HO LEE SHIIIIT! And yes, the place was a dump inside too; I don't know why she even bothered to check inside after seeing that on the door haha. So yeah, if that doesn't sum up just how bad our apartment hunting luck has been, I don't know what will. Oh wait, yes I do...
There was another apartment listing I found today which claimed the apartment would bring us good fortune because it had a "special unique aura" about it. I shit you not. Guess I need to bring my power crystals with me next time I go hunting for an apartment. I'm sure whichever place gives off the strongest vibrations will be the one!
I thought apartment hunting was only supposed to be this absurdly difficult in NYC.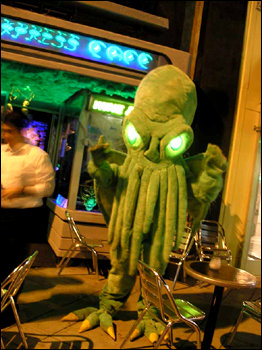 Last week, I went to the Nova Express Cafe with some friends after hearing about how the food was really good and there were enough decorations to keep you distracted for hours. Sure enough, the decorations did not disappoint - planetary designs highlighted by blacklights all over the place, a variety of tables (some with electric candles, some with a glowing orb in the center), Cthulhu himself, bizarre b-movies playing on a projection screen, an impressive toy collection, and let's not forget the giant picture of everything which I found myself staring at for way too long. Howard Hallis, the artist, is actually selling prints of it for a limited time... I'm considering buying one, but I fear it will distract me for hours at a time from getting any work done.
Not much else to report at the moment; I've just been going to meetings at various cool companies here in L.A. and, of course, I'm also still trying to find a new place to live. It's funny, you never truly realize how much you need all of your stuff until 90% of it is in storage. The other day I felt like taking a break from writing and I thought to myself, "I'm gonna go play some guitar for a while!" which is something I always like to do to unwind. And then I remembered that my guitar & amp are currently in storage.
On the plus side, having practically nothing in my apartment has made me venture out and see much more of this city than anyone in their right mind would've seen in such a short period of time.
Last but not least, be sure you check out the huge 18-page wrap-up of our cross country trip! It took me a while to put all the photos together, but I'm finally done. Photos from days 1-4 are already up, and days 5-9 will be up later this week! I-Mockery's Great American Road Trip!

A lot of people have told me that my big feature on Gymkata was their favorite movie review I've done so far. I know the movie has been out of print for a long time and lots of you have wanted to see it. Well, guess what? We might have the chance to get it released on DVD if we make our voices heard. For the month of June, Warner Video and Amazon.com are holding a "DVD Decision" event in which you get to choose from 30 movies about which ones you'd like to see released on DVD. The 10 DVDs that get the most results will win! Don't ask me how, but somehow Gymkata made it on the list!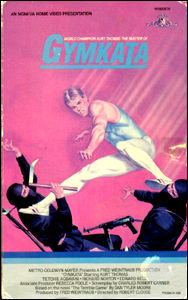 You can't tell me you don't want to see a movie, that has ninjas (with guns!) on the cover, released on DVD.
So here's what you've gotta do. First off, go to this url:
http://www.amazon.com/exec/obidos/tg/browse/-/165671011/
From there, enter in your email address and then click the checkbox next to "Gymkata" and then click the "E-mail me when available" button. You must enter your email address for your vote to count. Help bring this hilariously bad 80s epic back into the public eye. Together, we can build a stronger future for our children by getting Gymkata released on DVD! (big thanks to John Kilduff for the head's up about this)
Click here to read my big review of Gymkata (with plenty of the GIF animations you crave)
Now, in other ninja-related business, my old internet buddy Aeon from Ninjaburger has just released a brand new book called "Ninja Burger's Honorable Employee Handbook." If you've been thinking about a career change, then perhaps becoming an honorable (and deadly) Ninja Burger employee would be right up your alley. The book will show you everything you need to know about the Ninja Burger fast food company. I strongly suggest you buy it since it's only 10 bux, and it just might save you from having a bunch of ninjas kill you in your sleep.
This Saturday I also attended "Fangoria's Weekend of Horrors" convention in Burbank. I had been planning on going to it before I even moved out to California, so I was really excited to finally check it out. In all honesty though, I think the San Diego Comic-Con spoiled me last year, because Fangoria's event just couldn't hold a candle to it. In about an hour I had already seen pretty much everything there was to be seen and bought myself a badass "Zombie" worker shirt. Sure, I could've waited in some of the long-assed lines for autographs from the variety of guests, but I honestly don't care about autographs. I never understood why people would want to wait in line that long just to get something signed (especially when half the time they have to pay $25 or more for that autograph - as if the admission costs to the convention and over-priced shitty foods weren't enough). Here's a few pics from the Fangoria convention: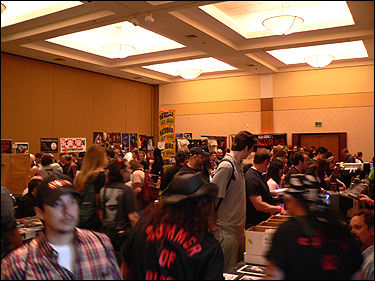 One of the extremely crowded rooms at Fangoria's Weekend of Horrors.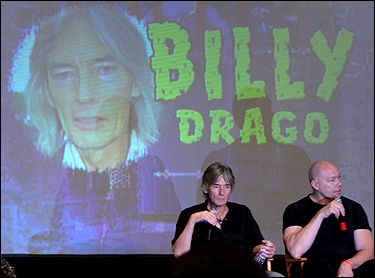 From "The Hills Have Eyes" remake: Billy "Evil Eyes" Drago and Michael Bailey Smith (aka: "Super Freddy" from Elm St. 5)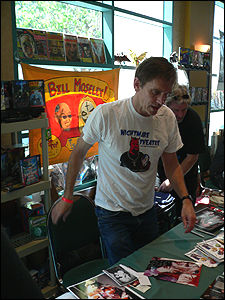 From "The Devil's Rejects": Bill "Chop Top" Moseley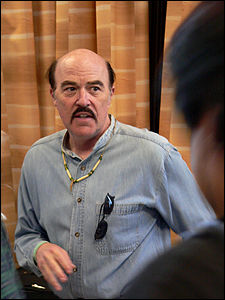 From the "Phantasm" films: Reggie "Regman" Bannister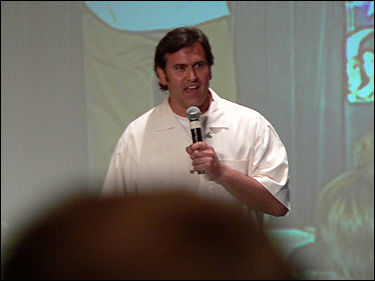 From the "Evil Dead" films: Bruce "His chin has killed before" Campbell
The only thing that really kept me there was the fact that Bruce Campbell was going to be speaking. Of course, seeing Bruce made it worth it because once again, he mocked the hell out of every idiot that asked him a stupid question (which was about 99% of the questions). I could watch him talk for hours and not get bored. He really should consider just going on tour as a stand-up comedian who does nothing but fuck with the audience.
And on a final note, earlier last week I got to go to the show for the "International Chiptune Resistance Tour" at the Lava Lounge. Basically it was a show featuring music acts that play video game music straight through hacked video game systems such as the NES and a collection of Gameboys. It was extremely impressive and a lot of it was really catchy too. The acts that performed that night were Nullsleep, Bitshifter, Trash 80, 8-Bit Weapon, and 8-Bit. I liked every act a lot except for 8-Bit; they just seemed like a poor-man's M.C. Chris, trying way too hard to be funny (sorry Zug haha). If I had to pick my favorite act of the night, I'd probably say it was Nullsleep. Either way, you should check out the artists if you're a fan of video game music. These guys don't really do much in terms of covers, but they use the same sounds from the golden age of video games to create new music of their own.
Anyway, my pals Zug and Oizys of EndgameRadio were there and they recorded a really nice bootleg of the entire show. So even though you didn't get to attend it, now you can take a listen to it here! There's also plenty of information about each band in that thread, so check 'em out!
And on a finaler note, be sure to check out the new Inspector Gadget DVD Giveaway Contest we're holding here on I-Mockery!