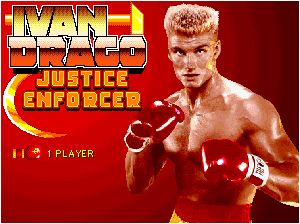 HEY LOOK! SANTA'S COMING DOWN THE CHIMNEY.
OH NO! HE SLIPPED!
IF HE DIES... HE DIES.
Here it is, the biggest I-Mockery project of 2006. "Ivan Drago: Justice Enforcer" allows you to take your raw Soviet power to the streets and make 'em run red with the blood of all lawbreakers. This huge new flash game features 3 unlockable characters, a variety of super combo moves, a mini-game and much more. It will also save your progress, so each time you unlock a new character, it will stay unlocked even after you've closed your browser window! This game is dedicated to all of the "Rocky" films that we grew up on.
Please post your thoughts on the game here in the blog, we'd love to hear what you all think!
This is our big Christmas/holiday surprise to all of you. From myself, PoX, BoM and our tireless beta tester, Dr. Boogie, we hope this game leaves your holidays bruised, bloodied and beaten.
In all seriousness though, thanks to all of you who've supported the site so much over the years. Looking back on 2006, I honestly think it was I-Mockery's best year ever and this latest game is icing on the cake. Expect a lot more in 2007, including the launch of some new sections, features and a site redesign early in the year! Well anywho, I'm here in San Francisco now on break, but I've got WiFi access from our hotel room and will check in sporadically over the next week. And yes, the drive up the Pacific Coast Highway (PCH) was absolutely incredible and everybody should do it at least once in their lives.
Me need sleep now. Have a spiffy holiday everybody!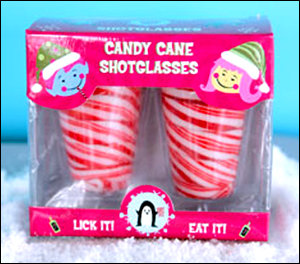 Your eyes do not deceive you: edible candy cane shotglasses! I may not be a drinker, but even I can appreciate these things. It's like something straight out of Willy Wonka's factory, and what better way to treat your aching liver this holiday season than with liquor and just a hint of peppermint. In all honesty, these things are absurdly overpriced, selling for a whopping 9 bux at Urban Outfitters. Then again, everything they sell is overpriced, so that's no surprise. Still, the fact remains that these things are candy canes. Oddly shaped candy canes, sure, but candy canes nonetheless. The same candy canes that you can buy twelve of for 99 cents. Still, I have no doubt that they'll sell like hotcakes this season. And who doesn't want hotcakes? Or at the very least, Johnny Cakes.
In other holiday-themed drinkware news, CanadianMoose just sent me two of their Christmas Vacation Moose Mug reproductions. I gotta say, they might be pricier than the average mug you'd buy, but the quality of these things is incredibly nice. I now feel obligated to drink egg nog, juice and all other beverages from these mugs for the remainder of the month. Ah who am I kidding? I'll still be drinking out of these things next summer. There's just no "wrong" time to drink out of a hollowed out moose head.
Completed unrelated, I just finished watching season one of "Dexter" on Showtime and it is without a doubt one of the best new shows on television. As far as I'm concerned, this show has completely validated the extra cash I pay for cable TV these days. If you haven't seen it, it's a show about a blood splatter specialist who moonlights as a vigilante serial killer. They took actors from a bunch of my favorite HBO shows including "Six Feet Under" and "Oz" - Michael C. Hall playing the lead role of Dexter Morgan. It's extremely well written, filled with great sub plots, and Dexter's character is absolutely fascinating to watch as he tries to balance his bloodlust with pretending to be normal in everyday activities. In all seriousness, whether or not you have cable, you need to see this show. So if you don't have access to it now, be sure to pick it up whenever it comes out on DVD. What's killing me is that I now have to wait until late 2007 before a new season starts. Might have to pick up some of the books to tide me over...
Also, who's going to see Rocky Balboa? I'm hearing nothing but good things about it and I couldn't be more excited. These are the movies I grew up on and it's nice to hear Stallone is giving Rocky a send-off with class instead of what we saw in part V. Going to see it tomorrow so I'll letcha know my thoughts on it afterwards. Win Rocky, win.
p.s.: Thanks to those of you who've been getting me things from my Amazon Wish List already. You rock the mock. I might even do some articles/reviews about the things I get.
p.s. #2: Keep those San Francisco suggestions 'a coming, cuz we leave this weekend to go check the place out!

Since we moved to the West coast so recently and aren't going back East for the holidays this year, Re and I decided to take a trip up North for the holidays. I've always heard about how nice San Francisco is - many saying that it's pretty much the best place to live in the country if you can afford the insanely high cost of living - so that's gonna be our first stop on our trip. Any suggestions for stuff we should check out while we're there? Yes, Alcatraz is on the list of course and I'll probably buy a box of Rice-A-Roni there for kicks too. But I'm open to all suggestions since we'll be exploring the city for a few days.
After San Fran, we'll be heading up north to check out the giant Redwood trees. I've always wanted to see those mammoths. No, I'm not some Lord of the Rings fanboy who's gonna try talking Entish to them, but any trees that you can drive your car through are damned impressive in my book and totally worth seeing in person. Like many of the things on our cross country trip, I imagine that no photographs can really do the Redwoods justice.
From there, we're basically just gonna wing it and stop wherever we feel like until it's time to go back home, so again, any suggestions are welcome.
We're also going to be taking the Pacific Coast Highway on our way up because that's supposed to be one of the most amazingly scenic drives one can do. "I hope the Pacific is as blue as it has been in my dreams. I hope." Me too, Red. Sure it'll take longer than if we chose to go some route that Google Maps or Mapquest suggested, but honestly, ever since we drove across the entire country, any other trip seems like a walk across the street to me. I hear the drive is a blast but it can also be a bit frightening for whoever is riding in the passenger seat since they have no control of the car and it kinda looks like you could drive off a cliff into the ocean at any point. Good times!
In other news, this coming week we have a BIG surprise coming to the site in the form of a new flash game. Can you guess what it is? Here, I'll give you a hint:

Any guesses? And no, I won't tell you if you guessed right or not. you'll just have to wait 'til later in the week. We've been busting our asses on this game since October though and have really high hopes for it. Can't wait to unveil it to ya! Think of it as your online Christmas present from I-Mockery.
Speaking of Christmas, what're you guys getting me? Did I mention that it's also my birthday on the day after Christmas too? Yeah, the 26th is a shitty birthday to have, believe me I know. Still, that does not excuse you. And I don't wanna see any of that "Oh, this gift is your Christmas AND your birthday present RoG!" crap. I've dealt with that enough in my life as it is, plus people tell me that this year is a big birthday. So whatcha gettin' me, huh, huh, huh??? What, you thought all the fun you have on this site was for free? HAHAHAHAHAHAHAHAHA... Nope. Empty thine pockets unto my Amazon Wish List.

Get your asses to your local grocery store, because I've just found what I consider to be the coolest treat of the holiday season so far: Lightning Santas!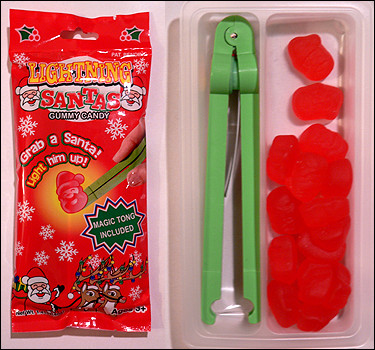 These gummy candy treats come with "magic tongs" which light up the candies when you hold onto 'em. I don't know how somebody comes up with an idea like this, but I'd sure love to hear them pitch it in a business meeting...
"Say boss, what if we make a candy shaped like Santa Claus heads for Christmas this year!"
"Yeah, so? What's new about that?"
"Wait, I'm not finished! Not only are the candies shaped like Santa, but it comes with magic tongs that light Santa's head up when you grab him!"
"BRILLIANT!"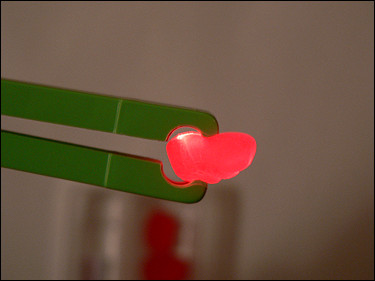 As you can see, the product does not disappoint at all. Eat your heart out Rudolph, Santa no longer needs your nose because his entire head can guide his sleigh through the foggy night. At a mere 99 cents per pack, you can't beat the price. Plus, the cherry-flavored gummy treats taste damned good too, but the fact is you'll have the tongs long after you've eaten the candies, so you'll need to find other uses for them. I really need to go to a Japanese hibachi/teppanyaki restaurant and see their reaction when I hold up my beef with the magic tongs instead of a pair of chopsticks. I want to see my soy sauce soaked beef glow with red fury!
In other holiday treat news... Peeps are back with a brand new holiday snack to stuff your stockings (and your stomachs) with: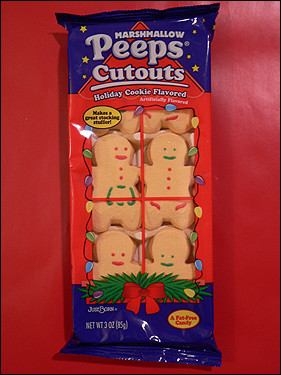 Peeps Cutouts are just like regular Peeps, only they're shaped and flavored like sugar cookies that we all love to scarf down during the holidays. In all honesty though, the marshmallow flavor overpowers the holiday cookie flavor by a mile. Still, as the package says, they make for a good stocking stuffer and it's always fun to bite the head off of one of the Peeps while the other one continues to hold its hand, not realizing his friend has been decapitated. Not really sure what that green design is supposed to be on some of the Peeps cutouts though, maybe a bell perhaps? Take a closer look and tell me what you think.
So anyway, are you guys gonna check out that "Black Christmas" horror movie that's coming out this month? I'm not sold on it yet, although I love any horror movies that are tied in with the Christmas season - "Jack Frost" and "Jack Frost 2" being the greatest ones ever (though the original "Silent Night, Deadly Night" is definitely on that list too and one of these days I'll get around to reviewing it). But this "Black Christmas" is a remake and while I haven't seen the original one from the 1974, I have doubts about any movies they try to redo these days. Plus, the original is supposed to be really good from what I've heard. Still, the new one is from the makers of the "Final Destination" movies, and while their plots are laughable, I admit that many of the death scenes from those flicks are guilty pleasures o' mine. So yeah, good or bad, I definitely plan on seeing that flick later this month.
And now it's time for another random survey! What's the one holiday movie you look forward to watching more than any other this month? (even if it's one you've seen before) Be sure to explain your reasons why!
p.s.: Check out my latest feature on the obligatory holiday episode from the Weird Al Show that most people never had a chance to see since it was only on the air for one season.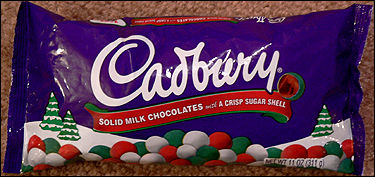 Jingle bells, Batman smells... Robin laid an egg. The Batmobile lost its wheels and the Joker got awaaaaay. I had to do a double-take when I saw these in the store, but it's true, Cadbury's Mini-Eggs are now officially a part of the holiday season. As you may or may not know, these are basically my all-time favorite chocolate candies, but until now, they were only available on Easter each year. Some of you might recall how I found a Cadbury egg with a nipple on it back in February, and it quickly became the infamous "Nipple Egg". But yeah, the eggs are back for the holidays and I couldn't be happier. Ok, they don't actually call them "eggs" on the package, but there's no doubt it's them. The same milk chocolate with the think sugar shell. The only difference is that these ones come in festive white, red and green colors. I must apologize to my stomach in advance, because I'll be gorging on these things all month long and while my taste buds will surely be happy, my stomach is going to hate me for so much sugary cruelty.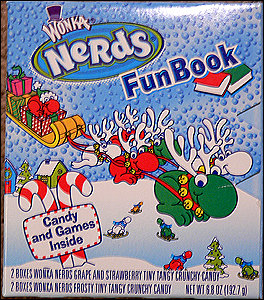 Another thing I picked up was this Nerds Fun Book. These things have been out for many years, sporting a variety of candies, but for one reason or another I realized I had never actually purchased one. Well considering that I felt like eating some Nerds and never did learn what was actually inside these "fun books", I decided it was high time I purchased one.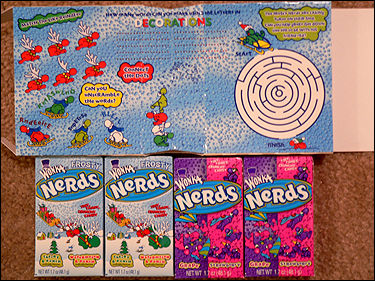 Hmmm... yeah... not very "fun" looking is it. I was at least hoping for some kind of mini-book containing a Nerds story, but instead I got "fun" word scrambles, connect the dots and mazes. Oh well, at least it comes with FOUR boxes of Nerds including the "Frosty" winter Nerds that only come out each winter, so all is not lost.
In non-candy news, I just got a copy of "Pirates of the Caribbean - Dead Man's Chest" on DVD. What can I say, it was a really fun movie to watch and I thought the special effects were some of the best I had seen in recent years. Plus the 2-disc special edition DVD case is super shiny. SHINY! :O How could I pass that up? The best thing is that if you hold it up at just the right angle, you can see your reflection appear behind the ship that's being attacked by the giant Kraken. It makes you look like an evil sea god, commanding his Kraken to destroy the pirate ship.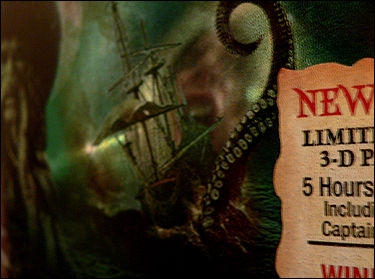 See what I mean? Jesus, I think I'm having more fun with the box than the actual movie. I need help. Oh yeah, I also picked up the long-awaited Richard Donner cut of "Superman II". I haven't had time to watch it yet, but I can't wait to see extra battle footage of the greatest big screen bad guy of all time... General Zod!
On a final note, I went to a Christmas party for the place where Re works last night. They took us out to a nice restaurant near Venice Beach (Lilly's), and who is sitting a few feet away from us? Christian Slater! If I had a football with me, I would've chucked it at him and shouted "I love my dead gay son!" but alas, I had no pigskin on-hand so I kept my mouth shut. Besides, the guy was on a dinner date with Maria Bello and I didn't want to interrupt their dinner, even though I wanted to tell him how fucking great "True Romance" was. As if that wasn't enough, Camryn Manheim then walked into the restaurant to stop by and say hi to him. It was weird seeing celebrities just hanging out in the restaurant. And hey, now I get to say that I used the same restaurant bathroom that Christian Slater probably snorted some cocaine in. Hooray!
And yes, pics from my trip to Las Vegas are forthcoming. Hopefully I'll have them up online by early next week at the latest. In the meantime, go see the Ultimate Warrior rape Santa Claus!

How the hell is it December already? It feels like we didn't even have a November, as if they just went straight from October to December. Perhaps the stores being filled with Xmas stuff all last month had something to do with that. Either way, December is here and that means the seasonal treats are popping up left 'n right. And Little Debbie is back once again with my favorite Christmas Tree Cakes. Some of you probably recall me mentioning them in a blog post last year, but this year she's got a whole Christmas arsenal up her sleeves.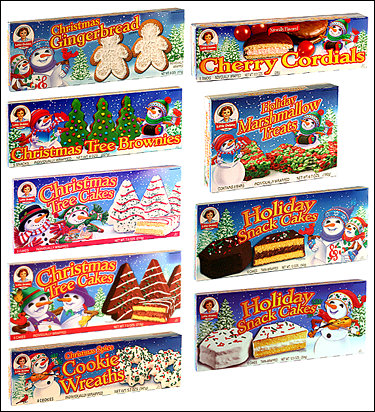 Now there's no chance in hell that I'll be able to find all of these treats in my grocery store, because grocery stores like that only exist in dreams where the shelves are stocked with everything you want and it's all free and Billy Idol sings "Run Rudolph Run" to you at the check-out counter and your grocery cart is actually a jet-powered go-kart which also happens to be able to fly and shoot grenades which contain mini bear traps inside them as shrapnel that latches onto the throats of any other shoppers who dare to get in your way and when you get home your groceries unload themselves and float into your golden refrigerator that happens to be shaped like Bionic Bigfoot and just as you're about to eat 500 Little Debbie snacks without gaining any weight whatsoever, Batman, The Jolly Green Giant and Grape Ape all show up at your place with a Nintendo Wii system and a 200" plasma screen TV because they need a fourth person to join them in this brand new game that hasn't even been released to the public because it's so realistic that if your character gets punched, you actually feel the pain in your loins, but you don't feel any pain since you're now a part of the "awesome foursome" who are untouchable gaming gods and you realize that the groceries you bought were magic groceries which refill themselves as soon as you take a treat out of the box, so you offer some treats to your newfound friends and they unanimously vote you to be supreme king of the world and the rules of grammar don't apply to anything you type so you can have the world's longest run-on sentence and nobody would even give a damn. Man, I love those dreams.
Anyway, out of all the Little Debbie snacks, I still gotta go with the Christmas Tree Cakes as being the most appealing, though the Cookie Wreaths look pretty damned delicious too. Hope I can find some of those. Which Little Debbie holiday snack is your favorite and why?
In other news, we're going to Las Vegas this weekend for the first time ever. Now, considering a) we're not rich and b) we wouldn't piss away a bunch of money on gambling even if we were - tell me, what other things are a must see for Vegas first-timers? Touristy and non-touristy. I realize I might not even get a chance to look at all of your suggestions before I leave, but if I have a good enough time, it's likely that I'll go back again in the not too distant future and I'll try to check out some of your best activity ideas then.
Alright, I've got a box of Christmas Tree Cakes with my name on it and Batman 'n crew are tired of leaving that game on pause while I update the I-Mockery blog, so I had better get goin'. Have a spiffy weekend all!
p.s.: We've got another big surprise Flash game coming up later this month!