Earlier this year, we developed a promotional mini-game for my buddy Ross from 8-Bit Zombie, and I'm happy to report that he just released the free download for it on his site so you can all get in on this retro radness: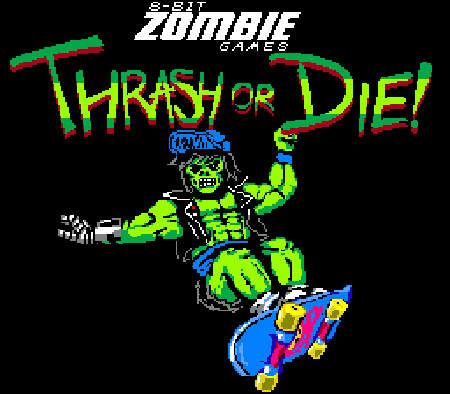 [click to visit 8-Bit Zombie & get the game!]
The game is based on Thrashor, my favorite original character from the 8-Bit Zombie universe. Years ago, Ross produced a Masters of the Universe style action figure of Thrashor that I fell in love with, so when he asked me if I'd be up for doing a mini-game based on the character, I jumped right on it. Thrash Or Die is the result!
The game is a throwback to the classic NES beat-em-ups of yesteryear, where you play as Thrashor, fighting your way through some mean streets against other enemies from the 8-Bit Zombie universe like Noxious and Roadkill. At the end of the mini-game, there's a fun boss battle with more retro references, but rather than spoil it, I'll let you play it to find out.
Thrash Or Die is a FREE download, and it's available for both PC and Mac. Big thanks to Jacob and LumpyTouch for working on the project with me, and of course, thanks to Ross for having us do it in the first place. Who knows, maybe later on down the road we'll make a full-sized 8-Bit Zombie game!
And while you're on the 8-Bit Zombie web site, be sure to pick up a shirt, decorations, or any of the other killer pop culture items that he produces. I've known Ross for years, and he's pretty much supplied me with a good 90% of my wardrobe at this point. If you see me in a video or a photo wearing a cool shirt, it's almost guaranteed to have come from 8BZ. He works with awesome artists, so please show your support for a great independent company that's always supported all the work I do.
That's all for now. Lemme know what you think of Thrash Or Die once you've played it. Hope you enjoy the game!