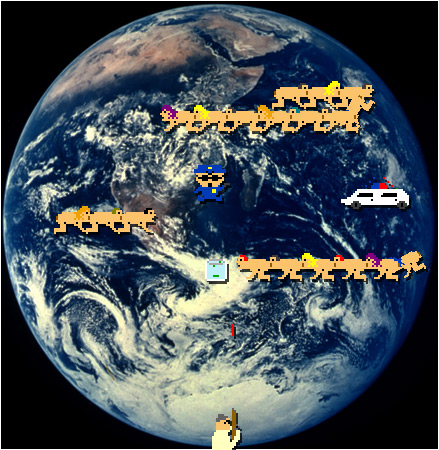 Wow! I can't believe how far our little Human Centipede game has crawled on its hands and knees. I'm absolutely floored by this. In the past 24 hours, the game has been part of a virtual media firestorm. It seems like all the major sites I visit, including my favorite horror and gaming news sites, have plugged it recently. Definitely didn't expect to see coverage of the game in the New York Times, the Boston Herald, or LA Weekly either. Super excited that Dieter Laser (the surgeon gone mad in the film), Akihiro Kitamura (the front of the centipede), and IFC have already commented on the game too. Who knows... maybe they'll even include a copy of the game on the Human Centipede DVD when it comes out. Tom Six, IFC... if any of you are reading this and would like to talk about including the game on the DVD, please email me.
I'm just glad to see people playing our little parody of the classic Centipede arcade game and I hope it results in people trying out some of our other games too. I've said it before and I'll say it again - there's no web-related task I enjoy more than making comedic Flash games. Also, much credit goes to my friend Jacob (or "Mew" as he's known here on I-Mockery) who worked on the game with me and did an excellent job coding it so this parody would be as close to the original Centipede as possible.
Of course, I also have to thank my buddy Tom Fulp over at Newgrounds for all his support of the game and for promoting it on the site extensively. He's believed in just about every game we've ever made, and that kind o' support goes a long way. I strongly recommend playing the game on Newgrounds too, because we added an assortment of achievement medals to the game to make it that much more fun and challenging.
Again, many thanks to all of you who've been telling your friends about the game. Can't tell ya how much we appreciate the support!
Hit the jump for a big (and ever-growing) thank you list to just some of the people and sites that have covered it already: (more...)

I really miss prank phone calls. As it's become easier for anybody to do a trace, prank phone calls have sadly become a thing of the past for the most part. I bring this up because I was recently reminded of an old prank phone call file that my friends and I used to listen to a long time ago. It's called "The Quanicles" and features a kid named Quan who gets fooled by one person posing as four different personalities, one of whom is The Shredder from the original Teenage Mutant Ninja Turtles movie. Unfortunately, it's only online in Real Audio format on the original site, and I sure wouldn't expect any of you install that crappy old player just to listen to one thing. So, I went ahead and converted the file and embedded it here in the blog so you can listen to it without having to install anything. The fun really starts around the 1:24 mark. Trust me... between hearing Shredder speak (complete with his theme song in the background), the phone operator with her classic southern twang, the immature kid trying to cover his ass, and the "Phone Busters" cop investigating the situation, you'll surely appreciate just how elaborate this phone prank really is.
Hit the jump to listen to this amazing prank call. (more...)