I'm happy to announce that our new "Pixels Under The Sea" pixel poster is now in stock and ready to ship out, just in time for the 2016 holiday season! Pox and I decided to take our favorite pixels into an underwater adventure, the likes of which you've never seen before. Once you hang our ultra-vibrant homage to aquatic pop culture on your wall, you'll discover new things every time you look at it. So many people tell me that they just noticed something new on our posters after having owned them for years. That's the point. They're the pixels that keep on giving. Plus, if you made suggestions for the poster earlier in the year, there's a good chance some of them made the cut! Just visit the store page to see some close-up detail shots of it to see what I mean. And yes, as with our previous print, this one comes in a standard 18" x 24" framing size, so need to worry about having to spend a small fortune on a custom frame for it.
Please help show your support for all the hard work we do here on I-Mockery each year and order a poster (or two... or a hundred), whether it's a gift for yourself or for someone you think will appreciate it. As always, I promise you'll end up staring at it for a loooooong time to come, and it makes for one hell of a conversation piece for whenever you have friends over. If you're a fan of pixel art along with basically anything we've ever written about on this site, then you're going to LOVE this poster. If you order before December 15th, I'll do my best to make sure they arrive in your hands before Christmas. You can order yours on our store page or right here:
For those of you who don't already own our previous "8-bit Worlds Collide" & "Pixels In Space" posters, I'm offering a discounted three-pack so you can get all of them shipped together at a discounted rate. Ordering all three of them together will save you $15 on your total cost, and you'll get triple the pixels!
[temporarily unavailable]
I hope you all love this new aquatic poster as much as we do, and please drop a comment below to let us know what you think of it. As always, please share these pixel posters with anybody who you think might enjoy them. Thanks again for the support, because ordering our posters not only gets you some killer artwork for your walls, but also helps us pay our hefty server bills!

I know a lot of people here and around the world are still reeling from the election results last night, and I'm certainly one of them. My heart breaks for all those whose lives will be negatively impacted by the results, and I wish it was in my power to change that, but it's not. This site has always existed as an escape from the doldrums of politics, religion, crime, and all the other serious issues that affect our world. It always will. Here I offer you a reprieve from it all in the form of lighthearted articles about some of our favorite things - movies, toys, games, food, and any other pop culture oddities I happen to stumble on. Do crazy toys or foreign bootleg movies about a maniac Spider-Man armed with a switch-blade compare to the importance of the 2016 election? Of course not, and nor should they... but they do help remind us that there are always things to smile about, and that life as we know it is simultaneously amazing and ridiculous.
With that in mind, I'm going to put one foot in front of the other, just like we all need to do, and start moving forward again. It's gonna be hard to write anything funny like I usually do, but humor heals... laughter lifts... and comedy cures. While I try to start writing on a regular schedule again, I'd like to share two things I wrote back in October that I didn't have a chance to post. I hope you enjoy them, and I hope they help lift your spirits even the slightest fraction.
Let's all do what Bob Wiley does best and start taking baby steps.
First, my newest piece for Dread Central was actually posted on their site earlier last month, but since I'm just finding out about it now, I present you with: The Greatest Horror TV Show Intros: Part 2!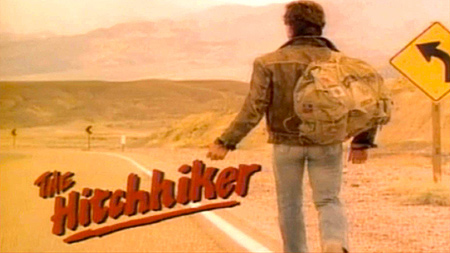 In this latest installment, I cover some more of my favorite title sequences including The Hitchhiker (a criminally overlooked horror anthology series), Tales from the Darkside, and more. As always, thanks for reading, and please do me a solid by posting in the comments section of the article on Dread Central and sharing what other horror TV show intros you'd like to see me cover. I just might include 'em in future installments! You can read the article here.
Moving on, I love a good shark movie, and after having watched Discovery Channel's annual "Shark Week" extravaganza every summer for as long as I can recall, I decided to give The Shallows a chance when it hit theaters. Unfortunately, after seeing the movie, I felt like I should've stayed home and watched more Shark Week shows instead. You'll learn why momentarily. That said, if you have not seen the film yet, please know that there are *SPOILERS* below.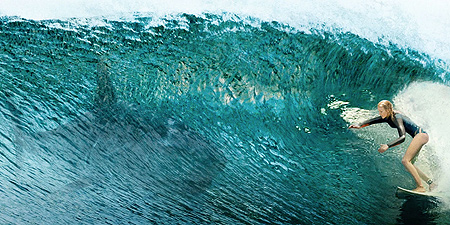 The Shallows is a story about medical school student / surfer, Nancy Adams (Blake Lively), returning to a remote beach that her deceased mother once visited when she was younger. After catching some great waves, Nancy is attacked by a great white shark that knocks her off of her surf board and bites her leg. While her medical training allows her to save her leg by applying a tourniquet, along with some painful makeshift stitches via her earrings, she's left stranded on a rock that's too far from shore for her to risk making the swim to safety.
Sounds okay so far, right? I wish it was. Click to read on. (more...)