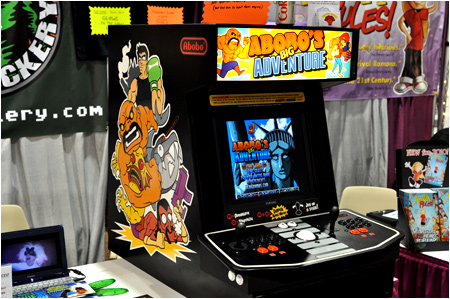 If you live in or around Los Angeles, be sure to set aside Saturday, March 5th on your calendars, for Abobo's Big Adventure will be appearing at SC3! For those of you who are unfamiliar with SC3 (Southern California Classic Collectors), it's a large biannual gathering of classic video game fans where loads of arcade cabinets and consoles are set up for all to play. If you're also looking to buy and/or trade game goods while listening to some awesome chiptune artists, SC3 is a great place to be. They're moving the event out of the back yard and into Gallery Nucleus this time, so there should be even more games to play than ever before.
We've been working extremely hard on Abobo's Big Adventure and we'll be bringing the full custom cabinet to SC3 to show everybody the latest build of the game. If you didn't get a chance to play it at the 2010 San Diego Comic-Con, here's another rare chance for you to experience the game on a real arcade cabinet before it's eventual web release. Myself and Nick (the programmer) will be showcasing an all new level and a big boss fight along with all the previous levels. I've worked on a lot of game projects since I started I-Mockery, but none of them hold a candle to this game. This is the culmination of everything I've ever wanted in a game. Come out to the event and see what I mean.
Tickets to SC3 are only ten bux online and the event goes on all day long from noon 'til midnight. If you're interested in attending, you can buy your tickets here: http://www.gallerynucleus.com/event/287
Hope to see you guys there and can't wait to watch everybody ravage the 8-bit world with the power of Abobo in their hands once again!

Love is in the air... or it could just be another deadly airborne virus. Either way, I wanted to help you spread the disease... er... pixels this coming Valentine's Day by having a special sale on our "Forbidden Love" t-shirts! I've temporarily reduced the price of the shirts all the way down to 10 bux for any of you who place orders between now and Valentine's Day. What better way is there to say "I love you" than with the gift of a spatula pixelated retro romance shirt?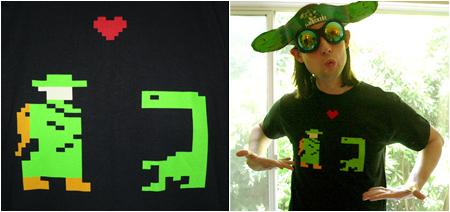 "Forbidden Love" T-Shirt:
United States Orders - $10.00 (plus s&h)
"Forbidden Love" T-Shirt:
International Orders - $10.00 (plus additional s&h fees, of course)
If you definitely want to receive your shirt in time for Valentine's Day, I'd suggest placing your orders by February 8th to allow time for shipping. That said, the sale will go on through Valentine's Day, so feel free to order any time between now and February 14th. If you don't have a lover to buy a t-shirt for, you can still buy one for yourself. I won't tell.