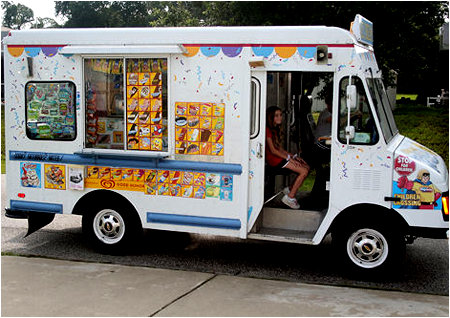 Gentle reader; is there anything on earth more wonderful than the Ice Cream Truck? Whatever inane tune it plays, bent by distance, a siren song. Is it coming from the next block over? Is it getting closer or further away? Will it turn onto my street or should I go madly pounding through the neighborhood, a middle aged man in whatever clothes I had on at the moment, boney knees pumping, spare tire joggling, risking a heart attack? As a child I dreamt that music, chased it in my dreams from street to street, that always-elusive white and slowly drifting truck.
And here's the thing. I don't even really like the ice cream they sell. Good Humor products taste like paraffin, chemicals and sugar. Left on a counter, they soften but never actually melt. I am particularly appalled by the ice cream character heads on sticks with gumball eyes. Over the years, a stately, ever changing parade of whatever has captured the zeitgeist of the American Child for a summer, your Power Puff Girl, your Teenage Mutant Ninja Turtle, your Spider-Man, your Bratz Doll, a hagiography of ice cream heads dyed terrible colors no ice cream wants to be. (more...)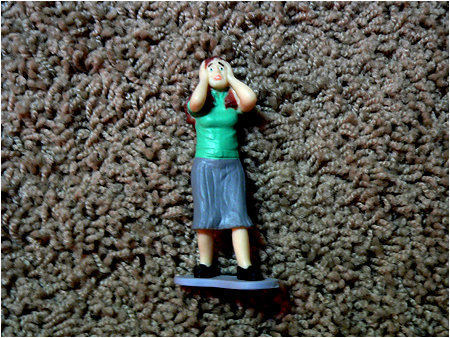 HELP! I'M BURIED UNDER A TON OF RUBBLE AND I JUST HAPPENED TO HAVE MY LAPTOP AND I THOUGHT THAT MY CHANCES OF BEING SAVED WOULD BE GREATLY IMPROVED IF I MADE A BLOG POST RATHER THAN TRYING TO CONTACT THE PROPER AUTHORITIES!
Yeah, yeah... I'm AOK, but thanks a lot to those of you who sent in concerned emails though. Man was that a weird feeling. The earthquake here in L.A. lasted a good 20-25 seconds and really shook the building I'm in like crazy. I was honestly surprised the power stayed on and nothing broke. A quick survey of our place showed that the ONLY thing to fall off of the shelves was this little figure of a horrified woman (from the Horrified B-Movie Victims figure set). Something about seeing the terror on her face as she lay helplessly on the floor after the earthquake just made me laugh out loud. Talk about a perfect landing...
Well now that the Graboids have stopped causing tremors beneath my feet, I'll return to my work.
Survey: Did any of you experience this earthquake too? Have you ever been in another earthquake or some kind of natural disaster before? If so, what was it like for ya? Share your stories!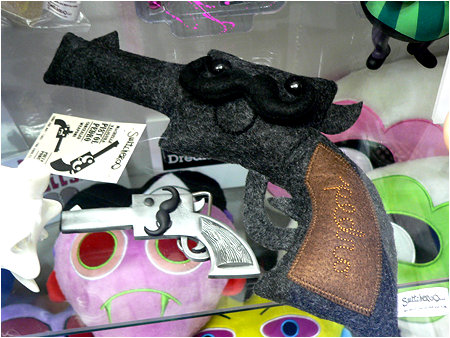 I took a bazillion some odd photos at the 2008 San Diego Comic-Con and I promise it will be everything you guys have come to expect from me over the years. But with so many photos, comes a price. The price of waiting. Can you handle it? Yes... yes indeed you can. I'm hoping to have it all done by the end of this week, but after being out of town since last Wednesday, I have a lot of things to catch up on and might not have everything up online until early next week. There will be regular article updates to I-Mockery this week though, so you at least have that to look forward to. In the meantime, I chose another completely random picture from the convention to post up above. Mustache. Gun.
Talk amongst yourselves...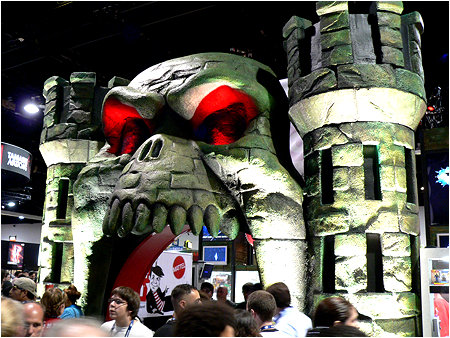 So we arrived at the Comic-Con and while I have no time to really say much, I thought I'd share this photo of Mattel's badass Castle Greyskull booth entrance. Just a little taste of the massive photo gallery that I'll be putting together and hope to have online by the end of next week. I've already taken a ton of photos that you guys are gonna love and I've also ran into some I-Mockery readers. If you're gonna be wandering around the convention during the next 3 days, be sure to say hey if you see me. I have a few lil' freebies that I'm handing out to people as usual.
Anywho, lots to do, so I'm gonna head off. I'll try to post a few more teaser pics over the next few days if time permits.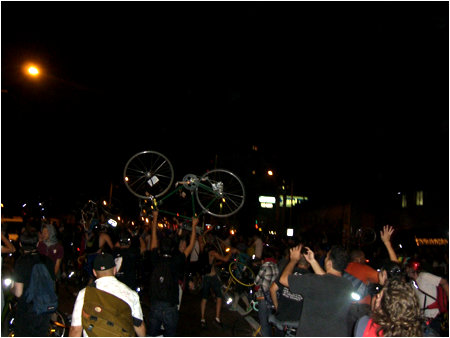 This past Saturday night, I went on my first bike ride with the Midnight Ridazz of Los Angeles for their latest "C.R.A.N.K. Mob" ride. Mind you, I haven't gone riding on a bicycle in years and I generally avoid any events that are spelled like "ridazz" or "rydaz", but the chance to ride all over the city on a bike with hundreds of other crazy people in the wee hours of the night is something I wasn't about to pass up. And I'm glad I didn't, because it was fun as hell and somehow I wasn't even sore the next day, which is surprising since we rode roughly 22 miles (probably not a lot for cycling . Some of the highlights included passing through a parking garage, riding through the Venice canals, seeing angry motorists who didn't appreciate the traffic we caused, stopping by a Vons grocery store which resulted in the bikers creating a line that went all the way to the back of the store since only one register was open, giving a girl dressed in a tiger suit a can of cat food that I purchased in the grocery store, and literally blocking off the entire street in front of the Santa Monica pier until the cops came and broke everything up. Thanks to my friend George who has a spare mountain bike I can use for now, I'll definitely be doing this again in the future.
Since no photos can really do the event justice, here's a lil' mix of video footage that I managed to take at various points during the night. The video is quickly thrown together, but it should help give you a better idea of what it's like: (more...)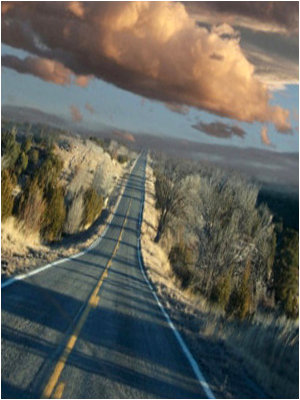 Over the past few months some of you have asked, and I'm not making this up, when I was going to write a book. In fact I am working on one now and have a snippet of it for you to preview here. Writing the book is the part I know how to do. Finding an agent and or publisher is another matter entirely and one which I have met with something less than success so far, but never mind, that hasn't kept me from writing yet. Here's all you need to know to understand the chunk I'm throwing out here like spoiled meat to hogs (no offense). The subject of the novel is a family vacation. The Narrator is Jimbo, the youngest of the Gallagher clan. Alex, the oldest has suddenly departed the trip with his fiancé, the front desk girl at the hotel where they stayed last night. Others on the trip include Mr. and Mrs. Gallagher, their daughter Mallory and Gramaw Ginny. Frodo is their dog. (more...)