If there's one classic game out there that most people have played all the way through more times than any other, it's gotta be Contra. It's simply one of the greatest 2-player cooperative games ever made. Yes, we all remember entering in the infamous code (Up, Up, Down, Down, Left, Right, Left, Right, B, A, Start), and more importantly, stealing lives from our friends when we ran out. Hah, yeah "cooperative" gameplay my ass. For a game to have so much replay value, even 20 years later it's still just as fun as it was back in the day, is definitely rare.
Well, it turns out there's a new Contra 4 game coming out for the Nintendo DS and it appears to be a truly worthy sequel. Behold: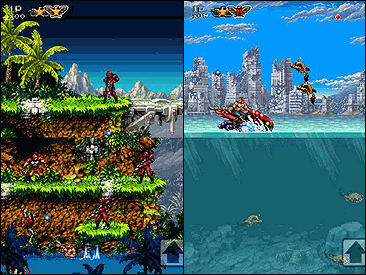 Tell me that doesn't look great. The new game has it all, including the spread gun that we all raced to grab before our partner reached it (complete with the original sound effects). It even has grappling hooks, and come on... who doesn't like to grapple things? Leggo my Eggo. Grapple my Apple.
Alright, now it's your turn. Share some of your favorite memories of Contra!
By the way, you can watch some footage of the new game after the cut. (more...)

I had a real nice time last night with the Coin-Op TV crew and want to thank them for having me on the show. Be sure to check out thestream.tv for all of their other web shows too... gotta support independent media. I also want to thank all of you who were sending in questions via IM, email and their chat room. Sorry they couldn't get around to answering all of your questions... they literally have to pick random ones and put them up on the screen for us to answer and there's simply not enough time to get to every one of 'em during the show. Anyway, for those of you who missed my live appearance last night, the entire show has now been archived online for your viewing pleasure: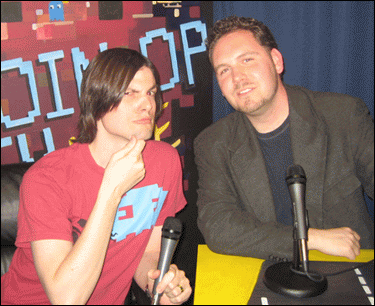 Just click the above image and you'll be taken to the episode that I'm on. I appear on the show right around the 20-minute mark. Hope ya enjoy it!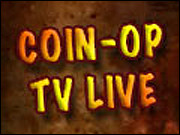 Yo ho ho, just a quick reminder to all of you: I'm going to be appearing live on Coin-Op TV tonight at 8pm PST (11pm EST), so if you're gonna be at a computer around that time, be sure to point your browser to thestream.tv so you can watch it in real-time.
Also, if you have an Instant Messenger, you can send some questions for me to answer during the show to: thestreamdottv That's their screen name on AOL, Yahoo! and MSN messenger. (note: MSN users should search for thestreamdottv@hotmail.com to add them as a friend in order to submit a question)
Here's the promo spot for tonight's show. Rad.
Should be a fun time watching me make an ass out of myself as usual. And don't worry, if you can't make it, I'll make sure I get a copy of the episode to put up on I-Mockery so you can view it later.

First off, I want to thank all of you who showed Re a lot of support for her recent art show whether it was here on the blog, via email, or you actually showing up in person. Her show was a big success - really nice turnout with lots of cool people, she sold a lot of her paintings at the opening reception on Saturday night (and more have been selling since then) and she has already been asked to participate in some other shows including a really big one next year. It's insanely cool for me to see this happening to her, because for all the years I've known her, I've been waiting to see her get the credit she truly deserves for her artwork and now it's finally happening. I just couldn't be happier for her. For those who are interested, you can see her recap of the show here. And for those of you who've been asking, the show will still be running for the next two weeks, so you still have time to check it out in person at the Hyaena Gallery.
In other news, I will be making a live appearance on Coin-Op TV this weekend on Sunday at 8pm Pacific time! They'll be talking to me about I-Mockery, video games, and whatever the hell else we feel like talking about. Plus, those of you with AIM accounts will be able to ask questions for me and/or Rob (the host) to answer live on the show. So if you have any burning questions for me that you feel would be better suited for a live video broadcast rather than an email, by all means, please log on come Sunday night to theStream.tv and send 'em in! And don't worry, for those of you who won't be around on Sunday night to catch the live appearance, we'll still have a copy of the show in its entirety for you to watch afterwards. Anyway, here's the high-tech announcement video!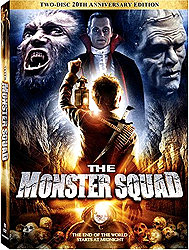 I've been getting a lot of emails about this lately, so I might as well break the news here for those of you who don't know already... Monster Squad is finally coming to DVD on July 24th! Not only is it coming to DVD, they've put together a big 2-disc 20th anniversary edition jam packed with extras including deleted scenes, interviews, a making of featurette, commentary tracks and more. Big thanks to those of you who emailed the studios and asked them to put this movie on DVD when I asked you to. It's always cool to see when studios actually listen to the fans, isn't it?
Well, until July 24th rolls around, you can read my big feature on Monster Squad to refresh your memory about just how awesome (or "Bogus" as Frankenstein would say) of a movie it really was. And speaking of big features, I hope you all enjoyed my article about Roger Corman's 1994 Fantastic Four movie. It took me a hell of a long time to finish, but big pieces like that are always really satisfying to read over once they're done.
I also want to mention that our latest forum contest is finally up and I hope you'll all participate. Should be really easy for most of you to enter, and if you do, you'll have a chance to win $75 and $25 gift cards to buy some video games at GameStop along with some other swag. You can check out the contest details, including a sample entry I made, here on the forums.
On a final note, I think I've finally found a new programmer for I-Mockery. For those of you who don't know, we've been in the middle of a big redesign for a long time now. Unfortunately, it's been delayed a lot due to some personal issues that our main programmer/admin guy has been going through. But this new guy is gonna be picking up where he left off and he's been a big fan of the site for a while now, so it should be fun to dive back into this project once again. I just upgraded the server (again) and things are moving much faster too... hope you guys have noticed. There are so many things I want to change on the site and so many new features I want to add in. It's already a huge site, but if all goes as planned with this redesign, there will be twice as much to see and do on I-Mockery every day.
I don't want to get too much into detail about the redesign still, but if there are any suggestions you have for improving the site, I'm always here to listen to 'em. Yes, I've heard your cries and I'm still working on figuring out a way for you guys to use print-outs of this web site as legal tender... but until that day comes, feel free to make any other improvement suggestions.

Re's first solo art show at the Hyaena Gallery is coming up this Saturday (June 16th) and I couldn't be more excited for her because she really deserves it. I can't even begin to tell you how much work she's put into this show, but you'll understand when you see it all. We're gonna be loading up the cars tonight to bring all of the artwork over to the gallery.
If you're anywhere even close to Los Angeles, I urge you to come out and see the show. The opening reception goes on from 8pm - Midnight this Saturday night. There's no cover charge to get into the gallery, there's always some free snacks and most importantly... you'll get to see all of this amazing artwork that she's been busting her ass on for so long. She'll have original paintings, Giclée prints, posters, comic books and more for sale at the show... something for everybody no matter what your budget is.
And no, this is not some snooty wine & cheese art gallery that you have to dress up for. In addition to Re's artwork, the gallery has all sorts of cool toys, magazines and novelties for sale. So yeah, as long as you don't show up naked, you'll be aok. Actually, you probably could show up naked and nobody would mind. It is L.A. after all.
Naturally, I'll be at the show all night as well. After all, yours truly did almost all of the framing for the artwork that will be on display. I used to work full-time in a frame shop and I still wield a mean point gun. So by all means come meet me and say hey!
Here's the flyer for it: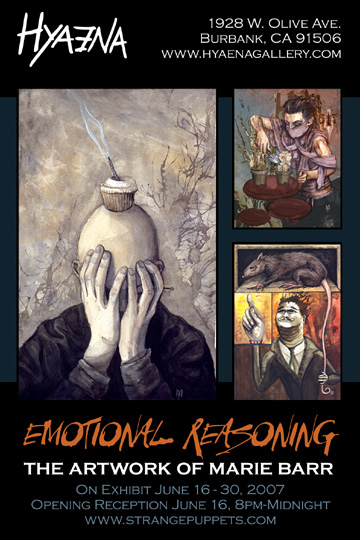 The Artwork of Marie Barr
Opening Reception: Saturday, June 16th.
8pm - Midnight
1928 W. Olive Ave.
Burbank, CA 91506
Hope to see you guys there!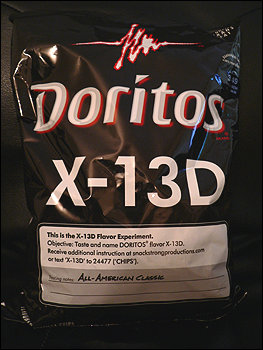 I don't know why, but I always get somewhat excited when I see a new flavor of Doritos unexpectedly hit the shelves. While their most recent flavors didn't really wow me at all, there's still the hope that forthcoming flavors will be as good as Fiery Habanero or Cool Ranch. So when I saw this mysterious Doritos X-13D Flavor Experiment black bag I was instantly drawn in. Damn those marketing people who know how to wake my curiosity by jabbing it with a red hot poker.
With the X-13D Flavor Experiment, Doritos is apparently having people taste the new flavor so that they can name it. They have given us a tasting notes clue: "All-American Classic". With this, they want you to go to snackstrongproductions.com to receive additional instructions. This then points you to http://x13d.doritos.com.
When you get there, they act like you've just found some underground government operation with ambient noises and transmission glitches abound. You can access the "Clue Generator" which is actually just an exaggerated version of the "match the shapes with the corresponding holes" game that infants play in their formative years. Then you have to match up some tubes so the mysterious clue can travel through the mechanical ducts. And finally, you have to press some buttons in the correct order to finally unveil what the extremely obvious flavor is: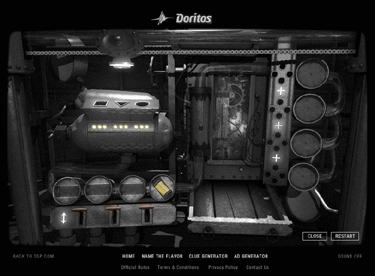 BARBEQUE!
You know, if they had made it some kind of space-age flavor or something, I might've been able to see the reasoning behind this campaign. But Barbeque? That's about as non-technological as you can get. It's meat & fire, not Men in Black. And honestly, it's not like you need to go through all this silly shit on the web site to figure it out. The chips taste just like barbeque. Well, more accurately, they taste like a combination of barbeque and ass. Plus if you read the ingredients after tasting it, it's kind of obvious since it has artificial BEEF flavoring.
I can't help but laugh my ass off at this because... it's a snack chip. A snack chip for chrissakes! They're trying to make it out to be an episode of the X-Files when it's an advertisement for a snack chip. The more I look around, it seems almost like some kind of cheesy (no pun intended) attempt to capitalize on Nine Inch Nails' highly successful guerilla marketing campaign for Year Zero.
It gets better though, because on their site they have some fake commercials for you to fill in the dialogue for. You simply call the 800 number with your phone and then it allows you to record your special voiceover for the commercial and then share it with your friends. Here, take a look at mine. It's guaranteed to be the greatest commercial you've ever seen: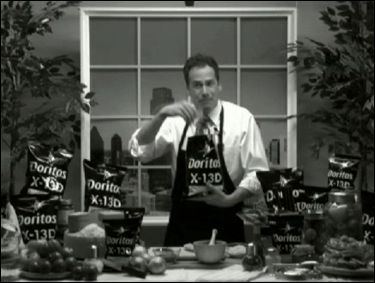 http://x13d.doritos.com/index.html?mid=21732036
I expect to be receiving an Oscar nomination in the mail any day now. And yes, I did record a very special voiceover for the alternate version of the commercial that they provided too. You can check that special alternate version here.
In the end, since the chips tasted like barbeque and ass to me, I decided to submit my name for the new Doritos chip flavor: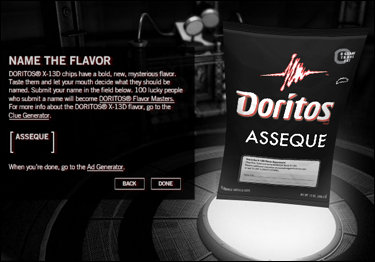 ASSEQUE!
So what do you think? Will I be the lucky winner?
NOTE: if any of you record a Doritos commercial, feel free to post the link to it here in the I-Mockery Blog. (You'll have to email it to yourself first in order to get the link)