I don't know how it's snuck up on us so quickly, but turkey day is almost here already. Naturally, I'll be making a point to watch the greatest Thanksgiving movie of all time: Trains, Planes and Automobiles. If you haven't seen it before, get your ass to the video store and rent... no, scratch that... BUY it. It's pretty much one of the greatest "buddies on a road trip" comedies you'll ever see.
While I've never been that much into Thanksgiving, I admit it feels wrong to not spend it with some family and/or friends. This year, Re and I aren't gonna fly back to the East coast because (just like the aforementioned movie teaches us) traveling during this time of year makes your average trip to the DMV seem like a warm, fuzzy memory. Fortunately, some of our friends are throwing a "eat your weight in turkey" party. Granted, there are rumors that said "turkey" will be substituted with "pizza", but I'm fine with either one. Wait, I'm thankful for either one. After all, pizza was one of the things served at the very first Thanksgiving you know. What, you don't believe me? Then explain to me how images like this exist on the web?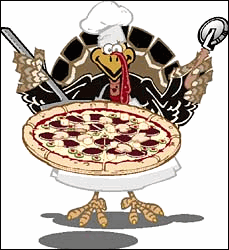 So I was browsing through Amazon.com's selection of holiday classics on DVD which has everything from Frosty the Snowman and Lassie's Christmas Stories to A Christmas Carol and Jingle All The Way (the last of which I'm still waiting for a sequel), but imagine my surprise when I found something that really didn't belong there.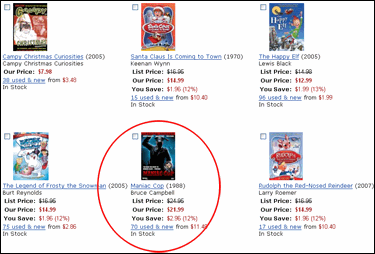 I'm sure you've noticed that I haven't been doing much writing of my own since Halloween season wrapped up. There's a reason for that. I hate all of you. No, in all seriousness, I've been busting my ass on the new I-Mockery. For too long I've been putting off this big site redesign because I keep getting distracted with my writing or other site-related projects. So, I decided to spend most of this month finalizing the redesign of I-Mockery instead of trying to crank out article after article. November has always been kind of a "filler" month in my mind anyway... it's the break between Halloween and Christmas. Still, each week you can expect updates from Proto, Boogie and Max while I continue plugging away at the redesign (though if I have the time, I'll still be doing a few new articles this month). December, however, I will be going full force on I-Mockery articles as usual and we're gonna have one hell of a fun holiday season here on I-Mockery. I wouldn't lie about that, not with Santa dangling his dastardly coals above my head when he knows damn well that I want a new laptop. Gotta be on my best behavior this time o' year. (more...)

I'm still recovering from all the Halloween insanity of the past month, so bear with me. Plenty of news, pics and new I-Mockery articles to come! In the meantime, here's an interview about zombie walks I recently did for the "Deminski & Doyle" morning show in Detroit earlier this October. Since it's a morning show and I'm located on the other side of the country, I had to get up around 5am just to talk with these guys about zombie walks. Considering the hour I was up, I'm surprised I didn't sound more like a real zombie during the interview. (more...)