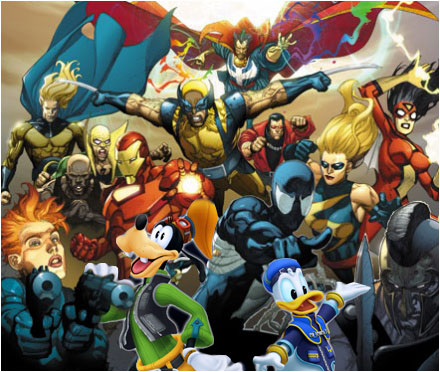 As an avid comic fan, I was terrified when I read the news this morning about Marvel Comics being bought by Disney. Horrific images immediately popped into my head: Mickey Mouse and Goofy joining the Avengers, Donald Duck teaming up with Wolverine to take down the Dr. Doom/Cruella de Vil alliance, and Scrooge McDuck becoming the new head of S.H.I.E.L.D.
I'm no fan of Disney, mostly because I'm older than five, so I'm a bit worried about how they might fuck up some of my favorite comic book properties. If they've any sense at all, they'll leave Marvel alone to do what they've been doing creatively, much the way Time Warner has handled DC Comics after acquiring it. But given that Disney is a huge mega-corporation, I know full well that they can't possibily have any sense at all.
So now I wonder what horrors are coming our way down the road. Will they impose bizarre editorial edicts that make Quesada's anti-smoking rule seem reasonable by comparison? Will they eventually dissolve the Marvel brand entirely, so I have to stomach buying comics with that shitty, childish Disney logo plastered on them? Will they mandate crossovers with existing Disney properties? The last thing I want to see is some horrible "Kingdom Hearts" kind of situation where a bunch of soft, fat, giggly Disney characters are rubbing elbows with the likes of Wolverine and Magneto. It sends chills down my spine, I tells ya.
A friend of mine pointed out that the best case scenario means they might introduce some cool new Marvel-themed rides and exhibits in their theme parks. Worst case is they'll remove any and all adult appeal these comics and characters have by trying to "kiddiefy" everything. What are you guys' hopes and fears for this partnership?
ALSO: I am planning a Longbox column about the most "Halloweeny" comic characters. Obviously Scarecrow, Green Goblin and Hobgoblin quickly come to mind. If you have any suggestions you'd like to see appear in the article (I make no guarantees), feel free to post them here!

So I've had a bunch o' people from I-Mockery send me friend requests on Facebook as well as people asking me via email if I-Mockery was on there. Well, there has been an unofficial I-Mockery group on Facebook for a while, but I figured I should go ahead and create a real page for fans of the site since you clearly want me all up in your FACE. So to all of you who have accounts on there, check out the official new I-Mockery Facebook page located here:
www.facebook.com/pages/I-Mockery/127390080137
Be sure to click the "Become a fan" button to receive any news that's posted on there and drop a comment on the Wall to say hi.
Anywho, I gotta get back to getting the site ready for Halloween. September 1st is almost here!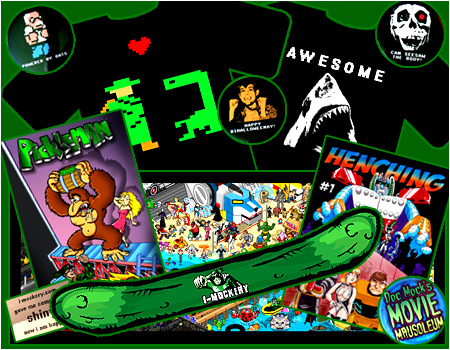 It's been a long time coming, but we've finally launched I-Mockery's Online Store! People are always asking me how they can help support the site, and usually all I tell them is to just tell their friends about it since we rely solely on word of mouth advertising. Well now there's a new way for you guys to help support the I-Mockery cause, and you'll get some spiffy merchandise for yourself in doing so!
I'm really excited about the launch of our store, or "The Mock Shop" as I refer to it, because we have some really cool stuff for you to pick up. Here's a list of what you'll currently find in there:
-I-Mockery T-Shirts! (including the all new "Forbidden Love" PickleMan shirt and the return of our "Awesome Shark" shirt!)

-Official I-Mockery Pickle Hats! (People have asked for these for YEARS, so I'm really happy to finally be able to offer them to you!)

-The Ultimate Pixel Poster! (We sold this at the 2009 San Diego Comic-Con and it was an instant hit with fans of pixel art and retro pop culture! You'll stare at this thing for hours!)

-Comic Books! (Now all of I-Mockery's original comic books are available online, including Protoclown's new "Henching" comic, PickleMan and more!)

-Button Packs! (A brand new set of 6 buttons, plus we throw in an extra PickleMan button with each order while supplies last!)

-Shiny Stickers! (Everybody's favorite I-Mockery sticker that doubles as a funhouse mirror is available once again!)
Also, since people have requested it in the past, we're happy to sign anything you order... just be sure to include a note with your purchase so we know. Last but not least, for all of you international customers outside of the U.S., we haven't forgotten about you. We've set up a special International Store Page that you can place your orders on with the adjusted shipping rates. So if you live outside the United States (yes, even you Canadians), please make sure you order from that particular page.
So there ya have it - a boatload o' new I-Mockery merchandise for you guys to spend your life savings on. Every purchase helps us keep I-Mockery running, and it will also lead to us putting up new products for sale on the site in the future, so thanks in advance to all of you who buy our stuff!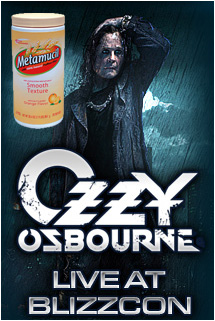 I'm heading down to Anaheim soon because I'll be doing BlizzCon news coverage once again for Diablofans. Are any of you guys going? I've always loved the Diablo and Starcraft series and they're gonna have Blizzard's latest demos of each upcoming game at the convention. I'm sure some of the old I-Mockery forum members remember some of our long multiplayer games on Battle.net. Glad I dodged that World of Warcraft bullet though... that game seems to swallow people's lives and they're never seen or heard from again. Eugh.
Also, the prince of darkness, Ozzy Osbourne himself, is scheduled to have a concert to close out BlizzCon this year. I have visions of his unconscious, withered ol' body being tied with cables to a forklift and driven out onto the stage while a tape of his vocals are played on top of the backing band's music. Or maybe it'll be more like a marionette situation, with Sharon tugging the strings to make him dance and sing. Should be interesting either way and I'm sure the crowd is gonna eat it up.
In other news, we're starting to gear up for our annual "Two Months of Halloween" celebration which is always my favorite time of year by far. With that in mind, I'm opening up this blog thread for suggestions from all of you. Is there anything you'd like to see us to cover on the site? I'm not just talking movie reviews... I'm also talking toys, costumes, novelties, events, cards, candies, etc. Can't make any promises, of course, but we'd definitely like to hear some of your ideas.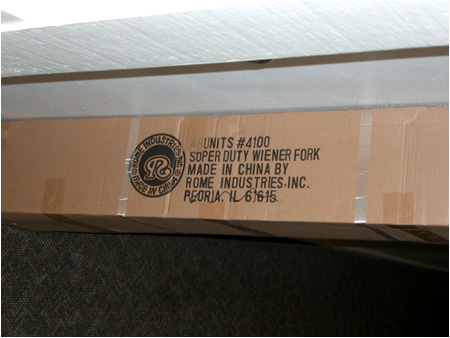 I couldn't help but notice that somebody in my building had a package left at their door with some amazing text written on it: Super Duty Wiener Fork! I've come home to find some packages left for me that I was really excited about, but I can't imagine the sheer ecstasy one experiences upon coming home to a Super Duty Wiener Fork. Did I mention that the package says SUPER DUTY WIENER FORK on it? Because it does. SUPER DUTY WIENER FORK.
Super Duty Wiener Fork would make a hell of a good band name too.
Discuss.

Hey guys, just wanted to let you know that Episode #10 is back up online completely. There was a problem with part 2 of the episode where it was cutting off about halfway through so people couldn't finish watching it (thanks for letting us know Lonan). Anyway, they've re-encoded and re-uploaded the episode and it seems to be working fine now so you guys can watch the entire thing. Here are the links to each part:
Doc Mock's Movie Mausoleum - Have Mercy: Part I
http://www.thestream.tv/watch.php?v=1651
Doc Mock's Movie Mausoleum - Have Mercy: Part II
http://www.thestream.tv/watch.php?v=1668
Of course, I always recommend checking out each episode when it airs live (we'll be back in September) so you can catch the un-archived post-show moments like this: