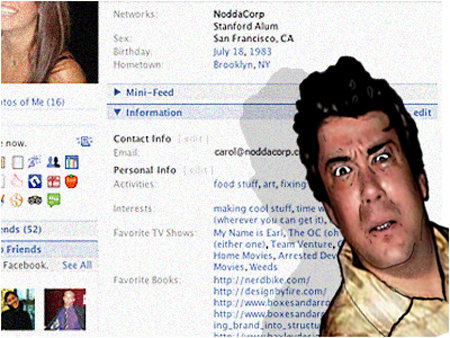 Gentle reader, when I first decided to create 'Myspace' and 'Facebook' pages, I was mostly screwing around. I thought 'social networking' sites were entirely populated by gum snapping teenage girls, desperate rock bands pathetically clinging to the belief that they will one day 'make it' while knowing in the pits of their stomachs that they will not, and sexual deviants aroused by pretending to be teenage girls, desperate rock bands pathetically clinging to the belief that they will one day 'make it' while knowing in the pits of their stomachs that they will not, or both.
In the case of 'Myspace', it turns out I was quite correct, except in that I did not account for the large number of people trying to sell pornography while disguised as fun seeking young ladies with Myspace pages.
'Facebook', however, has proved to be quite surprising. It has unexpectedly connected to a whole host of old friends, schoolmates, fans of my writing, ex-girlfriends, ex-girlfriends who want to kill me, parole officers, former cellmates, bail bondsmen, ex-girlfriends who turn out to no longer be girls, the occasional Mexican dwarf I left to die after we collided with that coast guard boat (sorry, Raoul), and ex-girlfriends who turn out not to have been girls at the time I knew them.
It is also the source of a number of pervasive Memes I have not bothered to exploit for cheap laughs.
To put an end to that, I reprint a list which I have already posted on Facebook, an act I justify by the preceding paragraphs, which can only be found right here at I-Mockery.com. That makes this a 'variant' and thus more valuable to collectors. Take note, Raoul, as that's all you'll get from me... (more...)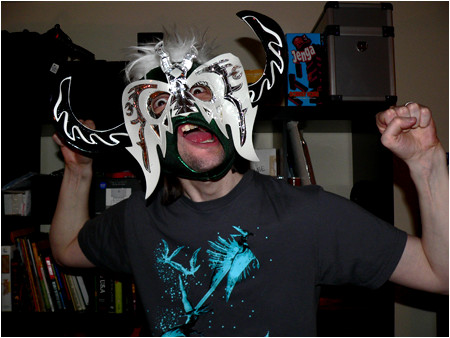 I visited Olvera Street recently and it was quite awesome. As you can see, I walked away with one hell of a mask. I'll try to post all my photos from Olvera Street it by the end of the week. Until then, I assign you all with the highly important task of coming up with a name for my latest Mexican wrestling persona. Who knows... maybe I'll even have him battle my other persona, El Serpento, sometime. I'm always fighting with myself mentally, so I might as well make it more official with a physical battle of epic luchador proportions. Failure to suggest at least one name will result in me breaking into your home, putting you in a figure-four leglock and eating all your food.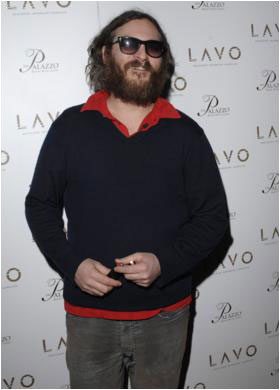 So have you guys heard that Joaquin Phoenix is a rapper now? Seriously. I'd heard that he was going to quit acting and get into music some time ago, and I immediately thought "Oh cool, obviously he was inspired by his performance in Walk the Line, and decided to start up a band, and unlike every other actor who has ever decided to branch out into music, there's the slim chance that he won't suck because of his strong singing performance as Johnny Cash". Little did I know at the time that he was talking about rap.
Don't get me wrong, I like quite a lot of rap, but when I first heard that's what Joaquin would be doing I knew that this had the potential to be very, very bad. I like Joaquin, and I do not want to see him become a laughing stock. But I am afraid we are starting to see the horrible downward spiral of someone who by all accounts seems like a pretty cool and likable enough guy. (more...)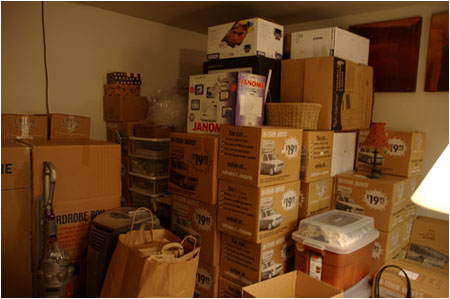 Both of you have no doubt noticed by now that the writer known as Protoclown AKA the person known as, well, "me", has been absent for some time. Yes, that's correct. I haven't updated any content to the site since before Christmas, apart from the weekly reviews, which frankly don't take much time at all (except for the white border that goes around the images, which I painstakingly paint one pixel at a time by hand).
Where, oh where could I have been all this time? Was I up to my eyeballs in blow and the best Vegas hookers my absurd casino winnings could buy, the kind that can do delightful "tricks" with any number of random (but not too large) household objects? Perhaps I was on a crab fishing vessel in the North Pacific, disguised as a one-eyed Norwegian named Jaaren Boorger with a predilection for nibbling dark chocolate, patiently biding my time as I awaited the perfect moment to kill my mark? Or maybe I was Mickey Rourke, making a triumphant comeback to film, even though I thought I'd already made a triumphant comeback by appearing in several Robert Rodriguez films? (more...)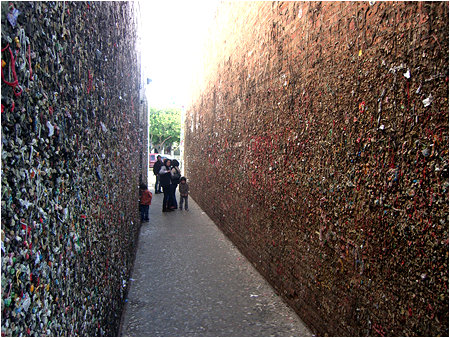 As I mentioned recently, my birthday was the day after Christmas, and since L.A. practically becomes a ghost town during the holidays each year, we decided to take a little road trip of our own because the prices of airline tickets were inexplicably astronomical. One of the places I had been intending to visit for a long time was San Luis Obispo because it was home to Bubblegum Alley. When we did our Great American Roadtrip a few years back, I remember reading about this awesomely kitsch little attraction in California. Unfortunately, it wasn't one of the towns we'd be able to hit during our epic cross-country journey, so I swore we'd visit it at some point in the future instead. Now I'll take any excuse I can get to drive up the incredibly scenic Pacific Coast Highway anyway, and since I didn't want to stay home for my birthday, this was finally the perfect excuse to pay San Luis Obispo a long overdue visit.
As you can see from the photo above, Bubblegum Alley certainly lives up to its name (click here for a larger view). Located off of Higuera Street, I was surprised at how they don't even make a big deal about it. There aren't any signs alerting each passerby to its existence, and it's definitely not something you'd notice from your car. I can only wonder how many people have driven through this small town not even realizing they missed the opportunity to view one of mankind's greatest achievements: an alley completely covered in bubblegum. (more...)