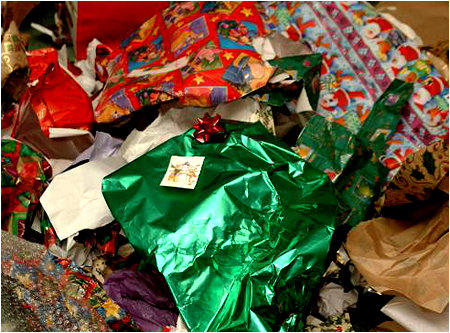 So what did Santa leave under your Astro-Weenie Christmas Tree? Yep, you know the drill... post what gifts you received over the holidays this year so we can all be extremely jealous and decide who we need to burglarize in the future. As always, I'll post my haul soon, but since my birthday is coming up tomorrow, I'll hold off 'til after then since it all blurs together.
Okay, on with the gifts! Post lists of whatcha got and feel free to include photos of your Christmas holiday hauls! Let's see just how spoiled you bastards really are!

I was watching Conan O'Brien recently when one of his guests (Charles Phoenix) came on to have him help recreate a retro relic from the holiday seasons of yesteryear. This wasn't just any old find... it was something I had never seen before, yet I instantly fell in love with it. I am speaking of the Astro-Weenie Christmas Tree! According to Charles, he spotted it while looking through some of his vintage Christmas slides. Upon seeing this glorious shiny silver space age centerpiece covered in a variety of edible delights, I simply knew I had to try making one of my own. Today, I share with you the steps to making one so you too can create this fantastically festive fandangle.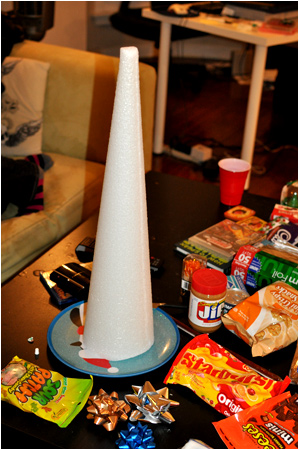 First thing you need is a styrofoam cone. I figured it wouldn't be a big deal, but it turns out styrofoam cones don't run cheap. It cost $15 for the large styrofoam cone at our local Michaels craft store. Sure, we could've gone with a smaller one... but when it comes to building an Astro-Weenie Christmas Tree, you can't skimp on any of the supplies, nor can you let the absurdity of spending $15 on a piece of styrofoam dissuade you. The holidays are all about giving, so just think of your Astro-Weenie Christmas Tree as your gift to the world, rather than a futuristic snack holder hell-bent on draining your holiday funds.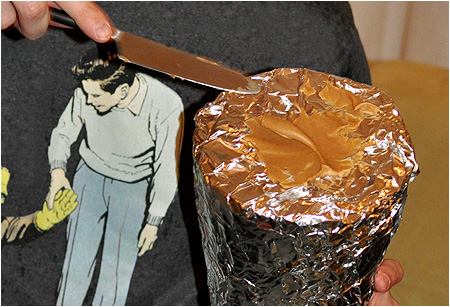 Once you have your cone, you need to wrap it in tin foil and then slather the bottom with peanut butter. I know that sounds weird, but the peanut butter serves as a glue to hold the cone to the plate, and it's the difference between your tree being a huge success or toppling over and ruining Christmas forever. Now there are different schools of thought on whether you should spread peanut butter on the bottom of the cone itself, or to cover the bottom with tinfoil and then put peanut butter on it. While sticking it to the cone will definitely make it hold even stronger, I prefer to put peanut butter on the tinfoil, because then you can reuse the cone in the future. Hey, if you're gonna spend $15 on a piece of styrofoam, you might as well make it last long as possible. One thing I won't argue with is that you should use creamy peanut butter to affix the cone to the plate instead of chunky style. So, with your tree sealed to the plate with peanut butter, it is now ready to be transformed from tinfoil-wrapped styrofoam cone to the greatest hors d'oeuvres display in the world.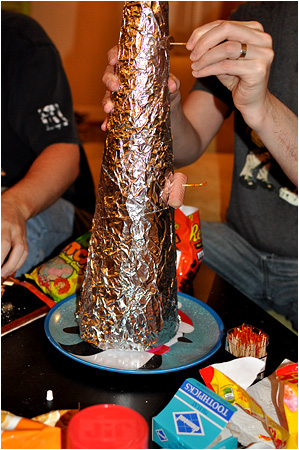 Decorating the tree isn't hard at all; you simply need to pick out a variety of snacks you like and stick them to the styrofoam cone with toothpicks. While you can choose whatever snacks you want, there is clearly one vital treat that must appear somewhere on an Astro-Weenie tree: cocktail wieners. While I'm not a fan of cocktail wieners, I must respect the historical importance of adding them to the tree. That said, nobody wants "weenie juice" dripping all over the other snacks pinned to the tree, so the strategy is to keep the weenies low on the proverbial totem pole. By doing this, the weenies can still be enjoyed by anybody who wants 'em while not tainting the other snacks.
As for the other treats, we chose a good mix of snacks for the Astro-Weenie Christmas Tree: Hostess powdered and crunchy mini donuts, Sour Patch Kids, Reese's mini peanut butter cups, Starburst fruit chews, mini cheddar rice cakes, sliced pieces from a Slim Jim and a few marshmallow snowman Peeps. In other words: a lot of sugar. It takes a while to decorate the tree completely as there's a lot of surface area to cover, and the last thing you want is an Astro-Weenie Christmas Tree with a lot of blank patches. Just like a real Christmas tree, you want it to look full and healthy, so you really gotta pack your tree with more food than you and your holiday guests should ever eat. But hey... it's the holidays, so indulge yourself.
I'm proud to say that our first Astro-Weenie Christmas Tree was a huge success. BEHOLD!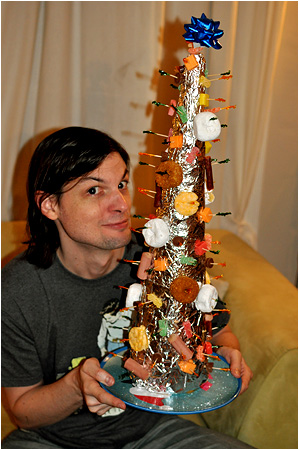 I think it's safe to say we have a new holiday tradition on our hands here folks. Well, it's apparently an old tradition, but it's time to bring it back and make it part of Christmas every year. Sure, decorating a regular tree is nice 'n all, but wrapping a styrofoam cone in tinfoil, slathering the bottom with peanut butter and then jabbing a variety of treats into it with toothpicks to create the ultimate holiday centerpiece? My friends... it just might be better than getting a boatload o' presents from jolly ol' St. Nick himself. Don't believe me? Look how much it inspired us:
Whatever you happen to be doing over the holidays this year, I hope you all have a great time. And if you don't... add an Astro-Weenie Christmas Tree into the mix and I guarantee it will change your holiday experience in an instant. Aliens invented this weenie tree technology and they definitely know how to party.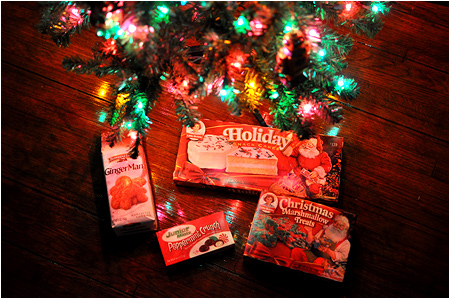 With Christmas quickly approaching, I thought now would be a good time to take a look at some of my favorite holiday treats that are currently available in stores. So what say we take a look and see what Santa Claus has left under the tree to fatten us up with this year, shall we?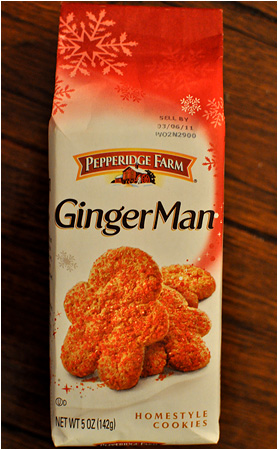 Pepperidge Farm Ginger Man Cookies: Granted, these are around all year long, but when you add snowflakes to the package design along with some red holiday sugar crystals to the cookies, they are immediately classified as Christmas treats. I've been eating these thing for as long as I can recall and my only complaint about them is there are never enough cookies in the bag. Seriously... for the price of a single bag of these that will last 2-3 days at best, you can get a full package of Vienna Fingers that will easily last a week or longer.
And yet here I am once again, buying these damned Ginger Man cookies and loving every single bite. The cookies are pretty much perfect as far as gingerbread goes; the ginger isn't too overpowering and the sugar crystal coating adds just the right amount of sweetness to 'em. Of course, there's no denying that we've all enjoyed eating gingerbread man cookies in the most torturous ways our minds could invent - starting with the legs, then the arms, then the body and finally devouring the head to put the ginger man out of his misery. Ah... the little pleasures the holiday season brings us.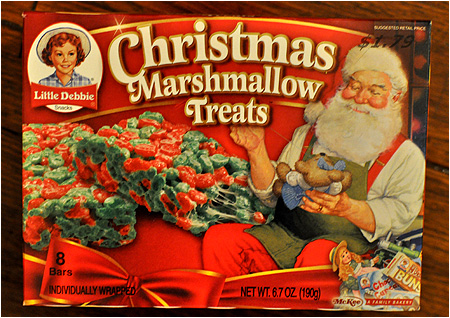 Little Debbie Christmas Marshmallow Treats: I had seen these on the Little Debbie web site in the past, but this is the first time I've had a chance to try them. Let me first say that I'm a huge fan of Rice Krispies Treats... whether they're homemade or the store-bought Kellogg's variety, it's really hard to go wrong with these things. But what about Little Debbie's marshmallow treats? How do they stack up?
At first glance, these things look glorious, what with the Rice Krispies dyed red and green... you'd be hard-pressed to find a more festive mass-marketed holiday treat in any grocery store snack isle. Plus, these are probably the only Christmas snacks which depict Santa Claus sewing a teddy bear on the box. I'm guessing he had to lay off some of his elf workers due to the poor economy, so now old St. Nick is pitching in and helping make some of the toys this year.
The marshmallow treats themselves are as fresh and gooey as you could possibly hope for and they taste pretty good too. I wouldn't go so far as to say they're as good as the Kellogg's brand, but still better than average. And really, how often do you get to eat red and green Christmas themed ones? It's worth sacrificing a little flavor for that alone.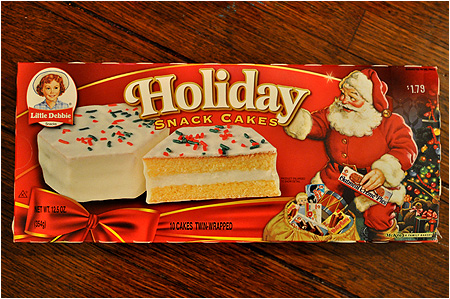 Little Debbie Holiday Snack Cakes: I'm not sure why these ones don't qualify as "Christmas" cakes like the aforementioned marshmallow treats do, but this is the name that Little Debbie has decided to give them, and we cannot argue with her. Oh sure, she looks happy and innocent in that profile photo on the boxes, but there's a darkness behind those eyes like none of us have ever encountered... and god help us all should Little Debbie ever decide to unleash her bottled fury upon this helpless world.
What I love here is that Santa has given up sewing and decided to bestow the children of the world with more Little Debbie snacks. His big Christmas sack is filled to the brim with Nutty Bars, Swiss Cake Rolls, Oatmeal Creme Pies and more. Oddly enough, the sack contains none of the treats from the new Little Debbie holiday product line. Guess he decided to save those for himself.
Packaging quirks aside, the Holiday Snack Cakes are a time-honored treat - delicious hexagons covered in vanilla icing and festive sprinkles with a vanilla creme center. I should also mention they have a Christmas tree shaped variety of these same cakes along with many others which I've written about during past holiday seasons. The Christmas tree cakes have always been my personal favorite, but the store didn't have any in stock this year. Maybe Santa really did save 'em all for himself... that bastard.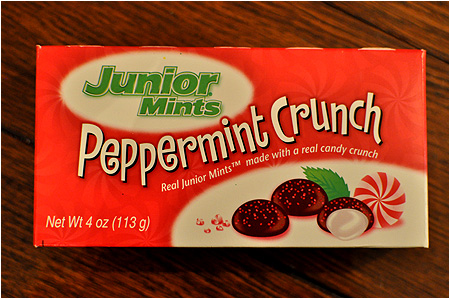 Junior Mints Peppermint Crunch: I know I've talked about these in the past, but I cannot emphasize enough just how insanely delicious they are. Junior Mints are already a nearly perfect treat, but when you add in little bits of peppermint candy, it seriously puts them over the top. Sometimes you'll even get an abnormally large one with even more crunchy peppermint bits in it, and I can't even describe how good they truly are. I just bought twelve boxes of these Peppermint Crunch Junior Mints, yes twelve, because it pains me that they only come out during the holiday season each year. Gotta stock up while I can, and honestly... I'll probably go back to the store for more before the month is over.
You really can't go wrong with any of the treats listed above, so do yourself a favor and seek them out fast before Santa gets to 'em.
Survey: What are some of your favorite Christmas holiday treats currently on the market?

A lot of people seemed to enjoy my 8-bit chiptunes version of the "Santa Claus is Coming to Town" song that we used for the main theme in our Santa Fu game last year. I've also received emails from people asking for a copy of the song, so I figured I'd make it freely available to the general public to download. No pay to buy it on iTunes crap or anything like that... I'm just happy that people enjoyed my version of the song. Click below to download your free mp3 copy of the tune for your Christmas jukeboxes and may it make your holiday season jolly as Mr. Narwhal.

[Download Santa Claus is Coming to Town]
By the way, we are working on yet another Christmas game and hope to have it released soon, so keep an eye out for it! And yes, I am working on another 8-bit version of a classic holiday tune for it, so get ready to rock.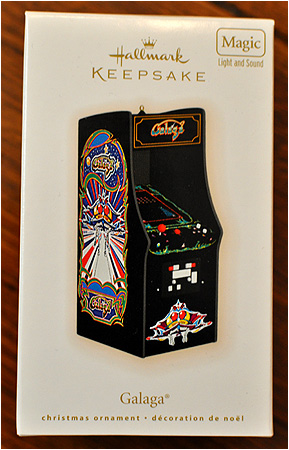 So Hallmark made the incredibly poor decision of not releasing a new arcade cabinet keepsake ornament for the 2010 Christmas season. As a result, they received a lot of complaints from ornament and arcade enthusiasts alike, and will hopefully release a new one for the holidays in 2011. But what about this year?
Well, back in 2008, I reviewed Hallmark's Pac-Man Christmas tree ornament and showed you all the classic bleeps 'n bloops it made. In 2009, however, I somehow completely forgot to feature their Galaga arcade ornament. So let's take a look at it now, shall we?
Unlike with Pac-Man, they reproduced the original Galaga arcade cabinet artwork perfectly this time, right down to the bezel and the control panel layouts. The joystick still doesn't move, so I can't help but wonder how many kids have tried to play the game and snap it off. Of course, the real beauty of this ornament is when you press the fire button and it lights up the entire cabinet while playing a variety of sound effects from Galaga. I gotta say, as good as the Pac-Man one was, this Galaga one makes noise for even longer and it's LOUD, so that's a big thumbs up right there. Here's a look at the Galaga keepsake ornament in action:
Whether you celebrate Christmas or not, this is simply one ornament that everybody should own. Hallmark, we'll give you a pass just this one year in the spirit of Christmas, but you had better not let us down in 2011. I have plans to have a full arcade on my Christmas tree by the year 2020, so if you want my quarters, you've got some work to do.
Survey: What classic arcade cabinets would you like to see made into a Christmas tree ornament?