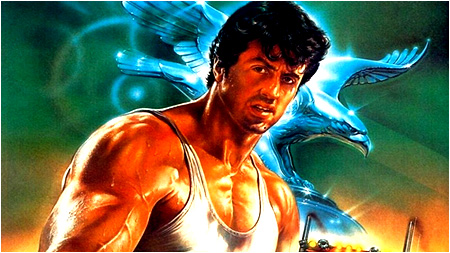 I'm forever thankful that a movie like Over The Top actually exists. Hope you all enjoy a good meal on this Thanksgiving holiday that rivals John Grizzly's steady diet of cigars and motor oil.
How about you? What are you thankful for?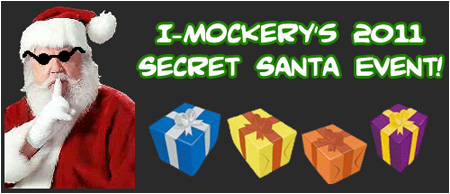 Hey guys, just a quick ho-ho-ho-head's up for ya today. Our annual Secret Santa event on the forums has just begun, so if you'd like to participate in some good old fashioned holiday gift giving (and receiving) with other I-Mockery members, be sure to sign up in the thread! The earlier you sign up, the better... especially if you're a relatively new user since there are some verification steps you'll have to go through. And yes, if you live outside of the U.S. you can still participate in the event, no problemo. Furthermore, if you participated last year, all you have to do is follow the simple sign-up procedure and you'll be in. As usual, I'd like to extend a big thanks to 10,000 Volt Ghost for helping keep the event organized this year.
The deadline for signing up is Thursday, November 24th, so hop to it!

Somebody in our message forums just let me know that in a recent episode of The Simpsons called "The Food Wife", Homer and his kids went to the E4 convention to check out all the latest games. Obviously a spoof on the E3 Expo, upon their arrival, they see a variety of upcoming games such as Guts of War III, World of Krustcraft, Dig Dug: Revelations, and more. But check out what other game they had on display: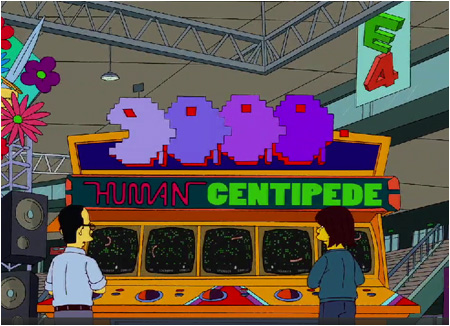 Yes indeedy, they included the Human Centipede parody game that we made! You can even see the little white Dr. Heiter at the bottom of the screen shooting up at the centipede. Of course, they couldn't show a close-up of the gameplay as I'm sure it wouldn't fly with the ratings board, but it's still pretty cool to see that one of their writers likes what we're doing.
Good news like this almost makes me want to do the Bartman. (more...)


[Click here to watch in full resolution]
Crank your speakers up, batten down the hatches, and buckle your safety belts - the official trailer for our Abobo's Big Adventure game is finally here! I'm almost as excited about the release of this trailer as I am about the upcoming release of the game itself. This trailer gives me chills every time I watch it. CHILLS! It must be because it's like seeing the culmination of a project that we've worked on for years and years... and now the release of our big game is right around the corner. Make no mistake about it - this is the biggest project we've ever worked on and it's everything we dreamed of having in a single 8-bit NES-style game. I hope it really shows in this trailer.
Speaking of the trailer, I have to extend a huge thanks to my good friend Brad Webb. Without him, this extremely professional trailer would've never happened. We wanted to make this a trailer worthy of the Abobo name, and Brad absolutely delivered. Now I owe him an expensive dinner... I sure hope he likes In-N-Out Burger.
Watch it once. Watch it twice. Watch it a thousand times. Please help spread the word, because this is a free game made by the fans for the fans, and soon you'll all get to play through the entire thing. All hail Abobo!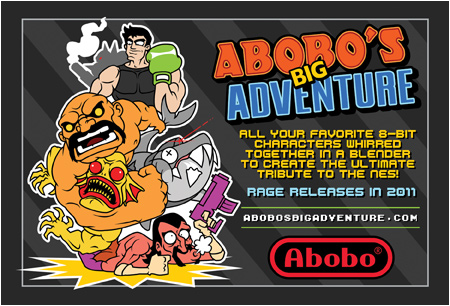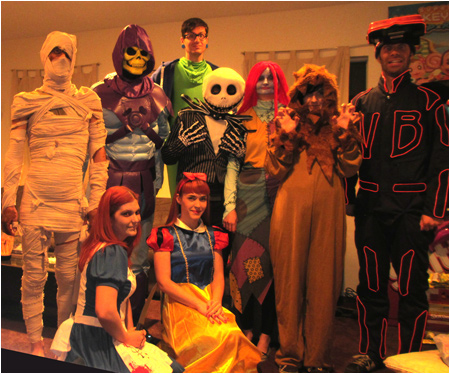 So Halloween has come and gone and I had another fantastic time celebrating my favorite day of the year by going out trick-or-treating with the chums you see pictured above. While I'm now recovering from the past two months of nonstop Halloween madness, and preparing to wrap up a certain huuuuge game whose titular character kinda rhymes with "Robohobo" (which sounds like an awesome sequel to Robocop, doesn't it?), I thought I'd share with you some photos from our October 31st trick-or-treating adventure. So continue after the jump to see all the pics for one last dose of Halloweeny goodness. (more...)