Just wanted to give all of you a quick update on Grave Chase. We now have everything working for the game on Steam, including over 50 achievement medals, unlockable trading cards, badges, and wallpapers. Still deciding on a release date, but suffice to say, I think releasing it this fall is the way to go with a Halloween game like this. I'm leaning towards sometime in September, but soon as I have an official release date, I'll be sure to announce it on here. I'm also working on another big game project that you're gonna love, but mum's the word on that one for now.
We also had our first public demo of Grave Chase at the recent SC3 arcade meet-up, and it was a blast watching the attendees play it! All the feedback on it was great, and I'm glad that everybody liked how challenging the game was, as we didn't want it to be a cakewalk. Yes indeed, the Groundskeeper and his graveyard minions claimed many lives that day. I'm also planning on having a playable Grave Chase demo at our San Diego Comic-Con booth in July, so if you're attending, you'll be one of the first to try it out!

[click here for high quality video]
And if you'd like to see some footage of the game in action, Phillip O'Riley was kind enough to film the fun happenings at SC3, and he had me demonstrate some of the gameplay in Grave Chase. You'll see it in the above video starting right around the 3-minute mark.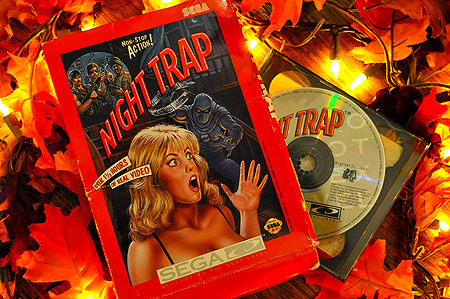 In other gaming news, Night Trap, the infamous FMV game about a vampire slumber party, is returning to consoles for its 25th anniversary. It's definitely something I never expected to see happen, but I'm glad a new generation of gamers will get to experience this hilariously cheesy game. What's nice about this upcoming release is they actually re-captured all the original footage, as seen in the new trailer, so you'll be able to view it in all of its early 90s b-movie style glory. While you wait for the game to come out, check out our in-depth look at Night Trap here.
Hope you enjoyed the huge pictorial of Arcade Expo 2017 that I posted recently too. Be sure to check it out if you haven't already, because there were some incredibly rare games on display, including one that's been on my bucket list to play for ages!
Alrighty, that's all the news for now. More to come soon!