Having released our "8-bit Worlds Collide" pixel poster, Pox and I decided it was time to take our pixels where no pixels have gone before. Yes indeedy, we've decided to do an all Sci-Fi themed pixel poster set in outer space! As always, we wanna give all of you a chance to help create it. We always love seeing what awesome ideas you come up with, as many of them have ended up on our previous prints, so it's time for you to use your noggins once more to help us produce another pixelated universe that'll keep your eyes occupied for eons!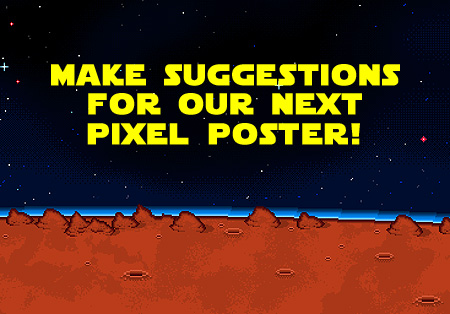 With that in mind, please post your suggestions below for characters, ships, vehicles, and anything else you'd love to see in our next pixel print in the comments section below - you don't even need a registered account to post 'em! Be sure to make as many suggestions as you can come up with; the more we receive, the more likely it is that we'll include some of 'em on this poster. Also, if you can, please make sure your suggestions have something to do with Science Fiction. It doesn't matter if it comes from movies, television, comics, cartoons, toys, or something else entirely... all we ask is that it has something to do with science fiction and/or outer space. To help get your creative juices flowing, here's a small sampling of the happy chaos that can be found on our previous pixel prints: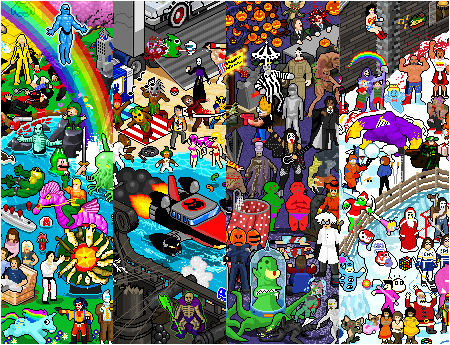 I'm really excited about this next print, as Pox and I already have a really good start on it and it's looking great. Also, for those of you who haven't had a chance to pick up our "8-bit Worlds Collide" prints, they're still available here. So many pixel battles being fought simultaneously all on one poster!
Alright, start posting your suggestions here in this thread and maybe your ideas will end up on our next big pixel print!