This past Wednesday night, some friends and I went to see the first theatrical screening of the 1997 Christmas horror-comedy Jack Frost: The Mutant Killer Snowman in 35mm. Longtime readers of I-Mockery know just how much I love this movie. I was working in a video store when it came out and would constantly swap copies of it into the boxes for the Michael Keaton film of the same name. Good times!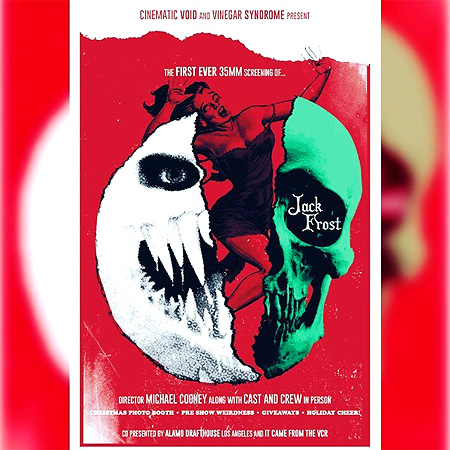 Back then, I never would've imagined that I'd one day get to see Jack Frost on the big screen, since it was such a low budget flick that was destined for a direct-to-video release from day one. Fortunately, thanks to Vinegar Syndrome (who just re-released the movie on Blu-ray) and Cinematic Void (who helps bring films of this nature to the big screen), Jack Frost finally got its 20-years-overdue public screening in front of a large audience at the Egyptian Theatre in Hollywood last night.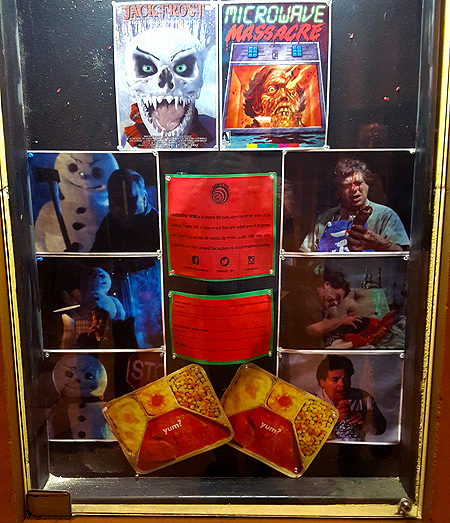 It was a rainy night in LA as we walked up to the box office (yes, rain does actually exist here a few times a year), and I noticed a little homage to Jack Frost off to the side, featuring artwork and stills from the movie. The Egyptian doesn't have big movie marquees, so it was nice to see they at least had something to promote the event outside.
After we collected our tickets, we stepped inside and saw some of the surviving props from the movie including one of Jack's carrots and an axe that he shoved down one of his victims throats. Even better, director Michael Cooney brought his personal, one-of-a-kind, full-sized Jack Frost lenticular poster with him. If you were around when Jack Frost was released on VHS, the entire reason that it caught anyone's attention back in the day was because a marketing guy decided to give the box a lenticular cover that morphed Jack from a happy snowman to a monster with a gaping maw and razor-sharp fangs. Seeing the full-sized lenticular poster made me drool, and I can only hope that one day this poster will be made available for fans of the film to purchase. Hey, if a 35mm screening of this flick can happen, nothing is impossible.
We soon took our seats and I was pleasantly surprised to see that it was a fairly packed house. Considering the event didn't have a huge promotion, and we're talking about a 20-year-old rental video, it was quite heartwarming to see so many people who had a soft-spot for ol' Jack Frost. Before the movie began, they played a variety of classic Christmas cartoons, commercials, clips, and trailers - including Silent Night, Deadly Night and the He-Man and She-Ra Christmas Special. This really helped set the mood for the evening, and proved to be a great lead-in for the movie.
After that, the guys who were putting on the event came out to give away some free tickets and some copies of the new Jack Frost Blu-ray before the movie began. But there was a catch - three lucky contestants had to go up in front of the audience and eat some Little Debbie Christmas cakes as quickly as they could. The two people who finished theirs first, would receive the Blu-ray, and the one who didn't... well... he got a belly full of hastily devoured sugar. Not a bad consolation prize.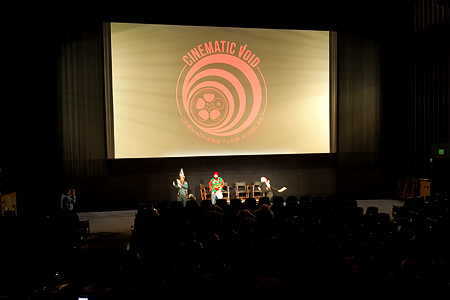 Even more amusing, they brought roughly 10 boxes of the cakes, and started hurling them into the crowd. Keep in mind, The Egyptian is a large theatre, so they had to throw them with great force to reach the back rows. Seeing Christmas cakes fling through the air, bounce of the balcony, and land in the hands of some fans had everybody laughing, and it really encapsulated the hilarity of the night that was about to take place on the screen before us.
Jack Frost then began playing, and it was so much fun watching my all-time favorite Christmas horror movie with a large audience. Like me, many of these people had seen the movie dozens of times, and knew all the lines and gags (such as the "Idiot" character who always appears in the background), and you could just feel the anticipation amongst us whenever our favorite moments were about to take place. It was also a blast to hear people who had never seen the movie before, including John (Dr. Boogie), react to the countless classic moments of ol' Jack chilling and killing. Considering there's only one 35mm print of Jack Frost in existence, it's safe to say that we all felt very lucky to be there watching it.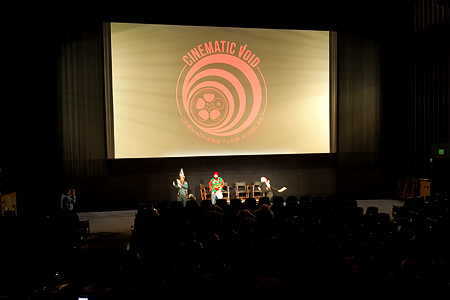 After the movie concluded, they brought out some of the cast & crew members who worked on it, including writer/director Michael Cooney, Scott MacDonald (Jack Frost himself!), Marsha Clark (Marla), Dean Lent (DoP), and Brett Boydstun (aka: "Idiot"). They reminisced about the film during a Q&A session, and they made it quite clear that they had loads of fun making it. And that's something I've always said about Jack Frost - you can just tell they had a great time filming it, because they didn't take themselves too seriously. It goes a long way, and the fun they clearly had makes the movie all the more endearing.
They also opened it up to questions and comments from the audience, and I was happy to tell them about my old video store switcheroo prank memories, which they loved. Cooney laughed about it and commented, "The fact that they released another movie with the same exact title as ours at the same time, shows just how little they cared or worried about our version of Jack Frost." There was no lengthy discussion of co-star Christopher Allport (Sheriff Sam Tiler), who tragically passed away eight years after filming the sequel. I'm guessing it's because his passing was such a shock, as most people don't know he actually died in an avalanche of all things. The man who battled Jack Frost for two films actually died in the snow in real life. What are the odds!? I thought about bringing it up to hear their thoughts on it, but didn't want to put a damper on an otherwise festive occasion, so I decided not to.
For those who didn't get to attend, you'll be happy to know that Michael Cooney assured us that most of the things he and the cast discussed at the screening are mentioned in the directory commentary track on the new Jack Frost Blu-ray release. If you're interested in it, Vinegar Syndrome has a limited edition lenticular cover Jack Frost on Blu-ray (which animates beautifully, thanks to artist Chris Garofalo), available exclusively on their web site here. Definitely worth picking up.
After the Q&A ended, most of the guests went to the pub next door for a drink, but Michael Cooney and Scott MacDonald stayed behind to sign autographs and take photos with the fans. I talked to Michael some more about doing a Kickstarter for Jack Frost 3, and while he said he doesn't know how Kickstarter works, I assured him it was well worth looking into. Considering there were that many people showing up to a screening for the film on a rainy weeknight, it's quite clear that there are a LOT of fans out there who would gladly support a third Jack Frost film featuring a giant "Jackzilla" like Michael mentioned. I mean, somebody even dressed up as a snowman for the event. This little cult flick truly has some die hard fans. Hopefully he'll make it happen, because outlets like mine and many others will gladly help promote it to make sure it happens. Our only request? No CGI characters. Keep it true to the style of the original Jack Frost - a lovely low budget film with practical effects.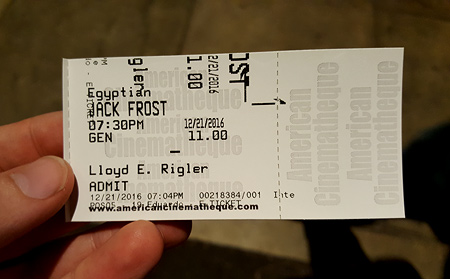 All in all, seeing Jack Frost in a movie theater, alongside like-minded fans and the star and director of the film, was a magical event that I never would've imagined being possible. Huge thanks to all the people involved in making this special event happen, including Vinegar Syndrome, Cinematic Void, It Came From The VCR, Scott MacDonald, the other cast & crew members who showed up, and of course, Michael Cooney. Jack Frost getting its first theatrical screening 20 years after it was released was truly a Christmas miracle.

Looks like Santa decided to deliver an early present for us this season! After years of talking about covering the game, thanks much in part to suggestions from fans like you, James and Mike from Cinemassacre / AVGN have finally filmed a full-playthrough of our Abobo's Big Adventure game. It's now up on YouTube in a 2-part video series, and I had a blast watching them play through it all. Seeing their reactions to the grand finale of the game was particularly great, and watching it bring James, the Angry Video Game Nerd himself, to actual tears of laughter put a huge smile on my face. You can watch the full video play-through below:
Part 1

[click here for high quality video]
Part 2

[click here for high quality video]
Even though it was released years ago, I'm always humbled by how many people are still playing our game and introducing it to people who never knew about it. Big thanks to James & Mike for helping introduce it to their audience, and thanks to those of you who kept suggesting they play it over the years!
On an unrelated note, I have a gargantuan new pictorial piece coming up this week that's gonna warm up your winter holiday season like nothing you've ever seen before. It's based on an amazing trip I recently took to a unique holiday destination. It's a place I've been meaning to visit for years, and it blew my expectations away. Keep an eye out for it this week!
EDIT: It's now up! Check out my huge walkthrough of Robolights 2016!

December has arrived, and just as winter begins to send chills up our collective spines, I can think of no finer time than to discuss some monsters with you. Cartoon monsters, to be exact.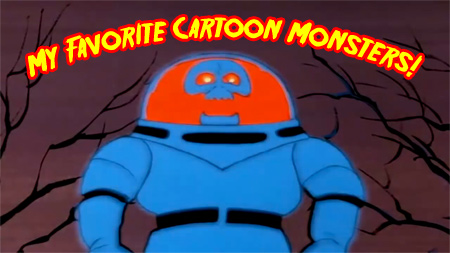 My Favorite Cartoon Monsters: Part 1 is my latest article for my chums over at Dread Central, and I cover some characters that'll surely bring back memories for you. Monsters from G.I. Joe: A Real American Hero, Scooby-Doo, Where Are You!, Looney Tunes, and more are covered in this first piece. As always, thanks for reading, and please do me a solid by posting in the comments section of the article on Dread Central and sharing what other cartoon monsters you'd like to see me cover in future installments.
More fun coming soon! Happy December, everyone!