Back when I was a kid, I dreamed of going to a big Wrestlemania event to meet Rowdy Roddy Piper. He was by far the most entertaining wrestler of what I (and any sane person) consider to be the golden age of wrestling. His character was loud, obnoxious, filled with Scottish rage and absolutely hilarious as he antagonized countless others in and out of the ring. Oh how I longed to see "Piper's Pit" in person. Well, that childhood dream came and went and I figured I'd never get to meet my kilted hero.
Well, that all changed today. Behold!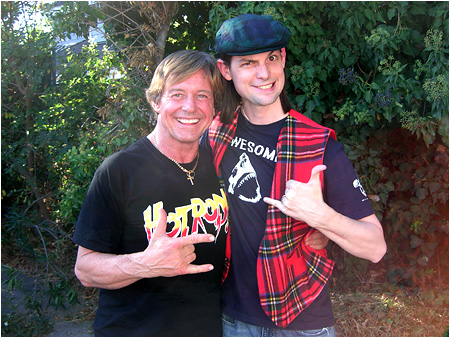 Yep, my all-time favorite WWF superstar, Rowdy Roddy Piper, was doing a comedy video shoot earlier today for Funny Or Die and I was lucky enough to be one of the guys in it. Obviously, I can't spoil any details about the video, but I guarantee it's going to kick ass (we were all out of bubblegum) whenever it goes live. For a guy who played such an antagonistic character in the public spotlight, Roddy was as nice as anybody I've ever met. He hung out and cracked jokes with us during the entire shoot, and you could tell he was genuinely happy to be there. So yeah... this was definitely one of those days I'll be remembering for quite some time to come. The the childhood eighties WWF fan in me simply couldn't be any happier today. Gonna have to try catching him the next time he does some stand-up comedy too.
While you wait for the FoD video to launch, here are a few articles of ours involving Roddy Piper's finest exploits outside of the ring:
-"Tag Team" Pilot Episode (starring Roddy Piper and Jesse Ventura)-
-Cyndi Lauper's "The Goonies 'R' Good Enough" music video!-
-Hell Comes To Frogtown!-

Looks like this is one of those weeks where I'm getting caught up on things now that our move is pretty much done with (except for the unpacking part). I already put up the long overdue photo gallery from our road trip to Mexico, so be sure to check that out if you haven't already. I was also just informed by Sam Proof that he just posted a lil' interview we did at the 2010 San Diego Comic-Con, so be sure to check this one out, because I unveil a *secret* about one of our recent games and you'll also get to see more footage of Abobo's Big Adventure in action!
You can watch the interview in a larger window here. He also stopped by our booth last year and you can check out that interview here if you missed it. Thanks again to Sam for doing another interview with us... hope we can do another one in 2011!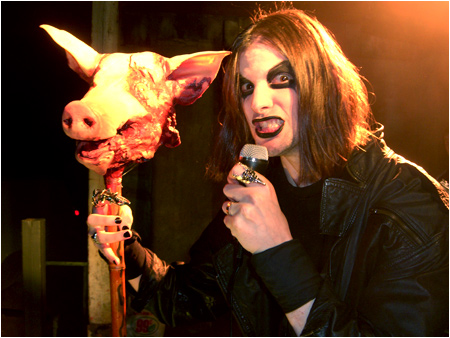 NOTE: Episode re-airs Saturday, November 20th at 2:30pm PST on G4. The segment is about the three "toughest rockers" - Ozzy, G.G. Allin, and Mayhem. Hope you can catch it! It's also available on iTunes, PSN, Xbox Live and Zune.
Yep, that's me. There's a new show called "That's Tough" coming to G4 TV in October focusing on the toughest people, places and things in the history of the world. Naturally, they chose to have me be on it. Har! They actually had me playing the lead guy from the infamous Norwegian black metal band Mayhem who killed himself years ago. Not sure when the episode / segment is gonna air for sure yet, but I'll be sure to post about it as soon as I hear more.
Anyway, it was a great shoot and I had a lot of fun being up on stage with that severed pig head while screaming in front of a crazed, headbanging audience. I've been a rocker of some sort in the last two shoots I've done... looks like I'm already being typecast. Actually, seeing myself in all that makeup really brings me back to the days when I was working on the ol' Metal Mockery site as I'm sure many of you old school I-Mockery chums recall. The Logo Deciphering section was always my personal favorite part of that site. Good times.
During some of my down time on the shoot, I was checking out one of the boxes filled with props and I found something that I knew would make for a perfect picture:
By combining my black metal costume with the baseball gear I found, I turned myself into a member of the Baseball Furies gang from The Warriors! Now if you'll excuse me, I clearly need to go find some nail polish remover.
QUESTION: If I was going to start up a metal band of some sort, a) what would you name the band and b) what would be my stage name?

It's been an insanely busy month what with moving 'n all, but I've finally finished putting together my gargantuan gallery of photographs from the 2010 San Diego Comic-Con! Check it out!
It always feels good to get a huge article like that published on the site, but the Comic-Con one is particularly special for me. Not only is it great to look back and see all the great memories from the convention, but completion of that article always means one very important thing to me: Halloween season is getting very close!
I-Mockery's annual "Two Months of Halloween" will be back once again this year and I'm definitely looking forward to it. Of course, I'm still in the midst of moving and have a million other things to get settled, but I'll do my best to keep the site updated regularly throughout the season. I was in a store just last night that already had a ton of Halloween stuff out, so you can expect a post about that soon.
Hmm... I just realized that I don't even know what I'm going to dress up as this Halloween. Time to start brainstorming. How about you guys? Have you already started planning your costumes?

Just wanted to let you guys know that the 2010 San Diego Comic-Con was absolutely awesome and I am working on putting together another huge gallery of roughly 1000 photos from it. It's just gonna take a bit longer since I'm also in the process of packing up my place and moving (among other things that are keeping me plenty busy). You'd think a nomadic bastard like me would be used to moving by now and have it down to a science, but nope... it's just as time-consuming and exhausting as ever. I wish Elizabeth Montgomery would just show up, wiggle her nose and make all my crap instantly appear in a new home. That's what all witches should really do... start moving companies.
Anywho, I'll do my best to get this big photo gallery piece cranked out as soon as possible, and I'm sure it'll be worth the wait because we got some great photos of all the crazy costumes, toys and more.
In the meantime, please explain why this exists: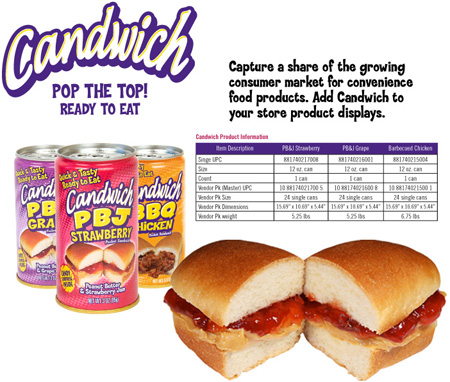 Candwich. The sandwich in a can. CANDWICH!