I just snagged a copy of "Ren & Stimpy : The Lost Episodes" and I'm absolutely loving it. I hadn't seen this show in ages, and since all of the episodes on this disc weren't available before, it's like continuing where I left off back when the show was first on TV. The humor is still hilarious in that gross-out way that only Ren & Stimpy can do. There's still plenty of those awesome highly-detailed close-ups of nasty body parts (such as an wax-caked ear or an extremely hairy man ass) in addition to the ever-growing fury of Ren. I must admit, it was a bit weird seeing nudity in the show, (ie: the "Naked Beach Frenzy" episode) but it's handled in that silly R&S way that it doesn't come off as perverted at all like some hentai bullshit or what have you. Besides, while Ren is always horny as hell, he always somehow ends up stuck in the darkest crevasses of some hairy manbeast, rather than with the beautiful girls he's been drooling over. It's just pure hilarity.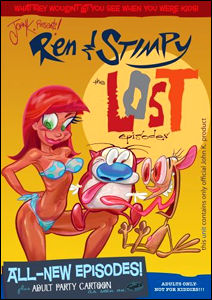 As an added bonus, Weird Al Yankovic introduces the DVD and you just can't go wrong with Al. After growing up on his musical parodies, and worshipping the movie "UHF," I'll always be a Yanko-fan. "You make me want to staple bagels to my face, and remove them with a pitchfork!" Turns out John K. (creator of Ren & Stimpy) did the artwork for one of Al's upcoming music videos, so keep an eye out for that one.
So here's a question, if you had to pick your favorite Ren & Stimpy cartoon moment, what would it be? I'm torn between Ren going absolutely insane in the "Space Madness" episode where he shows his adoration for his beloved ice cream bar, and Powdered Toast Man always flying backwards. I don't know why, but I always loved that. So yeah, what's your favorite Ren & Stimpy cartoon moment?
Side note #1: The 2006 San Diego Comic-Con Photo Gallery is up! Check it out!
Side note #2: PoX just put up his PickleMan's Breakfast Battle movie on Newgrounds. Help it out by watching it and voting for it! Click here!

Tonight we'll be heading down to San Diego for the 2006 Comic-Con. I'll be roaming the floors on Saturday and Sunday to check out the latest in movies, video games, toys, art and comics! Sadly, I won't have much I-Mockery stuff on me this year because of the move to California and a complete lack of time to plan for the convention. I won't even be wearing the Pickle Hat, so it'll be harder for people to find me. Sure, I'll have a black I-Mockery logo shirt on, but there's more black shirts at the Comic-Con than there are grains of sand on Earth. So yeah, if you're going, good luck finding me. If you do, though, I'll hopefully have some stickers and buttons to give ya at least.
Speaking of finding me, an I-Mockery reader said they saw me driving with Re on Sunset Boulevard the other day. Pretty crazy considering it's such a huge city (and it's not like I was wearing the Pickle Hat).
So anyway, what stuff should I definitely check out at the 'con on Saturday and Sunday? Anything super-awesome that I should be aware of? Also, next year, I'm hoping to get a booth for I-Mockery since I'm sure I'll have plenty o' time to plan for it. I like thinking about all the crazy stuff we'd have going on at the booth... seems like it could be a lot o' fun.
EDIT: For those of you attending the Comic-Con this year, be sure to stop by the Young American Comics booth. They'll be selling copies of the newest "Big Ol' Book of BIZMAR" and yours truly has a comic in it that I did with Re. It's a fun book with some great artists who all contributed their own comics - over 75 stories combining Bunnies, Insects, Zombies, Monkeys, Aliens and Robots.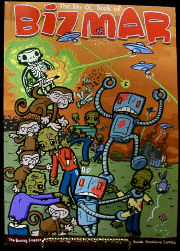 How can you go wrong with that?
EDIT #2: Also be sure to stop by the Behemoh's booth. Not only will they be showing their awesometacular upcoming "Castle Crashers" game, but the Newgrounds sketchbook will be there for anybody who wants to read through it. And once again, yours truly made a contribution to it which you'll get to see.




2D lives on with Castle Crashers!

I was at a Target store the other day and, of course, one of my required stops any time I go there is the toy aisles. As I'm walking up and down the aisles looking at all the latest toys (most of which are movie tie-ins for Superman Returns or Pirates of the Caribbean: Dead Man's Chest) I notice something on one of the end caps...
Pogo Ball!
It was cool to see a Pogo Ball, since I didn't know they even made 'em anymore, and that it hadn't changed at all really. In all honesty, I prefer the a pogo stick and I'll challenge any of you bastards to last longer on one than I can. I can even last longer than the little girl on the pogo stick in Tremors.
Anyway, when I got back home I check around the web a bit for info on Pogo Balls. Why? Because this is the sort of shit that entertains me, don't ask me why. So, during my search I come across a newer version of the Pogo Ball...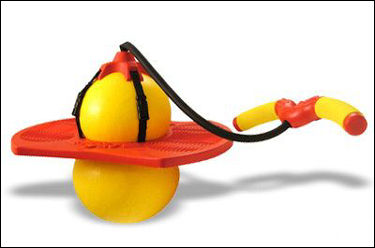 The Zoingo Boingo.
What bastardization of a childhood memory is this? It looks like someone put a strap around the Pogo Ball for some twisted bouncy S&M pogo action. Maybe I'm a just a purist, but I always liked how the original Pogo Ball wasn't easy to use. You actually had to practice it to be able to do anything remotely cool and this new "Zoingo Boingo" pogo-ball-horror contraption appears to take all that out.
Know your Pogo Ball roots.

So after a meeting I had today, I went to a pizza shop on Sunset Boulevard with Re for lunch. We're just sitting there minding our own business talking about whatever when all of a sudden, this guy sitting one table over from me leans over and asks me a question. He asks it very quietly so that nobody else can hear. Nobody including me. So I politely respond with, "What?" He asks again and I still can't hear a word he says. "What???" He asks once more and this time I finally hear his question:
"Excuse me, but are you Ashton Kutcher?"
Caught completely off guard, I responded no, but I wish I had said yes. I could've strung him along for a while and maybe even signed an autograph or something. Re burst out laughing and I couldn't help but snicker too, mainly because this is the third time in the last year that somebody has said I look like Ashton. This does, however, mark the first time I've actually been mistaken for him - from only 3 feet away no less. Personally, I don't see it... but damnit, I need to be prepared next time! I've gotta start carrying around a John Deere hat with me or something.

Having already tasted my fair share of Superman Returns treats, and receiving email suggestions from a bunch o' people, I broke down and bought a box of Cap'n Crunch's Limited Edition Superman Crunch. The only difference about it is that it comes with Superman shield emblems instead of the usual crunch berries. Here's the kicker though, the red shields turn your milk blue. SCIENCE!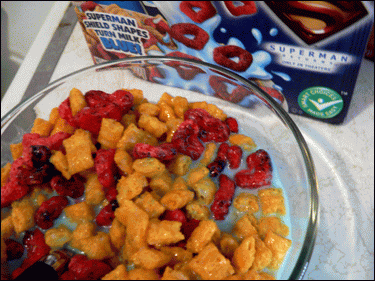 As you can see, it's not the brightest blue out there, but it still gets the job done. Most importantly, however, it tastes as good as ever. I do have one question though, have they changed Cap'n Crunch over the years? I used to remember this stuff literally shredding the roof of my mouth after eating it. Granted it's been a good while since I've had the stuff, but it didn't even break the skin this time. Have they made Cap'n Crunch less destructive? I'm not sure if I should be happy or sad about it. On one hand, I'm glad my mouth isn't in pain. On the other, I always kind of liked that you had to endure the cereal. That was the trade-off for enjoying something so tasty. Well, I'll eat a couple handfuls of the cereal without any milk later on and see if that does the trick. Guess that makes me a cereal sadist.
And while we're on the topic of cereal, I just stumbled onto an old photo of me forcing McClain to eat a bowl of Boo Berry cereal: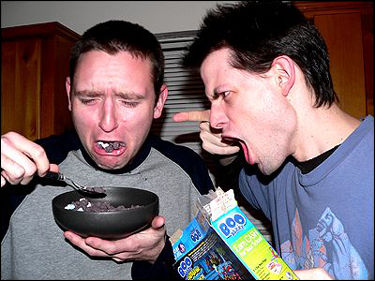 One of my favorite photos for sure.
update: On another breakfast-related note, PickleMan's Breakfast Battle is now online!

So I'm sure you've all heard about the Sony PSP ad controversy by now. If not, here's a quick look at the ad that had a lot of people in an uproar: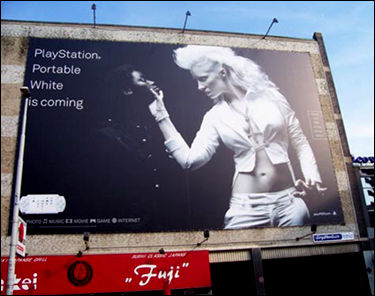 A lot of people were saying it was racist since it said "white is coming" and features a white person attacking a black person. While I think the ad is definitely a bit odd, I don't think it's racist. I'm sure half of the people who are attacking the ads are Nintendo DS fanboys anyway. I'm a huge DS fan and I don't even really like the PSP, but I just don't think that ad was meant to be racist. Just a little too artsy and stupid, but not racist. Now if they had done something more like this: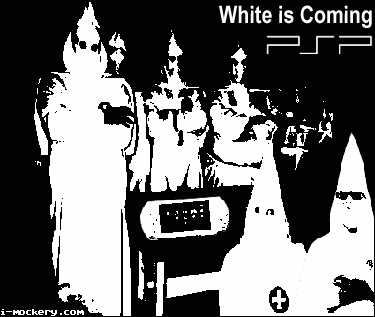 Well then people would clearly have something to be worked up about. So what's your take on the whole PSP ad controversy?
(and yes, that one guy is wearing sunglasses because he just thinks he's cooler than the other racists)