I'm still recovering from all the madness at Comic-Con, and I wanted to thank all of you who came by our booth to support the site and/or just say hi. Had a great time seeing familiar faces and meeting new ones!
Anyway, I'm happy to report that after a long two-year hiatus, Keith Apicary's "Talking Classics" is back, and I have a small bit in the first episode (in addition to helping shoot a lil' segment). It's all about the Turbo-Grafx-16 and its original star. Nope, not Bonk. Keith Courage! Hope you can handle that much radness packed into a single episode. Take a look:

[click here for high quality video]
Hope you enjoy it, and more updates coming soon! I'm already itching for our annual Two Months of Halloween to get started come September 1st!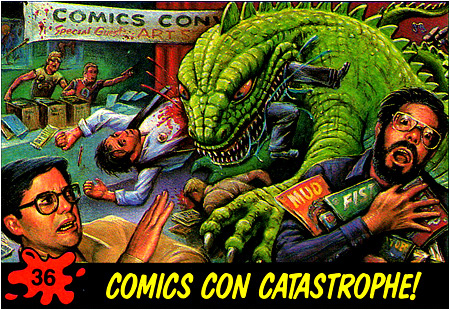 You too could experience the thrill of being mauled at Comic-Con!
Holy crap, what a busy day! It's now Thursday at 1am, and this is honestly the first chance I've had all day to sit down and talk about how we're exhibiting at 2015 San Diego Comic-Con. It's hard to believe it, but this will be I-Mockery's seventh time as an exhibitor, and I'm excited to see all the familiar faces (and new ones) who stop by our booth. Be sure to pay us a visit if you're coming to Comic-Con as we'll be at (Booth #E10 - near Aisles 600 & 700 on the West side of the convention center - here's a handy map). As always, we'll have a variety of nifty things for you to check out, and here's some of what you can expect: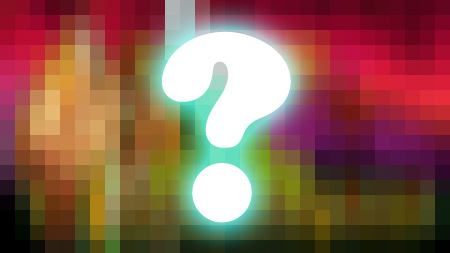 -I'm SUPER excited to be announcing Team Bobo's first new game since we made Abobo's Big Adventure! Yep, all three of us are getting back together to make something completely original this time around, and we simply cannot wait to share it with you all!
-The unveiling of our brand new "8-bit Pixels In Space" pixel poster! Pox and I have been waiting to show this one to all of you for a while, and it'll make for a perfect set to go with the 8-bit Worlds Collide poster that we released last year. Any fans of outer space and sci-fi pop culture in general are gonna LOVE this one!

-Rad Packs! Another Comic-Con first for us; we'll have a limited number of "Rad Packs" available for purchase at our booth this year. They'll have a wide variety of vintage trading card and sticker packs (over 80 total!), along with some toys!

-A set of four incredibly stylish 8x8 Halloween Witch Prints by Strangepuppets!

-We'll still have our giant Abobo on-hand, waiting to pose with you for a very special photo opportunity.

-I-Mockery t-shirts!

-I-Mockery Button Packs!

-I-Mockery Magnets & Stickers!

-PickleMan comic books! Protoclown's comic books!

-They've been a staple at our SDCC booth every year, so why break with tradition? Free ultra-gory "Dinosaurs Attack" vintage trading card packs from the eighties with every purchase while supplies last! (this site is old as a dinosaur, so why not?)

-The latest videos from my YouTube channel and more!

-Screen Junkies (where you've perhaps seen some of my appearances on "Movie Fights" or seen some of the "Honest Trailers" I've co-written) are holding a special meet & greet at our booth on Saturday from 1:30pm - 2:30pm!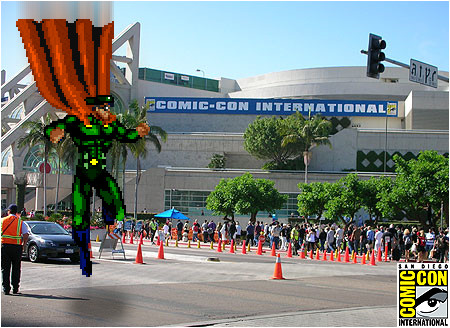 As always, we had an absolute blast last year, so I can't wait to head on down to the convention and get started. It's too much fun meeting longtime fans of the site along with all the new ones. We've put a ton of work and cash into making this happen once again this year, and it's all because want to celebrate the 17+ years this site has been online with the fans that have kept us going! So, if you're going to be at the Comic-Con, be sure to stop by I-Mockery Productions Booth #E10 - near Aisles 600 & 700! (here's a map to our booth)
Myself, Re, and some other pals will all be there at the table again this year, so if you're attending, please stop by and say hello! And yes, to those of you who've asked, we'll be more than happy to sign anything you buy (or any other weird things you bring to the convention for us to sign). We'll even sign your face if you remember to bring it with you.
For those of you who can't come, we're sorry you're gonna miss it, but rest assured we'll still do our best to take as many photos of the convention as possible, though things got so busy I didn't even have a chance to post them online last year (again). Obviously, we're gonna be super-busy with the booth, so getting time away from it to take pictures is always tricky. Once I'm back in town from Comic-Con, I'll do my best to post them if I'm not too swarmed with work... but I'll also be gearing up for our annual "Two Months of Halloween" season, which takes precedence over the SDCC photos.
Again, for those of you who've never been, I feel I need to once again remind you of a very important fact: despite the misleading name, the Comic-Con has MUCH more than just comic books. True, if you're a fan of comic books, you'll be in heaven, but if you're not that into 'em, there's still PLENTY for you to do. Over the years, the convention has basically become a mega-media event. The convention center is chock full o' the latest video games for you to test out, tons of movie promotions, toys galore, incredible costumes, and some truly amazing artists as well. If anything, comics have taken a backseat to all the other crazy things going on at the convention. So yeah, the name is really misleading to some people, and that's unfortunate because they have no idea what they're missing out on.
Be sure to keep an eye on the I-Mockery Twitter and I-Mockery Facebook pages throughout the week. As always, I'm gonna be super busy, but I'll do my best to update them with fun photos and news from Comic-Con whenever I have a chance.
Alright, that's all for now. Wish us luck, cuz this is gonna be one hell of an insane week... again!
If you want to relive the Comic-Cons of yesteryear, here's a look at just some of our huge photo galleries: [2012] [2011] [2010] [2009] [2008] [2007] [2006] [2005]

I attended another Anime Expo last week, and while Dr. Boogie (my trusty cameraman at these events) was out with a foot injury, I still brought along a tripod to get the job done. I always have an awesome time seeing the amazing costumes that people put together (99% of which are referencing something too obscure for me to recognize). Due to Comic-Con preparations, I only had enough time to hang out for one day this year, but it was more than enough time to get enough funtastic footage for TWO new videos showcasing some of my favorite costumes & sights for those of you who couldn't attend. Take a look:
PART 1:

[click here for high quality video]
PART 2:

[click here for high quality video]
Hope you enjoyed this latest batch o' videos along with all the amazing costumes, and I'm really looking forward to attending Anime Expo once again next year. As always, please drop a comment on the Youtube videos to lemme know whatcha think of 'em, and please subscribe to my channel if you haven't already to be notified whenever I release a new video. Also, in case you missed it, you can watch my Anime Expo coverage from last year HERE.
And now I gotta resume prepping for Comic-Con 2015! I'll have info about our booth at Comic-Con posted in the next day or so. Hope to see a bunch of you there again!