Remember those important words from "New Year's Evil" tonight:
Don't dare make New Year's resolutions... unless you plan to live!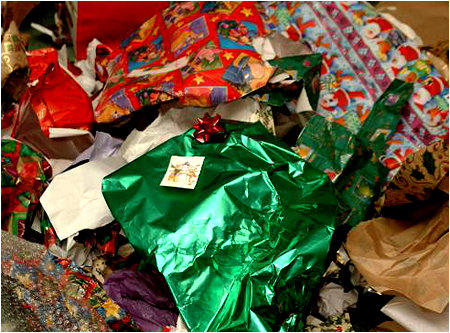 Hope everybody had a great Christmas holiday! So what did Santa leave under your Astro-Weenie Christmas Tree this year? Yeppers, you know the drill... post what gifts you received over the holidays this year so we can all be extremely jealous and decide who we need to burglarize in the future. I'll post my holiday haul soon, but I still have my birthday to survive today. I'm sure I'll be devouring a Carvel ice cream cake at some point, so that's a damn good start.
Okay, on with the gifts! Post lists of whatcha got and feel free to include photos of your Christmas holiday hauls! Let's see just how spoiled you bastards really are!

Just in time for Christmas, my buddy Andre Meadows (aka: Black Nerd) and I decided we needed to come up with some replacements for Santa Claus should the jolly ol' guy ever kick the proverbial bucket. So here are two videos - one on my channel, one on his - featuring some of our selections for Santa replacements. Please drop a comment in each of our Youtube channels to let us know what ya think of the videos and who you think would make a good replacement for Santa!
PART 1:

[watch in high resolution]
PART 2:

[watch in high resolution]
Hope you enjoy both videos and hope you all are having a spiffy holiday season! More site updates coming soon.
p.s.: In case you missed it, we also shot two Christmas videos together last year that you can watch here.

So I watched Gremlins last night, what with it being the Christmas holiday season 'n all, and it may surprise you to learn that the movie made me a little angry. Here's why:

[click here for high quality video]
Please check it out and drop a comment on Youtube and feel free to make suggestions for moments that might make me mad in future episodes on my new Youtube channel.

I love ugly Christmas sweaters. If you've seen some of the old Doc Mock's Movie Mausoleum holiday episodes, you've probably seen a few of my more ridiculous ones already. It's become a tradition of sorts for me to buy a new cheap one every year at flea markets and such, because there's something about wearing a sweater so bright and tacky that it instantly puts your brain in full-on holiday mode. This month, I was surprised to find some amazing new ones based on pop culture icons in my mailbox:
Turns out my chums over at 80sTees have gotten themselves into the ugly Christmas sweater business, but they've put their own spin on the concept by making them less ugly and more awesome with the addition of fictional characters from my childhood. In this first one, they pay homage to the incredible He-Man and She-Ra Christmas Special, which you know I'm a huge fan of if you've read my in-depth review of it. Having a Christmas holiday sweater with these two Eternian heroes amidst a snowflake backdrop is something I never would have dreamed would be possible. Of course, I never thought I'd see a DVD release for the special too, yet it happened. Gotta love how He-Man is even wearing a Santa hat. Here's hoping they do one for Skeletor next year too.
Next up is this Star Wars sweater featuring Darth Vader and his very special Christmas tree. You see, when Darth celebrates the holiday season, he does so in style by decorating his tree with Tie Fighters, X-Wing Fighters, and glowing lightsaber ornaments. My favorite part of the design, however, is the fact that Darth is using the force to place a Death Star as his tree topper. Classic! And hey, at the very least, this sweater is infinitely better than the Star Wars Holiday Special or the Star Wars Christmas Album.
Here we have the Teenage Mutant Ninja Turtles ready for a radical holiday season. I really like that they're placed in front of that classic diamond sweater pattern to give it a more authentic look. Also, it still weirds me out anytime I see Raphael looking happy. This is the same grumpy turtle who saw Critters and got in a fight with Casey Jones in the same night. I'd love to see a design with him standing off to the side, dressed like the Grinch, while the other three turtles smile and eat a Christmas themed pizza. Still, it's a sweater with all four turtles wearing Santa hats... you just can't go wrong with that.
Last up, it's a Transformers themed Christmas Sweater featuring Optimus Prime and Megatron as nutcrackers. Now, I'm sure there's plenty of disturbing fan fiction out there featuring Optimus and Megatron crunching on some nuts, but this is the first time to my knowledge that they've appeared on a Christmas sweater. Even better, they've been given special holiday names on the sweater: Nutcracker Prime and Crackertron. That's pretty great if you ask me, and at least they didn't turn Optimus into some kind of corporate shill like when he was once turned into Pepsi Prime. Fantastic.
I should also mention these aren't itchy like the old wool sweaters grandma used to make. They're warm faux sweaters made from a cotton polyester blend, so they're definitely comfortable to wear around the house while having your fill of eggnog as you watch yet another marathon of A Christmas Story. My favorite of the bunch is probably the He-Man and She-Ra one, probably for nostalgic reasons alone. How about you? Big thanks again to my pals at 80sTees for sending these my way!

I just kicked off the Christmas holiday season in less-than-merry fashion. So, when I was a kid, I got into a bicycle accident (face first with a truck) and my front teeth were shoved back up into the gums as a result. Yeah, it hurt. I had to have all kinds of dental surgeries back then, they told me that one of my front teeth was dead and would likely fall out later in life. Well, despite being dead, yellow, and subjected to more Halloween candies than you can imagine, that tooth hung on for decades against all odds. Sadly, I was recently informed by my dentist that it was time for the tooth to go, for it had dropped down some more and I was risking infection. So this is how my Christmas holiday season started off - with a tooth extraction.
I only wish they offered some kind of twinkling LED Christmas light novelty replacement tooth that I could wear all December instead of a normal one, because I'd be all over that in a heartbeat. But hey, if nothing else, I at least got a wonderful holiday greeting card out of it: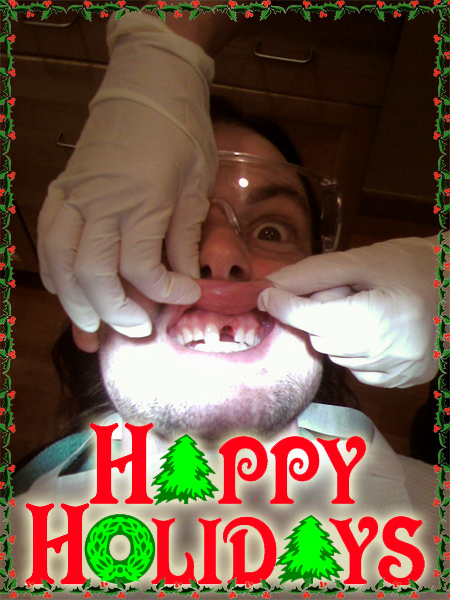 I'll miss you, ol' front toof. R.I.P. my yellow friend.
Anyway, as you can see, the Christmas holiday season has begun here on I-Mockery. I've got a really busy month ahead of me, but I'm gonna do my best to keep the site updated with all kinds of jolly goodies. And don't forget, we have a big Christmas Collection archive of articles and games here on the site to keep your bells jingling all month long, so be sure to check it out.