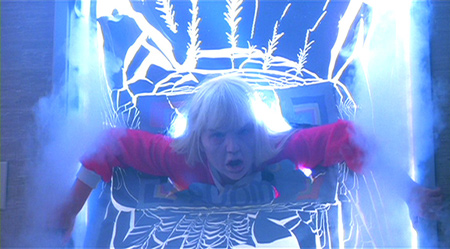 I've always been a fan of the Poltergeist films. The original is an absolute classic, and the sequels, while admittedly not as good, were still entertaining. That said, the third installment was always considered the worst of the original trilogy (and rightfully so), but I still it has merit. Despite some hilariously bad acting and a flimsy storyline, Poltergeist III has a handful of fun scenes and enough creative camera tricks that make it worth watching. With that in mind, I've written a new article for Blumhouse in which I attempt to make a case for Poltergeist III. Hope you enjoy it, and may all skeletons in horror films from this day forward have big, bushy mustaches!

Well here's something different. I was fortunate enough to capture Gollum and Smeagol on video as they debated about whether or not they should watch the new Captain America: Civil War movie. Personally, I thought it was a no-brainer to go see the movie, but Gollum isn't so sure. Check it out:

[click here for high quality video]
Now, when I think of Gollum, there's only one human that comes to my mind: Keith Apicary. I don't mean to insult Gollum like that, as I'm sure he doesn't have anywhere near the kind of pungent body odor that Keith has, but they certainly do look alike. Anyway, this past week, I went over to Keith Apicary's house to play the arcade game Confidential Mission with him. It's a game where you play two secret agents who basically have to shoot everything in sight with their hand guns - including tanks. Totally logical, right? Lucky for you, you can watch the two us prove that we're the worst agents in the history of the world by checking out our new video:

[click here for high quality video]
I'm sure I'll be shooting more Keith's Arcade episodes in the near future, as he's constantly stealing my things and forcing me to come over to his house to retrieve them - but only after I play some old video games with him. Until then, I'll continue to try getting a restraining order approved.
By the way, while Smeagol / Gollum are still deciding on it, I recently saw Captain America: Civil War, and absolutely loved it. I need to watch it again to officially decide where it ranks in against other Marvel movies, but it's waaaaay up there. Such a perfect blend of action, drama, and comedy. It might even be my new favorite Marvel flick. I'd love to talk with you guys about it more, so drop a comment below to let me know what you think of it and let's blab about all the characters and what went down. Also, if you're going to post any spoilers, please be sure to say so beforehand in your comment, just in case somebody reading it hasn't seen the movie yet.
Anyway, hope you enjoyed these latest two videos. Thanks for watching!