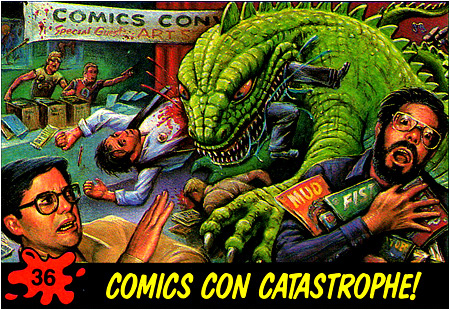 You too could be mauled by a dinosaur at Comic-Con!
Well whaddaya know. It's that special time of the year when we abandon all of our responsibilities and head into the abyss of glorious geekdom that is the 2013 San Diego Comic-Con. This will be I-Mockery's fifth time as an exhibitor and I'm really excited about it for reasons you'll see learn about below. Be sure to pay us a visit if you're coming to Comic-Con as we'll be at (Booth #E10 - near Aisles 600 & 700 on the West side of the convention center - here's a map). This year we'll have the following goodies on hand:
-For the first time ever, we'll be showcasing a playable demo of our upcoming Adult Swim Games project, Bionic Chainsaw Pogo Gorilla game will be available to play for free on a custom arcade cabinet! Up until now, we've only leaked screenshots over the course of the year, but this will be the first time people will have a chance to see all the madness in action. This has been a huge project and I can't wait to see how everybody reacts to it. We'll have the first two levels and boss fights available to play along with some other fun surprises unlocked in the game! They also moved all the other big video game companies over near our side of the convention this year, so it looks like we'll be in good company!

-While Abobo's Big Adventure (which just won "Game of the Year" on Newgrounds!) won't be there since we're showcasing BCPG, we'll still have a giant Abobo on-hand, waiting to pose with you for a very special photo opportunity.

-Glow-in-the-dark "Giga Say Watt!?" I-Mockery t-shirts!

-The complete "Four Seasons of Pixels" series of posters! If you haven't seen them, these four posters will make your eyes bleed pixelated rainbows of joy.

-A new mini-comic by Strangepuppets!

-I-Mockery Button Packs!

-I-Mockery Magnets & Stickers!

-PickleMan comic books! Protoclown's comic books!

-They've been a staple at our SDCC booth every year, so why break with tradition? Free ultra-gory "Dinosaur's Attack" vintage trading card packs from the eighties with every purchase! (this site is old as a dinosaur, so why not?)

-Free stickers for people who manage to defeat one of the big bosses in our Bionic Chainsaw Pogo Gorilla game!

-The latest videos from my Youtube channel and more!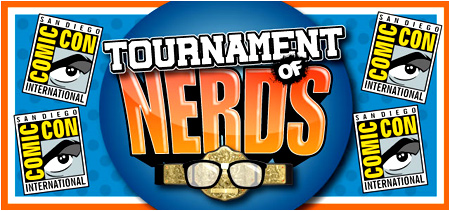 In addition to all the Comic-Con booth fun, I'll be performing in a free, LIVE Tournament of Nerds. The show will be Thursday, July 18th at 7:30PM, located at the Room 26AB in the convention center. Myself, Maddox, and other funny nerds will all be in the show along with some special guest judges, so don't miss out on it. I'll be doing one of my favorite characters at this event, so I promise you'll have a good time watching it.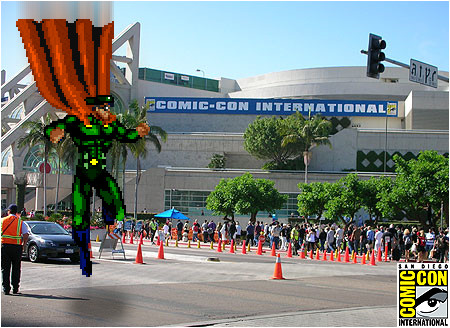 As always, we had an absolute blast last year, so I can't wait to head on down to the convention and get started. It's too much fun meeting longtime fans of the site along with all the new ones. We've put a ton of work and cash into making this happen once again this year, and it's all because want to celebrate the 15+ years this site has been online with the fans that have kept us going! So, if you're going to be at the Comic-Con, be sure to stop by I-Mockery Productions Booth #E10 - near Aisles 600 & 700! (here's a map to our booth)
Myself, Re, and Nick (programmer of the Abobo game) will all be there at the table again this year. And yes, to those of you who've asked, we'll be more than happy to sign anything you buy (or any other weird things you bring to the convention for us to sign). We'll even sign your face if you remember to bring it with you.
For those of you who can't come, we're sorry you're gonna miss it, but rest assured we'll still do our best to take as many photos of the convention as possible like we do for you every year. Obviously, we're gonna be super-busy with the booth, so getting time away from it to take pictures is always tricky. Once I'm back in town from Comic-Con, I'll try to post up all those photos as quickly as possible. I'll also try to update the I-Mockery blog and Facebook page with some photos each day if time permits.
Again, for those of you who've never been, I feel I need to once again remind you of a very important fact: despite the misleading name, the Comic-Con has MUCH more than just comic books. True, if you're a fan of comic books, you'll be in heaven, but if you're not that into 'em, there's still PLENTY for you to do. Over the years, the convention has basically become a mega-media event. The convention center is chock full o' the latest video games for you to test out, tons of movie promotions, toys galore, incredible costumes, and some truly amazing artists as well. If anything, comics have taken a backseat to all the other crazy things going on at the convention. So yeah, the name is really misleading to some people, and that's unfortunate because they have no idea what they're missing out on.
Be sure to keep an eye on the I-Mockery Facebook and I-Mockery Twitter pages throughout the week. I'll try to update the I-Mockery Tumblr as well. I'm gonna be super busy, but I'll do my best to update them from Comic-Con whenever I have a chance.
Alright, that's all for now. Wish us luck, cuz this is gonna be one hell of an insane week... again!
If you want to relive the Comic-Cons of yesteryear, here's a look at just some of our huge photo galleries: [2012] [2011] [2010] [2009] [2008] [2007] [2006] [2005]

I'm sure some of you recall my attending Anime Expo last year, as I had a great time checking out all of the crazy costumes that people put together - even when they were referencing something far too obscure for me to understand. Well, I had the opportunity to attend Anime Expo 2013 this past Saturday and it seemed like there were more people in attendance than ever before. Anime Expo was so crowded I felt like I had wandered into the San Diego Comic-Con instead, but that only meant there were even more amazing costumes to check out. For those of you who didn't get to attend, I made this video so you can see what the expo was like:

[click here for high quality video]
Hope you enjoyed the video, cuz I'm definitely looking forward to attending Anime Expo again next year. As always, please drop a comment on the Youtube page and subscribe to my channel if you haven't already. Lastly, if you missed my recent antics at E3 2013, hit the jump to see those videos as well! (more...)