I've had a bunch of people asking me if I've seen this trailer since I'm such a huge fan o' the series. Yeah, I've seen it and here it is for those of you who haven't:
You guys already know my stance on remakes... I think Hollywood should be focusing on creating original, new films rather than rehashing old ones. That said, I'll reserve my judgment of the Elm Street remake until after I've seen it. As for the one real glimpse we get of Freddy, I get that they're going for more realistic burn victim effects, but I'm not sold on his make-up yet. Freddy's old look was so iconic and we all know how many hours Englund spent sitting in a chair just to have it applied. Only thing I definitely like about the trailer is that Clancy Brown is in it... I love that guy. Whether it's Highlander, Bad Boys, The Shawshank Redemption, or the criminally underrated canceled HBO show "Carnivàle", he's always a memorable character. (And yes, I still foolishly hope there will be a Carnivàle movie some day so we get some real closure to an show that ended far too early.)
What do you guys think of the new trailer?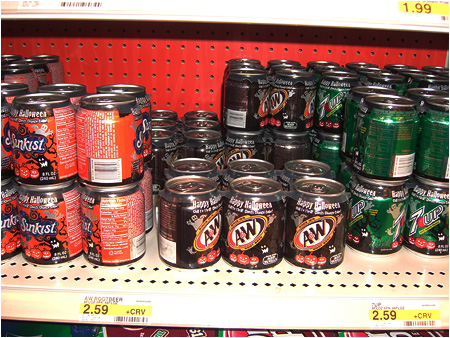 I went to Target the other day now that they've finally gotten on board with the 2009 Halloween season, and I'm disappointed to report that Jones Soda has once again released the same old Halloween sodas from the previous years. I always hope that they'll come out with some new "spooky" flavors each season, but they seem more interested in putting out weird holiday packs instead. Ah well, maybe next year.
The good news is that the Dr Pepper Snapple Group has just released some nice decorative mini Halloween soda cans for their 7-Up, Sunkist and A&W Root Beer brands. Sure the flavors remain unchanged, but there's no denying the desire to own miniature cans with Halloween scenery all over them. A haunted tree, jack-o-lanterns and ghosts adorn these lil' cans, but the ghosts aren't just any ghosts... they're "Chill to Thrill" ghosts!
It looks like they've taken an idea from Coors Light by copying their cold activated cans concept. Instead of having mountains turn blue, the ghosts on the cans change color when they get cold. While the Sunkist cans probably look the best of the three, what with the classic orange and black Halloween colors, I had to go with the root beers. Why? I like root beer, that's why.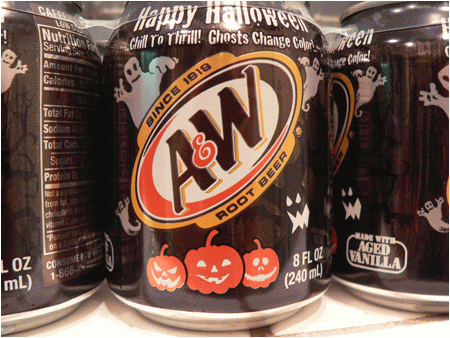 As you can see, the cans live up to their claims and the ghosts do change color after being chilled in the fridge. I gotta say though, while the ghosts do change color, it's clearly not a very drastic one. It's a subtle change from silver to light blue, which is a perfect color for ghosts, but it's definitely not a bright blue. If it wasn't for the note on the cans, I probably wouldn't have even noticed that the ghosts had changed color. Still it's a minor issue and I'm more than happy to drink root beer from mini Halloween cans, whether they're haunted by ghosts or not. At least, if I drink the root beer I can say I did a good deed, for those poor specters will no longer be freezing their ectoplasmic asses off.
In other Halloween news, I went to the Knott's Scary Farm 2009 Haunt this past weekend and took plenty o' photos of the park and mazes. You can expect a new photo essay about it later in the week. Until then, you can check out the photos from when I visited the park back in 2006 here.

UPDATE: There's a Doc Mock's Movie Mausoleum contest going on in which you can win an awesome Killjoy figure! Click here to learn all about it!
Oh the things you guys miss out on when you don't stay up late to watch a full live episode of Doc Mock's Movie Mausoleum...

[Click here to watch the fight in higher quality!]
Considering what happened in the fight, I'm not really sure why I'm showing this to you guys. I guess I'm just a glutton for punishment.
Well anyway, don't forget that we have another brand new LIVE episode this Friday night (9/25) at 10pm PST / 1am EST, so be sure to check it out! And again, for those of you with iPods and/or iPhones now you can get all the Doc Mock episodes on iTunes for free!
If you missed the episode last Friday, here be the links to parts 1 and 2:
Doc Mock's Movie Mausoleum - Tickled Pink: Part I
www.thestream.tv/watch.php?v=1727
Doc Mock's Movie Mausoleum - Tickled Pink: Part II
www.thestream.tv/watch.php?v=1728
Hope to see you guys in the chat room this Friday night when we air another LIVE episode!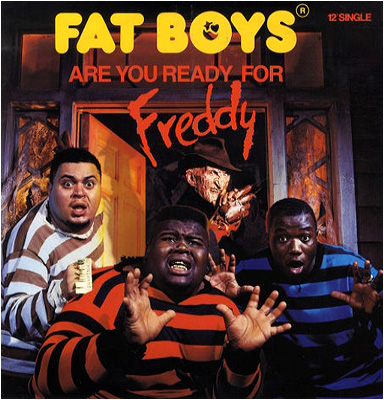 Remember when rap was fun? I sure do. I remember when I couldn't get enough of groups like Run DMC, Digital Underground, DJ Jazzy Jeff & The Fresh Prince, and of course... The Fat Boys. Sadly, those days seem to be long gone and have been replaced with talentless bling braggarts who are neither worthy of your attention or your hard earned cashola. But don't fret, for we can always listen to all the tunes from the golden era of rap. I'm sure a lot of you remember when The Fat Boys made the jump to film with their comedy "Disorderlies"... if you don't, I suggest you go out and find a copy as soon as possible to remedy such a grievous oversight on your part. What many of you may not know is that they actually put out a music video for their hit tune, "Are You Ready For Freddy?".
Not too long ago, I conducted a poll about the ultimate Freddy rap, and while "A Nightmare on My Street" by DJ Jazzy Jeff & The Fresh Prince was the clear winner, The Fat Boys were the only ones to have their video for "Are You Ready For Freddy?" actually released. See, JJ&TFP did make a video for "A Nightmare on My Street", but New Line Cinema apparently sued them and it still hasn't seen the light of day. It's become a legend of sorts amongst fans of the duo, and some people swore they saw it air once or twice way back when. I really hope that somebody does manage to track down a copy of it if the video did in fact air for a few days before being pulled, because I know I speak for Elm Street and JJ&TFP fans worldwide when I say I'd kill to see it.
That said, the one thing they surely didn't have in the video was the REAL Freddy Krueger played by Robert Englund. But the Fat Boys did, as it was released in conjunction with "A Nightmare on Elm Street 4: The Dream Master" (which is my favorite film in the series in case I haven't mentioned it a thousand times already). It's a great video in which the Fat Boys were named in the will of their "Uncle Fredrick" and are required to spend a night in his creepy house if they want to inherit it. Of course, they think it'll be a piece o' cake, but Freddy has plans to scare them outta the house with his blades and dope rhymes. If you've ever wanted to see Freddy rap or watch The Human Beat Box eating a powdered donut while wearing the infamous striped sweater, kick back and enjoy the video. As a bonus, I've included a behind-the-scenes CNN interview with the group from back in 1988 in which it's mentioned that they were working on a horror-comedy movie called "Fat Wolf" at the time. Fat Wolf. FAT WOLF!!! Man, do I ever wish they actually finished the project, because I'm sure it would have been an amazing flick which would have no problem rivaling "Teen Wolf". Well, at least "Teen Wolf Too". Anywho, here's the video for all you fans of Freddy and the Fat Boys to enjoy!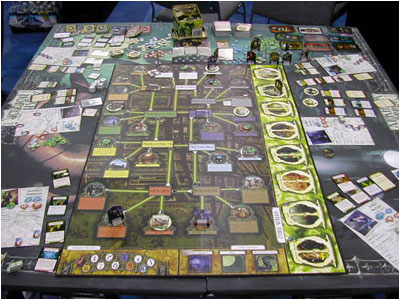 I'd been meaning to check out the Arkham Horror board game for a while, so I finally picked up a copy a few weeks ago and tested it out with some friends. At $60, it was one of those things I'd been reluctant to purchase without having played or seen demoed somewhere, but after reading enough positive reviews on Amazon and Board Game Geek, I just decided "what the hell" and dropped the money on it. Besides, it's a Fantasy Flight Game, and with stuff put out by that company, you know you're at least getting quality in terms of the board, pieces, etc.
Based on H.P. Lovecraft's Cthulhu Mythos, the premise of this game is that you're an occult investigator in 1920s Arkham, Massachusetts, and one of the Great Old Ones is on the verge of waking from its slumber and treating the world like a yummy chew toy. Portals to other freaky dimensions start opening up at various unstable locations throughout the city, and you have to explore these other dimensions so you can come back out and close the portals, fighting monsters and searching for clues every step of the way. If too many portals remain open unchecked, the Ancient One awakens and then you're fucked.
One of my favorite things about this game is that it's cooperative, which is very unusual for board games. In the core game, up to 8 players can team up to stop the awakening of the Ancient One, and believe me, it's in your best interest to work with the other players and help them out, because if you screw up, the Ancient One awakens and then you have one last feeble attempt at stopping it before you all die and everyone loses. This whole "all of us versus the game" mechanic is interesting, and results in a different playing experience from most free-for-all or team games. (more...)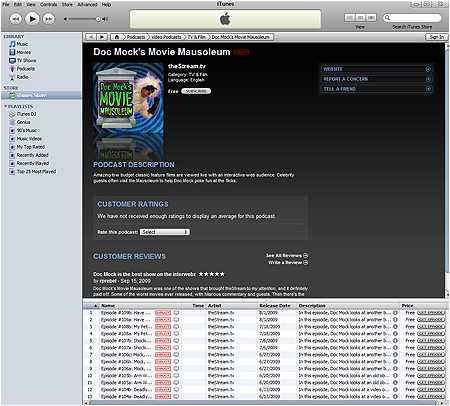 Great news everybody! Doc Mock's Movie Mausoleum is now available on iTunes! Yep, for all of you with an iTunes account, you can now login and download entire episodes of Doc Mock's Movie Mausoleum right here. And the best part is… they're FREE! There's no catch, we just wanted to provide you guys with another way to enjoy the archived episodes. You can even watch 'em right on your video iPods or iPhones if ya like! Here's the direct link to Doc Mock on iTunes:
itunes.apple.com/WebObjects/MZStore.woa/wa/viewPodcast?id=331281360
And if you have a free moment while you're logged into iTunes, be sure to drop in a review for the show to show your support!
Also, Doc Mock's Movie Mausoleum finally returns this week with an all new LIVE episode on Friday, September 18th at 10pm PST / 1am EST, so make sure to clear your schedules for some Friday night fun! Amanda Sitko, a hilarious improviser from the Upright Citizens Brigade, will be appearing as my guest as we watch a movie made to lambaste your lives! If you missed our last episode before the long network break, now's the perfect chance to get caught up on it before this Friday!
Doc Mock's Movie Mausoleum - Have Mercy: Part I
www.thestream.tv/watch.php?v=1651
Doc Mock's Movie Mausoleum - Have Mercy: Part II
www.thestream.tv/watch.php?v=1668
Hope to see all of you guys in the live chat room when the show returns! You definitely don't wanna miss this live episode because I hear there's gonna be something epic taking place during the episode.