REMINDER: For those of you attending Comic-Con, I-Mockery is located in Row 300, Booth #A10 (located towards the back near the lounge area).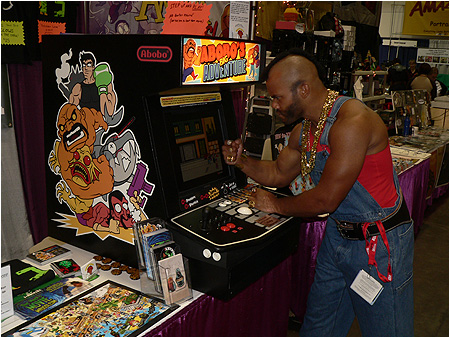 Yo ho ho! It's been insanely busy this year at Comic-Con, and that's probably because all the other guys weren't able to come this year and help out at the booth. As a result, I've been on duty since the convention started and haven't had much time to walk around yet... and today's the biggest day of the convention! Fortunately, I'll have some extra help on hand today and will do my best to walk around and take some pics for you guys whenever I have a chance. Looking forward to seeing all the crazy costumes once again. I mean, just look at that Mr. T guy. That thing is dead on!
In the meantime, check out this super nice review on Destructoid that they just posted about our upcoming game, Abobo's Big Adventure. Lots o' details on the game and impressions of it so far.
Anywho, I've gotta head over to the convention now, so I'll talk to you guys later on.

REMINDER: For those of you attending Comic-Con, I-Mockery is located in Row 300, Booth #A10 (located towards the back near the lounge area).
It's a little after midnight and I'm dead tired from setting up everything today at the I-Mockery Comic-Con booth, but I wouldn't miss it for the world, because I already had a blast talking with some I-Mockery fans and showing them the new Abobo's Big Adventure arcade cabinet! Huge thanks to Re for helping me get the booth set up today since we didn't have any other helpers on hand. She's a real trooper that one... be sure to check out some of her artwork at our booth or online!
Anywho, before I pass out, here are two photos that I'm pretty sure you'll all appreciate. First off, the grand unveiling of the completed Abobo's Big Adventure arcade cabinet at the I-Mockery booth!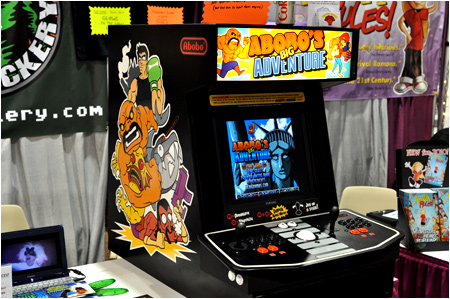 Seeing it finally up 'n running at Comic-Con damn near brought a tear to my eye. However, that tear saw Abobo's angry stare and quickly scuttled itself back into the rear of my ocular cavity out of sheer terror.
The other picture I have for you guys is of me and my buddy Keith Apicary (Nathan Barnatt) and it sums up the San Diego Comic-Con experience in a nutshell. We haven't even had the first day of Comic-Con yet and this may turn out to be my favorite photo from the entire event.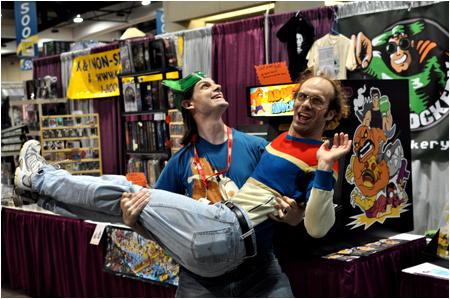 Love sure is a beautiful thing isn't it?
Don't forget, if you're attending the San Diego Comic-Con this week, you can find our booth towards the back of row 300. Our booth number is A10. We're the ones with the big friggin' arcade cabinet and people wearing pickle hats..... so yeah, it's pretty hard to miss. If you're not at Comic-Con, check our Facebook and Twitter pages throughout the day as I (or Re) will be posting updates (including photos) whenever we can. I'll still try to post a few pics at the end of every day here in the ol' I-Mockery blog if I have the energy.
Ok, must sleep now, because tomorrow is the first full day o' Comic-Con madness and I needs me strength!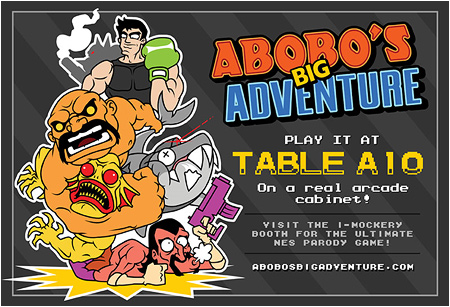 It's finally that time again! The car is all loaded up and we're just about ready to head down to the 2010 San Diego Comic-Con! for I-Mockery's second time as an exhibitor! I hope you can come visit us at the convention (Row 300, Booth #A10) because we've got lots of fun stuff to show ya this year! Here's some of what you can expect to see:
-A new playable demo of Abobo's Big Adventure (including a special 2-player battle mode) on a custom Abobo arcade cabinet!!!

-I-Mockery t-shirts!

-The "Ultimate Retro Pixel Beach Party" poster!

-PickleMan comic books! Protoclown's comic books! Strangepuppets comic books!

-A New limited edition t-shirt from Re!

-I-Mockery Button Packs!

-I-Mockery Magnets & Stickers!

-Free gory "Dinosaur's Attack" trading cards with every purchase! (this site is old as a dinosaur, so why not?)

-Free t-shirt giveaways compliments of our pals at Mini Cassette Tees!

-Appearances by Tommy Wiseau (creator and star of "The Room"), Keith Apicary and more!

-Rumored appearances by Doc Mock and Miss Diagnosis!

and of course...

-I-Mockery Pickle Hats!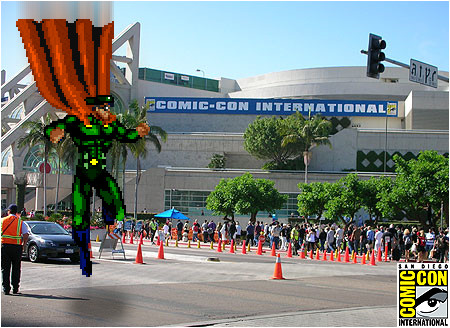 We had an absolute blast last year, so I can't wait to head on down to the convention and get started. It's too much fun meeting longtime fans of the site along with all the new ones. We've put a ton of work and cash into making this happen once again this year, and it's all because want to celebrate the 13+ years this site has been online with the fans that have kept us going! So, if you're going to be at the Comic-Con, be sure to stop by I-Mockery Productions Booth #A10!
Myself, Re, and Bom (programmer of the Abobo game) will all be there at the table this year. And yes, to those of you who've asked in the blog and via email, we'll be more than happy to sign anything you buy (or any other weird things you bring to the convention for us to sign).
For those of you who can't come, we're sorry you're gonna miss it, but rest assured we'll still do our best to take as many photos of the convention as possible. Obviously, we're gonna be super-busy with the booth, but once I'm back in town from Comic-Con, I'll try to post up all those photos as quickly as possible. I'll also try to update the I-Mockery blog with some photos each day if time permits.
Again, for those of you who've never been, I feel I need to once again remind you of a very important fact: despite the misleading name, the Comic-Con has MUCH more than just comic books. True, if you're a fan of comic books, you'll be in heaven, but if you're not that into 'em, there's still PLENTY for you to do. Over the years, the convention has basically become a mega-media event. The convention center is chock full o' the latest video games for you to test out, tons of movie promotions, toys galore, incredible costumes, and some truly amazing artists as well. If anything, comics have taken a backseat to all the other crazy things going on at the convention. So yeah, the name is really misleading to some people, and that's unfortunate because they have no idea what they're missing out on.
Be sure to keep an eye on the I-Mockery Twitter and I-Mockery Facebook pages throughout the week. I'm gonna be super busy, but I'll do my best to update them from Comic-Con whenever I have a chance.
Alright, that's all for now. Wish us luck, cuz this is gonna be one hell of an insane week... again!
If you want to relive the Comic-Cons of yesteryear, here's a look at just some of our huge photo galleries: [2009] [2008] [2007] [2006] [2005]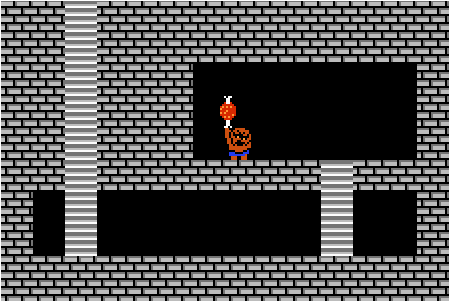 I'm sure by now many of you have seen Wonder Woman's atrocious new costume. They took one of the most iconic, recognizable superhero costumes and basically turned it into what looks like a 1990s clubbing outfit (and a bad one at that). I have no inherent problem with changing classic costume, but in my mind superheroes should look bold, flashy, and iconic--not mundane and anonymous like this one here. On top of that, it looks like Jim Lee has basically ripped-off his own Rogue costume design from the early 90s. And seriously--are those stirrup pants? Did she raid Cobra Commander's closet or something?
Sure, they've altered other classic costumes before, Superman's and Batman's for example, but the changes that stick tend to be more subtle evolutions that occur over time. The drastic changes tend to be temporary at best (see Spider-Man's various costumes over the years), and often times if the fan backlash is strong enough the editorial department will pull the old "Haha, we were only joking guys, it was only meant to be for two issues even though we made such a big deal out of it at the time, but this was our plan all along, see?" card.
I'm curious to know what you guys think of the new costume, as well as your thoughts on various heroes' costume changes over the years. What ones have you liked? What ones have you hated?
I asked my Henching artist Shironu Akaineko to whip up an alternative to the new Wonder Woman costume, and this is a design that she and her friend Kevin Eckert came up with: (more...)