Doc Mock's Movie Mausoleum is back with another new LIVE episode tonight! You can watch the show and join in the live chat room fun at any of the following URLs tonight at 10pm PST / 1am EST:
http://www.thestream.tv/live.php
http://www.justin.tv/thestreamdottv
http://www.stickam.com/thestreamdottv
Hope to see all of you in the live chat rooms tonight!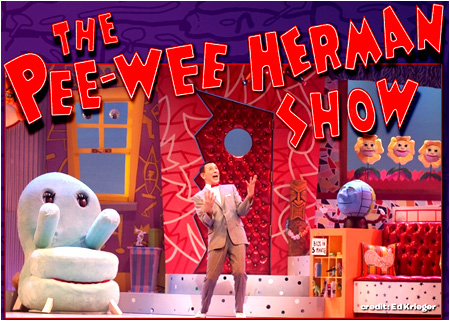 Amazing. AMAAAAAZING! There are many amazing things I've experienced ever since we made that long journey across the country some years ago, but getting to see Pee-wee Herman perform live on stage was the fulfillment of a childhood dream. The guy is a comedy hero for me and I couldn't even begin to count how many times my friends and I have quoted lines from Pee-wee's Big Adventure over the years.
So the show was taking place at Club Nokia, which from the outside appears to be a huge place since it's right near the Staples Center here in LA, but the truth is that it's a very small venue. As a result, the seats we had were amazing and it felt like a very up close and personal performance. I can't really explain just how excited I was when Pee-wee first came out on stage, and I was instantly whisked back to my childhood as he made the entire audience stand up and say the Pledge of Allegiance before the show begin. And when those curtains rose to unveil his playhouse, complete with all of my favorite characters such as Conky, Chairry, Magic Screen, Jambi and more... man oh man... I was a kid again.
Seeing that amazing playhouse set right before your eyes with Pee-wee and the rest of the gang was nothing short of amazing. Remember, before the movies and the TV show, the Pee-wee Herman Show was performed on stage at the Groundlings Theatre in the early eighties, so this was essentially Paul Reubens returning to his roots. I have to say, while he's obviously a bit older now, Paul is looking great for his age and his performance as Pee-wee did not disappoint in any way. Running around the stage frantically, making everybody in the audience scream the word of the day ("FUN!"), singing songs, and basically doing everything that made the Pee-wee character so memorable in the first place... Paul didn't miss a single beat.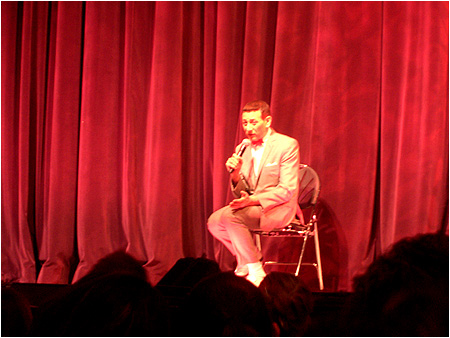 What none of us expected, however, was what happened after the show. Since this was his their last performance before having their first day off in a month, Paul sat down with the audience (still in his Pee-wee costume) and had an extremely long Q&A session with the audience. He's been doing Q&A sessions after all of his shows, but he's had to cut most of them short, 20-30 minutes tops. Ours was well over an hour, and you could tell that it was because he really wanted to be there and was so happy to see that people still loved the Pee-wee character that much after so many years. Seeing him give advice to a little girl about following her dreams about becoming an actress was simultaneously heartwarming and inspirational.
All in all, it was an incredible evening, and I really hope Paul gets to make the new Pee-wee film he's been talking about for a while now. Also, for those of you not in LA, he didn't confirm it, but there have been some hints that the show may go on the road to a few places as Vegas and Broadway were both mentioned. I'm hoping they'll put it out on DVD as well considering how much effort and work clearly went into this big production, but it's really something you have to see in person. So keep an eye on the world of Pee-wee Herman, and if you have the opportunity, do not pass up the chance to see that show.
On a final note, as if the show wasn't amazing enough, before Pee-wee ran off the stage, he took off his ring and threw it out into the crowd. Take a guess who caught it? Yep, I like to think that my childlike fervor for Mr. Herman willed that ring to come my way so I could then give it to Re to end the show on a perfect note.
And while we're here talking about Pee-wee, why not take a moment and look back at a few of my older articles:
The Pee-wee's Playhouse Christmas Special
I-Mockery Visits the Cabazon Dinosaurs!
Now if you'll excuse me, my bike is missing and somebody told me they saw it in the basement of the Alamo.

Update: You can watch the show and join in the live chat room fun at any of the following URLs tonight at 10pm PST / 1am EST:
http://www.thestream.tv/live.php
http://www.justin.tv/thestreamdottv
http://www.stickam.com/thestreamdottv
Hope to see all of you in the live chat rooms tonight!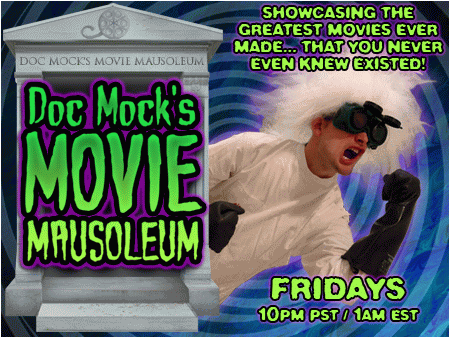 That almost sounds like a threat, doesn't it? While it's only been a month since we went on break, it honestly feels like forever to me and I've been itching to broadcast some new episodes. Fortunately, our withdrawals from the show are about to end, because this Friday night at 10pm PST / 1am EST, Doc Mock's Movie Mausoleum is back with an all new LIVE episode! I really can't wait to get back into the mausoleum and dust off some crazy old movies to share with you guys.
We also have some big names in comedy coming up during this next run of live episodes, including a childhood hero of mine, so you guys definitely don't wanna miss out on all the fun we have in store for ya. Hope to see you guys in the chat rooms this Friday night!
p.s.: If you still haven't watched our big holiday special from last month, you should definitely check it out because it was one hell of a ho ho holiday hootenanny! Watch it here!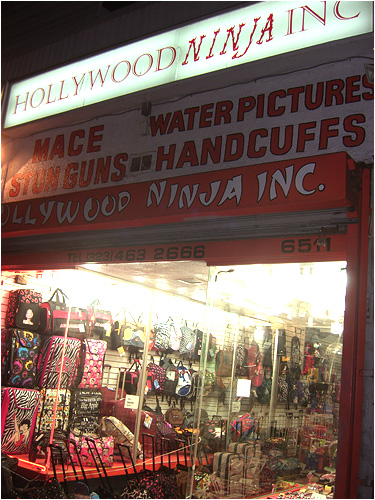 Yeah... just let that photograph sink in for a minute. That's an actual store in Hollywood, and sadly, when I drove by it the other day, it had a "For Rent" sign hanging out front. You know the economy is in the pits when an impeccable store like Hollywood Ninja Inc. can't survive. Just look at all of the glorious items one could find within their unique retail business. What I really love is how the sign informs us that they not only carry mace, stun guns and handcuffs, but they also sell water pictures. That's right, those classy framed pictures of nature scenes with moving water that one usually can only find as a prize at carnivals. In addition to all of this, just look at the stunning array of colorful luggage and handbags that they had to offer!
Hollywood Ninja Inc., allow me to be the first to say that this world will never be the same without you and you will be sorely missed.
In related news, Crazy Gideon is apparently retiring. Man, I'm really gonna miss those commercials.

UPDATE: Apparently the deadline for submitting shows has just been extended to 11:59PM PST on Monday night, so if you haven't voted yet or wanna get in a few more votes, there's still time!
Hey guys, while we're gearing up for all new episodes later this month, the finals days to nominate us for the Streamy Awards are still taking place. Please take a minute and cast your vote for Doc Mock's Movie Mausoleum at streamys.org/submit/public-submissions/ in any of the categories you feel the show would be suited for. Best New Web Series, Best Experimental Web Series, Best Comedy Web Series, Best Ensemble Cast in a Web Series, Best Live Production in a Web Series and other categories are all available for you to vote in. And you can vote once per day between now and Friday, January 15th. When filling out the voting form, just put "Doc Mock's Movie Mausoleum" for the Series Name and "docmock.com" or "thestream.tv/docmock" for the Series URL and you'll be all set.
We really put a ton of work into getting this show off the ground and making it stand out so it would be a fun experience for everybody last year, so it'd be extremely cool if we could get nominated in any of the categories for the Streamy Awards. After all, a nomination would only help get word out about the show to even more people.
So yeah, big thanks in advance to those of you who cast a few votes each day between now and Friday for Doc Mock's Movie Mausoleum.